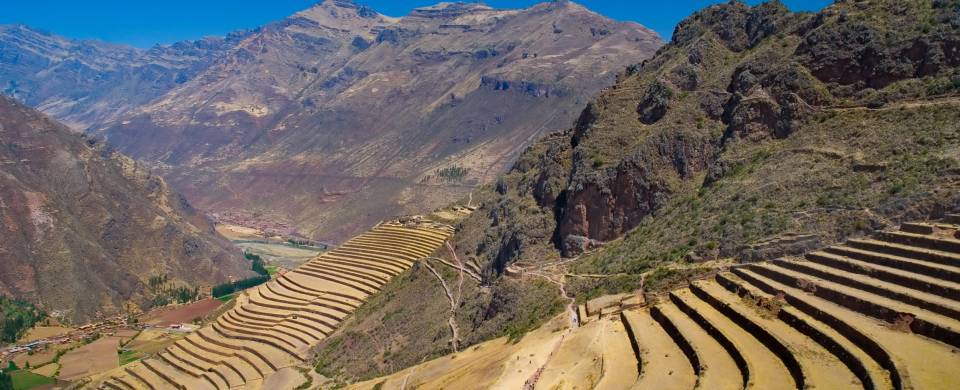 Trips and Tours to Pisac
About Pisac
A notable village in the sublime Sacred Valley, Pisac is a picturesque village, which has gained fame among natives and travellers alike for its breathtaking beauty and various cultural draws. With its peaceful ambiance and laidback vibe, this mystical village has become a hotspot for many soul-searching voyagers. Yoga classes can be found in abundance here as can other spiritual experiences. However, the two main draws of the this tiny region are its magnificent ruins and the colossal market that dominates the streets on various days throughout the week, with the biggest market appearing on Sunday.
Read More
Sprawling through the village and drawing in visitors from every corner of the globe, the market of Pisac has become one of the most famous in South America, and possibly even the world. Knitwear, ceramics, jewelley, wooden sculptures, alpaca wool products, fruit, vegetables, grain, textiles and so much more can be found piled up on tables and spilling out of sacks in an explosion of colour and sound. Be prepared to haggle for your purchases and while it might feel alien at first, remember it is part and parcel of market shopping in Peru.
Aside from the chaos of the market, Pisac is famous for its ruins. A 2-3 hour trek from the market to the top of the ruins is one way to get the full experience of this historical site. Alternatively, taxis are available to carry travellers to the top of the ruins, from where they can descend at a leisurely pace while they absorb their surroundings. The ruins have been exceptionally well preserved and yet they continue to beguile historians, who are still unsure of their origins and purpose.