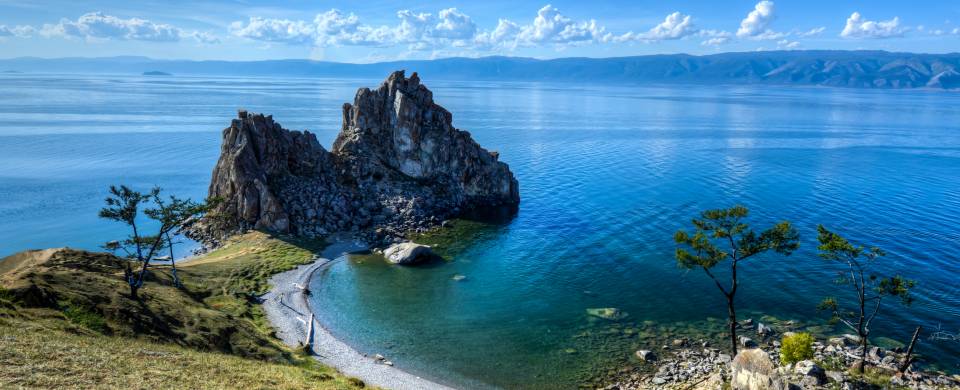 Trips and Tours to Olkhon Island
About Olkhon Island
Olkhon Island is the largest island (72 km long) on Lake Baikal, 350km north east of Irkutsk. The island boasts some of the most beautiful flora, fauna and breathtaking landscapes in the region. The island is quite remote, and is separated from the main land — there are no telephone lines, no power lines, cell phones don't work there, and the electricity on Okhon is produced by generators
Read More
Khuzhir villiage is the largest settlement with a few thousand residents and an ideal spot to take in the wood and log cabin style architecture of the island. Take the time to browse through the shops and market filled with locally grown fruit, vegetables, handicrafts and curios or enjoy coffee and cake at one of the quaint little cafes.
Olkhon is also a centre of Shamanism, and there are annual spiritual gatherings on the island, as well as ethno-music parties in summer.
Three Brothers rock are three rocks standing in a row overlooking Baikal lake, which legend says three brothers, whose father turned them into eagles. They were enjoying the freedom of flight but their father told them they should never eat dead meat. The sons promised not to do that, but once, when they were flying above the island, they were very hungry, and found a dead animal. Despite their vow, they ate it and when their father learned about it, he punished his sons by turning them into rocks.
Khoboy Cape is the most northern point of Olkhon island and you can see the lake all around you, red cliffs, seagulls, and sometimes, if you're lucky,
even Baikal seals.