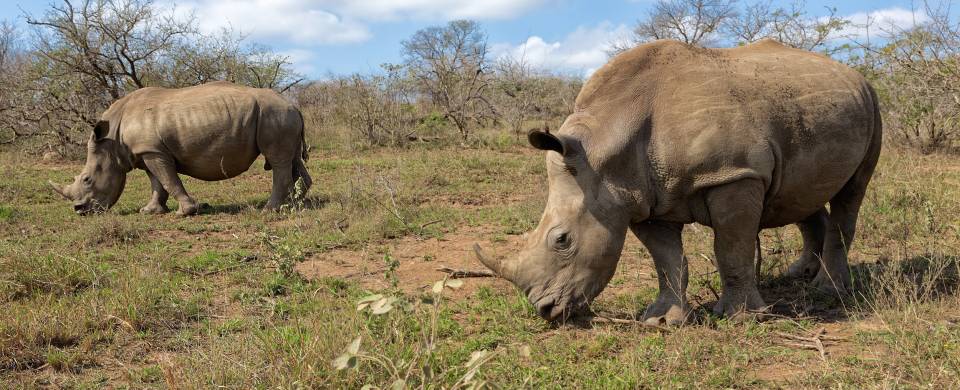 Trips and Tours to Hluhluwe Umfolozi National Park
About Hluhluwe Umfolozi National Park
Once the home of various Zulu kings and located right in the middle of Zululand, Hluhluwe Umfolozi National Park covers 96,000 hectares and is Africa's oldest game reserve. The vast savannah stretches out as far as the eye can see and proudly calls itself home to the "Big 5" along with many other exciting species, such as the rare and beautiful cheetah and wild dog. This park is certainly worth being explored in depth, however, the pronunciation of its name might cause some difficulty. Something alone the lines of "Shloo-shloo-ee" should get you there.
Read More
In the 1950s and 60s the park chose to put an emphasis on the conservation of the black and white rhino, and has since become internationally renowned for its "Operation Rhino". The program has been so successful that the park now has the highest population of white rhino in the world. Aside from its impressive abundance of rhinos, the park has an incredible selection of flora and fauna for visitors to observe during game viewing drives. Self-guided options are also available here, as are walking tails that wind through the park and showcase some of the best that the area has to offer.
The topography of the park is another reason Hluhluwe Umfolozi National Park is so highly admired by visitors. The undulating hills covered in acacia bush often have viewpoints positioned at the top, allowing explorers to see for miles around. Meanwhile, in the north of the area the landscape is more rugged and the sloping hills transform into dramatic mountains, offering yet more fantastic scenery. Throughout the park there are also a number of hides, which overlook pans and watering holes where visitors can witness the resident creatures of the park at close range.