Vietnam Cambodia and Laos Tours
For those with a good amount of time to spend in Southeast Asia, few other options beat the combination of Laos, Vietnam and Cambodia. Perfectly connected by shared land borders and various tributaries of the might Mekong River, you can get from one country to another in a short flight or make the journey half the experience with a luxury cruise. Whether it's elegant cities influenced by French colonial rule or historic cities with harrowing stories to tell, colourful hill tribes and glittering rice terraces or gorgeous beaches backed by palm trees, or unforgettable ancient wonders, these countries will never disappoint.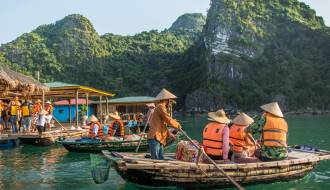 Group Tours
16 day tour visiting Vietnam, Cambodia and Laos.
Discover the best of Indochina, from Ho Chi Minh City in Vietnam to Luang Prabang in Laos, on this 16-day adventure which takes in the highlights of Cambodia and spectacular Angkor Wat en route.
21 day tour visiting Vietnam, Cambodia and Laos.
Spend 21 days exploring Indochina, from Vientiane and Luang Prabang in Laos down through Vietnam to Cambodia, ending with a visit to Angkor Wat and the floating villages of Tonle Sap Lake.
23 day tour visiting Vietnam, Cambodia and Laos. Also visiting Thailand.
Journey through Indochina, taking in the best of Laos, Vietnam and Cambodia on this 23 day tour which ends in Bangkok. Discover enchanting Luang Prabang and the beautiful scenery of Vang Vieng, cruise Halong Bay and the Mekong, explore the incredible Angkor Complex and more.
Private Tours
15 day tour visiting Vietnam, Cambodia and Laos.
Private Tour: Travel north through Vietnam from Saigon, taking in key highlights along the way, before crossing the border into Laos and flying onto Siem Riep in Cambodia on this 15 day private tour.