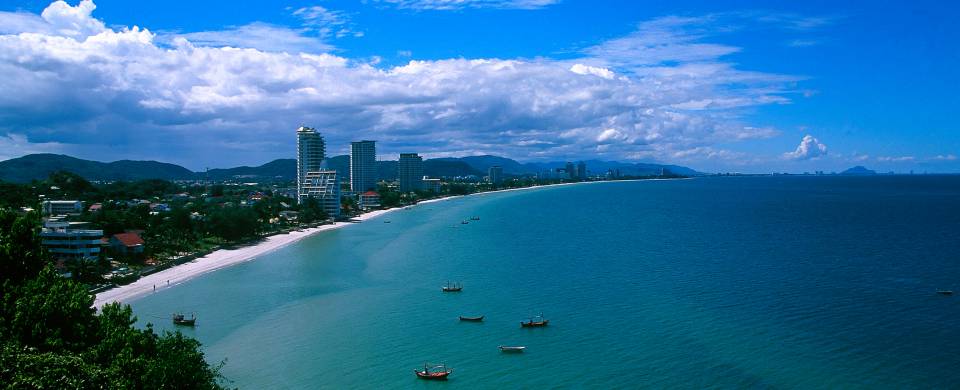 Trips and Tours to Hua Hin
About Hua Hin
Located just 200 kilometres south of Bangkok, Hua Hin became the first beach resort in Thailand when the Royal family decided to take up summer residence here in the 1920s in order to escape the stifling heat of the capital. A train line was laid and this quiet fishing port quickly became a popular destination for Thai nobility. Today it still acts as a royal getaway, but also attracts locals and foreigners alike with its long sandy beach, fine dining and old world charm.
Read More
There is just one beach in Hua Hin, stretching five kilometres from one side of town to the other, lined with seafood restaurants, market stalls and plenty of options for water sport enthusiasts. As well as a beach resort, Hua Hin also has plenty to offer city slickers with a wide array of shops, restaurants and bars. Just out of town travellers can discover lush parks and towering peaks, plus caves and thundering waterfalls. The cheap public transport means it's easy and affordable to hop between Hua Hin and local beaches when you fancy a change of scenery.
Hua Hin's distance from Bangkok makes it the ideal beach escape for those short on time whilst in Thailand. Aside from simply relaxing on the beach, Hua Hin also offers a number of minor attractions including Plearn Wan, a quaint recreation of a traditional Thai shop house displaying the type of medicines and herbs that the older generation would have once sworn by. There's also the Hua Hin Hills Vineyard where you can enjoy a three-course meal and plenty of wine.