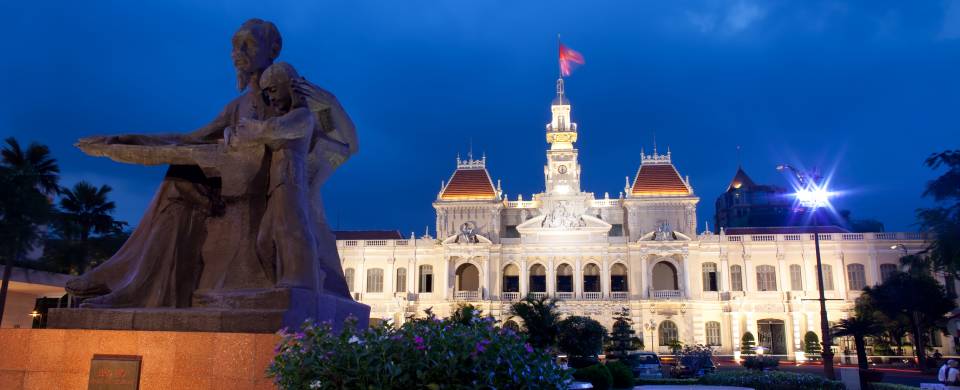 Trips and Tours to Ho Chi Minh City
Ho Chi Minh City is the vibrant, cosmopolitan hub of Vietnam and the original 'Pearl of the Orient'. In this thriving metropolis, old and new collide. Gleaming sky scrapers, expensive restaurants, bars and designer shops stand in stark contrast to the ancient pagodas, colonial era landmarks, ramshackle markets and wandering monks. Ho Chi Minh City is a feast for the senses, fast paced, colourful, loud and utterly mesmerising. Whilst it hurtles head first into the 21st Century, Ho Chi Minh City is a city with a compelling and unforgettable history.
Read More
Key sites such as the historic Reunification Palace, the Revolutionary Museum and the War Remnants Museum provide a fascinating insight into the Vietnam War and the historic fall of Ho Chi Minh City in 1975. Here you can learn all about the brutalities of the war with relics including tanks, infantry weapons and a confronting collection of photographs.
Famous landmarks include the French colonial Hotel de Ville and the beautiful Notre Dame Cathedral in the main square and the lively Ben Thanh Market, which sells everything from food, clothing and bags to souvenirs. Cholon is the city's bustling China Town, home to brightly coloured pagodas and markets. 70km northwest of the city, the historic Cu Chi Tunnels which played such a vital role in the war, are another highlight. Here you can explore the tiny underground tunnels laden with booby-traps and other interesting features.
Best Time to Visit
The months between December and March are considered the best time to visit Saigon with blue skies and little rain. Temperatures are pleasantly cool until February when they start to rise but remain comfortable until April. You can still be lucky with the weather until May but come June the monsoon rains arrive and stay until October with August and September experiencing the worse rainfall.