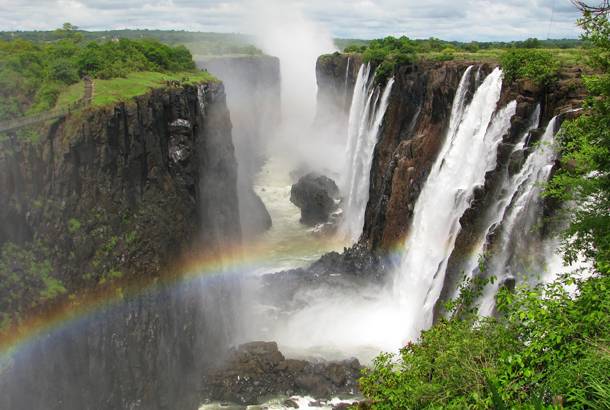 Seasons and Weather
Although located in the tropics, temperate conditions prevail all year round in Zimbabwe as the climate is moderated by altitude and the inland position of the country. The hot and dry season runs from August through to October, and the rainy season from November through to March. The best months to visit are April to May and August to September when it is drier and cooler, however night-time temperatures can fall below freezing.
Zimbabwe has a rainy season from November/December to March and during this time days are hot and sunny with possible afternoon thunderstorms. By April and May most of the rain is gone, skies are clear and days are sunny and warm. Night-time temperatures drop dramatically between June and August although daytime temperatures remain pleasantly warm. Late August sees the start of the hot and dry season which continues until October.
If you're visiting Zimbabwe for the mighty Victoria Falls, check out our comprehensive guide on the best time to visit Vic Falls.
Thinking of visiting Zimbabwe? Download a copy of our Africa brochure for inspiration.
Climate | Hwange
| | Jan | Feb | Mar | Apr | May | Jun | Jul | Aug | Sep | Oct | Nov | Dec |
| --- | --- | --- | --- | --- | --- | --- | --- | --- | --- | --- | --- | --- |
| Temp Min °C | 23 | 23 | 21 | 19 | 14 | 12 | 11 | 14 | 20 | 24 | 24 | 23 |
| Temp Max °C | 33 | 32 | 31 | 31 | 28 | 26 | 26 | 30 | 34 | 36 | 34 | 33 |
| Rainfall (mm) | 103 | 80 | 64 | 15 | 5 | 0 | 0 | 0 | 1 | 10 | 54 | 159 |
Climate | Harare
| | Jan | Feb | Mar | Apr | May | Jun | Jul | Aug | Sep | Oct | Nov | Dec |
| --- | --- | --- | --- | --- | --- | --- | --- | --- | --- | --- | --- | --- |
| Temp Min °C | 17 | 16 | 15 | 13 | 9 | 7 | 7 | 9 | 12 | 15 | 16 | 16 |
| Temp Max °C | 26 | 26 | 26 | 26 | 24 | 22 | 22 | 24 | 28 | 29 | 28 | 26 |
| Rainfall (mm) | 190 | 173 | 99 | 35 | 10 | 2 | 1 | 1 | 7 | 36 | 95 | 183 |