CAMPING SAFARI: Embark on an overland journey across almost half the African Continent from Nairobi to Cape Town. Offering a heady mix of game drives, beautiful beaches, exotic Zanzibar, adrenaline activities for the taking, giant dunes and diverse landscapes.
Trip Highlights
Kenya - start your African adventure in the bustling Kenyan capital of Nairobi
Malawi - spend three days travelling along the length of Lake Malawi, which takes up one third of the country
Zimbabwe - take time to visit cascading Victoria Falls and enjoy optional activities including bungee jumping and helicopter rides
Namibia - search for wildlife in Etosha National Park, relax on the tranquil beaches of Swakopmund, explore the Namib Desert and marvel at the Fish River Canyon
Tanzania - spot incredible wildlife in the Serengeti and Ngorongoro Crater, then take a break on the beaches of Zanzibar
Zambia - head out on safari in the wildlife-rich South Luangwa National Park and admire the Zambian side of magical Victoria Falls
Botswana - camp in the wilderness of Chobe National Park and explore the Okavango Delta from a mokoro canoe
South Africa - camp along the Gariep River, enjoy wine tasting in the Cederberg Mountains and finish your adventure in Cape Town
Included
40 breakfasts, 32 lunches, 31 dinners
3 night Zanzibar Excursion including ferry transfer, accommodation, Spice Tour and Dhow Sunset Cruise
Park Entry and Game drive - Chobe NP, South Luangwa NP, Ngorongoro NP, Serengeti NP and Etosha NP. Entry into Victoria Falls NP
Mikumi National Park (transit only)
A fully equipped overland truck for transportation and game drives
All camping fees and appropriate equipment
1st night dormitory accommodation at Kenya Comfort Hotel, 2 nights twin share accommodation in Swakopmund, 1 night hostel in Cape Town and 35 nights camping. Tents and sleeping mats provided
Arrival transfer from Nairobi Airport on day 1
2 day/1 night Okavango Delta Excursion (camping)
Sossusvlei transfer for Desert Walk
Services of 3 person crew (leader, driver, cook)
All road taxes and tolls
Not Included
International flights and visas
Tipping - an entirely personal gesture
Local Payment: $2260pp paid in USD
Sleeping bag - please bring your own
Optional activities
Prices & Dates
Departure dates are guaranteed with a minimum of 4 persons. Prices are per person when there are 2 people sharing a tent. Solo travellers will be matched up and share a tent with another solo traveller of the same gender.
Read More
Local payment - $2260pp paid in USD 
Please note that this is payable locally on day 1 of your trip in the currency specified.
2023
Twin Share
Single Room
The hotels listed below are ones which we frequently use on this tour. We reserve the right to substitute these hotels to ones of a similar standard.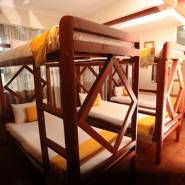 Kenya Comfort Hotel, Nairobi
Comfortable dormitory accommodation in central Nairobi (upgrades available on request). The Kenya Comfort Hotel also features an outdoor pool, restaurant serving a good array of local and international dishes as well as a fully stocked bar - perfect for relaxing before or after your epic overland adventure.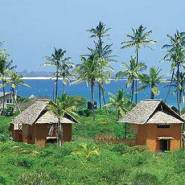 Kipepeo Beach Village , Dar es Salaam
The Tanzanian bush meets the blue waters of the Indian Ocean at Kipepeo Beach & Village, situated on the south coast of Dar Es Salaam. The campsite is right on the beach itself and is a popular destination for watersports adventures or simple relaxation. Facilities include a beach bar and restaurant.Upgrades are available to the twenty elevated ensuite chalets, built in the bush and decorated in traditional Swahili style, provide a stunning ocean views.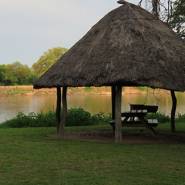 Croc Valley Camp, South Luangwa National Park
Croc Valley Camp is located on the banks of the Luangwa River, and provides accommodation ranging from riverfront tents to ensuite chalets, built on stilts to avoid the off-season floods. Watch elephants roam across the campsite, experience a game drive through South Luangwa National Park, or relax with a gin & tonic at the bar. The camp also features a large outdoor pool, kitchen facilities, and daily laundry service.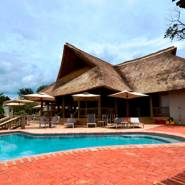 Shearwater Explorers Village, Victoria Falls
Situated in the bohemian town of Victoria Falls, and 400m from the Falls themselves, the affordable accommodation at the Shearwater Explorers Village consists of 5 campsites with modern bathroom facilities, and 16 chalets with en-suite showers and A/C. Shearwater operates a range of activities at the Falls, from bungee jumping to river rafting - and when the day is over, guests can wind down with Wi-Fi in the lounge areas, a drink by the pool, or even a back rub in the massage tent.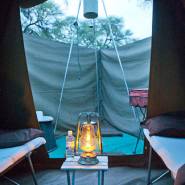 Delta Rain Bushcamp, Okavango Delta
This unique campsite is located in the heart of the Okavango Delta, as part of the Delta Rain safari experience. Accommodation consists of dome tents with twin beds, and "bush en-suite" bathrooms with a long-drop toilet and bucket shower. After settling in, guests can relax in the mess tent, partake in game viewing trips, or go on guided walks, while admiring the beauty of this UNESCO World Heritage Site.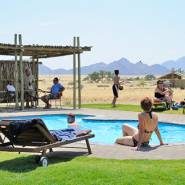 Sossus Oasis Campsite, Sesriem
This luxury campsite at the gates of Sossusvlei features 12 individually shaded camps, each with its own bathroom facilities, kitchen basin, barbecue, and electricity points. The campsite has a sparkling pool, and is within walking distance of a fully stocked shop, Internet café, and service station. The adjacent Sossusvlei Lodge offers a restaurant and Adventure Centre, where exciting desert activities such as quad biking, sunset drives, and scenic flights over the dunes can be arranged.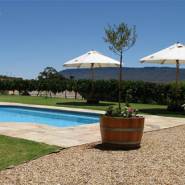 Highlanders Campsite, Cederberg
Nestled among the wine farms at the foot of the Cederberg mountains, this campsite is a perfect stopover in the Namaqualand region. Highlanders is set on 3 levels, giving campers plenty of space between each of the 5 individual camp areas, and a 12-room ensuite lodge has recently been added to the site. Each camp has a 'braai' pit, sink unit & power. There are stunning mountain views from the solar-powered hot showers, and a locally-sourced wine bar by the scenic swimming pool.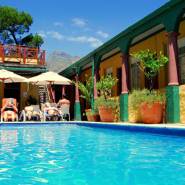 Ashanti Lodge Gardens Backpackers, Cape Town
Situated in a Victorian mansion at the foot of Table Mountain, within walking distance of the city centre, Ashanti Lodge offers a range of 6 to 8 bed dormitories, in addition to private rooms with shared bathroom facilities. After a long day of sightseeing, travellers can unwind with a cocktail at the café-bar, take a dip in the outdoor pool, or relax in the landscaped garden. Kitchen/BBQ facilities and complimentary Wi-Fi are also available.

PLEASE NOTE: Our Overland Camping Safaris starting/ending in Cape Town after 22 April 2023 will stay at [email protected] Greenpoint hostel with the exception of safaris starting or ending in Cape Town on 29 July 2023 which will stay at [email protected] Kloof Street hostel.
Reviews
Travellers have rated this tour as 4.5 out of 5 based on 2 recent reviews
"
The tour overall is fantastic. It is a great way to have once in a lifetime experiences and see fabulous sights.
However, there are numerous early starts and long days in the truck that are not reflected by the trip notes. There are often times when the group want to stop and see more of the country through which we are travelling but this is not possible due to time and distance constraints.
The tour team were fantastic A little bit more advance notice and information would have been useful though"
Paul Rought
• Submitted 02 Apr 2019
Tour





Guide





Country





"
The tour was amazing. Our crew were great,Beverly sociable and informative. I don't know if the tour gave us a true feel for some of the countries only because we were generally staying in campsites that were isolated from the general population. But we saw a lot and had a great time regardless. A great taste tester of Africa. "
Jacqueline Taranto
• Submitted 26 May 2015
Tour





Guide





Country





"
Awesome crew! Easy going, hard working and very very friendly!
At the end of a long day Moses' meals were always great to look forward to.
Lake Malawi was amazing, as well as trip to Zanzibar
Thanks guys."
Daniel Carr
• Submitted 02 Nov 2009
"
I've had a brilliant time on this trip and there is not much I'd change.
Stevie (driver) and Wilson (cook) were amazing and lovely people.
Toni led the group well, was very knowledgeable and knew the answers to all out questions.
I had an amazing time! Thank you very much!"
Suzie Barnes
• Submitted 02 Jul 2009
At a Glance
Range
Trip Type
Starts
Nairobi
Ends
Cape Town
Departs
Saturdays
Group Size
Min 4 / Max 30
Hotel Rating
Camping
Local Payment
$2260pp paid in USD
Tour Guide
Yes - escorted by a tour leader
Meals
Breakfast: 40, Lunch: 32, Dinner: 31
Countries
Minimum Age
15 yrs, accompanied by an adult
Arr. Transfer
Yes
Dep. Transfer
No
Updated
10th May 2022
"
The tour overall is fantastic. It is a great way to have once in a lifetime experiences and see fabulous sights.
However, there are numerous early starts and long days in the truck that are not reflected by the trip notes. There are often times when the group want to stop and see more of the country through which we are travelling but this is not possible due to time and distance constraints.
The tour team were fantastic A little bit more advance notice and information would have been useful though"
Paul Rought
OTG000156
Kenya to Cape - 43 days
Africa
Overlanding
Africa
false
0
Kenya
https://www.onthegotours.com/uk/Zimbabwe/Kenya-to-Cape-43-days
https://www.onthegotours.com/repository/Road-to-Cape-Town--South-Africa--Africa-Safaris--On-The-Go-Tours-273111445950459_crop_flip_300_300_f2f2f2_center-center.jpg
Overland_Camping_Safaris