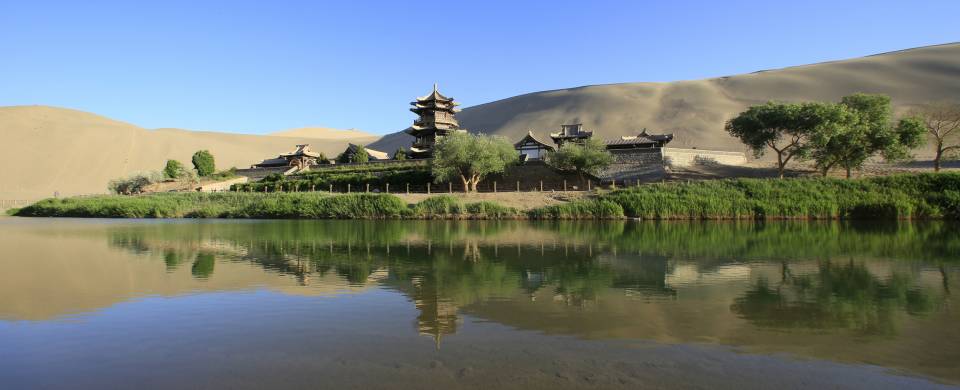 Trips and Tours to Jiayuguan
About Jiayuguan
Located in the northwest of Gansu Province, Jiayuguan sits in the middle of the narrowest valley and marks one of the defining points of the Silk Road. Known as the 'mouth of China', Jiayuguan marks the symbolic end of the Great Wall where it guarded the western boundary of the Ming Dynasty China. The narrow river passage leading back towards the inner lands was dubbed the 'throat'. The Jiaguyuan tourist area is divided into three parts: the Jiayu Pass, the western starting point of the Great Wall, overlooking the Gobi Desert; Xuanbi Wall, or the Overhanging Wall, which affords fantastic views from the top; and lastly the First Pier of the Great Wall.
Read More
The Overhanging Great Wall is an important part of the defensive work of Jiayuguan Pass. Built in the year of 1539 during the Ming Dynasty (1368 – 1644), it is 11 kilometers from downtown Jiayuguan, and located 6.5 kilometers northwest of the Jiayuguan Pass. The main body of the Overhanging Great Wall was built with gravel and soil, including three fire towers. Its outline seems similar with the Beijing Badaling Great Wall, so people nickname it 'West Badaling'.
Another point of interest in the region of Jiayuguan is the Wei-Jin Art Gallery, which sits at around 18km from the city center. Surrounded by the vast Gobi Desert, it is made up of more than one thousand ancient tombs from the Wei-Jin Period (220-420), many of which are family tombs and house up to 3 or 4 generations. The murals on the bricks of the tombs are very vivid, detailing aspects of the Wei-Jin Period in the traditional style of Chinese realism.