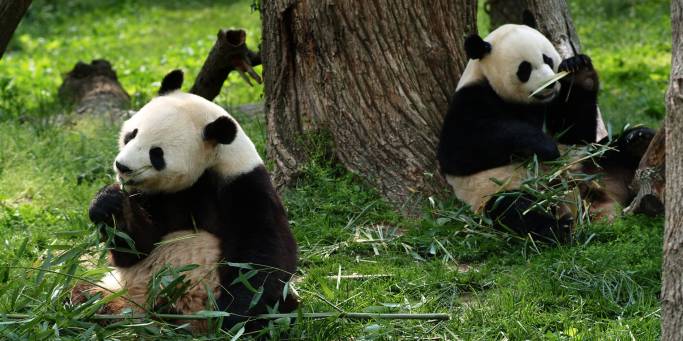 Join us on an excursion to the Shaanxi Rare Wildlife Rescue and Breeding Centre located at the foot of the Qingling Mountain range in Louguantai Forest Park north west of Xi'an. The center has re-opened its doors after being closed in 2011 for redevelopment. Originally established as Louguantai wild animal breeding and protection center, it was the first dedicated crested ibis breeding center in China. Later it became a shelter for ill or injured Giant Pandas in the region. With an estimate of only 1000 - 3000 Giant Panda remaining on the planet, the species is one of the world's most endangered mammals. Of these some 20 are based at the Shaanxi wildlife center with those of maturity taking part in artificial insemination breeding programs. The center has gained international renown in the past with 6 year old Lousheng giving birth to two baby cubs (one female and one male) on 18 August 2009.

It is not always possible to see panda at the center, taking some 14 hours to consume an average of 15 kg of Bamboo, pandas then require a lengthy nap afterward, often taken away from the prying eyes of visitors. Never the less there are plenty of other rare animals to be seen at the center including golden monkeys, takin, black bears, crested ibis, leopards, giant salamanders, white lipped deer, musk deer, vulture and owl.

Shaanxi Rare Wildlife Rescue and Breeding Centre
An early start this morning as you are driven to Shaanxi Rare Wildlife Rescue and Breeding Centre in Zhouzhi County. When at the Centre you will have the opportunity to wander around and see the animals. Of course the giant pandas are what everyone wants to see but sometimes this is not possible as when they sleep they like to do this away from prying eyes. However there are lots of other wonderful animals to see like black bears, golden monkeys, leopards and giant salamanders. Birds also are here in abundance so look out for crested ibis, vultures and owls. Once we've finished at the Centre it's time to climb back aboard your transfer back Xi'an for lunchtime.

For more info on the center you might like to read the Fact Sheet offered by the 'Getaway' program aired by Channel 9 Australia. You will need to copy this link into a new web page. http://getaway.ninemsn.com.au/fsasia/china/274153/china-panda-conservation
| Prices | Dates | Price/Person | Single Supp. |
| --- | --- | --- | --- |
| Giant Pandas | All Dates | $0 | - |
Additional Information
Starts/Ends: Xi'an
A visit to the Wildlife Rescue and Breeding Centre is offered on day 6 of our China Express, Great Wall & Warriors, Gateway to Tibet, Beyond the City Walls and Yin & Yangtze tours and day 8 of the Chinese Checkers, Fine China, Hutongs to Hong Kong and Mandarin Sunrise tours.
Note: A minimum of 4 persons is required to run this excursion
What's Included
Return transportation from Xi'an to the Shaanxi Rare Wildlife Rescue and Breeding Centre
Entrance into the Breeding Centre
Please note that the center is closed from time to time for quarantine reasons - sometimes with little notice. We will inform you of any closures as soon as we find out.