Cycling Tours and Holidays
Get off the beaten track on two wheels
Hit the road and experience more
An ideal introduction to cycling holidays, these adventures have been created by cycling experts. Choose between a two week ride through the scenic countryside of Cambodia or eight days of exploring and sightseeing on two wheels in Croatia.
Difficulty Rating of our Cycling Holidays
There are many different factors that contribute to the difficulty of a cycling holiday including length of day, terrain, type of accommodation, altitude and weather conditions.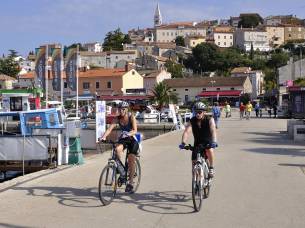 Leisurely
Our cycling holidays fall into the 'leisurely' category and are suited to anyone who can confidently ride a bike, is reasonably fit and in good health. You will ride predominantly on paved roads, with only gradual ascents, and cover daily distances which rarely exceed 55km (34 miles). Vehicle support is always available if you're feeling weary and need a break.
In order to properly assess whether one of our cycling holidays is suitable for you, it is essential that you read the 'Is This Tour For You?' paragraph at the bottom of the tour itinerary. Please also read the Trip Notes to see what each day entails including the distances covered, details of ascents and descents and the length of time spent cycling.
Frequently Asked Questions about our Cycling Holidays
Read on for more information regarding bike hire, group size, accommodation and what happens with your luggage.
Is bike hire included in the cost of the cycling holiday?
On our cycling holidays in Cambodia and Croatia, bike hire is included in the cost of the tour. Alternatively you can choose to travel with your own bike on our cycling holidays. In the tour Trip Notes we state what type of bike and equipment is required if you would like to take your own bike and we give information about flying with your bike. Please inform us prior to departure if you're planning to take your own bike.
Will I have to cycle with all my luggage?
No, you will only have to carry a small day bag with essentials including plenty of drinking water, a waterproof jacket and puncture kit (see tour Trip Notes for more detailed packing lists). Your main luggage will be transported between our overnight stops by our support vehicle. Each morning our luggage will be loaded onto this support vehicle and you'll be reunited with the rest of your gear at the end of the day.
What happens if I need to rest during the day's cycling?
We want everyone to enjoy their cycling experience and we recognise the importance of group members being allowed to cycle at their own pace. There is usually a fair distance between the front and rear cyclists in the group and there may be times when other group members, vehicle support and biking leader are out of sight. But there's no reason to panic as our regular stops give everyone a chance to catch up and regroup. If you need to take a break from cycling at any time then our support vehicle is always on hand.
Our local biking leaders and the support vehicle driver watch over the group throughout the day and they carry mobile phones, allowing you to contact them in the case of a breakdown or other incident.
What is the maximum group size on your cycling holidays?
The group size on our cycling holidays is limited to a maximum of 15-16 travellers. These trips attract a lot of solo travellers, in addition to some couples and groups of friends. We welcome adults of all ages - you just need to be physically fit and a confident cyclist. Our cycling adventures are led by an English-speaking tour leader and you'll be joined by fellow cyclists from around the world, making them an international affair and giving you the opportunity to meet people of different nationalities.
What's the accommodation like on your cycling holidays?
We stay in simple yet comfortable hotel accommodation on our Croatia cycling holiday. In Cambodia we use a mix of hotels, guesthouses and bungalows, with two nights at a local community homestay. In the tour Trip Notes you will find further details about the accommodation you can expect.
Our Cycling Holidays
Each of our cycling tour pages features a wealth of information to help you choose the bike adventure that's right for you.