Discover one of the planet's top wildlife destinations on a 6-day Galapagos island hopping adventure, staying in a choice of standard or upgraded accommodation. From Baltra Island, take in beautiful landscapes and encounter incredible wildlife on the islands of Santa Cruz, Floreana and Isabela, topped off with a hike up Sierra Negra Volcano.
Trip Highlights
Santa Cruz Island - observe Giant Tortoises in their natural habitat at Rancho El Manzanillo farm
Santa Cruz Island - follow the Tortuga Bay trail to reach one of the most beautiful beaches in the Galapagos, where you can swim and soak up the sun next to the marine Iguanas, boobies and marine birds
Floreana Island - walk to historic Asilo de La Paz, where the legendary Witmer family first settled in 1932 and lived in caves
Isabela Island - hike up to the rim of Sierra Negra Volcano to see the 2nd largest caldera in the world
Santa Cruz Island – visit the famous Charles Darwin Research Station and see the body of the world-famous turtle Lonesome George
Floreana Island – see a colony of sea lions and perhaps some blue footed bobbies, marine iguanas and marine turtles at picturesque Playa Lobos
Isabela Island – explore the largest island of the Archipelago, visiting the beautiful beaches of Los Humedales and the Tortoise Breeding Centre
Included
4 nights 3 star accommodation and 1 night local community guest house on Floreana Island (homestay with private en suite room) Upgraded (3-4 star) accommodation available for a supplement
Guided excursions and walks on Santa Cruz Island, Floreana Island and Isabela Island
Professional English/Spanish speaking Galapagos Naturalist Guide
Baltra airport arrival and departure transfer
5 breakfasts, 1 lunch and 3 dinners
Sierra Negra Volcano hike
Shared speed boat transfers on the tourist class Serenity boat
Not Included
Domestic and International flights, airport taxes and visas
Tipping – an entirely personal gesture
Entrance Fees: USD$120pp Galapagos park fee & transit card, paid in USD
Bus from Baltra – Itabaca Channel (budget approx USD$5 per person)
Items of a personal nature, drinks and additional meals
Baltra Island - Santa Cruz Island. Upon arrival at Baltra Island airport, you will be met by our guide and transferred to the city of Puerto Ayora, the largest in the Galapagos Archipelago, on the island of Santa Cruz. On the way, we cross the beautiful Itabaca Channel which separates Baltra and Santa Cruz Island. Once on the other side of the channel our shared transport will take you up to the highlands of Santa Cruz island to visit el Manzanillo private farm where we will have our first amazing Galapagos experience, observing the giant Galapagos Tortoises in their natural habitat. After lunch and time permitting, we may be able to visit one of the lava tunnels in the area. Then transfer back to the hotel in the town of Puerto Ayora and enjoy some free time.
Overnight: Santa Cruz Island | Lunch
Santa Cruz & Floreana Island
Santa Cruz Island – Floreana Island. We start the day with a walk up to the Fausto Llerena Tortoise Centre where we learn about the important conservation work carried out here to save the different tortoise populations and offers a wonderful opportunity to see baby tortoises here. The trail continues on to the Charles Darwin Station the operational centre for the foundation which conducts research and now features the Lonesome George exhibit. After enjoying this wonderful walk, we head back to town where you will have time to prepare for your onward transfer Floreana Island.

Early this afternoon we board the shared speed boat taking us to Puerto Velasco Ibarra, a small town located in the legendary Floreana Island. You will have time to walk to Playa Lobos, a beautiful spot on this island where you may be lucky enough to see a colony of sea lions, perhaps some blue footed boobies, marine iguanas and maybe some marine turtles.
Overnight: Floreana Island | Breakfast, Dinner
Floreana & Isabela Island
Floreana Island - Isabela Island. This morning you will be taken to the highlands of Floreana by "Chiva" transport, where you can enjoy a stroll through "Asilo de La Paz" the Peace Haven. Here you will see lumbering giant tortoises, the natural spring that supported Floreana and the caves where the first settlers lived. Heading back to town you will have time for a spot of lunch before boarding your speedboat taking you onto Isabella Island.

Isabela Island is the largest in the Archipelago and following your arrival at our hotel in Puerto Villamil, you'll head out to the wetlands, an area known as Los Humedales. This awesome area is characterised by sandy beaches, rocky shores, and mangroves. During the walk along the main trail, you can see all four species of mangroves found in the Galapagos and observe pink flamingos and other migratory birds. You will also visit the Turtle Breeding Centre where the national park is breeding turtles in danger of extinction. Some of these turtles have been released into the park and can be found on the trails. You will then be transported back to your hotel to enjoy a little free time before your evening meal.
Overnight: Isabela Island | Breakfast, Dinner
Hiking Sierra Negra Volcano
Isabela Island - Santa Cruz Island. Isabela is known for having the second largest volcanic crater in the world, the first being the Ngorongoro in Africa. This morning we will be taken to Galapagos Park checkpoint, from where you can enjoy a scenic hike up to the rim of this remarkable crater and hopefully see the whole 11km diameter of the crater, weather permitting. Afterwards we will be taken back to town where there's free time for lunch before heading for our speedboat transfer to Santa Cruz Island. Upon arrival in the city of Puerto Avora, you will be transferred to your hotel.
Overnight: Santa Cruz Island | Breakfast
Santa Cruz Island
We start today hiking towards the shores of the Pacific Ocean to one of the most stunning beaches in the Galapagos, Tortuga Bay. Renowned for being one of the islands' most pristine sandy stretches, the beach at Tortuga Bay features blue waters, rich wildlife, and there's time for relaxation on the soft white sands, surrounded by marine vegetation and the famed local marine iguanas. You'll feel compelled to throw on your swimsuit, don your snorkelling gear, and explore the colourful underwater world of the bay's ecosystem, alive with fish and other aquatic species.

Returning to Puerto Ayora we take a break for lunch before we take a scenic walk to Las Grietas, a huge lava crevasse which is a long narrow cool-water swimming hole among a jumble of small cliffs and tumbled boulders. After enjoying a refreshing swim we return to town. This evening we enjoy a farewell dinner at a local restaurant.

Optional Tour: In the afternoon there is an optional Bay Tour available to book locally which includes Lobos Island, snorkelling and Las Grietas de la Tintoreras where you can see sharks. During this tour, you can also observe blue footed boobies, Galapagos pelicans and other marine birds.
Overnight: Santa Cruz Island | Breakfast, Dinner
Baltra Island
Santa Cruz Island – Baltra Island. This morning you will be transferred to the airport on Baltra Island for your return flight home, For one final sightseeing trip en route we will stop by the natural formation known as "The twins" (Los Gemelos) Craters which is on the way to the Itabaca Channel. Once we reach the Itabaca Channel we will use the local ferry to cross the channel to the side of Baltra from where you will be taken to the airport.

Please note that we can book your domestic Galapagos flights, accommodation in Quito or Guayaquil and transfers upon request. In addition to this, if you'd like to see more of Ecuador we can tailor-make an itinerary for you. Please contact us for details.
Breakfast
Choice of Standard of Upgraded Accommodation
On this tour our Standard Accommodation includes a 3 star hotel on Santa Cruz Island (Posada del Mar, Dejavu or Lobo de Mar), Hostal Gran Tintorera on Isabela Island and a Community House on Floreana Island, which is homestay accommodation with private en suite rooms.

We offer Upgraded Accommodation for those looking for a little more comfort. Our upgraded accommodation includes the 4 star Ikala Galapagos Hotel on Santa Cruz Island, the charming 3 star Hotel Marita on Isabela Island and the simple Lava Lodge on Floreana Island.
Departure dates are guaranteed with a minimum of 4 persons. 'Twin Share' prices are per person when there are 2 people sharing a room. 'Single Room' prices are applicable to those who don't have anyone to share a room with or anyone wanting the privacy of a single room.
The hotels listed below are ones which we frequently use on this tour. We reserve the right to substitute these hotels to ones of a similar standard.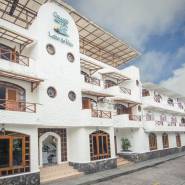 Lobo De Mar Hotel, Santa Cruz Island, Galapagos Islands
The Grand Hotel Lobo de Mar is in the heart of Galapagos on Santa Cruz Island After a full day of exploration, why not head to the either the indoor or outdoor swimming pools or to the fabulous roof terrace to admire the stunning sea views whilst relaxing with a drink from the poolside bar. Later why not enjoy an evening meal at the on-site restaurant. Make yourself at home in one of the comfortably decorated air-conditioned rooms featuring flat-screen cable television, private bathroom with bathtubs or showers. Situated in Puerto Ayora within a 5 minute stroll of where you can find a selection of restaurants, cafes and shops.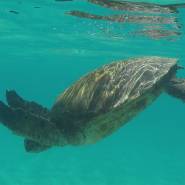 Community Guest Houses Floreana Island, Galapagos Islands
Overnight accommodation is allocated in community run guest houses on the tiny island of Floreana. These community houses offer clean and comfortable, private en suite accommodation.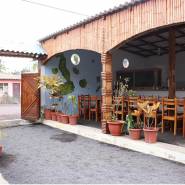 Gran Hostal Tintorera, Isabela Island, Galapagos Islands
The Gran Hostal Tintorera guesthouse is located just two minutes' walk from the main road in Isabela and 350m from the beach. This friendly little property is family run and you will be sure to receive a warm welcome here. The clean spacious rooms are well equipped offering private bathrooms, hot water, air conditioning, TV, fridge and wi-fi.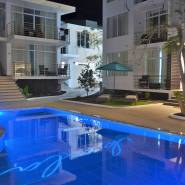 Ikala Galapagos Hotel, Santa Cruz Island, Galapagos Islands
The new Ikala Galapagos Hotel on Santa Cruz Island is a luxurious and well-appointed hotel with featuring a swimming pool, stylish bar area and a beautiful terrace offering a fabulous view over Puerto Ayora harbour. After a long day exploring you can enjoy a delicious cocktail or locally sourced Galapagos inspired meal at the Ikala Terrace Bar & Restaurant. Make yourself at home in one of the elegantly decorated rooms featuring a private balcony, en suite bathroom and with all the modern amenities. The hotel is well located just one block away from the main pier and within easy reach of the main streets of Puerto Ayora where you will find plenty of shops, boutiques, restaurants and bars.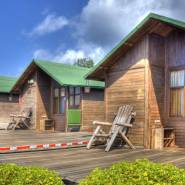 Floreana Lava Lodge, Floreana Island, Galapagos Islands
The Lava Lodge is perched at the edge of a black lava beach in a sheltered bay, this quaint family run accommodation is made up of 10 Ocean facing wooden cabins in a wonderfully secluded location. Each Chalet has its own wooden decking with chairs providing fabulous views of the sea, sunsets and stars. Much of the food served at the lodge has been grown on the family's organic farm, here you can expect delicious meals served in a relaxing environment and there's often special BBQ evenings. The comfortable cabins feature either twin beds or bunk beds a private bathroom and are each equipped with the essentials, including air-conditioning. The Lodge is a 5 minute walk from the nearest village and only a couple of minutes walk from a sea lion colony.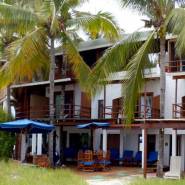 La Casa de Marita Hotel, Isabela Island, Galapagos Islands
Nestled amongst palm trees La Casa de Marita is a charming boutique hotel located on a beautiful white-sand beach of Puerto Villamil, on Isabela Island. There is a lovely garden to relax in or perhaps head to the beach area complete with hammocks and sun loungers, perfect for an afternoon siesta. The restaurant fuses local and International cuisine and only uses produce grown and farmed locally. Each room has been individually decorated and feature private balcony or terrace with ocean or garden views, and all come with AC, mini bar and en-suite bathroom. Located in Puerto Villamil, Isabela's only true town, Casa de Marita is a five-minute walk to the boardwalk where you will find local restaurants and shops.
In Brief
Range
Trip Type
Starts
Baltra Island
Ends
Baltra Island
Departs
Mondays
Group Size
Min 4 / Max 16
Hotel Rating
Standard or Upgraded
Tour Guide
Yes - naturalist guide in the Galapagos
Meals
Breakfast: 5, Lunch: 1, Dinner: 3
Visiting
Galapagos Islands
Countries
OTG002383
Galapagos Island Hopping - 6 days
South America
Handpicked
South America
false
Galapagos
https://www.onthegotours.com/us/Galapagos/Galapagos-Island-Hopping-6-days
https://www.onthegotours.com/repository/San-Cristobal--sea-lions-on-beach--Galapagos-best-places-to-visit--On-The-Go-Tours-318751473417976_crop_flip_300_300_f2f2f2_center-center.jpg
Group_Tours