Athens Shore Excursion: Athens and Piraeus Hop-On Hop-Off Bus Tour





463 reviews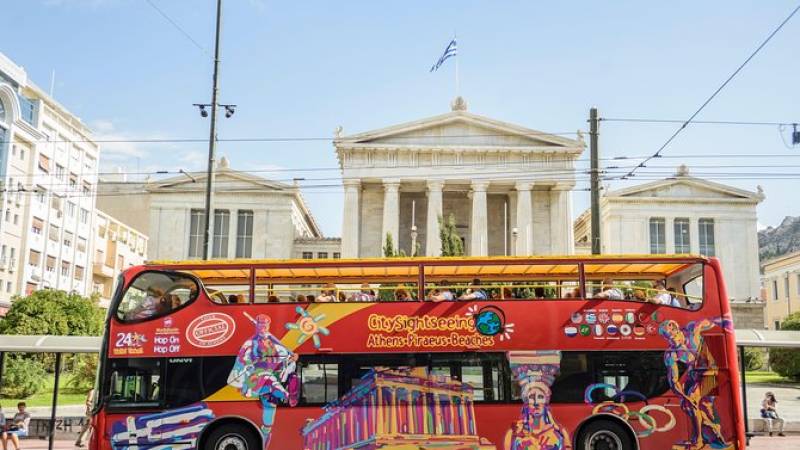 from USD $24.51
No matter what cruise ship you arrive on, discover the very best of Athens with a 24 hour or 3 day hop-on hop-off bus pass. Athens is an incredibly ancient city, and on this double-decker bus tour you'll see all of the key sights, including the Temple of Zeus, the Acropolis & Parthenon, the National Library, the Ancient Olympic Stadium, the National Gardens and much more! Learn all about ancient Greek mythology and philosophy, thanks to the informative on-board audio commentary. Hop on and off as many times as you please within the chosen time period, getting a closer look at the Athenian history on show. This sightseeing tour provides access to up to 3 bus routes depending on the ticket chosen. And there's 2 included walking tours to take advantage of, giving you the chance to properly immerse yourself in this city's culture!
BOOK WITH CONFIDENCE:
As members of ABTA and ATAS we are
100% financially bonded
. You can book your day trip with us in absolute confidence, no matter where in the world you are.
Due to the impacts of COVID-19, we are currently not taking new bookings for day tours.
In Brief
Highlights:
Enjoy fantastic aerial views
Recorded commentary by audio headphones
Instant Confirmation
Explore the city of Athens on a City Sightseeing tour! Our double-decker, open-top buses give you fantastic access to the city's key sights. As you travel, you can enjoy panoramic views from the top-deck, plus a wonderful multilingual audio commentary.

The Routes:

Athens Line:

1. Syntagma Square

2. Melina Mercouri

3. New Acropolis Museum

4. The Acropolis & Parthenon

5. Temple of Zeus

6. National Gardens

7. Benaki Museum

8. Panathinaikon Stadium

9. National Gardens

10. National Library

11. National Archaeological Museum

12. Omonoia Square

13. Karaiskaki Square

14. Thession Station

15. Kotzia Square

Piraeus Line: 

1. Cruise Terminal

2. Lion's Gate

3. Archaeological Museum of Piraeus

4. Mikrolimano Harbour

5. Planetarium

6. Marriott & Intercontinental Hotels

7. Temple of Zeus

8. National Gardens

9. Syntagma Square

10. Melina Merkouri

11. Marriott & Intercontinental Hotels

12. Planetarium

13. The Municipal Theatre 

Beach Riviera Line (April to October):

1. Interchange Athens & 1 Interchange Athens & Beach-Riviera

2. Planetarium

3. Faliro / Flisvos

4. Ag Kosmas Beach

5. Glyfada Terminal

6. Asteria Glyfada Beach

7. Kavouri / Oceanis Beach

8. Vouliagmeni Lake Beach

9. Temple of Zeus
Inclusions
24 hour or 3 day hop-on hop-off bus pass depending on ticket selected
2 free walking/photo tours
Access to up to 3 bus routes depending on ticket selected
Exclusions
Food and drinks, unless specified
Gratuities
Departure Time
Winter Season (1st November - 31st March):

Athens Line
Operating Hours: 8:30AM - 6:30PM
Frequency: Every 30 Minutes 

Piraeus Line
Operating Hours: 11:15AM - 4:30PM
Frequency: Every 75 Minutes 

Summer Season (1st April - 31st October):

Athens Line
Operating Hours: 8:30AM - 7:30PM
Frequency: Every 15-30 Minutes 

Piraeus Line
Operating Hours: 11:15AM - 6:15PM
Frequency: Every 30 Minutes 

Beach Riviera Line (Only operates in the summer season)
Operating Hours: 9:35AM - 5:35PM
Frequency: Every 60 Minutes
Departure Point
Starting Points: Hop-on at Syntagma Square (Stop 1) for the Athens Line or the Cruise Terminal (Stop 1) for the Piraeus Line.  For specific cruise passenger information, please see  'Additional Info'.
Returns To
At the 'end' of the tour, the bus will return to Stop 1.
Additional Information
Confirmation will be received at time of booking
Wheelchair accessible
For cruise passengers arriving at the Cruise Terminal, bus stops 4, 5 & 6 on the Piraeus route will be the nearest stops at which to join the tour (if ticket including Piraeus route is selected).
Athens & Piraeus routes operate all year round, excluding 17th November, 25th December and 1st January.
Beach Riviera route operates April - October only.
Piraeus route runs from 9:30am - 7:15pm, every 30 minutes. Duration - 80 minutes for full loop.
Athens route runs from 8:30am - 9:00pm, every 15 minutes. Duration - 90 minutes for full loop.
Stroller accessible
Near public transportation
Democracy & Origin of Athens walking tour runs daily at 11:00am only. Tour departs from bus stop 7 (Athens route).
Secrets of Parthenon and Athenians walking tour runs daily at 1:15pm only. Tour departs from bus stop 7 (Athens route).
Paper & mobile vouchers accepted for this tour.
Most travelers can participate
This experience requires good weather. If it's canceled due to poor weather, you'll be offered a different date or a full refund
Booking Information
You can present either a paper or an electronic voucher for this activity.
Cancellation Terms
This trip is fully refundable up to 96 hours prior to the commencement of your trip.
Booking Terms and Conditions
When you book this trip, you need to read and accept the
terms and conditions
for booking our day trips in excursions.
Scoring an average traveller rating of 5 out of 5 based on the last 24 recent reviews
"
It was so relaxing and enjoyable -loved every minute of it
"
Maggie
• Submitted 09 Jan 2018





"
We did this activity as a shore excursion from our cruise ship. It was perfect for us as there was a bus right at the cruise terminal and the guides were helpful in pointing out where we might want to go on the maps. This is great as an overview activity if there are one or two particular things you want to do along the way while appreciating everything else to see.
"
Godwi
• Submitted 03 Dec 2017





"
Always enjoy these bus tours in new cities. I like to get a base of the whole city while learning informative facts from the commentary. Then you can mark down places you want to come back and see. Would definitely recommend.
"
Frank R
• Submitted 14 Nov 2017





"
The hop on hop off tour in athens was good as well. Unfortunately there was a metro strike and the streets were full of vehicles making it challenging to see all we wanted to. People who had booked other tours encountered the same issues.
"
William M
• Submitted 04 Nov 2017





Cynthia F
• Submitted 15 Oct 2017





"
We saw a lot on this trip from the port to the historic area and then on to the National Archelogical museum.
"
Keron K
• Submitted 10 Oct 2017





"
Best way to see any city. You get to see all the popular sites and return to the favorite sites.
"
Liz C
• Submitted 05 Oct 2017





"
Basically a great way to navigate Athens in a short time.
"
hweissman
• Submitted 01 Oct 2017





"
Amazing way to get around Athens and see all the sights!
"
Roberta W
• Submitted 23 Sep 2017





"
Excellent way to get from cruise ship terminal to all the main sites in Athens...buy your tickets online, print and take with you....couldn't be more convenient or more economical.....buses are waiting for you, easy to locate, bright red color....get off ship asap and beat the crowds to the acropolis....after spending all the time we wanted to explore Parthenon we hopped back on and got off at other locations...great way to get around, includes headphones for speaker on bus where you can choose your language and get information about site you're headed to and things you'll see along the way!
"
Diane H F
• Submitted 21 Sep 2017





"
Yes. I am glad I booked this hop on hop off tour. Very convenient way to transfer from Piraeus to Athens and back and we were able to use the same ticket for two days. This tour also included two free walking tours which we availed - Highly recommended. We learned a lot. Thanks a lot to Dimitris - he is an archeologist, historian. Very helpful. I understood Parthenon, Acropolis gave good historical trivia. He also showed us where to shop and eat and what time is the best time to visit Acropolis. This hop on hop off tour also included free snacks and water if you will drop in syntagma square. We were also able to see presidential guards. Thanks Dimitrus. We made good decision to book this as our shore excursion.
"
Nelia
• Submitted 03 Sep 2017





"
Great way to see all the major sites.
"
Maureen C
• Submitted 17 Aug 2017





"
It is the best way to see Athens. We got of the ship , walk 100 meters to the bus . We spend the next 48hours to see Athens . Very good service.
"
michael w
• Submitted 12 Aug 2017





"
My wife and I were on an East Med Cruise and Piraeus was one of the Ports of call. As we were there for only the day we decided to book this HOHO so we could see as much of Athens at our own pace. The Piraeus and Athens ticket enabled us to use the HOHO bus for the two routes. Route 1 took use directly from the port to Athens centre and route 2 linked up with route 1 to take you around the rest of Athens. There are 3 bus companies that operate a similar service. We were booked with the RED coloured bus company through Viator. They are parked outside to the left of the main port exit gates. When you board the bus you are given a route map showing all the stops and where the main attractions are and also a complimentary set of ear phones which when seated you plug into the sockets and select your language channel. We were also each given a voucher for a free bruschetta and bottle of water, which we used. The drivers were very helpful and polite and there were a number of helpful assistants at the various stops along the route. Although it was very hot, 44 in the shade, we managed to get a flavour of Athens using this service. I would recommend this bus company if want to have a quick tour at your own pace. The ticket also can be used for a second day for no extra charge.
"
Paul R
• Submitted 23 Jul 2017





"
If you're arriving on a cruise ship for the day. This was Great and Convenient! Best way to see Athens, especially getting off our cruise in Piraeus and right onto the Hop On Hop Off. Loved It. We got off and got to see the major sights we wanted to see and also was able to have lunch in Athens. FYI, alot of people will take the Hop On Hop Off from the cruise ship, as it is the best way to see Athens and very Economical. You should get off the ship earliest as possible to catch one of the first buses from the pier, plan accordingly, especially going to the Colisseum, the earlier you get there the less people in line. Know what time you want to return to the ship, check the schedule and make sure you make it back on that bus or you will miss your cruise ship. The Colisseum is the last major stop before heading back to Piraeus and the line to return is a mile long. Only complaint was the buses on the return were not on time picking up at the Colisseum that day, so plan accordingly. Since we took the first bus from the pier to Athens, we could head back to the ship early enough to not miss our cruise ship. Other than that, Awesome Tour!
"
Daveen
• Submitted 27 Jun 2017





"
Good Tour, nice way to see the highlights. Unfortunately we were only in port in Piraeus for a limited time so we were not able to hop off at any stops other than the Acropolis. Really do need many hours if you want to be able to get off at multiple locations.
"
jsjaeaton
• Submitted 18 Jun 2017





"
Great way to see. all the city highlights
"
n-mcquaid
• Submitted 12 Jun 2017





"
If arriving on a cruise this the best way to go as the port is a great distance from the city center and ship excursion are way to expensive. I have visited over 15 different countries in Europe and I always look for hop on hop off tours. It's the best way to see the city.
"
Keith P
• Submitted 11 Jun 2017





"
Got us to where we were going. Convenient. Affordable.
"
jowens802
• Submitted 01 Jun 2017





"
We really enjoyed touring Athens on our own. You walk outside the port to the far left where buses and cabs are waiting. There, there are three Hop-on Hop-off tour companies waiting for you. We did a quick tour of the Port. Note: If you like Narina, pay attention to the quick stop at The Lions Gate. Our first actual stop is at The Acropolis and Parthenon. We were there for two hours before most of the other large tour groups showed up. We were able to get pictures with NO ONE in them. Loved this tour. Highly recommended. Oh... Stop 6 and 9 same location - there is a Coffee Island across the street... We had a coffeeccino. Yum! just down the street from Stop 6 and 9 is a small little local market. You should swing in...
"
Shauna S
• Submitted 09 May 2017





"
Always a great experience!
"
Mary C
• Submitted 08 May 2017





"
Great way to see Athens, to bad it was Easter and everything was closed. Would recommend for other times.
"
Joe
• Submitted 23 Apr 2017





"
The City Sightseeing Hop-On Hop-Off was the perfect way for us to revisit this lovely city. We were able to see places we had missed on our last visit and also renew acquaintance with the wonders of Athens. At Syntagma Square I left my phone on the bus, and the driver and the staff at the bus-stop could not have been more helpful and kind in helping me to retrieve it. I fully recommend this tour.
"
Gillian B
• Submitted 22 Apr 2017





"
This was near the end of our multi-week trip, and we were tiring, so we stayed on the buses most of the time. We did get off at the Acropolis and does THAT ever make for a great directional city sign! and walked up, but not all the way. FYI, additional tickets must be purchased to climb up to the top. The Acropolis stop is where you switch from one bus route to the other. We did them both, and got back to the ship in plenty of time. The plug-in audio is very helpful so you know which spectacular ancient wonder you're viewing at any particular moment.
"
Susan H
• Submitted 21 Apr 2017





In Brief
Highlights:
Enjoy fantastic aerial views
Recorded commentary by audio headphones
Instant Confirmation
More Athens Day Trips