Old and New Jerusalem Day Trip from Tel Aviv





75 reviews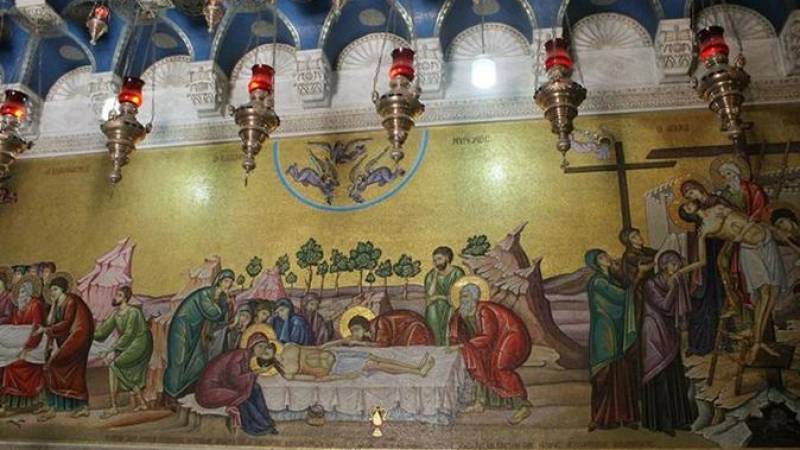 from USD $101.20
Be swept away by the ancient and religious sites of Jerusalem on this compelling full-day coach and walking tour from Tel Aviv. With an expert guide to explain everything you see, witness this stunning city's main Christian and Jewish shrines, including the Mount of Olives, Western Wall, Via Dolorosa (no. 10-14) and exquisite Church of the Holy Sepulchre, said to stand on the site of Jesus' crucifixion. Time at the powerful Holocaust Museum in New Jerusalem to chart the terrible treatment of the Jews in World War II wraps up this evocative tour.
BOOK WITH CONFIDENCE:
As members of ABTA and ATAS we are
100% financially bonded
. You can book your day trip with us in absolute confidence, no matter where in the world you are.
Due to the impacts of COVID-19, we are currently not taking new bookings for day tours.
In Brief
Location:
Tel Aviv-Yafo, Israel
Highlights:
Comprehensive tour by bus/coach
Informative, friendly and professional guide
All entrance fees included
Itinerary
This is a typical itinerary for this product

Stop At: Western Wall Plaza Jewish Quarter, Jerusalem 97500 Israel

Western Wall

Duration: 20 minutes

Stop At: The Way of the Cross - Via Dolorosa, Via Dolorosa Old Town, Jerusalem Israel

Visit some of the stations along Via Dolorosa

Duration: 30 minutes

Stop At: Old City of Jerusalem, Jerusalem Israel

Walk in the Old City of Jerusalem

Duration: 3 hours 30 minutes

Stop At: Eglise du Saint-Sepulcre, Christian Quarter, Jerusalem Israel

Visit the Church of Holy Sepulchre

Duration: 30 minutes

Pass By: Monte das Oliveiras, Mount of Olives Road, Jerusalem Israel

View of Mount of Olives

Pass By: Kidron Valley, Behind Old City Walls, Jerusalem Israel

View of the Kidron Valley

Stop At: Yad Vashem - The World Holocaust Remembrance Center, Mount Herzl Mount of Remembrance in Jerusalem, Entrance to the site is via the Holland Junction, situated on Herzl Boulevard, Jerusalem 91034 Israel

Visit Yad Vashem

Duration: 1 hour 30 minutes

Stop At: Jewish Quarter, Jerusalem Israel

Jewish Quarter

Duration: 40 minutes

Pass By: The Jewish Cemetery, Mount of Olives, Jerusalem Israel

View of the Jewish cemetery on Mount of Olives

Stop At: Christian Quarter Road, Jerusalem Israel

Christian Quarter

Duration: 40 minutes

Stop At: The Cardo, Jewish Quarter, Jerusalem Israel

Roman- Byzantine cardo

Duration: 10 minutes

Stop At: Muslim Quarter, Jerusalem Israel

Muslim Quarter

Duration: 40 minutes


Inclusions
Hotel pickup and drop-off
Professional guide
Air-conditioned vehicle
Entry/Admission - The Cardo
Exclusions
Food and drinks, unless specified
Gratuities
Departure Time
7:15 AM
Departure Point
Tel Aviv-Yafo, Israel

Traveler pickup is offered


Returns To
Returns to original departure point

Additional Information
Confirmation will be received at time of booking
A moderate dress code is required to enter places of worship and selected museums. Please refrain from wearing shorts. Knees and shoulders must be covered for both men and women. You may risk refused entry if you fail to comply with these dress requirements
Please note that on Fridays, Saturdays and Jewish holidays the Holocaust museum is closed. A visit to Mt. Zion (King David's tomb and hall of the last supper) will take place instead.
The entrance to Yad vashem is not permitted for children under 10 years old
Please note this tour is not suitable for children under the age of 4
Booking Information
You can present either a paper or an electronic voucher for this activity.
Cancellation Terms
This trip is fully refundable up to 96 hours prior to the commencement of your trip.
Booking Terms and Conditions
When you book this trip, you need to read and accept the
terms and conditions
for booking our day trips in excursions.
Scoring an average traveller rating of 5 out of 5 based on the last 24 recent reviews
"
Our tour guide was excellent in describing the location and events of Jerusalem. I would definitely recommend doing this tour.
"
Michael B
• Submitted 21 Nov 2019





"
I loved this trip, I've always wanted to see Jerusalem and it was amazing to do so. The morning was walking all around old Jerusalem including seeing the Church of the Holy Sepulchre. I was disappointed about how short a time we had in the church - only 20 minutes. There are huge queues for the rock of Golgotha and Jesus' tomb. The tour didn't give us enough time to see everything or to queue for one of those and it would have been good to have some time to walk round Jerusalem on your own. The tour guide, Itamar, was full of interesting information but unfortunately I didn't hear most of it. He repeatedly started talking before half of the tour group had caught up. He seemed to have little patience with those with restricted mobility issues who walked a bit slower - and it is quite difficult to walk round Jerusalem as there are lots of little steps up and down and uneven ground. Several times we were left well behind the group and missed all of the talk. In addition, he sometimes asked me to wait partway along the route for the last people while he gave information to the quicker members which meant I missed it all as well. He was very quiet when speaking so even if you were there when he talked, you had to get quite close to hear and with a group of about 50, that was almost impossible. However, even without the tour information, everything we saw was fascinating. You got time to spend on your own at the Wailing Wall which was lovely and an amazing experience. I was upset that the choice of lunch location was so inconsiderate - up about 60 steps to a rooftop bar which was just not feasible for those of us with walking difficulties. We ended up going somewhere else on our own. The afternoon session of this tour was entirely in Yad Vashem, the world holocaust museum. You are given quite a lot of time to look round this although you could spend days there without seeing and reading everything. It is a fascinating but hard experience and the guide was considerate in making sure people understood upfront that if they found it too much nobody would judge them and they could wait in the coffee shop or book shop if they preferred. We spent the whole time looking round the museum and it was a chilling experience but I'm so glad I did it. I was expecting more from the 'new Jerusalem' section of the tour than just the museum so that was a bit of a shame but the museum itself is a great experience. Overall an amazing tour and I'm so glad I did it.
"
Colette D
• Submitted 28 Oct 2019





"
Very comfortable large bus, if you tend to be chilly bring a wrap for the bus. Our guide,Itamar, was very informative and did a good job of answering our questions and keeping all 32 of us on track yet I didn't feel rushed at all. There are lots of tour groups in Jerusalem so you kind of have to stick with your group otherwise you'd get lost. This tour is not a shopping tour but we did stop at one "authorized" dealer where the prices were a little high and a little too much pressure to buy (I just said no thank you) but they did have clean restrooms and offered cold drinks while we were there. You actually finish up in Jerusalem about 3:30 and it takes about an hour and a half to get back to Tel Aviv depending on traffic and the bus drops people off at their hotels according to location. along the way. The place we stopped to eat lunch offered two types of sandwhiches: falafel or shwarma and they were pretty good for about $10 and included a beverage. We didn't actually get to eat lunch til after 1 so if you tend to get hungry bring some snacks of your own. Bring your own water bottle otherwise you'd have to buy one (except at lunch) and it's ok to drink a lot because we did have enough bathroom stops and the places had toilets that flushed and sinks with soap and water. It was a full day and well worth it in my opinion . Since my tour was on a Friday we skipped the Holocaust Museum and went to Garden of Gethsemane and Last Supper instead and I'm glad I did this This option is only available on Fri and Sat when the Holocaust Museum is closed. This particular tour operator (Bein Harim) seemed very organized, punctual, professional and deliver what they promise.
"
Karen K
• Submitted 03 Jul 2019





"
Our tour guide was very knowledgeable and the trip was very well organized. I very much enjoyed the tour.
"
Bielka A
• Submitted 13 May 2019





"
The tour was excellent! Our guide, Itamar, was very knowledgeable and answered all the questions we had on the tour. It was well organized with plenty of time to wander areas on your own.
"
Alice M
• Submitted 21 Jan 2019





"
We took the tour with our boys 7 and 5 years of age. They enjoyed the tour as we did too. We recommend this tour and others to get a full understanding of Jerusalem.
"
Juan A
• Submitted 28 Dec 2018





"
The tour was excellent. The guide, Arim Call Or, was knowledgeable, energetic, balanced, and funny. He was the best guide we have ever had including tours in China, Rome, Kenya, the US and Ecuador among others. He made the day extra special.
"
Dean R
• Submitted 09 Oct 2018





"
I would like to express my admiration and gratitude for the excellent organization of the tour in April 2018. We were pleased to visit these Holy places with your guide. Thanks
"
aspiration
• Submitted 11 Jul 2018





"
As an atheist I was a bit worried that this trip would be too religious for me but I was pleasantly surprised. With an excellent guide, we got all the historical as well as the religious information. We strolled through the souks around the four quarters of old Jerusalem, visited the dome of the rock, the church of the sepulchre and the wailing wall. After a lunch of local fare we visited the beautifully designed and very peaceful Holocaust Memorial Museum. Its haunting displays and soft ambiance are a perfect setting to pay our respects to the millions who perished at the hands of the Nazis, lest we forget. All in all a highly recommended day for all ages and whatever your beliefs.
"
Debra T
• Submitted 13 May 2018





"
Eli R, our guide made this trip to a very memorable and enjoyable day. He is very knowledgeable and entertaining, multi-lingual in many languages and proficient in history. Highly recommended and I'm looking for many more, especially with Eli. Five stars. Natacha and Inna
"
Natacha B
• Submitted 06 Mar 2018





"
I love this tour! It was fabulous!! The guide was fantastic!! Jerusalem is wonderful!
"
Rosa N
• Submitted 20 Feb 2018





"
A must for anyone who's the first time in Israel!
"
legrandfun
• Submitted 19 Feb 2018





"
The tour was AWESOME, AWESOME, totally AWESOME. My husband and I toured Old and New Jerusalem on December 1, 2017. The tour was full of exciting, memorable and historical sites and our tour guides made our tours even better. They were very knowledge and brought life to the historical site that we visited. I would absolutely recommend this tour sponsored by Bein Harim to anyone planning on visiting Israel.
"
Wanda H
• Submitted 14 Dec 2017





"
Was a really great tour, with wonderful tour guide. You get to visit so many of the important spots, so it's a great condensed day. I was leaving from Tel Aviv and the fact that they pick you up there and bring you back made the whole thing super convenient as well. Really get a lot packed into one day, and the other people on the tour were very lovely I was by myself.
"
julianapwk
• Submitted 22 Oct 2017





"
A great mini tour of Jerusalem and all the Holy Sites! A long but wonderful day. Organized and the guide was knowageable and thorough.
"
Gwen B
• Submitted 29 Sep 2017





"
The trip to old and New Jerusalem was very educational, the guide was fantastic, she gave a lot of actual and pass information along the way and in the city. Although all the problems I felt safe in every place. The timing was also very good as well as the price. It was overall a very nice experience, everyone was very helpful.
"
Alexis T. V
• Submitted 16 Sep 2017





"
Well worth the money. Highly recommended.
"
Tuong L
• Submitted 31 Jul 2017





"
Guide did a great job with keeping tour moving but not missing anything. The day was a full 12 hour day including bus ride from Tel Aviv but could have used more time. Maybe have an option to expand this to a 2 day tour???? But this one should still be booked. A lot to see and enjoy.
"
Brian K
• Submitted 01 Jul 2017





"
Great tour guide. Made everything interesting and gave time to see all as we toured old Jerusalem. She also and even though this may sound silly, pointed out WC's if anyone needed..saving everyone the embarrassment of having to ask or delay the group.....tour was excellent and comfortable. Just be aware, lunch is generally about 2pm or after. We had been up at 5am, had a small breakfast and got ready to walk to where the van would meet us...a half mile away at a hotel. Then waited for the van which brings you to a meeting place and you wait for the correct tour van or bus. Being our first tour, we did not bring snacks and therefore did not eat from 5am till after 2pm and were walking around Jerusalem all morning. It was difficult. Bring snacks!!!! We then drove to Yad Vashem with sights being pointed out along the way of New Jerusalem. On arrival, our guide told us of some special areas we might want to visit in Yad Vashem and was sensitive about what we were to see. It was an emotionally devastating and powerful visit, but honestly could have used more time there.
"
Us 2
• Submitted 27 Jun 2017





"
Best tour of the four I took. You swing by lots of great sites and the guide was fantastic. I saw and learned a lot and had a great time overall.
"
Hoa Y
• Submitted 20 Apr 2017





"
Charlie for Bein Hareim who was the guide was excellent. Jerusalem surely is the spiritual capital of the World.
"
shel.cohn
• Submitted 03 Apr 2017





"
This tour was beautiful! As we approached Jerusalem, we stopped for pictures of Old Jerusalem from a distance. Shortly after arriving in Old Jerusalem, we walked stations 5 through 14 of the Via Dolorosa. Along the way, our tour guide explained what happened when Jesus walked this path on His way to His crucifixion. There are many souvenir shops along the way. At the end of this path, we visited the Basilica of the Holy Sepulcher which is built in the location of the crucifixion and burial of Jesus. It was a very moving experience. Afterwards, we went to the Western Wall, also called the Wailing Wall which is the wall that remained after the Temple of Jerusalem was destroyed. It is considered the holiest place where Jews are permitted to pray. After leaving Old Jerusalem, we went to visit Yad Vashem Holocaust Museum on the western slope of Mount Herzl on the Mount of Remembrance in Jerusalem. This was a very moving experience. You could spend days there trying to see and absorb everything! However, we only had about 2 1/2 hours there. This tour was excellent and included a lot of interesting information, history and sights, and our tour guide was excellent and friendly. I would highly recommend it.
"
Judy G
• Submitted 22 Jan 2017





"
Very well-organised and informative. I am very much impressed by the in-depth knowledge of our guide Mr. Eyal.
"
elgarian1857
• Submitted 21 Jan 2017





"
The trip was extremely interesting and we had almost not free time, although we agree that to see what we have seen, there was no alternative. So this is the right timing. Itamar was also very knowledgeable about the places we have visited.
"
Pedro F
• Submitted 11 Oct 2016





In Brief
Location:
Tel Aviv-Yafo, Israel
Highlights:
Comprehensive tour by bus/coach
Informative, friendly and professional guide
All entrance fees included
More Tel Aviv Day Trips