Roman Gladiator School: Learn How to Become a Gladiator





814 reviews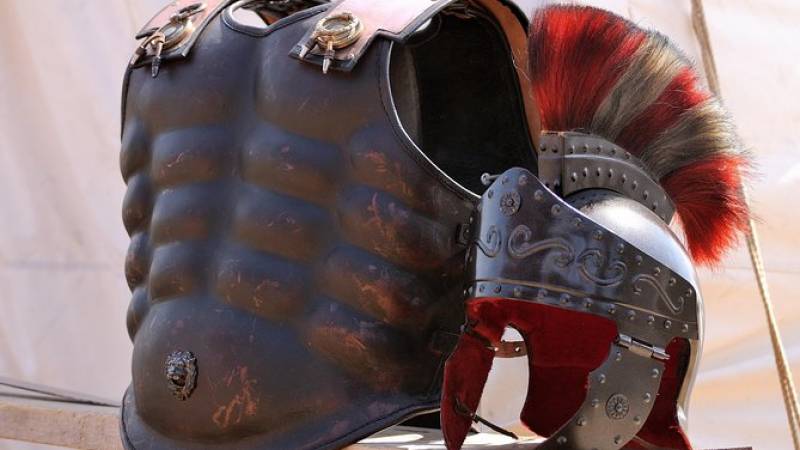 from USD $107.83
Master the basics of hand-to-hand combat at a genuine gladiator school on the ancient Appian Way. You'll discover the secrets of Imperial Rome's gladiator games, get hands-on with ancient Roman history and have the best fun you can imagine!
BOOK WITH CONFIDENCE:
As members of ABTA and ATAS we are
100% financially bonded
. You can book your day trip with us in absolute confidence, no matter where in the world you are.
Due to the impacts of COVID-19, we are currently not taking new bookings for day tours.
In Brief
Operates:
Daily
Opening hours
9:30am - 1:30pm
2:00pm - 6:00pm
Itinerary

Your gladiator lesson takes place at the Gladiator School of Rome, located near the Colosseum on the historic Appian Way. Specializing in the reenactment of ancient Roman life and gladiator fighting, your instructors are members of the Historic Group of Rome and will begin your class by providing you with your costume — a traditional belt, tunic, leather gloves, and a training sword known as a rudis. Learn the basic skills of gladiator sword fighting before summoning your imagination and channeling your inner ancient Roman as you fight off ferocious lions and battle other sword-wielding gladiators. If you wish, you can participate in an optional gladiator tournament, complete with a prize for the victor. Either way, all participants receive a certificate of accomplishment at the end of your lesson. Friends and family are allowed to watch your class from the viewing platform. Admission to the Gladiator School of Rome Museum is also included so you can check out gladiator weapons and other artifacts.


Stop At:

• Gladiator School of Rome, Via Appia Antica 18, 00179 Rome Italy
Inclusions
2 hour class to become a Roman Gladiator in a Day
Lessons are instructed by members of the Historic Group of Rome
Drink
Gladiator clothing and weapons hire for the duration of your lesson!
Exclusions
Gratuities
Hotel pickup and drop off
Food and beverages, unless specified
Departure Point
Via Appia Antica, 18, 00179 Roma RM, Italy

Returns To
Returns to original departure point

Additional Information
Confirmation will be received at time of booking
Minimum age is 6 years
This tour/activity will have a maximum of 15 travelers
Booking Information
You can present either a paper or an electronic voucher for this activity.
Cancellation Terms
This trip is fully refundable up to 96 hours prior to the commencement of your trip.
Booking Terms and Conditions
When you book this trip, you need to read and accept the
terms and conditions
for booking our day trips in excursions.
Scoring an average traveller rating of 5 out of 5 based on the last 24 recent reviews
"
A very fun and enjoyable session. As long as you are willing to 'get into the spirit of it', the instructor takes you through history of Rome, the Legions and Gladiators, then conducts a mock boot camp. Basic sword attack and defense strokes along with fitness accompanied by lots of attitude!
"
Mark B
• Submitted 06 Feb 2020





"
Adding my voice to the chorus of praise - this was just an incredibly fun and informative way to get to know more about Roman history. The two young men who ran the show were incredible - fun, nice, knowledgeable...just wonderful. The "warriors" got to try on different helmets and learn about their uses. They got to hold different weapons and learn about them. They ran a crazy training course three times, then practiced offensive and defensive moves with little shields and wooden swords. They battled each other, then battled the guys from Gruppo Storico, who managed to help everyone "win" without making it too obvious. It was an absolutely perfect way to get a teen and a tween into the spirit of seeing the Colosseum and other historic sites. Don't hesitate - this will not disappoint!
"
Hart L
• Submitted 06 Jan 2020





"
Both my son and daughter had a great time. They learned about the daily life of a gladiator and participated in the physical training and fights. The whole experience far exceeded our expectations.
"
arthur.sung
• Submitted 02 Jan 2020





"
My daughter (11 years old) thought this was one of the highlights of our trip to Europe. The instructor was informative, engaging and funny and kept her entertained. He also offered tips on self-defence which she still talks about and will probably stay with her for life. I would highly recommend doing this. I had read previous tips and made sure I had mosquito repellent which was required.
"
jenny.rereao
• Submitted 14 Nov 2019





"
This was the highlight of our Italy trip for our young kids (ages 6-10), and it was a very welcome break for them from museums and other typical visited sites. Our gladiator school "teacher" was incredibly amusing, and engaging - and our kids loved him. Must do - if you have kids in this age range.
"
Martin R
• Submitted 13 Nov 2019





"
We went in and had a great time. The instructor was funny and knowledgable and the museum was hands on. We went in early November so the class was small but we still had a great time I would highly recommend for anyone looking for a good time.
"
bob
• Submitted 11 Nov 2019





"
What a great way to spend the morning. An excellent experience for kids and kids at heart. Highly recommend this. Thanks to the guys at the school for the experience!
"
Kylie S
• Submitted 05 Nov 2019





"
This is a MUST do! If you love the colleseum you HAVE to do this... it brings to life all the things in the colleseum. You go through all the gladiator 'stuff' and then do a hands on gladiator training. What makes this really special is that the program is run by a gladiator himself! One who you would recognise from movies and train all those who are gladiators! His knowledge and passion is brilliant as is his engagement with every one no matter their age. THANK YOU for making such a fun morning. Simply take a short cab ride or bus to location and that also is part of the fun and jpourney.
"
Katherine B
• Submitted 11 Oct 2019





"
This was a really fun way for kids (and adults) to participate in a historical experience. My kids were grinning and laughing the whole time and really enjoyed it!
"
Noah B
• Submitted 10 Oct 2019





"
We were hesitant to spend that much money (considering current AUD dollar exchange rate), however it was well worth the experience. The kids loved the half day! Not only did they get practical experience with being gladiators, but they learnt just about as much if not more about the history of Rome and Gladiators than they did with a full day at the Colosseum. My husband joined in as well and had just as much fun. The staff were very friendly and professional. Recommend getting a taxi to/from the venue and/or going for a walk afterwards in the Caffarella Gardens which is only a 5 minute walk away.
"
Benjamin P
• Submitted 07 Oct 2019





"
Best activity we did on our whole trip to Rome the 3 hour tour ment we could visit sites including Trevino fountain ,orange gardens and the collisum amongst others in a short space of time it's a fun way to see lots of different land marks in a short space of time the tour guid was highly informed and made sure we were given interesting facts at every stoping point on the tour I would throughly recomend this tour it was execelent
"
carol1915
• Submitted 01 Oct 2019





"
Our taxi dropped us of at what seemed like a random alleyway, but it was there at the end of the street. The museum was awesome. They have a nice collection there and it was very hands on, encouraged to handle the equipment and tools. After a thorough history lesson, we started the training learning choreographed moves then how to defend. The other group never showed so it was just me and my husband. We had a lot of fun and learned a lot
"
Kimberly W
• Submitted 30 Sep 2019





"
The Gladiator School was such a fun and memorable experience for our 10 yr. old son and 8 yr. old daughter! It was quite interesting and educational learning about all the weapons and tactics used by the original Roman gladiators. Our instructor not only looked the part (like a stunt double straight out of the Gladiator movie), but he kept the children (and us parents) engaged the entire time. The actual physical "training" they put the kids through is awesome! Let's just say our kids slept well that night. lol And while the instructor led "fights/matches" between the kids are no joke...it is all conducted in a very safe and fun manner. Definitely a highlight of our time in Rome! (Oh and be sure to take mosquito repellant as it is outdoors and we ended up getting a ton of bites)
"
onekiwilover
• Submitted 02 Sep 2019





"
This one is a crowd pleaser. You learn some history by looking first hand at replica tools and models. Then you train and even spare! The instructor is great. Just be aware that the school is held at a site not close to the coliseum, and you will need a cab there and back.
"
Rudolph M
• Submitted 02 Sep 2019





"
This was an incrediable evening of fun and education. Our coach was absolutely amazing. He was very knowledgeable and skilled and was happy to demonstrate and teach these skills to us in a fun way. It was one of the top highlights of our time in Rome. I would recommend this attraction to anyone. Thanks for the great night. The entire staff were great.
"
pamelaellenpage
• Submitted 26 Aug 2019





"
Our family participated in Gladiator School last week on one of the hottest days in Rome. Regardless of the heat, we loved every minute of it and it was a highlight of our trip. From start to finish, our Gladiator held our attention and was super enthusiastic and really got our 10 year old twins involved. The Museum was a really interesting look into the history of Rome and its gladiators. The explanations of things really took you back to a completely difference time in history. The actual experience was so much fun! Our kids enjoyed battling each other and us. We laughed the whole time and couldn't have had a better time. Our gladiator kept us busy for the entire time. It was a super interactive experience that you couldn't get anywhere other than Rome. It was a blast!!!
"
Dan H
• Submitted 20 Aug 2019





"
This was the best activity for my boys 8 and 12. We had a private session as the other family who booked did not show up. Titus was amazing with the boys. He made them work so hard without even realizing it. It was a great way to work out the pastas/pizzas and tiramusi. The boys call each other by their Italian names. Only draw back is mosquitoes in that area which the boys forgot about once they started the training and fight. Thank you Titus!
"
Karin M
• Submitted 16 Aug 2019





"
We visited on Sunday and had a fantastic time. The staff were amazing- so enthusiastic, knowledgeable and encouraging. Our gladiator trainer was so good with our children. The venue is great, it really feels like you have stepped back in time to Ancient Rome. Would definitely recommend!
"
houstonfiona1979
• Submitted 30 Jul 2019





"
We have two boys ages 6 and 11--they loved it and so did we. The "Gladiator" was very knowledgeable and good with children. There is a self-defense angle to the class which we found good. It was neat to see the Gladiator equipment and the boys thoroughly enjoyed the "training" portion. The experience was in English and very understandable. Highly recommend for boys or girls. It was one of the things that the boys liked best about Rome.
"
Inman H
• Submitted 25 Jul 2019





"
A fun afternoon for my son who had the chance to learn about Roman history and try his hand at a gladiator experience!
"
Lindsey B
• Submitted 03 Jul 2019





"
We signed up our four girls (5, 9, 9 and 11) for this experience. They were in a group with just two other young kids (in the 8-10 range). They LOVED it and rated it as one of their favorite things we did in Rome. The instructor was good humored. He was a big guy and made jokes about the kids needing to keep in line. He provided good history upfront and demonstrated some fighting moves. The actual training wasn't as fun as some of the videos I saw with flying arms you had to duck under, but it was still great. They had a few circuits they had to run through over balance beams and through swinging ropes. They caught swords out of the air and learned about 4 different fighting moves. Then, they each had the opportunity to fight in a ring and get scored. The instructor was nice enough to let our 5 year old win. I think of this experience really for children, but for them, it was a nice glance into gladiator life that really complimented seeing the coliseum and learning roman history on the rest of the trip. Taxis in Rome are cheap and this place was tough to turn into. I might just do a taxi if I did it again, but we didn't have any problem parking at the place. Definitely don't plan to walk on that road. It is skinny and dangerous.
"
tiffany.erbach
• Submitted 03 Jul 2019





"
We had a great time! My son absolutely loved it! Our instructor was great. He gave a lot of the historical background of gladiator fights as well as Roman military history.
"
Michael C
• Submitted 03 Jul 2019





"
If you're traveling Italy with kids, this is a must. A great break from the museums. The staff was great, so entertaining and inclusive of everyone. We all had a great time, but our 2 boys had the best time
"
lbetts311
• Submitted 03 Jul 2019





"
Our boys ages 7 and 9 loved this experience. It was nice as parents to sit and watch. A perfect combination of history and hands on training and battles.
"
Andrew E
• Submitted 03 Jul 2019





In Brief
Operates:
Daily
Opening hours
9:30am - 1:30pm
2:00pm - 6:00pm
More Rome Day Trips