From the wonders of ancient Rome to the beautiful Venetian canals, enjoy a taste of Italy on this 8 day tour, exploring Tuscany and its beautiful Renaissance capital Florence, the enchanting cliffside villages of Cinque Terre and the iconic Leaning Tower of Pisa.
Trip Highlights
Rome - step back in time on a tour of the mighty Colosseum and Italy's historic capital
Cinque Terre - follow a spectacular coastal trail to discover five captivating fishing villages in pastel hues, which cling to the cliff face
Lucca - stop to visit the enchanting Tuscan town of Lucca, set within imposing Renaissance walls
Pisa - visit the iconic Leaning Tower of Pisa, one of Italy's most recognisable landmarks
San Gimignano - see the famous towers of this medieval Tuscan hill town, set in the heart of the Chianti wine region, and go wine tasting at a local vineyard
Montecatini - spend two nights in this pretty Tuscan spa town, famous for its thermal waters and beautiful fountains
Florence - roam around this beautiful Renaissance city, taking in highlights such as the iconic cathedral
Venice - discover the highlights of this romantic city of canals, including St Mark's Square and the breathtaking St Mark's Basilica
Included
7 nights in 3 - 4 star hotels
Airport to hotel transfer on arrival
A full day excursion to Cinque Terre - including the Cinque Terre day pass
Private transport and transfers in air-conditioned vehicles
An English-speaking local tour guide leading days 1 - 6
7 breakfasts and 2 dinners
Tours of Rome, Florence, and Venice - including entrance to Colosseum (Rome) and St Mark's Basilica (Venice)
San Gimignano wine-tasting at a vineyard in the Chianti region, Tuscany
Second class fast train ticket from Florence to Venice (unescorted)
Not Included
International flights
Airport transfer for your departing flight - though this can be booked upon request
Hotel and city taxes, to be paid directly to the hotels at check-in - see the trip notes for more information
Visas
Tipping - tipping is an entirely personal gesture
Monday. Welcome to Italy! Arrive into Rome airport where you will be met and transferred to our hotel. Spend the remainder of the day at leisure exploring the capital. This evening at 19:00, we meet the tour leader and other members of the group for a welcome meal.
Overnight: Rome | Dinner
Step back in time this morning as we follow in the footsteps of the Romans on a guided tour of Italy's historic capital. Our first stop is the Roman Forum, the former religious, political and commercial centre of ancient Rome. Continue to the legendary Colosseum, where gladiators would battle to the death for glory. Visit the Pantheon, the best-preserved Roman building in the city.

The afternoon is free for you to independently explore or visit other famous sites such as the Spanish Steps and the romantic Trevi Fountain. Perhaps make your way to the Vatican, home to the Pope and the spectacular Sistine Chapel.
Overnight: Rome | Breakfast
San Gimignano wine tasting
Rome - San Gimignano - Florence. We leave the capital behind today and make our way north to the little town of San Gimignano, nestled in the Tuscan Hills overlooking the Chianti region. We visit a local vineyard to sample some delicious Chianti wine and explore this picturesque town, which is famous for its medieval towers. Our journey continues to Florence, Tuscany's Renaissance capital. The remainder of the afternoon is at leisure to explore this fascinating city.
Overnight: Florence | Breakfast
Our day begins with a walking tour through Florence's cobbled streets to discover the extraordinary architecture, wonderful sculptures and world-class museums. Strolling through the historical centre, we'll take in highlights such as the Duomo, standing tall over the city with its striking red dome and beautiful bell tower. See the Palazzo Vecchio in Piazza della Signoria and the beautiful Ponte Vecchio with its ancient gold shops.

The afternoon is free to continue exploring Florence at leisure. Head to the famous Galleria Del Accademia, home to Michelangelo's most famous sculpture "David", visit the vast Uffizi Gallery or walk to the Piazzale Michelangelo which offers stunning panoramic views of the city. Alternatively, sit back and sip on some local wine or feast on mouth-watering Tuscan cuisine.
Overnight: Florence | Breakfast
Leaning Tower of Pisa and Luca
Florence - Pisa - Montecatini. This morning finds us travelling to the famous Piazza dei Miracoli in Pisa to take photos of the iconic Leaning Tower of Pisa. We then have some free time to enjoy lunch and walk around the city. This afternoon we continue to the charming Tuscan city of Lucca, located on the Serchio River and surrounded by its original Renaissance walls. Here we have some time to walk along the city walls or sip on a glass of Lucchesi wine in one of the lovely bars. We continue to Montecatini, home to Italy's pristine spas famous for their curative powers, and our base for the next two nights.
Overnight: Montecatini | Breakfast
Today we set our sights on exploring the five captivating, pastel hued fishing villages of Cinque Terre, which cling to the rugged Italian Riviera coastline. We explore the villages of Monterosso, Riomaggiore, Vernazza, Corniglia and Manarola at leisure using our Cinque Terre pass which allows us to travel between each village on the quaint 19th century railway, as cars have been banned for over 10 years. For those looking to enjoy spectacular views, we recommend walking along one of the scenic coastal trails. This evening we enjoy dinner together at our hotel in Montecatini.
Overnight: Montecatini | Breakfast, Dinner
Montecatini - Venice. Bidding farewell to our tour leader this morning, transfer to Florence train station for an unescorted express train journey from Florence to Venice. Upon arrival at Venice train station make your way to the hotel which is just a two minute walk from the station.

This afternoon take in the delights of Venice on a walking tour with a local guide. Marvel at the glorious Venetian architecture, as you wander along the waterways and down the winding narrow streets of the island. Highlights include the beautiful Rialto Bridge, which spans the Grand Canal and the Bridge of Sighs, St Marks Square and a tour of the spectacular St Marks Basilica with its golden domes. Your final evening is free to independently explore and perhaps enjoy a traditional Gondola ride along the canals.
Overnight: Venice | Breakfast
Monday. Our Italian adventure comes to an end after breakfast and hotel check out today. If you wish to spend longer in Venice, we can arrange post tour accommodation for you on request.
Breakfast
Combine Italy & Croatia Sailing
Extend your stay in Venice and consider combining Italian Expresso with our 4 day Venice to Split tour which departs Venice on a Wednesday and arrives into Split on a Saturday in perfect time to start one of our Croatia sailing holidays. A wonderful way to take in the highlights of Italy and enjoy a relaxing island hopping adventure in Croatia.
Departure dates noted with a 'G' are guaranteed to operate. All other departure dates are guaranteed with a minimum of 4 persons. Prices shown are per person when there are 2 persons sharing a room. The 'Single supplement' is compulsory for solo travellers or if your booking party cannot reach the minimum of 2 persons in a room and the amount needs to be added to the per person price. The single supplement offers the comfort of your own room and is also available to any other person wanting their own room.
The hotels listed below are ones which we frequently use on this tour. We reserve the right to substitute these hotels to ones of a similar standard.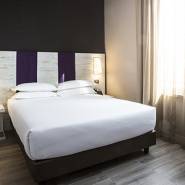 Smooth Termini, Rome
Set in a 19th century building, this designer hotel has a young and contemporary feel. Its guestrooms feature modern furnishings with tile flooring and are equipped with essential amenities including tea and coffee making facilities and WiFi access. Guests can enjoy a tasty sweet and savoury breakfast before they head out to explore Italy's magnificent capital. Boasting an excellent location in the heart of Rome, you'll find yourself within walking distance of many great eateries and close to The Baths of Diocletian and beautiful Piazza della Repubblica.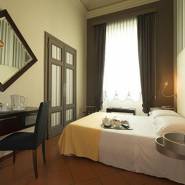 De La Pace Hotel , Florence
Featuring 41 bright and cosy rooms, the De La Pace Hotel is housed in a perfectly restored 19th century art nouveau building. Conveniently located in the historical centre of the city, it's within easy walking distance of the Duomo and Michelangelo's David. Buffet breakfasts are provided each morning and rooms feature air-conditioning as well as free Wi-Fi. In the evening guests can relax with a drink in the American bar, which is open until 11pm each night.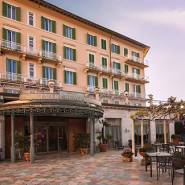 Hotel Settentrionale Esplanade, Montecatini
Situated in the heart of Montecatini, this family-run hotel offers comfortable and elegant guestrooms, featuring large windows to allow in plenty of natural light. They're fully equipped with all the modern amenities you'd expect, including WiFi access, and some also have balconies with views of the surrounding hills. The onsite restaurant serves Tuscan and Mediterranean cuisine across two dining halls or, during in the summer, you can dine out on the beautiful terrace overlooking the pool and garden. Guests can also enjoy a cocktail in the hotel's cosy bar or on a sun lounger down by the water.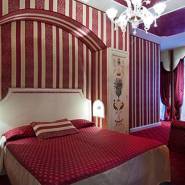 Hotel Belle Epoque, Venice
Well-located in the bustling Cannareigo district of Venice, this prestigious hotel features décor in the style of the Belle Epoque. This was a period of peace in 19th century Europe, translating from French to mean the 'Beautiful Era'. Each guestroom has a white-marble bathroom and classical Murano glass chandeliers, as well as modern conveniences such as air conditioning. A generous breakfast buffet is served in the hotel's stylish dining hall and guests can find a wealth of shops and restauarants just footsteps away.
"
Our guide Susannah was AMAZING, with excellent knowledge and always a smile on her face. "
Shawn & Corne Lombard
• Submitted 28 Sep 2019
Tour





Guide





Country





"
Our guide Susanna was warm and helpful. Great knowledge of anything we asked. This was a wonderful trip giving us a well supported taste of Italy. "
Greg & Jan Henderson
• Submitted 20 May 2019
Tour





Guide





Country





"
Great tour, really enjoyed the pace, attractions, hotels & transport. "
Roslyn Manchee
• Submitted 19 May 2019
Tour





Guide





Country





"
Suzanne was very friendly, helpful and knowledgeable. She went out of her way to make sure everyone was ok and was an excellent guide. Would have been good to have a guided tour in each place we visited, however generally a very enjoyable and beautiful trip! "
Daljeet Gill
• Submitted 25 Apr 2019
Tour





Guide





Country





"
We loved the fact that we were able to cover so much ground in so little time! Having an overall tour guide for the tour (who stayed with us always) and then a specialist tour guide in each city was a wonderful way to get all the details, feel informed, feel safe, and keep our energy and engagement high.
Paola was wonderful as our constant companion guide, and kept everything on track each day while filling us in with great details. Fiona was spectacular in Venice. Francesca was fabulous in Verona. Anna Maria was a dream in Milan. The Creativvando group in Genoa was lovely. Our bus driver, Gianmarco, kept us safe, managed difficult luggage, and drove comfortably.
The hotels were all delightful, especially the one in Montecatini! We would definitely return to any one of them. Some people expressed disappointment in the B&B hotel in Como, but that was likely because it was farther out from the main parts of Como, but we personally liked the setup and modernity of the B&B.
Thanks to the tour's great coverage of the Veneto, Lombardy, Perugia, and Tuscany regions, I now know great places to return to and take more in-depth time to explore. Thanks "On the Go" tours for all the arrangements and detailed planning that go into making this kind of trip so seamless and successful! We recognise it's a lot of hard work and know it takes a lot of people behind the scenes (like our great tour contact, Sam Webster Bell) to coordinate such an experience!
We knew we would be active, but "On the Go" truly takes you on-the-go. I clocked between 5 and 8 miles of walking every day. Thanks to this kind of leisurecize (leisure + exercise) I actually lost 5 pounds--even while eating the wonderful regional food! It was a nice plus to come home and fit in the skinny jeans!
We also made wonderful connections with interesting people from other countries who were touring alongside us. How fun to spend time with diverse people who are ready to explore the sites in foreign cities! We are eager to plan our next trip.
The opening meal at Giardino and the closing meal (at a place whose name I can't recall) in Lucca were great ways to start and finish our marvellous trip! "
Christopher Olpin
• Submitted 28 Sep 2018
Tour





Guide





Country





"
Paola was very flexible and accommodating to ensure we had maximum time sightseeing. She arranged dinner for us one night when we had a late arrival. Gran Marco (bus driver) was great! Always in the good mood and willing to make extra stops. He ensured our luggage was secure. Good driver too! "
David Keddle & Catherine Carlson
• Submitted 27 Sep 2018
Tour





Guide





Country





"
Paola is a delight, energetic, happy, funny, efficient. Love her! She made a 50th birthday and a 10 year wedding anniversary s trip of a lifetime. This tour is the perfect way to get a taste of so many regions/cities in a short amount of time. We can't say enough about how much we enjoyed this tour and how much we enjoyed Paola! "
Christopher Olpin
• Submitted 25 Sep 2018
Tour





Guide





Country





"
Susanna went over and above to help and advise us at any time. Both tour guide (Susanna) and bus driver (G Marco) were just great. "
Gail Astorquia
• Submitted 15 Aug 2018
Tour





Guide





Country





"
Wonderful time. Susanna was informative and knew her stuff. The trip was great. "
Annamaria Valenti
• Submitted 13 Aug 2018
Tour





Guide





Country





"
Thank you to Gerardo for making our tour extra special. He's very caring, helpful, and takes extra time to help with information on Italy. He's also very funny. I would recommend to anyone.
Thank you to our driver Gian Marco who is the best safe driver, very friendly and love how he makes an effort to speak English, and went out of his way to drop us off at hotels separately at the end of the tour. Very lovely of On The Go Tours to take us. Thank you so much!"
Kersti Gordon
• Submitted 17 Jul 2018
Tour





Guide





Country





In Brief
Range
Starts
Rome
Ends
Venice
Departs
Mondays
Hotel Rating
3 - 4 Star
Tour Guide
Yes - escorted by a tour guide
Meals
Breakfast: 7, Dinner: 2
Countries
"
Our guide Susannah was AMAZING, with excellent knowledge and always a smile on her face. "
Shawn & Corne Lombard
OTG002085
Italian Expresso - 8 days
Europe
Signature
2595 USD
false
0
Italy
https://www.onthegotours.com/us/Italy/Italian-Expresso-8-days
https://www.onthegotours.com/repository/Roman-Colosseum--659181536568476_crop_flip_300_300_f2f2f2_center-center.jpg
2595
USD