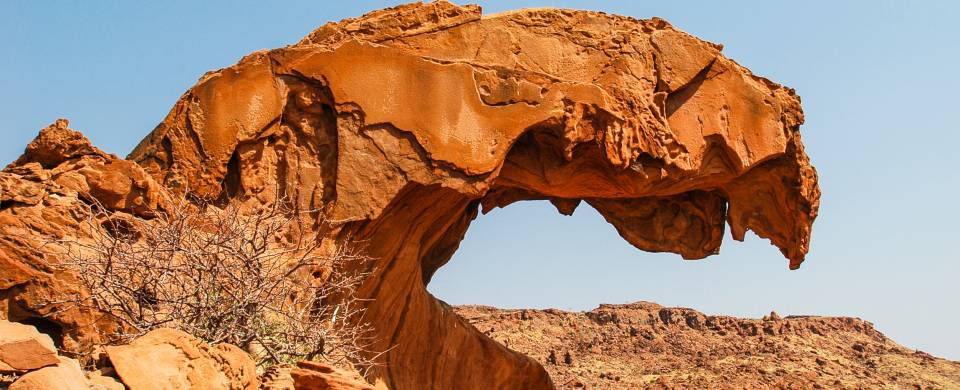 Trips and Tours to Twyfelfontein
About Twyfelfontein
Twyfelfontein is a rocky site situated in the Kunene Region of north western Namibia. It is a historic area, complete with rock carvings dating back to 1000 AD. It is believed that the carvings took over 2000 years to create, making it the most impressive rock art collection around. The area was approved as a World Heritage Site in 2007 (by UNESCO) and was the first in Namibia. It has the densest and most important rock art concentration in Africa. The sites are guarded and require a tour guide to ensure their protection.
Read More
The carvings and drawings found at these sites generally represent rhinos, elephants, ostriches and giraffes, as well as water. There are also human and animal footprints scattered all around Twyfelfontein. Even rock shelters containing depictions of humans painted in red ochre can be found here. It is believed that the hunters and gatherers of this area were the artists who drew and carved these carvings as part of an ancient ritual, or to advise later travellers to the region of where to find food and also water.
It is also alleged that the creations were stopped when the pastoral tribes arrived in the area in 1000 AD. Many archaeologists have studied Twyfelfontein over the years and through their research have confirmed the authenticity of all the art work found in Twyfelfontein. The figurines still remain scattered around Twyfelfontein, except for one panel of artwork, an engraved panel, which was removed and transported to the National Museum in Windhoek in the early 20th Century.