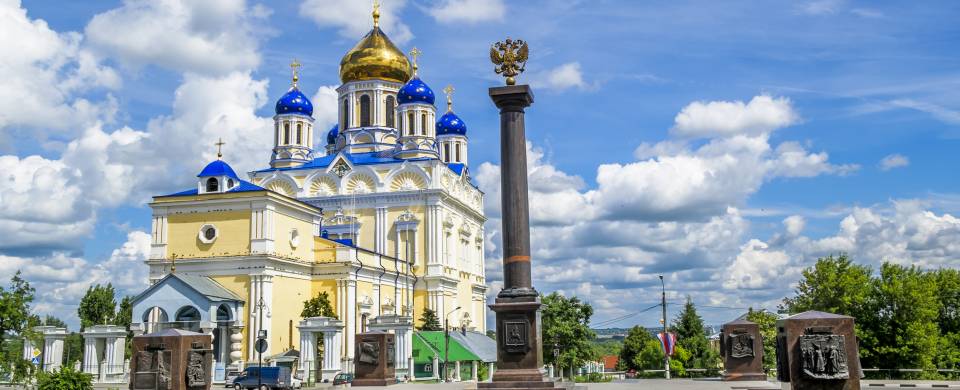 Trips and Tours to Yelets
About Yelets
Located on the banks of the sleepy Sosna River south of Moscow in western Russia, the city of Yelets is a wonderful example of a traditional Russian settlement with numerous churches, merchant buildings and wooden cottages. Surrounded by picturesque rolling landscapes, the historic core of Yelets is being preserved with many of the 19th century buildings in various states of repair and renovation in an attempt to showcase the city's past as a prosperous market town. For visitors this offers the opportunity to step back in time and imagine medieval Russia.
Read More
Founded in 1146 at the very south of Russian lands, Yelets was vulnerable to Turkic and Mongol invaders and over the centuries has been razed to the ground more than once. In the late 16th century the fortress of Yelets was reconstructed and the town later flourished as an industrial and trade centre, particularly well-known for intricate lacemaking and successful tanning industry. Today Yelets is still known as an industrial city with flour milling and engineering its main talents. The modern city that has grown around the historic core maintains a polite respect for the past with low-rise buildings rather than large-scale tower blocks, and plenty of greenery interspersed throughout town.
Topping the bill of sights to see in Yelets is the beautiful Ascension Cathedral, designed by the same architect responsible for the grand Cathedral of Christ the Saviour in Moscow. Measuring 74-metres with gleaming golden domes, it's one of the country's largest cathedrals with a dazzling interior of gilded iconography. Yelets is also home to the colourful Great Count's Church, the hilltop Znamensky Monastery and the attractive red-brick Vvedenskaya Church as well as a handful of interesting museums.