Peru and Brazil Tours and Holidays
They may not share borders but Peru and Brazil are a dream holiday combo from the spectacular ancient Inca monuments of one to the incredible waterfalls and party cities of the other. Travelling from Peru on the Pacific coast to Brazil on the Atlantic can mean an adventure through Bolivia, Chile and Argentina taking in extraordinary deserts, beautiful wine regions and enticing cities. Alternatively, you can tailor a journey from Peru to Brazil with a few flights and fun stopovers en route. Below you will find our tours that combine Peru and Brazil.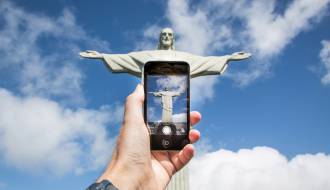 Group Tours
19 day tour visiting Peru and Brazil. Also visiting Bolivia, Paraguay and Argentina.
Journey across South America on this 19 day group tour from Lima to Rio de Janeiro. Explore the Lost City of the Incas at Machu Picchu, browse the fascinating Witches Market in La Paz and marvel at the iconic Christ the Redeemer statue from the summit of Corcovado Mountain. Cruise on majestic Lake Titicaca and see the spectacular Iguazu Falls.
21 day tour visiting Peru and Brazil. Also visiting Argentina and Bolivia.
Travel in style from Rio de Janeiro to Lima on this 21 day coast-to-coast spectacular, staying in luxury hotels and taking in highlights such as the spectacular Iguazu Falls, enchanting Buenos Aires and lofty La Paz, Lake Titicaca and the incredible lost city of Machu Picchu.
Private Tours