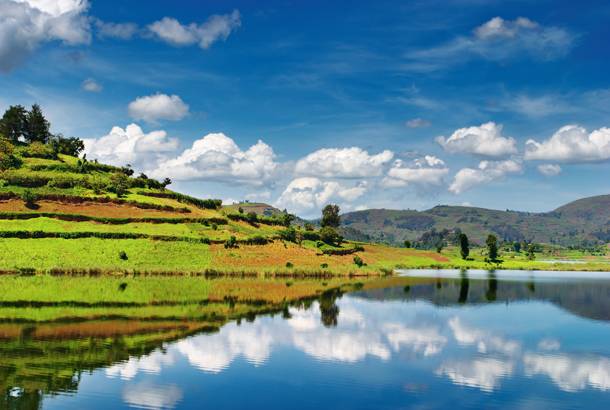 Seasons and Weather
With a tropical climate, Uganda generally experiences rainfall throughout the year. The heaviest rains fall between the months of March to May and October to December. January and February are the hottest and the driest months of the year in Uganda and June to September is also a dry season. There is often a chill in the air in the evenings and in the mountains temperatures can be much cooler.
Gorilla trekking is regarded as a year-round activity, however, there are certain points during the year that are optimal. The dry seasons are considered the best time to see the mountain gorillas with trekking paths in better conditions - in the wetter months the trails tend to get washed out. The advantage of trekking in the wet season is that the gorillas stick to the lower slopes where temperatures are milder and food plentiful, which means trekking times will be shorter.
Thinking of visiting Uganda? Download a copy of our Africa brochure for inspiration.
Climate | Kampala
| | Jan | Feb | Mar | Apr | May | Jun | Jul | Aug | Sep | Oct | Nov | Dec |
| --- | --- | --- | --- | --- | --- | --- | --- | --- | --- | --- | --- | --- |
| Temp Min °F | 64 | 64 | 64 | 64 | 63 | 63 | 63 | 61 | 63 | 63 | 63 | 63 |
| Temp Max °F | 82 | 82 | 81 | 79 | 77 | 77 | 77 | 77 | 81 | 81 | 81 | 81 |
| Rainfall (mm) | 46 | 61 | 130 | 175 | 147 | 74 | 46 | 86 | 91 | 97 | 122 | 99 |
See Also
For further help planning your gorilla trek in Uganda take a look through our handy Travel Guide resources:
Gorilla Trekking
- our guide to this once in a lifetime experience
Tourist Visas
- what you need to know for entering Uganda
Top Travel Tips
- information about vaccinations, food and money
About Overland Safaris
- what to expect on an overland expedition in Africa