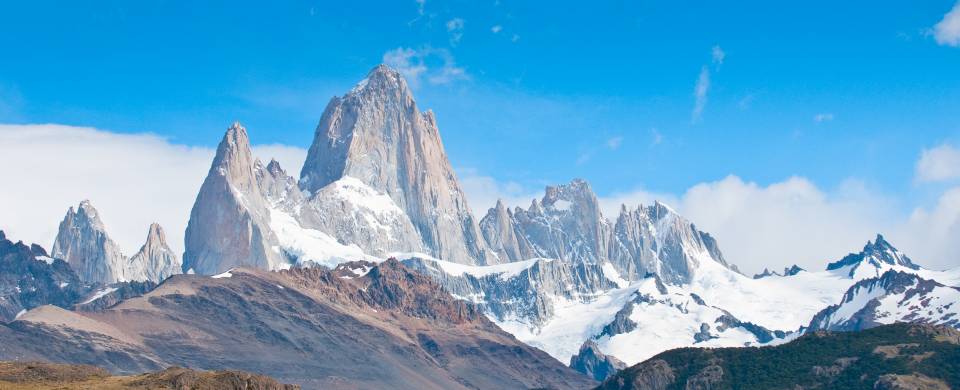 Trips and Tours to El Chalten
About El Chalten
Set in a pretty river valley and backed by the imposing cliff-face of Cerro Pirámide with the daunting peaks of Fitz Roy and Cerro Torre looming in the distance, the pleasant and homely village of El Chaltén is well-visited by trekkers and climbers alike for one very simple reason – its excellent location in the northern sector of the Parque Nacional Los Glaciares. Travellers from all over the world come to El Chaltén for the first-class hiking and camping opportunities amongst some of the most outstanding mountain scenery you're likely to ever come across.
Read More
Hikes around El Chaltén range from worthy day walks to the plunging Chorrillo del Salto waterfall, an impressive sight of moss-green cliffs and the twisted skeletons of drowned trees, to the superb three-day Fitz Roy/Cerro Torre loop, a circuit that covers the park's most famous mountain peaks. Those with more time on their hands can head out to Laguna Torre, a remarkably beautiful expanse of water dotted with peacefully floating icebergs and backed by the majestic peak of Cerro Torre. With its imposing granite mountain spires and stunning lakes, the park easily rivals Chile's famed Torres del Paine and makes an excellent alternative for those limited to Patagonia's northern reaches.
El Chalten is also brilliantly placed for visiting some of the region's lesser-known glaciers including Glaciar Torre, considered to be one of the best ice playgrounds in the world by many ice-climbers and trekkers, and Glaciar Viedma, a spectacular expanse of brilliant blue and white ice that fronts Lago Viedma.