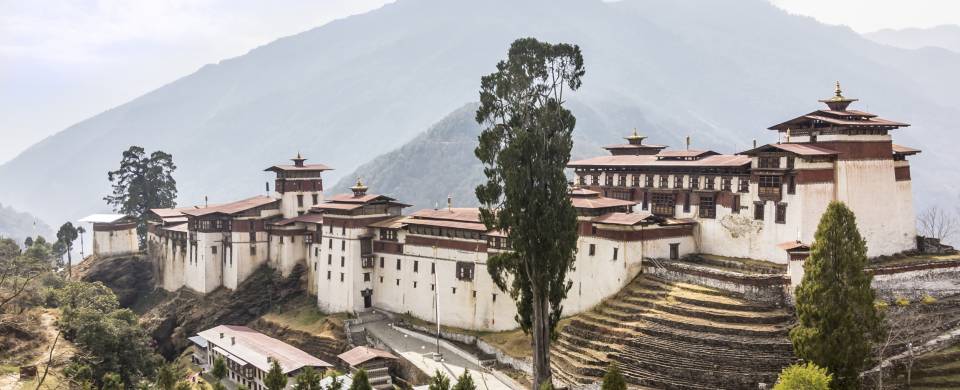 Trips and Tours to Trongsa
About Trongsa
Trongsa is a town in central Bhutan whose name means 'new village' in the Dzongkha language. The main bazaar of the town is a smart street of three storey white traditional houses. The rugged, mountainous landscape that surrounds the town are perfect for those seeking to reconnect with nature and momentarily forget the stress and pressure of daily life. Serenity and peace, two important features of Buddhism, pervade every corner of the region, allowing travellers to revel in their calming effects.
Read More
The first temple in Trongsa was built in 1543 by the great-grandfather of the man who unified Bhutan. The Chokhar Raptentse Dzong, also known as the Trongsa Dzong, is the largest fortress monastery in Bhutan. It was built in 1644 on a mountain spur high above the gorges of the Mangde Chhu. The complex used to be the seat of power of the Wangchuck dynasty and was enlarged several times during the 18th century. It once controlled east-west trade for centuries as the only road connecting eastern and western Bhutan passed through the courtyard of the dzong. When its massive doors were closed it would divide the country in two.
Trongsa Dzong is now an important administrative building housing the government of the Trongsa District but also serves as a major monastic complex with around 200 monks. The dzong is guarded from enemies by the Ta Dzong watchtower that stands higher up the mountainside. The town of Trongsa possesses regal importance as all Kings of Bhutan are first given the title of penlop (governor) of Trongsa. The first and second kings of Bhutan also ruled from the town.