Enjoy a real African adventure, from Johannesburg to Nairobi. Check out some of Africa's greatest game parks, explore beautiful Botswana, idle about on the tropical island of Zanzibar, relax on the shores of Lake Malawi and enjoy the rush at Victoria Falls.
Trip Highlights
Kenya: Nairobi, extend your stay to explore the sites.
Zanzibar:Beautiful northern beaches & historic Stone Town (UNESCO-listed).
Zambia: South Luangwa NP, Livingstone & Mosi-oa-Tunya National Park, Zambia's gateway to Victoria Falls.
Zimbabwe:UNESCO Listed Victoria Falls, one of the natural wonders of the world.
Tanzania: Arusha, the safari gateway. The Serengeti and Ngorongoro Crater. Views of Mt Meru and Mt Kilimanjaro. Dar es Salaam, Tanzania's largest city. Mikumi National Park (transit only).
Malawi: Lake Malawi, one of the African Great Lakes, with beautiful beaches, bays and inlets.
Botswana:Chobe National Park, famous for its herds of elephants. Okavango Delta excursion.
South Africa: Kruger National Park, South Africa's flagship game reserve. The Blyde River Canyon and the scenic Panorama Route. Johannesburg - extend your stay to explore the city.
Included
Arrival transfer from Johannesburg Airport on day 1
A fully equipped overland truck for transportation and game drives
All camping fees and appropriate equipment
Park entry - Victoria Falls NP. Park entry and game drives - Kruger NP, South Luangwa NP, Ngorongoro NP, Serengeti NP and Chobe NP
All road taxes and tolls
1st night pre-expedition dormitory accommodation (upgrades available) and 28 nights camping. Tents and sleeping mats provided
Services of 3 person crew (leader, driver, cook)
28 breakfasts, 24 lunches, 25 dinners
3 night Zanzibar Excursion including ferry transfer, accommodation, Spice Tour and Dhow Sunset Cruise
Not Included
International flights and visas
Tipping - an entirely personal gesture
Local Payment: $1940, paid in USD
Sleeping bag - please bring your own
Optional activities
Tuesday. Welcome to South Africa! Upon arrival in Johannesburg, you will be met and transferred to the Mufasa Backpackers Lodge (2019 departures are transferred to Dove's Nest Guesthouse). There will be a pre-departure meeting at 17:00.
Overnight: Johannesburg
Jo'burg - Kruger. Today we depart for Kruger National Park, where our camp for the next two nights is located. Here in one of Africa's largest game reserves, we'll pass through part of the scenic Panorama Route, and hopefully spot some of the hippos, giraffes, zebras and impalas which call the park home. On day 2 we also take a night game drive. The following day we explore Kruger in our safari truck.
Overnight: Kruger National Park | Breakfast x 1, Lunch x 2, Dinner x 2
Blyde River Canyon
Kruger - Polokwane. A long drive today takes us past some of South Africa's best viewpoints, including the spectacular green cliffs of the Blyde River Canyon and breathtaking God's Window. We'll eventually reach Polokwane, the capital of Limpopo and a major transit point. Our campsite for the night is located just outside the city.
Overnight: Polokwane | Breakfast, Lunch, Dinner
Polokwane
Polokwane - Palapye (Botswana). In the morning, we stock up on supplies, heading north to Botswana and the stopover town of Palapye, known for the Morupule coal mines which serve as the country's main domestic source of electricity.
Overnight: Palapye | Breakfast, Lunch, Dinner
Maun
Palapye - Maun. Today we make the long drive to Maun, a bustling rural town in the north. for our 2-day Okavango Delta excursion which begins here tomorrow, and we have a final day to prepare & pack for our overnight trip.
Overnight: Maun | Breakfast, Lunch, Dinner
Okavango Delta
Maun - Okavango Delta. The UNESCO-listed Okavango Delta, stretching out across thousands of islands, is home to hundreds of unique animal and bird species. Those on the optional excursion will set out early, reaching the Delta through a combination of vehicle and Mokoros - dugout canoes manoeuvred through the waters by local guides who "pole" them through the reeds. After a few hours of travelling via this traditional transport, we'll arrive at our mobile tented camp in the heart of the Delta.

On day 7 we return to Maun by Mokoro & vehicle, arriving around lunch. Perhaps top off your journey with an optional scenic flight over the Delta (dependent on weather/availability).
Overnight: Okavango Delta (1) Maun (1) | Breakfast x 2, Lunch x 2, Dinner x 2
Maun - Nata Region - Kasane. On day 9, we leave Maun for the lovely Elephant Sands campsite in Nata, driving through vast uninhabited plains. After setting up camp, you have the option of either a game drive or bushwalk to end the day.

The next day, we head north to the town of Kasane, setting up camp on the banks of the Chobe River, which borders Zambia, Namibia, and Botswana. Keep your ears open for the hippos as we admire the sunset from our campsite.
Overnight: Nata Region (1) Kasane (1) | Breakfast x 2, Lunch x 2, Dinner x 2
Kasane - Victoria Falls (Zimbabwe). This morning we make our way to Zimbabwe. After crossing the border, we take a brief drive to the town of Victoria Falls. Our campsite is in the town centre, from where a 20-minute walk takes you to the famous Falls - the world's largest sheet of falling water, often described as a Natural World Wonder. After an adventure activities briefing, the afternoon is free for you to explore the town and the Falls.
Overnight: Victoria Falls | Breakfast, Lunch
Enjoy the next two days at leisure in Victoria Falls, relaxing or staying active with a variety of optional excursions. Take a flight across the Falls, play a round of golf at the Elephant Hills Resort, try whitewater rafting on the Zambezi River, or maybe even bungee jump from the 111m-high Bridge if you're feeling a little brave!
Overnight: Victoria Falls | Breakfast x 2
Victoria Falls - Chobe NP (Botswana). We return to Botswana today, driving back to Kasane. After lunch, we depart for our overnight excursion in Chobe National Park. On a game drive, we'll keep an eye out for the majestic antelopes and elephant herds which inhabit the park.
Overnight: Chobe National Park | Breakfast, Lunch, Dinner
Chobe NP - Livingstone (Zambia). We head out early to search for wildlife, before packing up and returning to Kasane. We then head for Livingstone, passing the farming towns of southern Zambia along the way. There will be plenty of photo opportunities as we see the Falls from the Mosi-oa-Tunya National Park, followed by the option of a sunset dinner cruise on the Zambezi River.
Overnight: Livingstone | Breakfast, Dinner
Lusaka Area
Livingstone - Lusaka Area. Early this morning we head north, passing through more villages and towns. Zambia's economy has recovered significantly since the decline of the copper industry in the 1970s, although there are still apparent gaps in development between the cities - boosted by foreign investment - and smaller towns.
Overnight: Lusaka Area | Breakfast, Lunch, Dinner
South Luangwa National Park
Lusaka Area - South Luangwa NP. Moving east, we depart for South Luangwa National Park this morning. This stunning park, founded in 1938, has an area of over 9000 km2, enclosing lush vegetation and hundreds of animals such as giraffes, buffalos and elephants.
Overnight: South Luangwa National Park | Breakfast x 2, Lunch x 2, Dinner x 2
Lake Malawi
South Luangwa NP - Lake Malawi Beaches (Malawi). Today we cross the border and enter Malawi, a small landlocked country known as the 'Warm Heart of Africa' for its friendliness. After a stop in the capital Lilongwe, we head for Lake Malawi, where we'll camp first at the central Lake, and then in the northern area for the next 3 days. Spend your days learning the board game of bao from the locals, or watch the fishermen on the glimmering lake from the sandy beaches.
Overnight: Lake Malawi Beaches (3) | Breakfast x 3, Lunch x 3, Dinner x 3
Iringa
Lake Malawi Beaches - Iringa (Tanzania). Leaving Malawi, we cross the border at Songwe into Tanzania. Our drive will take us through the Tukuyu tea and banana plantations to Iringa, where our farmhouse campsite offers Amarula hot chocolates and warm showers!
Overnight: Iringa | Breakfast, Lunch, Dinner
Iringa - Dar es Salaam. An early start today takes us through Mikumi National Park to Dar es Salaam, Tanzania's largest and most vibrant city. Enjoy a night of rest at our seaside campsite, preparing for tomorrow's optional excursion to Zanzibar.
Overnight: Dar es Salaam | Breakfast, Lunch, Dinner
Dar es Salaam - Zanzibar. Today marks the start of our 3-night excursion to the 'Spice Island' of Zanzibar, an important port for East African traders in the Middle Ages. Explore the Arabic-influenced historic Stone Town, make a day trip to a spice plantation or Prison Island, or indulge in fresh seafood from the Indian Ocean at one of the many markets & restaurants.
Overnight: Zanzibar | Breakfast x 1
Zanzibar
Zanzibar - Dar es Salaam. We leave this afternoon and return to Dar es Salaam for one more evening.
Overnight: Dar es Salaam | Dinner
Dar es Salaam - Pangani - Arusha. On day 28 we drive north to the coastal town of Pagnani, and continue to Arusha the next day. Mountain ranges will be a major feature of the journey - we pass the Pare and Usambara ranges, as well as the town of Moshi, at the base of towering Mount Kilimanjaro. Tonight's campsite is located on the outskirts of Arusha.
Overnight: Pangani (1) Arusha (1) | Breakfast x 2, Lunch x 2, Dinner x 2
Serengeti & Ngorongoro
Arusha - Serengeti & Ngorongoro . Our 3-day excursion to Ngorongoro Crater & Serengti National Park begins today from Arusha. The excursion takes us up the Rift Valley Escarpment to the village of Karatu, with its panoramic hill views and wheat farms, where we'll camp for the evening. The following morning we depart early for the Ngorongoro Crater, home to some of the best game viewing in Africa – and maybe find the elusive Black Rhino on a game drive.

Our next stop is Serengeti National Park, where we game drive across the plains. Tonight's bush camp (with no ablutions) will be an unforgettable adventure in the wild. In the morning, another game drive will hopefully take us to see some of Africa's 'Big 5'!
Overnight: Karatu (1) Serengeti (1) Arusha (1) | Breakfast x 3, Lunch x 3, Dinner x 3
Arusha - Nairobi (Kenya). Early this morning, we head for the Tanzania-Kenya border, continuing to the Kenyan capital of Nairobi, where our safari ends. We recommend staying an extra night in Nairobi in case of delays, and to see the many sights the city has to offer.
Breakfast
The hotels listed below are ones which we frequently use on this tour. We reserve the right to substitute these hotels to ones of a similar standard.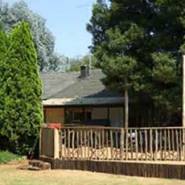 Mufasa Backpackers, Johannesburg
Located in the Benoni suburb of Johannesburg, 20 minutes' drive from the airport, Mufasa Backpackers Lodge is a convenient stop en route to the scenic game reserves of Kruger National Park. The lodge offers cozy 5 to 10-bed dorms, two campsite areas, and several ensuite rooms, in addition to an outdoor pool and spacious common room. Breakfast and internet are included, and parking facilities are available, as well as a daily shuttle to the local shops.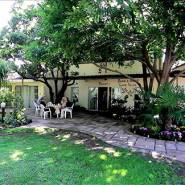 Dove's Nest Guest House, Johannesburg
Located a stone throw from OR Tambo Airport, the Doves Nest Guest House is conveniently located guests wanting to relax after a long day of exploring Johannesburg's highlights. Each room features an electric blankets and TV. Breakfast and internet are available, as well as a free airport shuttle.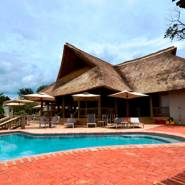 Shearwater Explorers Village, Victoria Falls
Situated in the bohemian town of Victoria Falls, and 400m from the Falls themselves, the affordable accommodation at the Shearwater Explorers Village consists of 5 campsites with modern bathroom facilities, and 16 chalets with en-suite showers and A/C. Shearwater operates a range of activities at the Falls, from bungee jumping to river rafting - and when the day is over, guests can wind down with Wi-Fi in the lounge areas, a drink by the pool, or even a back rub in the massage tent.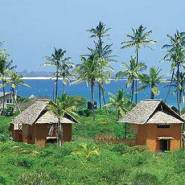 Kipepeo Village , Dar es Salaam
The Tanzanian bush meets the blue waters of the Indian Ocean at Kipepeo Beach & Village, situated on the south coast of Dar Es Salaam. The campsite is right on the beach itself and is a popular destination for watersports adventures or simple relaxation. Facilities include a beach bar and restaurant.Upgrades are available to the twenty elevated ensuite chalets, built in the bush and decorated in traditional Swahili style, provide a stunning ocean views.
In Brief
Range
Starts
Johannesburg
Ends
Nairobi
Departs
Tuesdays
Hotel Rating
Camping
Local Payment
$1940, paid in USD
Tour Guide
Yes - escorted by a tour leader
Meals
Breakfast: 28, Lunch: 24, Dinner: 25
Countries
"
Hi there,
In Africa I had the time of my life. My crew: Toni Schaef, Gift and Dumi for the first leg of the trip in May from Jo-burg - Vic Falls did such a great job of getting all the passenger's to have a great time together and see some of the coolest sights in the world.
It was AWESOME having our cook and driver from Zimbabwe for that leg of the trip as they could provide such a wealth of knowledge of places and local customs and traditions that no one else could. Toni was a crazy fun leader. "rough as guts' as she described herself! so funny, we had such a good time sitting around the camp fires listening to her stories and sharing a drink with one another. I'm 20 yrs old and was one of the youngest in the group of 18 and we had such varied people from different countries aged all the way up to 65. Everyone had such a good time.
cheers! "
Merrin Ozols
OTG000319
Kruger to Kenya Old- 33 days
Africa
Overlanding
Africa
false
South Africa
https://www.onthegotours.com/za/Botswana/Kruger-to-Kenya-33-Days
https://www.onthegotours.com/repository/Itinerary-MainAfrica-152951319559145_crop_flip_300_300_f2f2f2_center-center.jpg