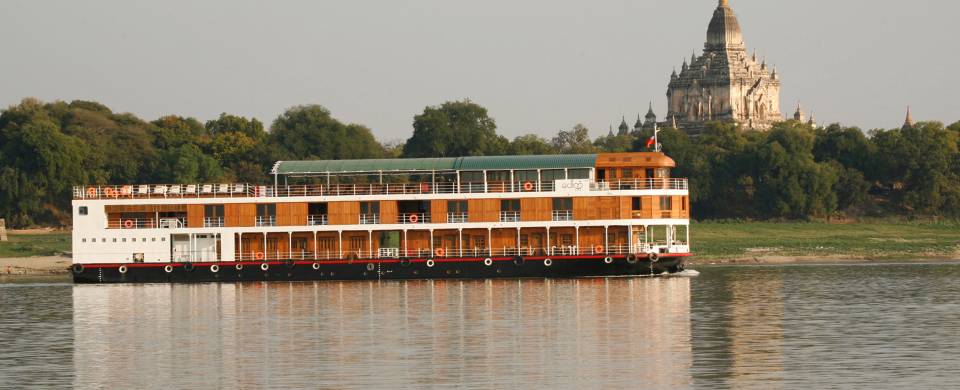 Trips and Tours to Irrawaddy River Cruise
About Irrawaddy River Cruise
Formed by the confluence of the Nmai and Mali rivers, the Irrawaddy is Myanmar's longest river and most important commercial waterway. Running from North to South down the centre of the country, the Irrawaddy empties through the nine-armed Irrawaddy Delta into the Andaman Sea and flows wholly within Burma's territory - it is not shared with any of Myanmar's neighbours. Home to the Irrawaddy dolphin and the Irrawaddy river shark, an excursion on this magical stretch of water is a must for animals lovers and nature enthusiasts alike.
Read More
Since the 6th century the river has been used to transport people and goods, connecting Mandalay with Yangon. Along the way it passes a number of towns home to a surprising cultural diversity from the Kachin tribe to the Karen minority. Cruising on a luxury boat is perhaps the best way to enjoy life on the Irrawaddy River, stopping to visit places of interest en route. The journey between Bagan and Mandalay can be made by boat in 3 days/2 nights though week-long and even 14 day long itineraries are also available, making more stops along the way.
Life along the banks of the Irrawaddy River has remained practically unchanged for centuries with dense jungle-clad riverbanks and never-ending rice paddies playing host to hard-working indigenous peoples and monks on their way to temples. Highlights along the river include the colonial town of Katha, the setting for George Orwell's book 'Burmese Days', the unfinished pagoda of Mingun, the teak monastery of Ava and the Buddhist caves of Monywa. A number of cruise ships operate the route, offering colonial-style boat accommodation with shore excursions included in the package.