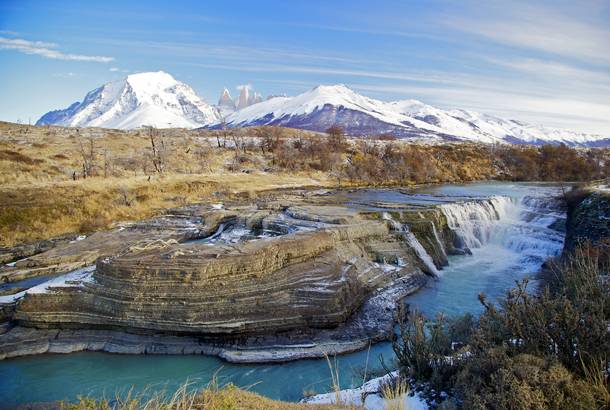 Seasons and Weather
In southern Chile, the weather is generally rainy all year round with falling snow in much of the high altitude areas. However, in the coastal areas of the south, the winters are rarely too cold and summers are comfortably cool. Summer is the best time to visit Patagonia with warmer temperatures perfect for outdoor adventure. High season in Chile is between the summer months of December to March so prices are at their highest at this time of year.
Spring (October and November) and autumn (April and May) can be just as good in Patagonia though it's best to avoid the winter months of June to September when services shut down and passes become impenetrable. This is, however, the best time for snow-based activities in the Lake District. The central region of Chile experiences warm, dry summers, and moderately wet, cool winters.
In the northern regions, the climate is drier which results in a much higher snow line in the mountains and a very desert-like climate in the areas nearer the coast. Despite it rarely raining, the weather is often cloudy and cool resulting in higher temperatures in the months of March and only cooler in July.
The Atacama Desert basks in sunny weather and high temperatures all year round though night time temperatures can plummet at higher altitudes. The summer months can be extremely hot. Thanks to sea breezes, Chile's coast generally feels cooler than the inland with the rainy season between May and August bringing cooler temperatures and wetter conditions.
Thinking of visiting Chile? Download a copy of our Latin America brochure for inspiration.
Climate | Santiago
| | Jan | Feb | Mar | Apr | May | Jun | Jul | Aug | Sep | Oct | Nov | Dec |
| --- | --- | --- | --- | --- | --- | --- | --- | --- | --- | --- | --- | --- |
| Temp Min °C | 12 | 11 | 9 | 7 | 5 | 3 | 3 | 4 | 6 | 7 | 9 | 11 |
| Temp Max °C | 29 | 29 | 27 | 23 | 18 | 14 | 15 | 17 | 19 | 22 | 26 | 28 |
| Rainfall (mm) | 3 | 3 | 5 | 13 | 64 | 84 | 76 | 56 | 31 | 15 | 8 | 5 |
Climate | Atacama
| | Jan | Feb | Mar | Apr | May | Jun | Jul | Aug | Sep | Oct | Nov | Dec |
| --- | --- | --- | --- | --- | --- | --- | --- | --- | --- | --- | --- | --- |
| Temp Min °C | 14 | 14 | 13 | 11 | 9 | 7 | 7 | 7 | 8 | 10 | 11 | 13 |
| Temp Max °C | 28 | 27 | 26 | 24 | 21 | 20 | 19 | 21 | 22 | 23 | 25 | 26 |
| Rainfall (mm) | 0 | 0 | 0 | 0 | 0 | 0 | 9 | 0 | 0 | 0 | 0 | 0 |
Upcoming events
To help plan your visit to Chile, here's an overview of the festivals and events taking place this year. This is by no means an exhaustive list so if you're thinking of visiting Chile outside of these dates and want to know what's on, check out this comprehensive list .
2021:
January 3rd-24th -
Santiago a Mil (
Santiago
)
January 29th-31st -
Carnaval con la Fuerza del Sol (
Arica
)
February 22nd-27th -
Festival Internacional de la Canción de Viña del Mar (Viña del Mar)
March and April TC -
Vendimia (Nationwide)
July 10th-16th -
La Fiesta de la Tirana (La Tirana)
September 18th -
Independence Day (Nationwide)
There's also a number of national holidays in Chile and on these dates many businesses and some tourist sites will close for the day so plan your visit accordingly.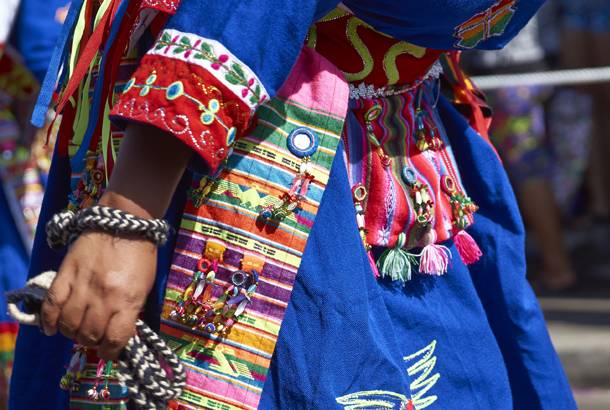 Festivals and Events
Festivals are an integral part of Chilean life and are imbued with religious, historical or cultural associations. Whatever the occasion, one thing can be certain and that is that the population of this long country will pull out all the stops to make every festival an event to be remembered.
What is the Santiago a Mil?
The largest arts festival in the country, the Santiago a Mil festival encompasses theatre, dance, music and more, showcased by native and foreign performers. The name Santiago a Mil translates as Santiago for 1,000 (pesos) and is a reference to how cheap the festival was in its early years. Nowadays, ticket prices have risen somewhat though affordability is still one of the festival's main selling points. Taking place in the summer month of January, Santiago a Mil is a festival of self-expression and talent.
What is the Carnaval con la Fuerza del Sol?
Thoroughly entertaining and of great religious and cultural importance, the Carnaval con la Fuerza del Sol ("carnival with the strength of the sun") takes place over three days and brings together people from Chile, Peru and Bolivia. The festival celebrates the peaceful blending of Spanish and indigenous cultures and festivities include participants in brightly coloured, traditional clothing dancing and singing, both competitively and purely for enjoyment.
What is the Festival Internacional de la Canción de Viña del Mar?
Translating as the International Song Festival of Viña del Mar, this music extravaganza sees some of the biggest names in the industry congregate in the seaside resort town of Viña del Mar for the biggest and most well-known music festival in Latin America. Past headliners include Tom Jones, Sting, Cat Stevens, Ricky Martin and Carlos Santana, showing how the event embraces both Latin American music and artists from elsewhere in the world. Music is sung in a variety of languages and encompasses a huge array of different genres.
What is Vendimia?
One thing Chile has gained fame for across the world is its wine so it makes sense that they have a holiday devoted to the celebration of the very thing that creates this delicious beverage. Chile's annual Grape Harvest Festival, which takes place in March and April, starts with a religious ceremony where locals bless the first grape harvest and give thanks for it. The second part of the festival is much livelier as grape-pressing competitions take place alongside singing, dancing and cheers of encouragement from onlookers.
What is La Fiesta de la Tirana?
Situated in the region of La Tirana in Northern Chile, this festival sees hundreds of thousands of people flock to a group of villages that have a permanent population of just over 1,000. The reason for this religious festival is to honour Virgin de Carmen, the patron saint of Chile. Pilgrims, dressed in traditional garb, perform dances and make music as they worship her and as day turns to night the festivities carry on strong. This is one of Chile's biggest and most well-known festivals.
When is Fiestas Patrias (Independence Day)?
Every year on the 18th of September, the entire population of Chile comes out to celebrate its independence from Spain. The celebrations usually last for the entire week and consist of lots of dancing and singing as well as feasting on a huge array of Chilean food and drinks. Chileans are incredibly proud of their cultural heritage (and rightfully so), therefore this festival is of paramount significance and is guaranteed to have you tapping your toes and wishing that it would last forever.
See Also
For further information to help plan your trip to Chile, see the following:
Best Places to Visit - our top 10 destinations in Chile
Top Travel Tips - covering everything from money to health, food to shopping Tourist Visas - know what visa you need prior to travel