Destination Tintin
In exclusive association with Moulinsart, we bring you a rare, endorsed and never-before available opportunity to travel in the footsteps of the world's favourite adventurer. In a time when television and the internet didn't exist and travel was reserved for professional explorers, royalty or the rich, Tintin, Snowy, Captain Haddock, Professor Calculus and the Thom(p)sons took the world to places it had never seen – serenaded occasionally by Bianca Castafiore of course. But now you can pack your bags, your binoculars and your leather case and prepare yourself for your own mystery and adventure – Tintin style!
Created in a collaboration between Moulinsart, the rights holders to the work of Hergé, these holidays are a tremendous combination of travel today and the original Tintin trail. And as Tintin and his colourful entourage manage to charm just about everybody aged 7 to 77, we've designed the adventures to suit all ages and degrees of Tintin mania – from true aficionados to the everyday fan.
Holidays in the footsteps of Tintin
Our flagship adventures take place in India and Egypt - setting of The Cigars of the Pharaoh - and Jordan - home to The Red Sea Sharks. We have specially created Tintin experiences for all the trips and our itineraries closely reflect the albums they represent. All the holidays are done at a relatively relaxed pace spending at least two nights at most ports of call. There will also be a few spare afternoons and evenings, giving you the flexibility to venture out and discover on your own. Travel is typically on a combination of train, air and road, where longer distances are done by flight and a few distinctively local modes of getting around are peppered throughout the holidays - a rickshaw ride in Delhi, felucca sailing down the Nile in Egypt, Arabian horses at Petra and camel treks at all three destinations. We'll stay at comfortable 4 to 5-star centrally located hotels, desert camps and heritage properties giving a true flavour of each destination - travelling just as Tintin would have in days gone by!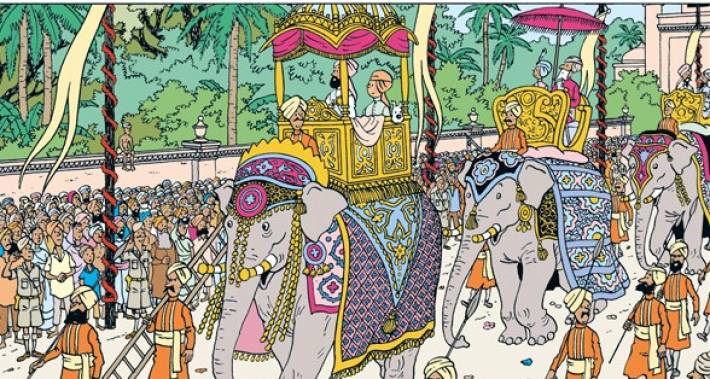 A very Indian Adventure
On an adventure through the vibrant landscapes of North India, this two-week escapade in the land of the Maharaja Gaipajama includes: Delhi - both old and new; Agra - home to the Taj Mahal and the jewel in India's crown; Ranthambhore National Park - where, if you are very very quiet, you may spot a tiger; the City of Jaipur - poetic and pretty in pink; majestic Jodhpur - perched on the edge of the Thar Desert; and Shimla the romantic hill station and summer capital of the British Raj. Our holiday recaptures much of the imagery portrayed in Tintin's travels - a meandering train journey through the Himalayan foothills, lodges tucked away in deep jungle, an elephant ride perched atop with a mahout, a visit to a Royal Palace - and hopefully tigers. We wander through teeming bazaars at various ports of call, immerse ourselves in the bustle and colour and watch artisans at work, that's been passed down the ages. Truly a very Indian adventure!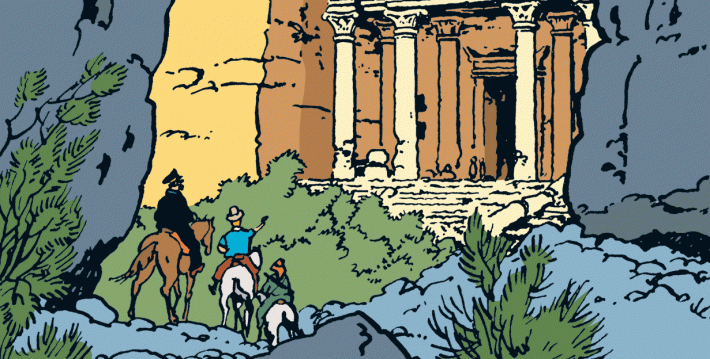 The Rose City of Petra
Witness Hergé's fictional creations magically spring to life on this Arabian adventure through the enchanting Kingdom of Jordan. In eight fun-filled days you'll take a dip in the mineral-rich Dead Sea; explore medieval Shobak Castle; uncover the Rose City of Petra - the jewel in Jordan's glittering archaeological crown and one of the New 7 Wonders of the World; camp under the stars in the vast silent landscape of the Wadi Rum desert; and snorkel the warm waters of the Red Sea by Aqaba. While we'll hope to avoid mischievous Abdullah and his famously exploding cigars, we'll catch sight of real Sheikhs, trek through pastel-coloured stretches of sandy desert on one-humped camels, don traditional Arabian dress, canter through secret roads on horseback, have our own tea ceremony in Bedouin tents - and if we're lucky - see a mirage or two. Adventure is in the air - and Jordan will not disappoint!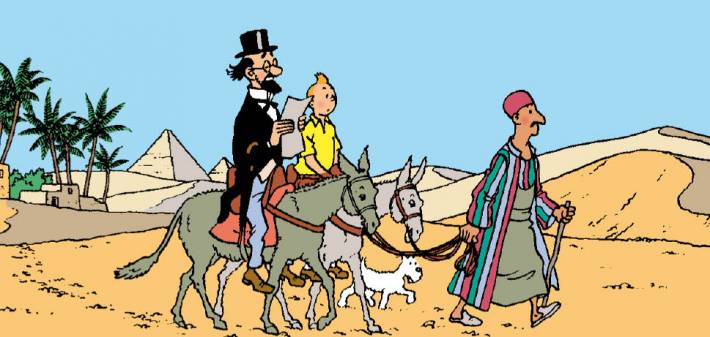 Land of the Pharaohs
Dr Sarcophagus - here we come! On a 10-day journey through the mysterious land of the Pharaohs we'll discover amazing pyramids and the treasures of the famed Egyptian museum; sail in style down the river Nile; ride high in a hot air balloon over Luxor's deserted West Bank; search out ancient tombs in the Valleys of Kings and Queens; take a flight at day break to the colossal temple of King Ramses II at Abu Simbel; and soak up the atmosphere of buzzing downtown Cairo. But wait - there's more. We also drive to Port Said where Tintin first lands on Egyptian soil, and visit the nearby Suez Canal. We've included camel treks and horse riding by the Pyramids, felucca sailing in Aswan and stops at ancient temples along the banks of the Nile - it's adventure aplenty - even enough to keep the evil mastermind Rastapopoulos at bay!
© Hergé/Moulinsart 2016 Reproduction, translation and adaptation rights reserved for all countries. Any reproduction, even partly, of this work is forbidden.