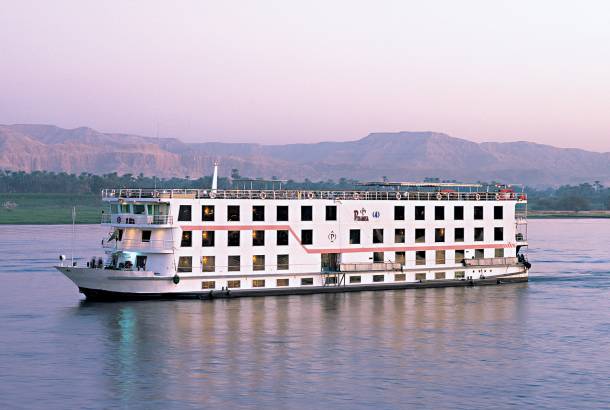 What to Expect
Our Nile Cruises offer a 5-star experience while you navigate the stunning River Nile. Cruising for 8-12 hours in total during the 3 or 4 day trip, our ships cover a distance of 212 kilometres while winding downstream from Aswan to Luxor or upstream from Luxor to Aswan. The rest of your time is spent relaxing in style onboard, or docking at sightseeing stops along the route, including the famous double temple of Kom Ombo. A peaceful experience, the journey is a wonderful way to unwind after sightseeing in Cairo or exploring the magnificent temples of Abu Simbel.
Along the route, expect beautiful views of the river banks with their rising sand dunes, lush greenery, and scenes of local village life by the water. A guided sightseeing stop is included at Kom Ombo, a unique temple dedicated to the crocodile god Sobek and falcon god Horus. Then by night, we take in unspoiled views of the starry night sky overhead, best viewed from the top deck, as well as the modern conveniences and comforts of your cabin.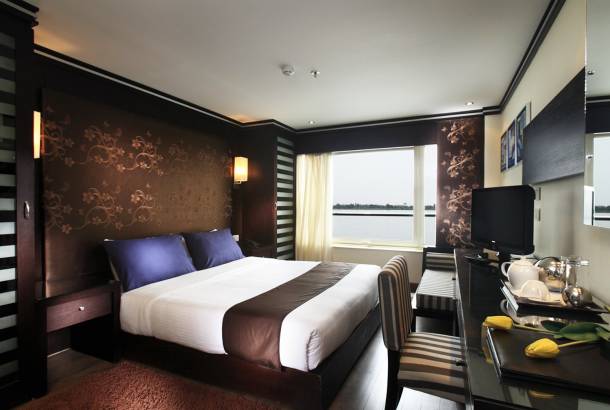 What are the cabins like?
Located on the main or upper deck, all of our cabins are outward facing and large windows offer stunning views of the Nile as we sail. Inside, the rooms are similar to that of a 5-star hotel, with twin or double beds and private bathrooms.
Amenities such as air-conditioning, a minibar and a TV are also included in the cabins. So if sailing aboard a
traditional felucca
doesn't sound quite like your style, our Nile Cruises are a great alternative.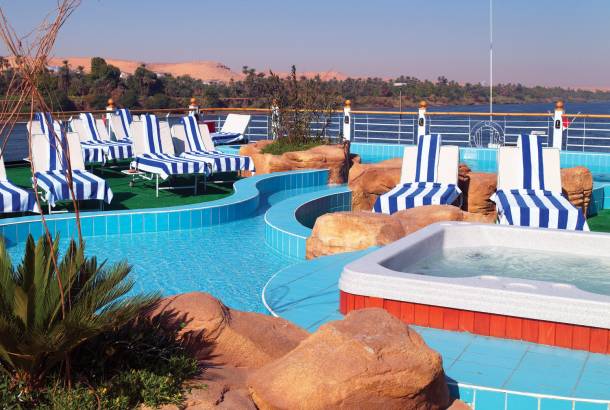 What facilities are on board?
Our Nile Cruisers offer ample facilities to ensure you have an amazing experience onboard. The deck offers plenty of space for sunbathing and the plunge pool is a perfect place to cool off from the heat of the Egyptian sun. There's also a lounge area and bar, perfect for enjoying a cocktail or two with your fellow passengers, and some cruisers offer gyms or wellness facilities such as a sauna and massage services.
All meals are included aboard our Nile Cruises and served buffet-style in the ships' restaurants. If you purchase any drinks during your time on board, you can pay your bill upon check out.
Recommend Tours
If you're looking to board one of our Nile Cruisers, take a look at our selection of recommended tours where you have the option of upgrading from a traditional felucca. We also have some tours where the Nile Cruise is included as standard.