Delve into the incredibly scenery, wildlife and Viking history of Greenland on this 11-day expedition cruise from Kangerlussuaq in Greenland to Reykjavik in Iceland. Take in the world's most northern capital city, Nuuk, marvel at the colossal Eqip Sermia Glacier and visit the ruins of Brattahlid, founded by Erik the Red in the 10th century. Spot whales and seals in the untouched oceans, hike on the uninhabited island of Skjoldungen and cruise up the spectacular Prince Christian Sound.
Trip Highlights
Eqip Sermia Glacier - Sail as close as possible to this living wall of ice and watch as colossal icebergs crash into the waves below
Ilulissat - Explore the lively town at your own pace or opt for a thrilling helicopter ride over the Icefjord
Eriksfjord - Learn about the fascinating Viking history of Erik the Red, who founded the first settlement on Greenland here
Prince Christian Sound - Admire the spectacular mountains that rise up on either side of the 60km Sound, offering some of the best views in Greenland
Sisimiut - Take a guided tour of Greenland's second city, which was founded in 1756 by Count Johan Ludvig Holstein
Nuuk - Visit the capital of Greenland, which is the world's most northern capital and is home to 17,000 people
Skjoldungen - Hike on this uninhabited island which is abundant with flora and fauna as well as a now abandoned village
Included
10 breakfasts, 9 lunches and 10 dinners
Economy class flight from Copenhagen - Kangerlussuaq
Services of English-speaking guides at sites of interest
Full board on the ship, afternoon snacks, free tea and coffee daily
Lectures from the expedition team onboard
Welcome and farewell cocktails
10 nights aboard the Ocean Albatros expedition cruise ship in a shared outside double cabin with private facilities
Services of the ship captain and crew and an English-speaking expedition team
All guided sightseeing and excursions as per itinerary
Special photo workshop and a digital visual journey to remember your trip
Taxes and port fees
Not Included
International flights and visa
Any meals not onboard the ship & any drinks (excluding tea and coffee)
Optional excursions
Tipping - an entirely personal gesture
Pre and post tour accommodation, plus any airport or port transfers
Fly to Greenland
Copenhagen or Reykjavik - Kangerlussuaq (Greenland). In the afternoon, we board our chartered flights Copenhagen, Denmark or Reykjavik, Iceland bound for Kangerlussuaq in Greenland (both flight options are available, please contact us for more information). Upon arrival you will be transferred to the port. Arriving at the small port, we embark the Ocean Albatros expedition cruise ship. Enjoy a welcome cocktail and settle into your cabin as we make our way out of port and into the Kangerlussuaq Fjord to begin our Arctic adventure.

Facilities aboard the Ocean Albatros include a spacious restaurant serving international cuisine, two bars, a comfortable lounge area, and a library. Relax in the sauna or work out in the gym. There is also a lecture theatre where you can learn more about this part of the world. All of your meals onboard are included, and you can enjoy free snacks, tea and coffee. From the top deck you can keep your eyes peeled for marine life and watch sea birds swooping and wheeling over the ship.
Overnight: Ocean Albatros ship | Dinner
Exploring Sisimiut
Kangerlussuaq - Sisimiut. This morning we dock at Sisimiut, Greenland's 'second city'. Enjoy a guided tour to highlights of the settlement including the historical colonial quarter, 18th century Blue Church and the oldest house in town. This dates back to 1756, when Count Johan Ludvig Holstein established a colony here, which he pompously named 'Holsteinsborg'.

After our tour, we set sail, heading north towards Disko Bay. Cruising on magical fjords, we pass small villages and towns on the coast. Keep your eyes peeled from the observation deck in search of whales and dolphins. As we are now in the Arctic Circle, the nights will be bright, and you can spot gigantic icebergs from the nearby Ilulissat Icefjord floating by in the late evening sun.
Overnight: Ocean Albatros ship | Breakfast, Lunch, Dinner
Disko Island & Eqip Sermia Glacier
Sisimiut - Qeqertarsuaq - Eqip Sermia Glacier. Today we dock at the southern tip of Disko Island, in the natural harbour of Qeqertarsuaq. The town has a rich history, and was once an economic hub for the now-banned whaling industry. During our visit, we wander through town, taking in the octagonal church and a local community centre, where we join a traditional Greenlandic "kaffemik" - a friendly gathering of the locals with coffee, cake and traditional music.

After a day of exploring Qeqertarsuaq, we set sail once again and head to the impressive Eqip Sermia Glacier, as far north as we will go on our trip. We'll get as close as we can to this giant sheet of ice, wary of icebergs breaking off and crashing into the sea below.
Overnight: Ocean Albatros ship | Breakfast, Lunch, Dinner
Ilulissat
Eqip Sermia Glacier - Ilulissat. This morning we dock at Ilulissat, which literally translates to 'icebergs' in Greenlandic. There's an optional excursion to the UNESCO-listed Icefjord, where the enormous Sermeq Kujalleq Glacier calves icebergs at a rate of around 20 million tonnes per day. You may instead choose to take a helicopter ride over the Icefjord (book locally, subject to availability).

Alternatively, you can explore Ilulissat, which is more than 250 years old. Approximately 4,500 people call the town home and it is a very welcoming and lively place to explore. Later in the day we leave Ilulissat behind and head out of Disko Bay to begin our return journey south.
Overnight: Ocean Albatros ship | Breakfast, Lunch, Dinner
Day at sea
Today is spent cruising towards Nuuk. Listen to a fascinating lecture from the expedition team, watch a film about Arctic nature or head up to the observation deck to spot some wildlife yourself. Seabirds wheel over the deck and with a keen eye and a bit of luck, you may be able to see some of the 15 whale species that call Greenland home in the summer - including Humpbacks, Fin whales and Minke whales.
Overnight: Ocean Albatros ship | Breakfast, Lunch, Dinner
The Greenlandic capital - Nuuk
Ilulissat - Nuuk. This morning we enter the Nukk Fjord where we have another good chance to spot the gentle giants of the sea - Humpback whales frequent these waters in the summer.

Docking at Nuuk, we have time to explore the historic capital of Greenland. Inhabited first by hardy hunter-gatherers, then by the Vikings, Norse and the Inuits, Nuuk has a rich history. Today the city is the largest settlement in Greenland by far, with a population of around 17,000. This makes it the most northern capital in the world. It is home to the Landsting (Parliament), the University of Greenland and the only shopping centre in Greenland. After exploring the city, we continue our journey south aboard Ocean Albatros.
Overnight: Ocean Albatros ship | Breakfast, Lunch, Dinner
South Greenland & Erik the Red
Nuuk - Eriksfjord. Around lunch, we sail into Eriksfjord, which in Greenland is called Tunulliarfik. We throw anchor off Erik the Red's Brattahlíd settlement, where the Qassiarssuk village is today. Here we see, among other things, a reconstruction of Tjodhildur's church, which was the first church on the North American continent. There are also other ruins after the Norse people, which disappeared in the 1400s. Here one can really sense the path of history and wonder why the Norse people suddenly disappeared from Greenland.

It was from Brattahlíd that Erik and Tjodhildur's son Leif Eriksson sweet sail west and discovered Baffin Island, the Labrador coast and Newfoundland, before returning to South Greenland a few years later. Around lunch time we sail out of Eriksfjord close to Qooroq Isfjord.
Overnight: Ocean Albatros ship | Breakfast, Lunch, Dinner
Prins Christian Sund
Eriksfjord - Prince Christian Sound. Reaching the southern tip of Greenland, we opt for a spectacular route through the Prince Christian Sound. This 60km long waterway is surrounded by steep mountainsides, interrupted only by the tiny village of Aappilattoq, population of around 100. There is also a now un-manned weather station along the route but mostly this area is a pristine wilderness, which makes for an amazing photo opportunity.
Overnight: Ocean Albatros ship | Breakfast, Lunch, Dinner
Skjoldungen nature hike
Prince Christian Sound - Skjoldungen. Today's journey begins with Dronning Marie Dal in the area's northwestern corner to get a closer view of its interesting flora. Heading up the eastern coastline of Greenland, we make a landing on Skjoldungen, home to lush scenery, steep fjords and beautiful glaciers. The climate here is milder than one would expect and the conditions are perfect for a nature hike to take in some of the islands plants and animals. Hooded seals laze on the beaches and birds including the eider can be spotted. We will also see the abandoned village of Skjoldungen before departing Greenland aboard Ocean Albatros, as we begin to make our way back to Reykjavik.
Overnight: Ocean Albatros ship | Breakfast, Lunch, Dinner
Day at sea, the Denmark Strait
Spend your final full day aboard Ocean Albatros as we cross the Denmark Strait. Relax with a book in the library or listen to a lecture about Arctic wildlife or climatology. This evening we enjoy a farewell drink with the captain.
Overnight: Ocean Albatros ship | Breakfast, Lunch, Dinner
Reykjavik
Skjoldungen - Reykjavik (Iceland). Today we reach our final destination, Reykjavik. After a final breakfast onboard, our cruise comes to an end as you disembark.
Breakfast
Prices & Dates
The prices shown are per person based on twin occupancy sharing a Category D State Room with porthole on the Ocean Albatros ship.
Read More
2024
Twin Share
Single Room
The hotels listed below are ones which we frequently use on this tour. We reserve the right to substitute these hotels to ones of a similar standard.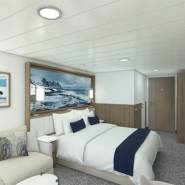 Ocean Albatros , Greenland Expedition Cruising
Making her debut in November 2022 the Ocean Albatros is set to become one of the most popular expedition cruise vessels in the world. With the highest Polar code 6 and Ice class 1A, the Ocean Albatros is ideal for small-ship expedition cruising in the Arctic, with a sturdy construction offering high stability in rough weather. For shore landings the ship has 18 motorized rubber 'Zodiac' boats, taking you to exciting areas that the larger vessel can't reach. This state-of-the-art vessel is also part of a new generation of low-energy vessels, ensuring it's environmentally friendly with a 50% lower carbon footprint than traditional expedition ships. There are 95 comfortable cabins and suites on board, including 12 single cabins. All of the cabins are spacious with an en suite bathroom, sofa and a TV, with either portholes or windows, offering an unobstructed sea view. The higher category of cabins also have their own balcony. On board you can soak up the scenery and spot wildlife from the viewing deck and observation lounge or head to the Sunpool Deck to enjoy the swimming pool, jacuzzi and pool bar. The spa boasts a unique panorama sauna and there's a gym if you want to work up a sweat. Enjoy tasty international cuisine in the two on board restaurants and relax with a drink in the Nordic bar after an incredible day spotting giant glaciers and icebergs.
At a Glance
Range
Trip Type
Starts
Reykjavik or Copenhagen
Ends
Reykjavik
Departs
September 2023 & 2024
Hotel Rating
Ocean Albatros expedition cruise ship
Tour Guide
Services of ship captain, crew & expedition team with services of English-speaking local guides at sites of interest
Meals
Breakfast: 10, Lunch: 9, Dinner: 10
Countries
Minimum Age
15 yrs, accompanied by an adult
Arr. Transfer
Yes
Dep. Transfer
No
OTG002286
Greenland Encompassed - 11 Days
Europe
Handpicked
Europe
false
30
Greenland
https://www.onthegotours.com/za/Greenland/Greenland-Encompassed-11-days
https://www.onthegotours.com/repository/Nuuk-at-sunset--Greenland-764411571400571_crop_flip_300_300_f2f2f2_center-center.jpg
Expedition_Cruises