Embark on a captivating 6-day small group tour through north and central Italy. Discover stunning Cinque Terre, a UNESCO-listed string of picturesque coastal villages along the Italian Riviera. Explore the art, architecture and culture of Florence, and immerse yourself in the flavours of Tuscany. Experience the perfect blend of breathtaking landscapes, historical treasures, and culinary delights, creating unforgettable memories in one of Europe's most captivating regions.
Trip Highlights
La Spezia - Wander around the streets of this charming port town
Pisa - Explore this historic city and marvel at the globally renowned Leaning Tower of Pisa
Florence - Discover the "Birthplace of the Renaissance" during a free day in the city
Siena - Visit this breathtaking red-brick city renowned for its Gothic architecture
Pienza - Tour this UNESCO world heritage site and 'jewel of urban design'
Cinque Terre - Spend an afternoon exploring these famous, picturesque seaside towns
Lucca - Stroll along the remarkably preserved city walls and pretty squares of this town
San Gimignano - Marvel at the 14 historic soaring towers
Val d'Orcia - Immerse yourself in the serene beauty of this UNESCO listed site
Solaria Winery - Indulge in some wine tasting at a winery renowned for producing Brunello, a coveted red wine with protected status
Included
5 breakfasts
Escorted by an English-speaking guide
Train to Cinque Terre as part of the Cinque Terre Card
20kg luggage - see Trip Notes for details
5 nights in 3-4 star hotels
Transportation in an air-conditioned luxury mini-coach with a local driver
Wine tasting and tour of the Solaria Winery
Tourist taxes
Not Included
International flights & visas
Meals not specified in itinerary
Entry fees unless specified
Airport transfers
Tipping - an entirely personal gesture!
La Spezia & Cinque Terre
Milan - Cinque Terre - La Spezia. We depart MIlan early this morning, making our way to La Spezia, a charming port town serving as the gateway to the stunning Cinque Terre area. After checking in at the hotel, our guide will accompany us on a brief train journey to the first of the picturesque seaside towns. From there, we are free to explore for the afternoon and evening.

Each of these towns has its own unique charm. If you crave beaches and a scenic seafront promenade, head to Monterosso. Wine enthusiasts will find Manarola perfect, with the opportunity to savour its local wines. And for those seeking breathtaking views, consider visiting one of this fantastic trio: Riomaggiore, Vernazza, or Corniglia.

After exploring Cinque Terre, we board the train back to La Spezia, where we spend the night.

Please note: Pick up point for this tour is at 8:15 on day 1 (tour departs at 8:30) - Milan Pick Up, Business Palace Milan, Milan.
Overnight: La Spezia
La Spezia - Pisa - Lucca - Florence. Departing La Spezia in the morning, our first stop is Pietrasanta, where Michelangelo once selected the finest marble for his sculptures. Next, we head to Pisa, where you'll have a couple of hours to explore the city which is globally renowned for the intriguing Leaning Tower of Pisa. Despite its tilt, the tower showcases exquisite Romanesque architecture and a captivating history. Enjoy lunch and take in the views of other architectural marvels at Campo dei Miracoli (Field of Miracles).

Our Italian adventure continues in Lucca, celebrated for its remarkably preserved city walls. You'll have a couple of hours to stroll along the city walls and explore its charming squares before we continue our journey.

These architectural wonders are a prelude to what awaits in Florence where we're based for the next two nights.
Overnight: Florence | Breakfast
Enjoy a free day in the "Birthplace of the Renaissance," where you have the freedom to choose your activities. Marvel at the awe-inspiring Duomo, the city's iconic Cathedral dominating the skyline. Explore the Uffizi Gallery to see masterpieces like "The Birth of Venus," (we recommend you book in advance!) and visit the Galleria dell'Accademia to admire Michelangelo's masterpiece, David. Of course, Florence offers more than just art. Sample local delicacies like handmade pasta, pizza, pastries, wine, and gelato to refuel.

In the afternoon, you could uncover the power and secrets of the Medici family as you explore Palazzo Pitti, their grand palace housing some of the Renaissance's greatest treasures. To cap off your day, visit the enchanting Boboli Gardens, adorned with statues, fountains, ponds, and hidden mazes. It's your second night in Florence, so savour the evening by immersing yourself in the lively squares, excellent restaurants, and bars.
Overnight: Florence | Breakfast
Florence - San Gimignano - Siena - Montepulciano. Bid farewell to Florence as we embark on a journey to explore Tuscany's enchanting medieval hill-towns. Travelling through the lush hills of the renowned Chianti wine region, we will be captivated by the 14 soaring towers of San Gimignano. Learn about the noble families which raced to build the tallest tower houses and savour local delicacies during a leisurely lunch.

Continuing south, we arrive at the day's highlight: Siena, a breathtaking red-brick city renowned for its Gothic architecture. The heart of Siena lies within the unique shell-shaped Piazza del Campo, this iconic square featured in James Bond's 'Quantum of Solace' chase scene. Our journey then winds along scenic country roads, until we reach Montepulciano in the early evening. This charming hilltop town in rural Tuscany will be our home for the next two nights.
Overnight: Montepulciano | Breakfast
Discovering Val d'Orcia
Montepulciano - Pienza - Montepulciano. Today, immerse yourself in the serene beauty of UNESCO-listed Val d'Orcia, where time seems to stand still. We begin our day with a self-guided exploration of Montepulciano, then journey to Pienza, a jewel of urban design and UNESCO World Heritage Site, often referred to as the 'Ideal City.' Next, we indulge in an included wine tasting at Montalcino's Solaria Winery, renowned for producing Brunello, a coveted red wine with protected status.

Concluding our Val d'Orcia exploration, we visit Bagno Vignoni, renowned for its therapeutic hot springs. Today, you can admire this ancient spa and trace the flow of spring waters through the archaeological park. After savouring the best of rural Tuscany, we return to Montepulciano in the early evening for your second night.
Overnight: Montepulciano | Breakfast
The Road to Rome
Montepulciano - The Maremma - Rome. In the morning, we depart from Tuscany and head south to the captivating Maremma region. Here, you'll have the opportunity to delve into Etruscan history at the Sovana Necropolis and the Vie Cave, a remarkable network of roads carved from tuff during the Bronze Age. Afterward, explore the medieval town of Sovana, grab a bite to eat, and soak in its unique atmosphere.

In the afternoon, our journey continues towards Capodimonte, a charming town nestled on the shores of Bolsena Lake. This marks our final stop for relaxation, so take in the charms of this picturesque hamlet before our last leg of the journey to Rome.

Please note: This tour finishes at 18:30 - Rome Drop Off, Hotel American Palace, Rome.
Breakfast
The hotels listed below are ones which we frequently use on this tour. We reserve the right to substitute these hotels to ones of a similar standard.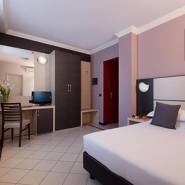 CDH Hotel La Spezia, La Spezia
Located in the enchanting town of La Spezia, Italy, CDH Hotel La Spezia offers a perfect blend of comfort and accessibility. Situated near the stunning Cinque Terre, guests can easily explore these iconic coastal villages. The hotel's rooms are tastefully designed, providing a cosy and modern retreat, while some offer captivating views of the Ligurian Sea. Amenities include a restaurant serving delectable Italian cuisine and a bar for unwinding with a drink. CDH Hotel La Spezia is an excellent choice for travellers seeking to immerse themselves in the beauty of Cinque Terre while enjoying a comfortable and convenient stay.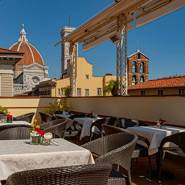 B&B Hotel Firenze Laurus Al Duomo, Florence
B&B Hotel Firenze Laurus Al Duomo is a charming gem nestled in the heart of Florence, Italy. Its unbeatable location places guests just steps away from the iconic Florence Cathedral, offering a front-row seat to the city's artistic and historic wonders. The hotel's rooms are tastefully decorated, providing a comfortable and welcoming atmosphere for a restful stay. Amenities include free Wi-Fi, air conditioning, and a buffet breakfast, ensuring a convenient and enjoyable visit. B&B Hotel Firenze Laurus Al Duomo is the perfect choice for travellers eager to explore Florence's rich heritage while enjoying a cosy and central accommodation.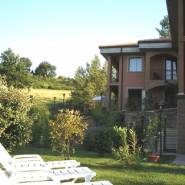 Albergo San Biagio, Montepulciano
Albergo San Biagio is a charming retreat nestled in the heart of Italy's picturesque countryside. Located in a serene and scenic area, this hotel offers a tranquil escape from the hustle and bustle of city life. The rooms are cosy and comfortable, providing a peaceful atmosphere for a relaxing stay. Guests can savour delicious Italian cuisine at the on-site restaurant, featuring locally sourced ingredients, and swim in the indoor pool. With beautiful natural surroundings, Albergo San Biagio is an ideal destination for those seeking a peaceful getaway and a taste of authentic Italian hospitality in a serene countryside setting.
At a Glance
Range
Trip Type
Starts
Milan
Ends
Rome
Departs
Mondays
Group Size
Min 2 / Max 16
Hotel Rating
3-4 star hotels
Tour Guide
Yes - escorted by a tour guide
Meals
Breakfast: 5
Minimum Age
15 yrs, accompanied by an adult
Arr. Transfer
No
Dep. Transfer
No
OTG002760
Milan to Cinque Terre & Rome - 6 days
Europe
Europe
false
https://www.onthegotours.com/za/Italy/Milan-to-Cinque-Terre-and-Rome-6-days
https://www.onthegotours.com/repository/Cinque-Terre--Italy-Tours--On-The-Road-Tours-350461500374262_crop_flip_300_300_f2f2f2_center-center.jpg
Group_Tours