Fushimi Inari and Sake Tasting Tour





40 reviews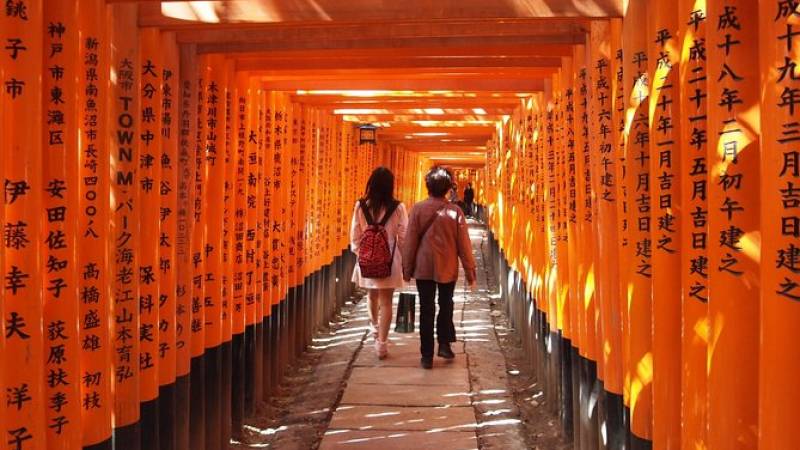 from USD $135.19
Visit two landmarks of Kyoto's Inari district during this guided morning tour. Start by walking through one of the iconic sights of Kyoto, the stunning red 'torii' (gates) at Fushimi Inari Shrine. Then learn about sake history and sample several distinctive sakes at the Gekkeikan Okura Sake Museum, before continuing your tasting at a nearby specialty shop that carries more than 80 varieties of sake. Your 3.5-hour tour includes a knowledgeable guide, transportation by train, all sake tastings and entrance fees.
BOOK WITH CONFIDENCE:
As members of ABTA and ATAS we are
100% financially bonded
. You can book your day trip with us in absolute confidence, no matter where in the world you are.
Due to the impacts of COVID-19, we are currently not taking new bookings for day tours.
In Brief
Duration:
3 hours 30 minutes
Operates:
Thursday, Saturday
Meet your guide at the JR Kyoto station then hop on the commuter train for the 5-minute ride to Inari Station. Located in south Kyoto, Inari boasts the charm of a small town as well as stunning scenery.

From Inari station, walk with your guide for a few minutes to the renowned Fushimi Inari Shrine, which sits on the slopes of Mt Inari. The temple is famous for its long tunnels of thousands of brightly painted red torii (arches or gates) that frame the pathways through the forest. It is one of Kyoto's most famous sights and a popular location for movie and TV shoots.

Originally dedicated to the god of rice, the Fushimi Inari Shrine now serves as the place where people come to seek blessings for prosperity. Those who have found good fortune return and place a torii inscribed with their thanks.

Once you have explored the torii, take a 15-minute train ride to the Gekkeikan Sake brewery to learn about the popular Japanese beverage, which is also important for traditional Japanese festivals and ceremonies.

First, step into Gekkeikan Okura Sake Museum where you hear a brief history of sake, which has been made by the Gekkeikan company in this part of Kyoto since 1637. See tools used in the traditional brewing process, which involves a combination of water, malt, yeast and steamed rice that produces distinctive sakes.

After seeing the museum, sample three different kinds of sake. Then walk a short distance to a sake specialty shop that carries more than 80 kinds of sake. Take a seat at the bar as the shop owner leads a special sake tasting.

Enjoy a few minutes to check out a local shopping arcade before returning by train to Kyoto station where your tour ends. 宜しくお願い致します。
Inclusions
Local guide
Sake liquor store tasting
Entry/Admission - Gekkeikan Okura Sake Museum
Exclusions
Food and drinks, unless specified
Hotel pickup and drop-off
Gratuities
Departure Time
9:00 AM
Departure Point
Simogyō Police Station Kyōto Sta. Police Box, Japan, 〒600-8555 Kyoto, Shimogyō-ku, Higashishiokōjichō, 烏丸通塩小路下る東塩小路町京都駅ビル1階

Returns To
Momoyamagoryo-Mae Station, Kannonjicho, Fushimi Ward, Kyoto, 612-8101, Japan

Additional Information
Confirmation will be received at time of booking
Minimum age is 4 years old
A minimum of 2 people per booking is required
This experience requires good weather. If it's canceled due to poor weather, you'll be offered a different date or a full refund
This tour/activity will have a maximum of 2 travelers
Booking Information
You can present either a paper or an electronic voucher for this activity.
Cancellation Terms
Once booked, this trip is fully non-refundable
Booking Terms and Conditions
When you book this trip, you need to read and accept the
terms and conditions
for booking our day trips in excursions.
Scoring an average traveller rating of 5 out of 5 based on the last 24 recent reviews
"
My tour guide was amazing. My brother was sick and could not go on the tour. So, I was the only person on this tour and it wasn't cancelled. My guide was fantastic and made the price of the tour worth it with her insights at Fushimi Inari Shrine and the Sake Brewery. The tasting was great and I bought sake to take home to America the seemlier nailed my tastes in sake perfectly!. Fushimi Inari Shrine was great to see-one of the best shrines in Japan. Definitely go on this tour!
"
Michael S
• Submitted 03 Apr 2018





"
So awesome our tour guide was great! She explained things so well and was so cool how she shared her culture, Yoko was the best!
"
Janice H
• Submitted 01 Dec 2017





"
It was a good tour, the guide was knowledgeable and helpful. Enjoyable experience. The sake sampling was great.
"
puishih
• Submitted 12 Nov 2017





"
The tour guide was wonderful - adjusting the tour as needed according to the needs and wants of the 6 people on the tour 2 couples plus my son and myself. Fushimi Inari is amazing - HOWEVER, if you really want to experience the full impact of the shrine, you should go in the early morning before the tourists get there it takes about 2-3 hours to walk the shrine in its entirety. It is crowded otherwise AND the tour can allow only an hour or so for walking. YET IF you want to know the history of the shrine, what the various things mean, the rituals, etc., definitely go on this tour. As for the Sake Brewery Tour, it was very interesting - you get to walk through the museum you do NOT get to see Sake being made, including explanations of the various pieces of equipment you also get to enjoy a taste of several of the Gekkeikan products. The final leg of the tour is to a market where one can buy various items at excellent prices where you have a tasting experience in one of the better Sake specialty shop.
"
Sara D
• Submitted 11 Nov 2017





"
Great tour if you want to discover the history of
"
PETRE E
• Submitted 06 Jul 2017





"
Our tour guide was awesome. We ended up being the only group that signed up for the tour so it ended up being a private tour. She took us to the Fushimi Inari shrine and gave us a lot of information about the location, its symbolism, history, etc. All very fascinating stuff. After the Fushimi Inari shrine we headed to the Gekkeikan brewery/museum. We toured the museum while our tour guide gave us a great history lesson. We were able to test all the exclusive flavors of Sake found only at the brewery and browse the shop afterwards to take a few bottles home which were very reasonably priced. After the Sake tour we ended up at a Sake bar, the location in which I have forgotten but we had a Sake Master ask our preferences and then pick out four flavors of Sake for us to taste. The Master of Sake knows his stuff because all of us enjoyed the flavors presented to us. It was a great intimate experience with a tour guide who lives locally. She was very knowledgeable and very friendly. I would most certainly recommend this tour if you're a fan of history and sake. My group had a lot of fun on this tour. I would definitely do it again.!
"
Gizmetti
• Submitted 16 Mar 2017





"
Small group experience with Youko, a sake afficionado. She was lovely and elegant and really knows her subject. First stop at the Fushimi Inari for a brief tour and lots of explanations from our guide. She knows where to stop to get a great photo...Then a nice small sake museum followed by a tasting in a sake bar in the market. Quite a bit of walking but very nice tour. Recommended.
"
Melanie S
• Submitted 11 Mar 2017





"
There's a reason this heads up every 'must see' list of Kyoto: it is actually beyond words. Or even pictures. Just go, and you'll understand. At one point, my husband and I looked at each other and agreed, Yup, there's no way to REALLY describe this to anyone back home . So let's discuss the tour itself, instead: Tomoko, who spoke clear English and paid all our train fares, was an informed and friendly guide, sharing insights lots of travelers miss like don't walk up the center of the wide path to the temple: it's traditionally reserved for the deity!. In addition to the usual facts-and-figures, she shared how locals view their shrines and temples, and the motivations for people who have erected the magnificent Torii she actual knows someone who built one here, for example. After viewing the lower third of the Shrine mountain, we took at train to a sake brewery, 2 tasting rooms, and a sake shop to round out the day trip. You'll love this adventure!
"
Elizabeth G
• Submitted 29 Dec 2016





"
The tour of Fushimi Inari is an amazing sight and definitely the highlight of the Shinto temples we visited during our week in Kyoto. Our tour guide, Junko, was quite facile with English and offered many helpful insights regarding the Shinto temple visit and sake brewery tour. She was also very helpful guiding us along the complicated train system to arrive at each of our destinations. The final stop at the sake bar/shop was a great opportunity sample and learn about the different sakes. The selection of sakes for purchase at the shop was also outstanding. As an added bonus, our entire tour entourage consisted only of our group of three travelers, making the experience feel quite VIP.
"
Mike d
• Submitted 19 Nov 2016





"
This was an amazing experience. A great mixture of seeing a must-see shrine, learning about culture and religion, gaining a perspective on sake brewing, and topping off with a sake tasting session that didn't lack in variety and left you feeling great. Yoko Akamizu was our guide and she was easily the nicest person that we've come across in Japan. She went above and beyond with teaching about the country and even helped us buy baseball tickets online. I only wish that we would've taken this tour at the start of our trip because we had so much more appreciation for everything we saw afterwards.
"
dobrolioubov
• Submitted 01 Jun 2016





"
Though it rained pretty bad my trip was awesome! Our guide was very knowledgeable and polite in helping us and answering any of our questions.
"
Stephanie P
• Submitted 07 May 2016





"
We really loved this tour and our tour guide. She provided lots of information and answered all our questions. We had plenty of time to explore the areas on the schedule for this tour. Highly recommend to do if visiting Kyoto!
"
alerica2016
• Submitted 07 May 2016





"
Dont miss out! On previous trips I have been to shrines and temples without a tour guide and I totally regretted it. So when planning my trip to Japan - I would this tour and jumped on it. You should too - you wont regret it! Our tour guide - Yoshie - was amazing. She spoke perfect English and had so much knowledge about not only the shrine and sake, but also Kyoto in general, Japan foods and culture in general. It was like spending the day with a friend. Dont miss out and request Yoshie if you can!
"
Shannon R
• Submitted 17 Apr 2016





"
It was a good tour. The guide was really friendly and informative. Thoroughly enjoyed it and would recommend it to anyone.
"
Kate S
• Submitted 12 Nov 2015





"
My husband and I took this tour with Yoshie in August. This was a great day, and Yoshie was an excellent guide. At the Fushimi Inari shrine, she talked us thriugh many of the traditions and rituals,,as well as the shrine's history and cultural significance, which really elevated the experience for us as compared to other shrines we visited on our own in Kyoto. She also walked us through the sake-making and -tasting process and told us some great stories about the sake brewing district of Kyoto. She kept us on schedule without any stress or fuss, had a great sense of humor, and was obviously incredibly knowledgeable about the subjects of the tour. I would highly recommend this tour to others!
"
Amanda M
• Submitted 21 Sep 2015





"
Very enjoyable tour. Our tour guide was great and gave us some interesting information. The Fushimi Inari is very scenic with an interesting history. Loved the sake tasting and museum tour. A great half-day tour.
"
William F
• Submitted 13 Jul 2015





"
Our guide Tomoko and her assistant Rita were excellent. First the basics. The meeting place was easy to find, the train transportation went smoothly, and they were both helpful with taking pictures. The mix of history, culture and sake tasting was just what we were looking for. Fushimi Inari Shrine is beautiful and Tomoko helped direct us to several spots off the beaten path that were less busy and allowed us to see the true magic of the site. But even more important Tomoko is an International Kikisaki-shi sake sommelier! Her knowledge of sake, food pairings and what makes good vs. great sake is wonderful. She provided us with materials on sake types and parings that I have kept to help guide my purchases back home. The tasting done in a regular liquor store, not a tourist trap included both aged sake and unpasteurized sake neither of which are really available outside of Japan. We bought two bottles of sake but there was no pressure to do so. Thank you to the tour company, Tomoko, and Rita for a wonderful Kyoto experience.
"
Robert K
• Submitted 05 Jun 2015





Gemma V
• Submitted 10 Jun 2015





"
A must do tour! We were lucky enough to be the only two on this tour, with a guide who spoke excellent English. Fushimi Inari is a fascinating place, and our guide explained all the customs and traditions as we wandered through. Afterwards to the Sake Brewery museum and store with plenty of tastings was a nice way to finish off the tour - then back to Kyoto station again by train.
"
June D
• Submitted 08 May 2015





"
Was really good, learned a lot, and got to indulge in some awesome sake, now I know a good sake to a bad ones! Would recommend.
"
Laura Rose I
• Submitted 23 Nov 2014





"
This was awesome! We had a great time!
"
Juliet E A
• Submitted 30 Sep 2014





"
It was cold and wet but we had a great time. Well worth the trip. Best temple in town.
"
Nicholas J
• Submitted 04 Apr 2014





"
My husband and I really enjoyed this tour. It was personalised - just my husband and me - and our guide Yoko was wonderful. Yoko speaks impecable English and she really knew her subject matter. Fushimi Inari Shrine is very different to other Shrines we have seen and is worth seeing, and the brewery museum was really interesting. We sampled and old and new style sake at the museum (my vote is for the old style), and tried 6 different sakes at specialst sake shop. A really great way to spend half a day!
"
Katrina L
• Submitted 02 Jan 2014





"
Miata our tour guide was great. We learned a lot.
"
Linda K
• Submitted 30 Dec 2013





In Brief
Duration:
3 hours 30 minutes
Operates:
Thursday, Saturday
More Kyoto Day Trips