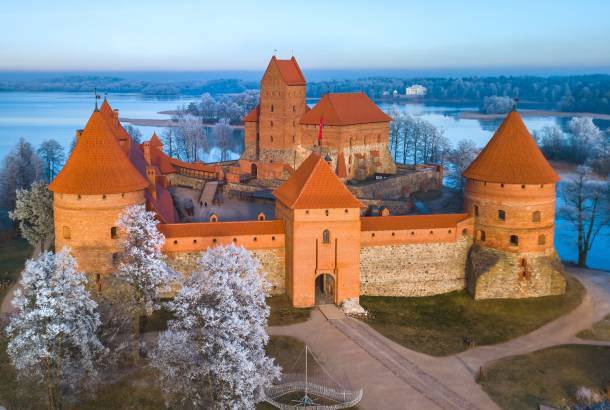 Seasons and Weather
Lithuania experiences four distinct seasons, characterised by short summers and snowy winters. However, there's always the possibility of rainfall and chilly nights, so pack waterproofs and a warm sweater no matter what time of year you intend to visit. Here's a closer look at what each season has to offer.
What's spring like in Lithuania?
Although spring officially begins in March, you'll still find patches of snow on the streets and fields. Its only from April that springtime colours begin to transform the landscape, with the countryside becoming lush and green and city-dwellers taking to street-side cafes. Late spring can be a great time to visit Lithuania, particularly in May, when you can stroll over old town cobbles without the crowds. For those keen to do some bird watching, March to April is also one of the best times to visit.
What's summer like in Lithuania?
Summers in Lithuania are relatively short, lasting roughly from June to August. However, this is the best time to visit as this season sees the warmest temperatures. This is also the time to head to Lithuania's coast, either to spend some time on the beaches near the port town of Klapedia or to get out in nature and explore the Curonian Spit or Samogitia National Parks.
What's autumn like in Lithuania?
Lasting from September to mid-November, autumn sees temperatures rapidly start to cool. However, this is also an incredibly scenic time to visit as the leaves of deciduous trees turn beautiful shades of golden brown. Similarly to May, September is a great time for exploring Lithuania's cities outside of the busier summer months. And September to October is also ideal for bird watching.
What's winter like in Lithuania?
Lithuania can experience its first snowfall as early as mid-November, however, it's in December that the winter season truly kicks in. Expect abundant snowfall and temperatures to plummet, with the average daytime temperature remaining below zero until March. However, winter can also be a magical time to visit Lithuania, with the snow adding to the charm of medieval city centres. Rivers, lakes and parts of the Baltic Sea also freeze over. Just be sure to pack plenty of warm clothing and a hat.
Climate | Vilnius
| | Jan | Feb | Mar | Apr | May | Jun | Jul | Aug | Sep | Oct | Nov | Dec |
| --- | --- | --- | --- | --- | --- | --- | --- | --- | --- | --- | --- | --- |
| Temp Min °C | -7 | -8 | -3 | 2 | 7 | 11 | 12 | 12 | 8 | 4 | 0 | -5 |
| Temp Max °C | -3 | 0 | 5 | 10 | 18 | 20 | 21 | 21 | 16 | 10 | 3 | -1 |
| Rainfall (mm) | 60 | 30 | 40 | 40 | 50 | 70 | 80 | 70 | 70 | 50 | 50 | 60 |
Upcoming events
To help you plan your trip to Lithuania, here's an overview of the festivals and events taking place this year:
2021:
May 15th -
Street Music Day (countrywide)
TBC -
Medieval Festival (Medininkai)
July 23rd-25th -
Sea Festival
August 2nd-4th -
Granatos Live (Rumsiskes)
There's also a number of national holidays in Lithuania and on these dates opening hours may be affected so plan your visit accordingly.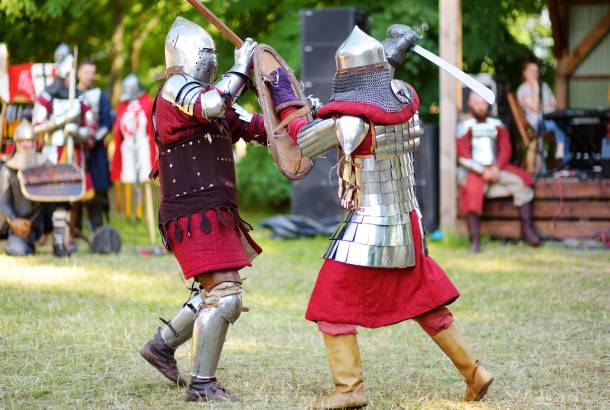 Festivals and Events
Alongside its medieval old towns and stunning Baltic coastline, Lithuania also has a range of traditional and unique festivals to offer.
What is Street Music Day?
Conceived in 2007 by popular singer Andrius Mamontovas, Street Music Day is a relatively new celebration in Lithuania. Held in Vilnius, the event encourages all musicians to take to the streets and perform. The city's old town and parts of the new town take on a festival vibe for the day and you'll hear all manner of musical styles. Anybody is legally allowed to join, so you can even put on a performance yourself.
What is the Sea Festival?
Originating in 1934, the Sea Festival is possibly one of Lithuania's biggest traditional festivals. Held over one weekend each July, the festival sees port town Klaipeda come alive with sea-themed events including concerts, parades, fairs, fireworks and sailor ceremonies. One of the main events is the Baltic Sail, when visitors are able to get up close to the town's old and restored ships.
What is Granatos Live?
Offering five stages and three days of festival fun, Grantos Live is one of the biggest musical events in Lithuania. Held during the hot summer in July, the festival mixes Lithuanian artists with world-famous names. It's seen the likes of Jessie Ware, Bastille and George Ezra, alongside influential local artists such as G&G Sindikatas, Marijonas Mikutavicius and Jazzu, and is a success year on year.
What is the Song Festival?
Spanning over a week of summer, the Song Festival draws people from all over the country to sing Lithuanian songs in the capital of Vilnius. The event culminates in the 'Day of the Songs', with around 50,000 participants marching to the grandstand in Vilnius Vingis Park for a final mass performance. The sheer number of singers gives an incredible sense of unity and, with all the lyrics available online, you can easily join in no matter if you speak Lithuanian or not.
See Also
Check out these handy travel guide resources for more information about visiting Lithuania:
Best Places to Visit – our pick of Lithuania's top destinations
Top Travel Tips - information about money, food and shopping