Full-Day Tour to Santiago de Compostela and Valença do Minho from Porto





23 reviews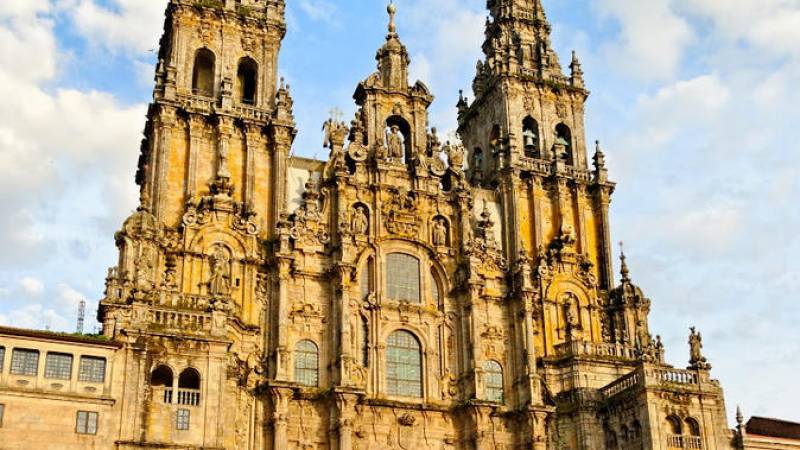 from USD $104.20
Santiago de Compostela, is one of the most magical cities in Galicia, Spain. Santiago concentrates in itself, culture, religion, people, academic life and tourism. And, because of its beauty, the city won the title of World Heritage. Its famous pilgrimage way, known as the "Caminho de Santiago" (St. James way) won also the title of World Heritage Site by UNESCO.
Visit this amazing City, exploring the one of the most important pilgrim sites in Europe. On the return, stop and visit also Valença do Minho which has an amazing fortress in Vauben style. 
Discover these two beautiful cities of southern Europe on a full-day sightseeing tour from Porto.
BOOK WITH CONFIDENCE:
As members of ABTA and ATAS we are
100% financially bonded
. You can book your day trip with us in absolute confidence, no matter where in the world you are.
Due to the impacts of COVID-19, we are currently not taking new bookings for day tours.
In Brief
Highlights:
Excellent value for money
Led by a local guide
Enjoy a day away from the hustle and bustle of the city
Itinerary
This is a typical itinerary for this product

Pass By: Porto, Porto, Porto District, Northern Portugal

Your expert guide will collect you from your hotel/accommodation or meeting point and will drive you to Santiago de Compostela in Spain.
On your way to Santiago, the guide will give you insights regarding the Portuguese history, development and cultural facts of portuguese heritage.
Crossing the border and entering in Spain, insights regarding the pilgrimage and the story and facts of Santiago will be given.

Stop At: Santiago de Compostela, Santiago de Compostela, Province of A Coruna, Galicia

Once in Spain, you will arrive to our main destination.
Santiago de Compostela, is one of the most magical cities in Galicia, Spain. Santiago concentrates in itself, culture, religion, people, academic life and tourism. And, because of its beauty, the city won the title of World Heritage. Its famous pilgrimage way, known as the "Caminho de Santiago" (St. James way) won also the title of World Heritage Site by UNESCO.

Visit this amazing City, exploring the one of the most important pilgrim sites in Europe.

You will have free time to explore on your own the historical city center of Santiago and its famous Cathedral.

Duration: 1 hour

Stop At: Cathedral De Santiago de Compostela, Praza do Obradoiro S/N, 15704, Santiago de Compostela Spain

Once in Santiago, you guide will give you free time to explore this incredible site.
You will be able to visit and explore the Cathedral!

Duration: 1 hour

Stop At: Santiago de Compostela. Casco Historico, Santiago de Compostela - Provincia de a Coruna - Galicia - Espana, 15704, Santiago de Compostela Spain

IN CASE YOU CHOSE THE LUNCH INCLUDED OPTION, the guide will escort to a traditional tapas restaurant at the historical city center so you can taste and drink some of the traditional food from Galicia!
Drinks are included on your meal as well.

Duration: 1 hour

Stop At: Valenca, Valenca, Viana do Castelo District, Northern Portugal

After lunch it's time to return to Portugal, to your next stop: Valença do Minho!

Standing on the border with Spain and overlooking the River Minho, Valença is surrounded by walls and displays all the characteristic features of a town that was fortified in the seventeenth century in the style of the French military architect, Vauban.

Its first name was "Contrasta", which referred to a village standing opposite another one and was clearly a reference to its position directly across the River Minho from the Galician town of Tui.

Today, it is a city with a flourishing trade, in which some of the most popularly sought after items are the pieces produced by the local craftsmen.

Duration: 45 minutes


Inclusions
Local guide
Hotel pickup and drop-off for option with hotel pick up and drop off included
Lunch - Only for option with lunch
Exclusions
Food and drinks, unless specified
Gratuities
Departure Time
7:30 AM
Departure Point
R. de Mouzinho da Silveira 352, 4000-069 Porto, Portugal

Traveler pickup is offered
We pick up from any hotel in Porto city or Vila Nova de Gaia city.
In alternative, we can collect you from the Tourist Service/Living Tours located at Rua Mouzinho da Silveira, 350, Porto - next to Porto - São Bento train station.


Returns To
Returns to original departure point

Additional Information
Confirmation will be received at time of booking
Children must be accompanied by an adult
Usually our tours run in one language but there are cases of one extras language or more.
Tours run in samll groups between 8 and 30 people
Duration: the hours of duration are approximate hours, The Tour is subject to local traffic, visit schedules, etc
Pick up: Free of charge in central Oporto and Vila Nova de Gaia hotels. For private and other types of accommodation the meeting point is at LIVING TOURS PORTO (Rua Mouzinho da Silveira, 352/354 Porto) - next to São Bento train station, Porto
Reservation is mandatory and requires na emai request/confirmation. Bookings must be confirmed at least 48 hours befor the date of the servisse. Cancellations within 48 hours or less will be fully charged.
All tours depart from Porto and Vila Nova de Gaia
The services included in the tours/wine estate visits, restaurants, etc) are subject to 3rd party availability and may change without prior notice.
Booking Information
You can present either a paper or an electronic voucher for this activity.
Cancellation Terms
This trip is fully refundable up to 96 hours prior to the commencement of your trip.
Booking Terms and Conditions
When you book this trip, you need to read and accept the
terms and conditions
for booking our day trips in excursions.
Hotel Pickup
When you book, we will ask you to select a hotel to be picked up from. Once your booking is confirmed, we'll send you a confirmation voucher with full contact information (phone number, email address) for our local operator in case you need to update or change your hotel pick-up details.
Here are answers to some commonly asked questions about hotel pickup:
What if my hotel is not listed?
That's okay. When you book you can select an hotel from our list and make your way there on the day of departure; or you can contact our local operator directly to make alternate pick-up arrangements.
What if I have not yet booked a hotel?
Once your hotel arrangements are finalised, you can contact our local operator directly with your hotel details.
What if I live locally, am staying with friends or relatives, and/or don't require pick-up?
Once your booking is confirmed, we'll send you complete details and directions to the tour/activity departure point.
Scoring an average traveller rating of 4.61 out of 5 based on the last 23 recent reviews
"
Santiago de Compostela didn't disappoint! I wish we had more time to explore the Galician capital. Not even the rain could ruin the beauty and the strong emotions that you feel when you see the pilgrims celebrate the success of their journey.
"
3sian78
• Submitted 06 Nov 2019





"
We thoroughly enjoy our tour to both Santiago de Compostela and Valenca do Minho. Our tour guide was great and took us to a wonderful restaurant where we had course after course of absolutely delicious food! We went to mass at San Francisco church and toured the main Cathedral even though it is being renovated. Valenca had several churches to visit and great linens and towels in the shops. A wonderful day!
"
Marjorie M
• Submitted 17 Sep 2019





"
An SMS was sent the day before as a reminder. Pick-up time was on the dot. There were only five of us in the van. Very roomy travel. The high praise to our guide Ricardo. He is very knowledgeable and accomodating. He mentioned and showed us other places that might be of interest to us. This tour is highly recommended.
"
George
• Submitted 13 Sep 2019





"
Great tour! highly recommended. Lunch is included with seafood tapas.
"
susanjxu
• Submitted 13 Jun 2018





"
Manuel was phenomenal, his knowledge was top class and he made our day fantastic. This is a must do tour. Lunch was awesome, our free time was sufficient and the trip to Minho was a lovely way to break the return trip. A lovely day.
"
jjwalden2
• Submitted 27 Mar 2018





"
Excellent tour, well organised professional. Just keep in mind that because it's run by a Portuguese company and with Portuguese guides, the visit in Santiago is not guided, but not a big detractor. Valenca do Minho is an interesting little town.
"
PB
• Submitted 19 Feb 2018





Nicholas T
• Submitted 14 Dec 2017





"
Was a very enlightening trip. Worth the time and effort. It was made even better by our experienced guide Francisco Fonsela. His sense of humour patience and knowledge of history made this tour a very enjoyable one. Highly recommended
"
june_lauw
• Submitted 30 Oct 2017





"
We loved our tour to Santiago, it was a really memorable day. Our guide, Tiago, was very knowledgeable, professional and friendly. He gave us useful information before arrival and got us there on time for the Pilgrims noon mass which is 11 Porto time. I chose to skip the delicious lunch because I wanted to spend more time in the cathedral and he graciously accommodated my request .
"
ilsoneru
• Submitted 19 Sep 2017





"
amazing! everything was perfect! tour guide/ food/ transport/ the group highly recommended.
"
Glorietta Ugpo B
• Submitted 27 Jun 2017





"
Andre, our main guide, and Bernado, his offsider-in-training, were outstanding. Andre's knowledge of Portuguese history was impressive. The lunch was a feast! Andre went above the call of duty to ensure the vegetarian options were acceptable and everybody's needs for all parts of the tour were met.
"
Roger K
• Submitted 23 Jun 2017





"
The tour lady, Paola was amazing. One of the best tours we ever had. The lunch was very tasty.
"
Norbert
• Submitted 02 Nov 2016





"
beautiful Cathedral. nice lunch
"
Paul T
• Submitted 01 Jun 2016





"
the guide pascal was exceptional. we had an awful wether but the tour was great thanks to our guide. very good and thank you for this quality tour !
"
Stephanie G
• Submitted 18 Apr 2016





"
Tour guides were friendly. The church is beautiful and has a lot of history in it. The seafood there is amazing. Would have been better had it not rained. The view from the bell tower Viana is an absolute must! National geographics reckon it's one of the most beautiful views in the world.
"
maria26
• Submitted 28 Feb 2016





"
I had a wonderful day on this trip. Our tour guide was warm, friendly, well organised and made the day hugely enjoyable. It was very interesting going over the border to Spain to see the contrast between the two countries and the distinct way of life in Northern Spain. The cathedral and city of Santiago are memorable and beautiful, and despite drawing crowds, it still retains a rich and distinctive atmosphere it still feels like a real place. The views of Viana de Castelo excuse the spelling are spectacular and are definitely worth seeing. So the tour is definitely recommended.
"
Sarah G
• Submitted 20 Jul 2015





"
Tour guide Paula was very good.
"
Paul B
• Submitted 21 Jul 2015





"
The tour in Santiago de Compostela was not a real guided tour. So- the passangers should be better prepared doing homework to discover the sightseeing and local history on their own. Trip was very nice including splended lunch!
"
Heili V
• Submitted 26 Nov 2017





"
There were two Viator choices for this destination, and I didn't know which to choose, but selected this one, which was the one that happened to include lunch. The other describes gazing at the cathedral on a guided tour, which I think would have been better if that is what it really was. Overall, it was an interesting day, and it was nice to see the cathedral, but I felt I was just spinning my wheels in the city, not really knowing what I was looking at in the town. I didn't go into the cathedral since there was a mass going on, so I walked around and spent time in the main square waiting to meet up with our guide and fellow passengers. Then around 2 pm we went for a terrific lunch highlight of the day, actually that lasted over two hours. It is a long way to ride for one day, but it was interesting and relaxing, and our Living Tours guide was excellent, yet I felt that we should have had more direction than just being given a map and told to meet up in 90 minutes to go to lunch. I am glad I went, but I felt somehow I missed out on something.
"
DCGUY
• Submitted 29 Jul 2017





"
Santiago was an unexpected discovery. We didn't even know that It was the third holy place fo Christians. The compound is huge. The cathedral immense, the altar so unusual,the organs like the wings of an angel. The place itself was impressive. Our guide Nunu had all the qualities of a superb guide: knowledgable, friendly, caring , in addition to being an excellent driver. Our problem concerns the organization of the trip. We spent more than an hour and a half to drive, but when we arrived the mass was already on and the entrance was closed. Then we had to wait in line for more than 40 minutes. The guide was not with us to explain the details of the cathedral. At last another church recommended by our guide to visit was closed. What was the purpose of the trip? It was more like a check that we were there. Also in Valencia do Minho the time was just thirty minutes to see the old church and do the shopping. It does not sound substantial for any kind of visit. After all, we wanted to breathe in the atmosphere of the place- instead we were running to be on time by the van. The last problem was the dual language. The guide had to explain the information in two languages. I do not think it makes the tour very interesting when the guide speaks another language. I personally fall asleep. The result is obvious: I didn't catch up with what I was supposed to hear in my language.
"
Ivovsha
• Submitted 17 Jul 2017





"
It was a very good trip and the guide was well-informed and lively. We hadn't realized that he couldn't escort us into the church or talk very much about it while we stood in the area outside. This activity is reserved for Spanish guides. Perhaps he could have told us more about it on the way there.
"
Ann R
• Submitted 30 May 2017





"
Didn't enjoy this tour We drove fromPorto to Spain and stopped at a service station!!! then another drive to Santiago where we were given a map with a few crosses of what we should see , we were given 45 minutes as we had the restaurant booked .... then another 50 minutes!!!!!! 1.5 hrs in Santiago !
"
Maria F A
• Submitted 28 Jun 2017





"
The lines were so long to get into the Church you didn't have enough time to see everything , then it was lunch, which was amazing, but took an hour and half, then we left to see some fort nobody cared about, i would have rather stayed in Santiago and seen more of the sights!!! Our guide was very nice and offered a lot of information, but talked a little too much for my liking, one problem she had to tell everything in two languages, so it was constant talking for the 3 hours it took to get there!!
"
Cathy W
• Submitted 21 Oct 2017





In Brief
Highlights:
Excellent value for money
Led by a local guide
Enjoy a day away from the hustle and bustle of the city
More Porto Day Trips