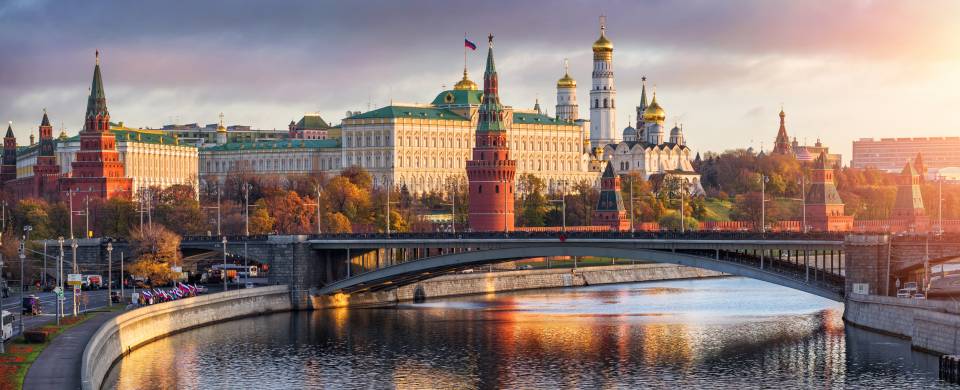 Trips and Tours to Moscow
Capital of Russia, home of the mighty Kremlin and the legendary Red Square and the city that inspired dozens of spy novels - this city needs little introduction. Once a small provincial outpost, Moscow has grown to become the cutting edge epi-centre of Russia, with a hedonistic nightlife scene, glitzy shopping malls, and world-class dining options yet it's a city that knows where it comes from and the streets are jam-packed with Russian history. It's the best place in Russia to get to grips with its modern politics and get an insight into the future the country is striving for.
Read More
With internationally acclaimed museums and art galleries, vibrant parks and awe-inspiring historical monuments, the list of attractions can seem overwhelming though legendary Red Square is a good place to start, home to everything that makes Moscow so well-known including the colourful St. Basil's Cathedral – the subject of countless postcards and an enduring symbol of Russia, the mighty Kremlin - Russia's political powerhouse where many infamous tyrants and dictators have conducted their business, and Lenin's Mausoleum where you can pay your respects to the father of Communism.
Thankfully getting around Moscow and its many attractions is easy using the stunning metro system. Gifted to the Soviet people by Joseph Stalin and a tourist attraction in itself, the underground transport network features opulent stations reminiscent of mini palaces. An entire day alone could be spent exploring the lavish metro stations and we recommend a good three days to do the city justice and see its star attractions.
Best Time to Visit
The seasons of spring (April and May) and autumn (September and October) are considered the best time to visit Moscow for this is when temperatures are pleasant, there's usually little rain and the skies can be clear and sunny. These are considered the shoulder seasons so prices are lower than at other times of the year and bargains are to be found. The summer months of June to August are high season when the temperatures are at their highest and rain minimal.