Follow in the footsteps of Russia's last ruling aristocrats - the Romanovs. Starting in St Petersburg - the city of the Tsars, head down to Russia's mighty capital city - Moscow and then ride the Trans-Siberian railway to Yekaterinburg, crossing the Ural Mountains, bound for Siberia.
Trip Highlights
Learn about the last days of the Romanovs in Yekaterinburg, visiting the sites where Tsar Nicolas II and his family were assassinated and buried
Experience the Trans-Siberian railway on an overnight train journey from Moscow to Yekaterinburg
Marvel at the dazzling array of art and exhibits in the world-famous Hermitage Museum, at the Winter Palace in St Petersburg
Take in the highlights of the capital on a walking tour, visiting Moscow's famous Red Square, home to the historic GUM Department Store, Lenin's Mausoleum and spectacular St Basil's Cathedral
Straddle two continents at the famous obelisk Europe/Asia border marker in Yekaterinburg
Explore the beautiful city of St Petersburg, including the exquisite Church on Spilled Blood, Peter & Paul Fortress and Nevsky Prospekt
Discover a lavish residence of the tsars on a day trip to Catherine Palace at Tsarkoe Selo (winter: mid-October to April) or Peterhof Palace and gardens (summer: May to mid-October)
Take a guided tour of the Moscow Kremlin, Russia's political power house. Stroll around the grounds of this fortified complex, visit the Kremlin's cathedrals and see the mighty Tsar Bell
Included
8 breakfasts, 3 lunches and 2 dinners (including a Welcome Dinner on day 1)
Overnight Trans-Siberian train from Moscow to Yekaterinburg in 4-berth sleeper cabin, including bed linen (upgrade to 2-berth cabin available upon request at time of booking)
Escorted by an English speaking Russian tour guide on days 1 - 6
Guided sightseeing - St Petersburg, Moscow and Yekaterinburg
All relevant transfers and transportation on tour
High speed train from St Petersburg to Moscow
8 nights 3-4 star hotels
Specialist Russian guides at local sights including Yekaterinburg
Airport arrival transfer on day 1 and departure transfer on day 10
Moscow Metro travel card - 6 journeys
Not Included
International flights and visa
Entrance Fees: USD$70-80pp, paid in local currency
Tip for your tour guide. We recommend you allow USD$3 - 5 per day, per traveller. Tipping your guide is an entirely personal gesture.
Tuesday. Welcome to Russia! You will be met upon arrival at St Petersburg Pulkovo Airport and transferred to your hotel for check-in. At 7pm this evening meet for dinner with the rest of your group at the hotel, followed by an informative welcome meeting.
Overnight: St Petersburg | Dinner
We explore the beautiful city of St Petersburg on a guided tour today. Travelling by bus we drive along the main thoroughfare Nevsky Prospekt, passing the museum and university districts and stopping for photos at magnificent St Isaac's Cathedral and The Bronze Horseman. Then we explore the Peter and Paul Fortress and the ornate Peter and Paul Cathedral which houses the tombs of the Romanov monarchs. After a tasty lunch of traditional Russian cuisine we take a guided tour of the incredible Hermitage Museum in the beautiful Winter Palace - which houses one of the biggest and best art collections on earth.

Spend the rest of the day at leisure and this evening consider an optional excursion to the ballet or perhaps a Cossack show. All optional excursions are subject to availability and minimum numbers - book and pay locally.
Overnight: St Petersburg | Breakfast, Lunch
St Petersburg – Moscow. Today we see how the Russian tsars lived, heading out of the city to explore one of their lavish palaces. We visit Peterhof Palace and its beautiful gardens on the Gulf of Finland in the summer (May to mid October) and in the winter we visit Catherine Palace at Tsarskoe Selo (or Pavlosk Palace if Catherine Palace is closed). Often referred to as the 'Russian Versailles', Peterhof is famous for its beautiful gardens which are a wonderland of greenery and flowers, sweeping vistas and ornate architectural decorations, with spectacular gold fountains. At Catherine's Palace it's the exterior and lavishly decorated interior that is the highlight and the famous Amber room is simply spectacular, bedecked in gold and amber.

Returning to the city centre we visit the beautiful Church On Spilled Blood and then there's free time to explore or shop for souvenirs before we board the 5pm high speed train to Moscow. Reaching the capital in just 4 hours, we transfer to our hotel for the night.
Overnight: Moscow | Breakfast
Taking the metro, we will make our way to the legendary Red Square for the start of our walking tour this morning. Here we will take in sights such as the epitome of Russian power – the Kremlin, Lenin's Mausoleum and the ritzy GUM department store. At the south end of the square, feast your eyes on the iconic St Basil's Cathedral. We also tour the mighty Kremlin, with a guided walk through the grounds to see numerous government buildings, gold-domed cathedrals and the Tsar Bell - which is the largest bell that never rang! If open, you can pay your respects to the grandfather of Communism at Lenin's mausoleum. Remainder of the day is at leisure.

During our stay in Moscow there will be the chance to join some of our optional evening excursions, such as a traditional Cossack Show or a Moscow by Night coach tour and river cruise. Optional excursions are subject to availability and can be booked and paid for locally.
Overnight: Moscow | Breakfast, Lunch
Today is free to spend at leisure in Moscow. The wonderful Izmailovo Market is just a short stroll from our hotel. This sprawling market lies behind the walls of an ancient kremlin and sells everything from matryoshka dolls to fur hats. There are also plenty of great galleries, museums and shops all within walking distance in the city centre. Alternatively consider booking our optional Inside a Soviet Bunker Tour Add On and head 65 metres underground to explore the Underground Cold War Museum - a Stalinist-era Soviet Bunker that up until recently was a top secret symbol of Soviet Power.
Overnight: Moscow | Breakfast
Moscow – Yekaterinburg. Our last day in Moscow is free for you to independently explore or stock up on Soviet souvenirs. As this tour runs in conjunction with other tours, today you will also bid farewell to those ending their tour in Moscow, and to your tour leader who has escorted you thus far. This afternoon transfer to the train station for an overnight train journey, travelling east bound along the famous Trans-Siberian railway line to Yekaterinburg. Our premium train departs at approximately 4.30pm.
Overnight: Trans-Siberian sleeper train | Breakfast
Travelling on the Trans-Siberian continue the journey east bound across the beautiful Ural Mountains. Pulling into Yekaterinburg at approximately 8pm this evening, we meet our local guide and transfer to the hotel for dinner and relaxation.
Overnight: Yekaterinburg | Dinner
This morning we explore the historical centre of Yekaterinburg on a walking tour. The city was founded in 1723 to exploit the mineral riches of the surrounding Ural Mountains and Siberia but what really put Yekaterinburg on the map in the western world was the tragic event that occurred here in 1918. For it was in the cellar of a house, where the beautiful Church on the Blood now stands, that Tsar Nicholas Romanov II and his family were executed. Our walking tour takes us to this very church where you'll see a sculpture dedicated to the Tsar and his family, the area of their execution and a modest exhibition on their lives.

Our walking tour also takes in 1905 Revolution Square, the beautiful views from the embankment side and the Hill of Ascension, and the sorrowful Afghanistan memorial at the Red Army Square. We can also see the gorgeous villas of the 19th century gold merchants, statues of the founders of the city and Communist leaders.

After lunch we drive out of town to visit the famous obelisk Europe/Asia border marker where you can stand with a foot in each continent! Crossing the border- line we get a certificate and a glass of sparkling wine. Then we head to the Ganina Yama Monastery which is dedicated to the Romanov family and built on the site of the former mine, where their corpses were unceremoniously dumped by the Bolsheviks in 1918. The Romanovs' remains were then moved a few kilometres to a secret grave which is now a memorial, this is our last stop of the day. When the secret grave was discovered in 1978 the Romanov remains were moved to their final resting place at the beautiful SS Peter and Paul Cathedral at Peter and Paul Fortress, which we visit in St Petersburg.
Overnight: Yekaterinburg | Breakfast, Lunch
Today is free for you to take advantage of all that Yekaterinburg has to offer as a wonderful outdoors destination. You will be able to choose from a range of exciting options that can be booked and paid for locally. In the summer you can try your hand at rafting, work up a sweat hiking or visit a Koptelova - a traditional Siberian village. While in the winter, you can take full advantage of the sub-zero temperatures with a thrilling dog-sledding ride or ice-fishing! Please contact us for further details.
Overnight: Yekaterinburg | Breakfast
Thursday. Our tour comes to an end today after breakfast. After hotel check-out a departure transfer will take you to the railway station or airport for your onward travel.

Note: If you'd like to return to Moscow rather than depart from Yekaterinburg, we can arrange transportation aboard the train. Call us for rates.
Breakfast
Departure dates are guaranteed with a minimum of 4 persons. 'Twin Share' prices are per person when there are 2 people sharing a room. 'Single Room' prices are applicable to those who don't have anyone to share a room with or anyone wanting the privacy of a single room.
Read More
2022
Twin Share
Single Room
Extra Prices
Twin Share
Single Room
Pre tour accommodation - St Petersburg
R1,475
R2,675
Post tour accommodation - Yekaterinburg
R1,240
R2,020
Inside a Soviet Bunker
R1,240
N/A
The hotels listed below are ones which we frequently use on this tour. We reserve the right to substitute these hotels to ones of a similar standard.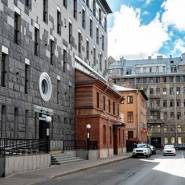 Harbor Club Hotel, St Petersburg
Well-located in St Petersburg, the Harbor Club Hotel can be found on a quiet street, yet only a short walk from the bustling city centre. Its guestrooms feature modern décor, with spacious ensuite bathrooms and modern amenities including air conditioning. You'll also find a shared lounge and bar, as well as an on-site restaurant serving tasty European cuisine. Here, guests can enjoy a continental or buffet breakfast or, if you'd prefer, there is also the option of dining in the comfort of your hotel room.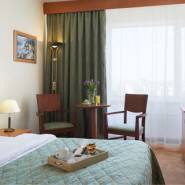 Izmailovo Delta Hotel, Moscow
The 4 star Izmailovo Delta Hotel forms part of the huge Izmailovo Gamma Delta complex, which was built to accommodate guests and participants of the 1980 Olympic Games in Moscow. Offering comfortable guest rooms with modern amenities, the complex also boasts 16 restaurants and bars serving Russian and international cuisine, a SPA, gym and swimming pool, in addition to shops, a bank and post office. Conveniently located with the Partizanskaya Metro Station just 350 yards away, it's a quick 10 minute metro ride to Red Square where you can take in the highlights of the capital. The hotel is also ideally located for souvenir shopping, with the famous Izmailovo Market just a short stroll away.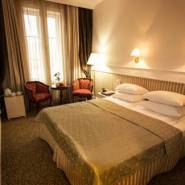 Chekhov Hotel, Yekaterinburg
Converted in 2009 from a nineteenth century mansion, the Chekhov hotel is a popular boutique hotel in the heart of Yekaterinburg. The comfortable rooms are modest in style with furnishings that hark back to the property's past with the modern staple of free WiFi. A buffet breakfast is served onsite with complimentary tea and pastries available throughout the day, perfect for refuelling between sightseeing. The hotel is well located close to the central square of the city and next to a local supermarket and plenty of restaurants.
Reviews
Travellers have rated this tour as 4.67 out of 5 based on 3 recent reviews
"
Can't say enough about Natalia. She went out of her way to locate my luggage and handle communication with St. Petersburg airport when they lost it on my arrival and I am extremely thankful for that.
She was easy to get along with and open to answering all our questions about her country and culture. And she gave us great recommendations for places, bars and restaurants to visit. "
Sofie Kiriakidis
• Submitted 04 Sep 2017
Tour





Guide





Country





"
The whole holiday was amazing."
Helen Jameson
• Submitted 06 Sep 2016
Tour





Guide





Country





"
Loved the small group. The itinerary was great. Felt it hit the high points for each city. The extra excursions were also great. Was enough time to do things on our own, if we wished. Loved that we travelled locally on the subway in Moscow.
The overnight train rides were more comfortable than expected.
Tatiana was great. Very friendly, and informative!!
Also, a BIG BIG thanks for Constantine who met us at the train station in Yekaterinburg. He was so friendly and knowledgeable. Gave us highlights and details that were just perfect in the short ride form the train station to the hotel. GREAT hotel in Yekaterinburg too. I would say the BEST that we stayed in. The city excursion and trip to the Asia/Europe border was wonderful. We also hired Constantine's company for the "Boris Yeltsin" tour, which was also terrific!!
Overall, I had a great time! I see other trips you are offering that look interesting too!!!"
Anita Windisman
• Submitted 19 Jul 2016
Tour





Guide





Country





"
Perfect pace of the tour - good balance of organized activities and free time. I loved every minute of it! Russia is an incredible country definitely worth visiting."
Robert Grey
• Submitted 10 Feb 2010
"
Hi Janet,
We had such a good time in Russia - thanks for recommending Route of the Romanovs. We loved St Petersburg and Moscow and the train from Moscow to Yekaterinburg was very entertaining with the locals.
Would love to do it all again but there's more of the globe to see.
Take care,
Alice"
John & Alice
• Submitted 05 Nov 2009
"
Stunning trip, the scenery was beautiful! We just wished we'd booked all the way to Beijing!"
Erin & Bex
• Submitted 21 Jul 2009
"
Hello Ryan,
First of all, let me say thank you for everything. The "Route of the Romanovs" tour turned out to be a fantastic experience. All of our guides were top-notch and very fun. I will definitely consider On the Go the next time I get the itch to travel. I do very much want to go to Turkey...
Cheers, "
Benjamin Prentice
• Submitted 10 Jun 2009
In Brief
Range
Trip Type
Starts
St Petersburg
Ends
Yekaterinburg
Departs
Tuesdays
Group Size
Min 4 / Max 24
Hotel Rating
3-4 star
Tour Guide
Yes - escorted by a tour guide
Meals
Breakfast: 8, Lunch: 3, Dinner: 2
Visiting
Countries
Tour Add-ons
Enhance your trip with these amazing added extras and add-ons
"
Can't say enough about Natalia. She went out of her way to locate my luggage and handle communication with St. Petersburg airport when they lost it on my arrival and I am extremely thankful for that.
She was easy to get along with and open to answering all our questions about her country and culture. And she gave us great recommendations for places, bars and restaurants to visit. "
Sofie Kiriakidis
OTG000187
Route of the Romanovs - 10 days
Europe
Signature
Europe
false
0
Russia
https://www.onthegotours.com/za/Russia/Route-of-the-Romanovs-10-days
https://www.onthegotours.com/repository/Church-on-Blood-Yekaterinburg--Russia-Tours--On-The-Go-Tours-263711432292834_crop_flip_300_300_f2f2f2_center-center.jpg
Group_Tours