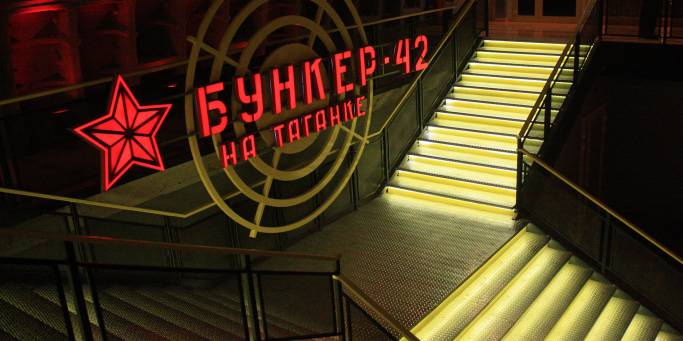 Head 65 metres below street level to the Underground Cold War Museum, located within a Stalinist-era Soviet bunker that up until recently was a top secret symbol of Soviet power. Cleverly hidden beneath an ordinary apartment building on a busy street in the heart of Moscow, 18 floors below ground level, this mighty 75,000 square foot facility was constructed covertly in the 1950s to protect the select few against a US nuclear attack.

Known as the Tagansky Underground Command Centre, the site was in operation throughout the 1970s with a staff of 2,500, of whom 1,500 could be on duty at any one time. In the event of nuclear war, it would have been sealed with enough stored food for three months and systems to purify the air. In the 1990s, with the Cold War thawing and the death of communism, this bunker came off the top secret list and is now open to the public!

Step back in time to the clandestine and tense era of the Cold War and enjoy an interactive tour of this bunker turned museum. This half day add-on also includes a tour of the Moscow Metro, which is one Stalinist project Muscovites are proud of! Visit four of the most extravagant metro stations - Ploschad Revolutsii, Teatralnaya, Mayakovskaya and Kropotkinskaya. With marble floors and columns, chandeliers and bas-reliefs, the extraordinary opulence of these 1930s stations is incredible.
| Prices | Dates | Price/Person | Single Supp. |
| --- | --- | --- | --- |
| Inside a Soviet Bunker | All Dates | R1240 | - |
Additional Information
This add-on can be added to any of our Group Tours that visit Moscow.

We recommend this add-on is booked in advance, however, it may be possible to purchase with our local team upon arrival to Russia subject to availablity.

What's Included
Tour of the Moscow Metro
Entrance into Soviet Bunker
Escorted by an English Speaking Guide

Available On: