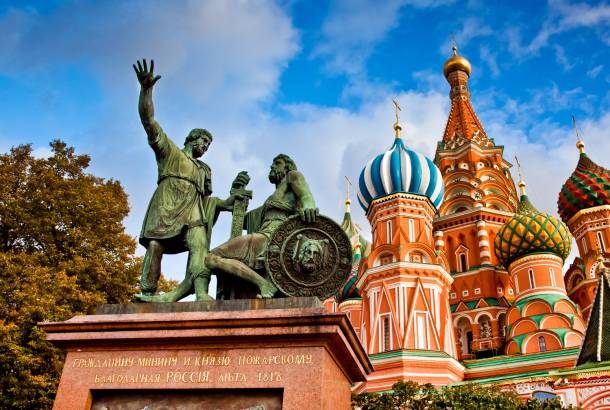 A little knowledge goes a long way when it comes to travel so here we've put together loads of useful information and tips on what to expect when visiting Russia from food to shopping, train travel to customs and money, so your trip goes as smoothly as possible.
What vaccinations do I need for Russia?
You should seek medical advice before travelling to Russia from your local health practitioner and ensure that you receive all of the appropriate vaccinations. As a guide Diphtheria, Tetanus, Typhoid, Hepatitis A and Polio are strongly recommended. If visiting rural Russia and undertaking outdoor activities between May and August, a vaccination for tick-borne Encephalitis is recommended.
Is it safe to drink tap water in Russia?
The tap water in Russia is not considered safe to drink so we recommend only drinking bottled mineral water, which is readily available in hotels, shops and restaurants.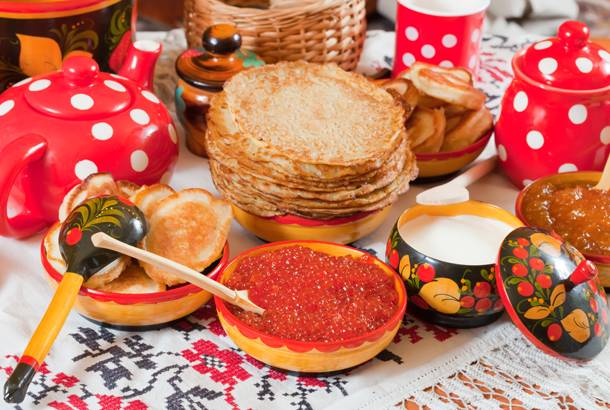 What's the food like in Russia?
Russia produces a diverse culinary repertoire. Restaurants, cafes and other eating establishments have made vast inroads since the fall of Communism and there's a surprisingly good choice in Moscow, St Petersburg and other big cities. Elsewhere the choice is more limited, which is why we include meals in provincial Russia on our group tours.
Caviar, smoked sausage, pickles, field mushrooms, cheese and soured cream are the basis of zakuski (hors d'oeuvres or appetisers) - a popular dish. Also try savoury piroshki (a stuffed pastry) and blini (savoury stuffed pancakes). The Russians excel at hearty meat and vegetable-based soups. The tsar of all soups is borsch, a beetroot and cabbage combination served with plenty of dill and sour cream. The sour and salty solyanka is also good, crammed with pickled cucumber, olives, capers, tomatoes, lemons and salted mushrooms.
Well-loved classic mains include beef Stroganoff (invented in Russia, as was chicken Kiev), pelmeny (Siberian-style dumplings) and spicy Georgian cuisine such as shashlyk, a form of Shish kebab originally made of lamb. Russian rye bread is flavoursome and most often eaten without butter. Fish varieties include omul (similar to salmon and from Lake Baikal) and sturgeon - often poached and served with a sauce or mushrooms. The Russians excel at the art of ice-cream making and St Petersburg is particularly renown for its varieties.
A word on garnishes - dill reigns supreme in Russia and its use is not limited to fish dishes. You'll find dill zealously sprinkled across many dishes. Russia even produces dill-flavoured potato crisps.
Russia has many indigenous alcoholic beverages that were once widely consumed but have now been replaced with more popular international varieties though one particular Russian drink has become a staple across the world and that's vodka. Made from fermented cereal grains and potatoes, vodka in Russia is often taken neat with food. Beer is another popular drink with a long history in Russia. Another favourite is kvass, a bread-based drink that although classified as non-alcoholic usually has a marginal alcohol content around 0.5%.
Is it standard to tip in Russia?
Tipping is generally practised across the service industry in Russia and it's customary to leave a 10% tip when eating out. Taxi fares are metered so there's no need to leave a tip though the final amount is usually rounded up. In upmarket hotels porters will expect a tip of around USD $1 per bag while for cleaning staff $2 per day will be ample.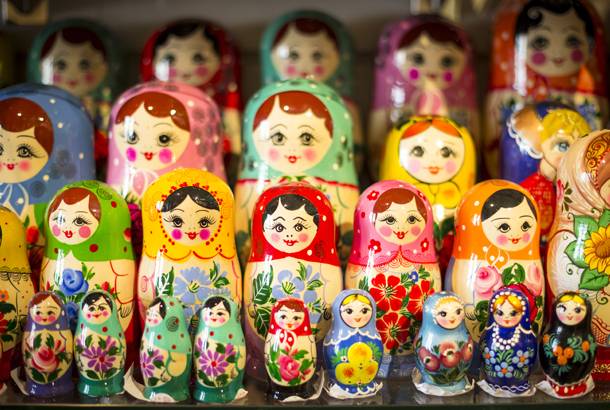 What is there to shop for in Russia?
Since the fall of the Soviet Union, Russia has embraced the free market. Today, shops are positively brimming with consumerism. Souvenirs are authentic, inexpensive and usually well-made. The trademark souvenir is the colourful decorated wooden Matryoshka doll, a set of dolls within dolls. Enamelled wooden boxes known as palekh are also popular. Perhaps the most curious hangover of Communist times is the quantity of surplus Red Army and military souvenirs. Everything from badges to important-looking peaked hats, MIG fighter jet dials fashioned into clocks and clothing is available. The ubiquitous 'fluffy brown hat', so common an image of Russia, is a must-buy.
Winter clothing such as coats and boots are often less expensive in Russia, as is winter sports equipment. If you ever fancied replicating the on-ice exploits of Torvill and Dean, ice-skates are far cheaper in Russia. Watches previously made for the Russian military are available in myriad designs while camera and lens brands such as FED, Kiev and Zorki have a respected following amongst enthusiasts, though be sure to do your research before buying as quality does vary.
Bargaining in Russia
In most places the price of goods are fixed and clearly labelled though bargaining is acceptable in markets where you can try and shave off some rouble from the first price given by the vendor.
Is it safe for a single woman to travel in Russia?
Solo female travellers will find that Russian men are surprisingly chivalrous, opening doors and offering to help with your coat. Gender stereotypes run deep in Russia though the women of the country are strong, independent and respected so you'll garner little attention travelling around Russia by yourself. Women are expected to act like ladies so avoid wearing revealing clothes though if you're thinking of hitting the clubs in Moscow then dress to impress as you won't get in otherwise.
Etiquette in Russia
Visiting Churches in Russia
When visiting churches, cathedrals and monasteries women need to cover their heads and bare shoulders with scarves often provided on entry. At some religious places women are also required to wear a long wrap-around skirt, which are also provided to allow entry. For men, shorts and hats are not appropriate attire for visiting churches.
Visiting banyas in Russia
Sweating away the day in a steamy banya is a quintessential Russian experience though some prior knowledge will ensure the experience goes smoothly. Russians will wear swim wear that just about covers the important bits in order to get the most out of the humid vapour though in same sex steamhouses naked is the way to go. Bring your own towel and bath slippers/flip flops and if you want to protect your hair invest in a felt hat that any regular banya user will wear. Once in, always close the door behind you and let the other users know when you're about to add more water to the hot rocks.
What is the duty free allowance for Russia?
The following goods may be imported into Russia by persons aged 18 years and older without incurring customs duty:
400 cigarettes or 100 cigars or 500g of tobacco
3L of alcohol
Goods to the value of €1,500 weighing up to 50kg
Caviar (factory packed) max. 250 grams per person
What is the currency in Russia?
The currency in Russia is the Russian Rouble.
While the Russian Rouble is no longer a closed currency, it can sometimes be difficult to buy in advance or to exchange upon your return. As such we recommend exchanging Pound Sterling, US Dollars and other major currencies in Russia, plus you may receive a better exchange rate in destination. The USD is the easiest to convert with the better exchange rates though crisp, clean notes are required regardless of currency. Check OANDA for the latest exchange rates.
Bureau de changes and ATM machines exist in Moscow and St Petersburg (to a lesser extent in the provinces), and credit cards are rarely accepted outside the main cities. It's advisable to request bank notes in smaller denominations, as it can sometimes be hard to get change from large notes and smaller notes are handy for smaller purchases and gratuities. Traveller's Cheques are not recommended as they're often difficult to exchange and incur high fees.
What do things cost in Russia?
Day-to-day costs in Russia can be cheaper than expected depending on how many sights you visit in any given day. Local transportation is extremely affordable and food represents excellent value for money with a meal at an inexpensive restaurant typically costing around USD $5 per person while nicer meals accompanied by a few drinks will generally set you back around $30 per person. In Moscow and St Petersburg the plentiful upmarket dining options will cost considerably more than this but with food stalls and cafes prevalent in most cities and towns there's no reason why you can't eat cheaply while travelling around Russia.
Drinking in Russia is also affordable with a local beer setting you back just $1 while imported beers will cost double that. Bottled water is around 50 cents while a good coffee should cost around $2.
The main expense when travelling around Russia will be sightseeing as many of the more popular places tend to require separate entry tickets to see the different attractions within the complex. For example, entry to the Lower Garden of the Peterhof costs $10 with entry to the Grand Palace another $10, the Monplaisir $6, the Catherine Wing also another $6 and so on. All this adds up so if you're on a budget do a little research and pick out your top spots.
When travelling on a group tour, which includes your accommodation, sightseeing, breakfast and transportation, we recommend budgeting between USD $25-40 per person per day to cover additional meals, snacks, drinks, souvenir and odd purchases.
What sort of plugs do I need for Russia?
Standard voltage is 220 volts, 50Hz AC. Primary sockets generally require Continental or European plugs of the two round pin variety. We recommend that you pack a universal travel adaptor. You will need a voltage converter and plug adaptor in order to use U.S. appliances.
Is WiFi widely available in Russia?
WiFi is widely available across Russia's cities and larger towns with the majority of hotels, restaurants, bars and cafes offering free WiFi for patrons. In Moscow and St Petersburg you'll have no difficultly getting online if you have your own WiFi device (a phone or tablet) and it's usually high-speed internet. In the more rural areas the WiFi may be a little slower but if it's a town on the tourist route then at least you'll have the option.
What time zone is Russia on?
European Russia (west of the Urals) is 3 hours ahead of Greenwich Meantime (GMT). As Russia no longer observes Daylight Saving Time, from the last Sunday in March to the last Sunday in October, Russia is 2 hours ahead of GMT.
Russia is divided into 11 time zones with the furthest point of eastern Russia 12 hours ahead of GMT. The city of Yekaterinburg falls in a different time zone to Moscow and St Petersburg and is 5 hours ahead of GMT. All timetables on Russian Railways follow Moscow Time while airports follow local time.
Travelling during public holidays
As a predominantly Orthodox Christian country, Russia observes a number of religious holidays as well as a number of official public holidays. The biggest holiday in Russia is New Year's Day with Christmas taking place a week later - according to the Orthodox calendar Christmas falls on the 7th January. Many businesses close for the week between New Year's and Christmas though as families prefer to stay at home and visit church there is little pressure on local transportation.
What is train travel in Russia like?
Overnight sleeper trains
Trains are a pleasant and cost effective mode of transport in Russia and ideal for overnight travel between St Petersburg, Moscow and Yekaterinburg. Many of our group tours include a comfortable overnight train journey. Travelling by train offers an authentic Russian experience plus allows us to venture into the provincial heartland of the region. Russian trains are solid, utilitarian and reliable. On tours which include an overnight train journey we reserve 4-berth sleeper cabins which are heated and equipped with two upper and two lower beds. Freshly laundered linen is supplied and western toilets can be found at the end of each carriage.
High speed trains
On our
Back in the USSR
and
White Russian
tours you'll benefit from the convenience of travelling by high speed train from Moscow to St Petersburg, which takes approximately 4 hours, travelling at up to 250km per hour.
The Moscow Metro
The Moscow Metro is the easiest and quickest way to get around and if your tour includes time in Moscow your guide will give you a Metro card for six journeys. A Stalinist gift to the people of Moscow, this is one Stalinist project Muscovites are proud of. Graffiti-free stations offer an air of elegance with granite and marble-clad surrounds. Many of the stations boast chandeliers, huge mosaics depicting the power of good Soviet workers banding together to help the state, and strikingly elaborate sculptures cast in bronze offer a study of people from an age where collectivism was at the forefront of the Communism dream. Art Nouveau style lamps illuminate the long escalator arches and all this means that riding the Moscow Metro is a sightseeing excursion in itself.
Meanwhile, although St Petersburg has an equally fine Metro transportation system, as the city is more walker-friendly you'll be able to get to most inner-city sights often without the need to board the Metro.
SPECIAL NOTE: Mind your purses and bags aboard the Metro - pickpockets are as prevalent here as elsewhere.
Further reading for planning your trip to Russia
To make the most of your time in Russia check out more of our useful resources:
Best Time to Visit - what to expect of the weather and when to go Best Places to Visit - what to see in Russia from imperial cities to rural towns Tourist Visas - what you need to do to enter the country Visiting the Golden Ring - our guide to some of Russia's most historic towns