Since its inception over a century ago, the Trans-Siberian Railway has become one of the world's most iconic train journeys. This massive railway network was designed to connect Russia with neighbouring Europe and Asia, and resulted in the longest direct rail route on the planet. The original route traverses the entire length of Russia from Moscow in the west of the country to Vladivostok in the east. For many travellers, the term 'Trans-Siberian' has come to incorporate two other popular routes on the network - the Trans-Mongolian (Moscow to Beijing via Mongolia) and the Trans-Manchurian (Moscow to Beijing without passing through Mongolia). Whichever route you're thinking of taking, start your planning right here.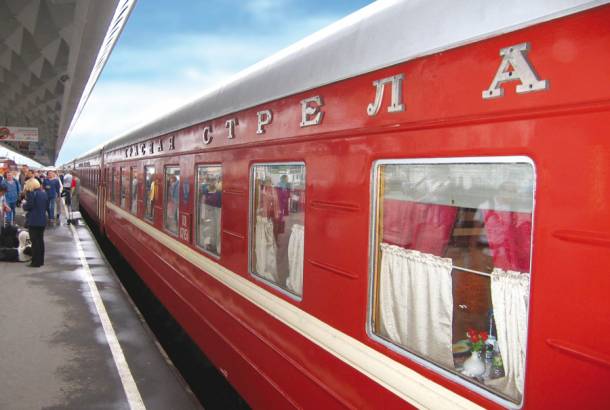 How long does it take to travel on the Trans Siberian Railway?
How long it takes to travel the Trans-Siberian Railway depends on how many stops you're planning on making. Without stops it takes seven days to travel from Moscow to Beijing on the Trans-Mongolian (7,621 km) and from Moscow to Vladivostok on the Trans-Siberian (9,258km). It takes just over six days travelling from Moscow to Beijing on the Trans-Manchurian (8,986km).
However, if you're travelling all that way, the chances are you're going to want to stop off and explore some of the region along the route. Your Trans-Siberian journey could last for weeks or even months if you so choose. It's a good idea to spend a few nights in the start and end city of your journey so the minimum you should allow yourself to complete the trip without stops is 11 days. This gives you two nights at each point plus the six nights spent on board the train.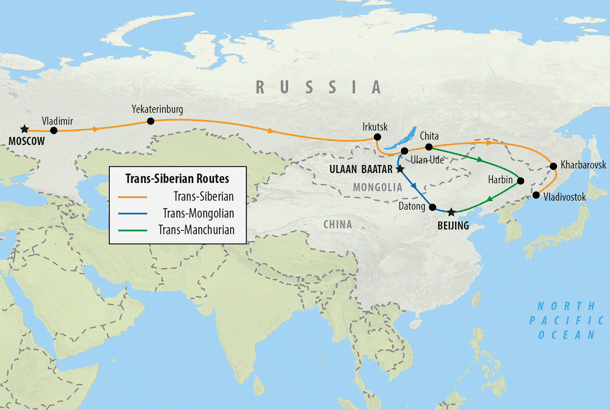 What stops can I make along the Trans-Siberian Railway?
There are over a dozen stops on the Trans-Siberian Railway, which means there is plenty of opportunity to get off the train and explore more of Russia. There are even more options if you build your train journey piece-by-piece using slower trains but for many, there are just a handful of destinations that elevate your trip to the status of bucket list dream.
Excluding the start and end cities, here are some of the highlights worth making a stop for: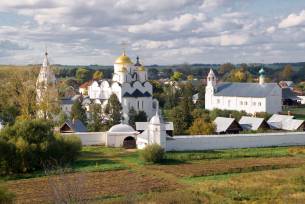 Vladimir and the Golden Ring
At less than a two hour train ride away from Moscow, the town of Vladimir is a rewarding stop on the Trans-Siberian journey. As Russia's one-time medieval capital Vladimir is home to a number of impressive monuments, chief among them the dazzling white Assumption Cathedral.
Another great reason to include Vladimir on your itinerary is for the chance to head further afield and explore the Golden Ring, a collection of historic towns that have gone virtually untouched by modernity. Here you'll find gleaming church spires punctuating the skyline in an idyllic rural setting. Allow yourself at least two days to visit Vladimir and Suzdal (pictured), and longer if you want to complete the circuit that includes Yaroslavl, Kostroma and Rostov-Velikiy.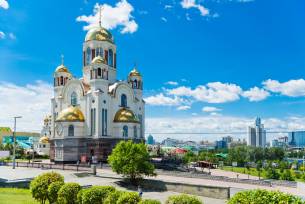 Yekaterinburg
The city of Yekaterinburg has played host to some of Russia's most history-defining events. Synonymous with the Romanovs, it's here where the rule of the tsars came to a bloody end when Nicholas II and his family were executed and their bodies dumped. The imposing Church on the Blood now marks the spot where the Romanovs were murdered.
As well as an eye-opening history lesson, Russia's fourth largest city also delivers a great urban experience with interesting museums, great dining options and colourful architecture all set around the Iset River.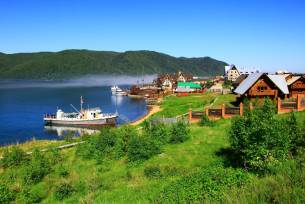 Irkutsk and Lake Baikal
Many travellers include Irkutsk on their itinerary for its proximity to the stunning Lake Baikal. It's a body of water with plenty of superlatives, claiming the honour of being the world's largest freshwater lake, as well as the world's deepest and oldest lake. Lake Baikal is surrounded by some of Siberia's most beautiful countryside and taiga forest. Whether you're visiting in the winter or summer months there's numerous outdoor activities to enjoy from cross-country skiing to trekking and camping.
That's not to say that Irkutsk isn't a worthy stopover in its own right. The central part of the city retains a ramshackle yet charming collection of 19th century wooden houses that are typical in design of Siberian style architecture. There's also a number of colourful revived churches and museums that detail the city's history.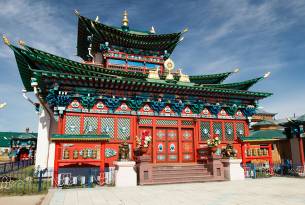 Ulan Ude
It may sit firmly within Russia but the pleasant city of Ulan Ude has a distinctly Mongolian feel. As the capital of the Buryat Republic it's home to a sizeable population of Siberia's indigenous group. Outside of the city stands the brightly painted Ivolginsky Datsan, a Tibetan monastery that serves as the centre of Russian Buddhism. It's definitely worth the bus ride that takes you through the Siberian countryside.
Elsewhere is the large Open-Air Ethnographic Museum where you can stroll around reconstructed dwellings that display the traditional domestic architecture of the region alongside chapels and felt gers, more widely known as yurts.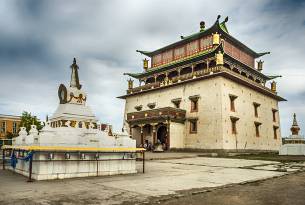 Ulaan Baatar
Mongolia's capital city is a curious mix of Soviet modernism and Buddhist tradition. Concrete towers overshadow quiet Buddhist temples while lofty palaces square up against glass office blocks. The dusty streets heave with noisy traffic and unless you're visiting for the Nadaam Festival, there's little incentive to spend too long here.
Where Mongolia comes into it's own is the sparsely populated countryside. Head out to the sweeping vistas of Terelj National Park where Mongolia's nomads live. Here you'll find craggy mountains, glacial lakes and hot springs to enjoy for those adventurous enough to push deeper into the less developed areas of the park. And while in Terelj, take the opportunity to spend a night or two in a traditional Mongolian ger, enjoying local hospitality.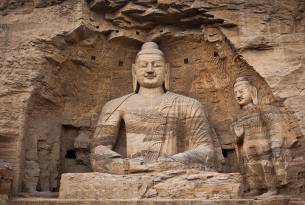 Datong
Those travelling on the Trans-Mongolian route will find the city of Datong the first stop of interest once entering China. Founded as a military outpost in 200 BC, Datong has plenty of history on offer with a recently renovated old-town that is simply charming, despite the fact that most buildings have been constructed in the last decade. The city wall encircles fine temples, a drum tower and the multicoloured Nine Dragon Screen that hark back to Datong's glory days.
However, most travellers visit Datong for one thing and one thing only - the monumental UNESCO-listed Yungang Grottoes. These Buddhist caves date back to the 5th century and are famed for their outstanding stone carvings of Buddhas, Bodhisattvas and severe-looking deities. Another must-see is the astonishing Hanging Temple, a crumbling wooden structure that hangs precariously to a sheer cliff face.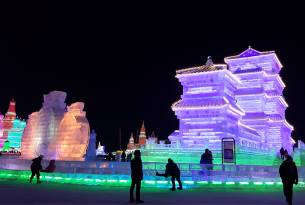 Harbin
If you find yourself travelling on the Trans-Manchurian railway route in January or February, you can't miss the Harbin Ice Festival. Held in the Chinese city of Harbin, this world-famous event sees some of the greatest ice sculptors transform the urban landscape into a winter wonderland. Giant frozen sculptures of iconic monuments are lit with neon lights while during the day artfully chiselled figures take centre stage.
Outside of the deep winter months Harbin is still a worthy stop if only for the interesting fusion of Chinese and Russian architectural styles. The Russian Orthodox Church of St. Sophia sits proudly in the heart of the city and old architecture with a European flair still lines leafy boulevards.
What does it cost to travel on the Trans-Siberian Railway?
On a semi-independent trip, like the ones we offer where services are booked for you and you're left free to do as you please at each stop, budget between USD $150-180 per person per day. This amount covers your train tickets, accommodation, breakfast at hotels and transfers at each stop on the journey.
On top of this you will need to budget for meals, snacks and drinks on the train, international flights, visas and optional activities at each place you're stopping at.
How do I book tickets on the Trans-Siberian trains?
Our Trans-Siberian Railway packages include all the tickets you need along the route. Our local partners in Russia, Mongolia and China collect the tickets and meet you at the start of each country's journey to give you the tickets. For many travellers, booking a pre-arranged trip like this is the most hassle-free way to enjoy the Trans-Siberian.
It is possible to organise a Trans-Siberian journey independently and that's where the Real Russia Journey Planner comes in handy. It's best to organise your trip before departing as Russian and Chinese visa requirements stipulate that you must have your travel planned and booked in order to obtain a visa.
Recommended Trans-Siberian Railway Itineraries
We offer a number of semi-independent Trans-Siberian Railway trips that depart from Moscow and head east or from Beijing heading west. We also cover the original route from Moscow to Vladivostok. Here are some of our most popular Trans-Sib journeys ready to book as one complete package.
Tailor-made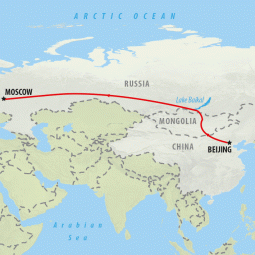 8 Days FROM R22,900
Tailor-made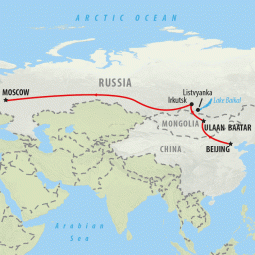 14 days FROM R47,900
Tailor-made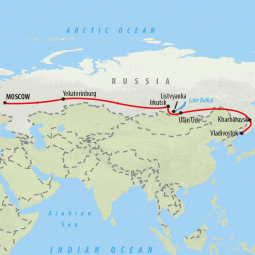 19 days FROM R59,900
Create your own Trans-Siberian Railway journey
If you want to create your own bespoke Trans-Siberian itinerary with your choice of stops, contact our tailor-made team who are ready to help. On a tailor-made holiday you can choose which day you depart, how many nights you spend in each place and what accommodation you use. Please bear in mind that some trains do not depart every day of the week so you will need to be flexible - our consultants will build your preferred itinerary around what the train schedule allows.
Trans-Siberian Trip Styles