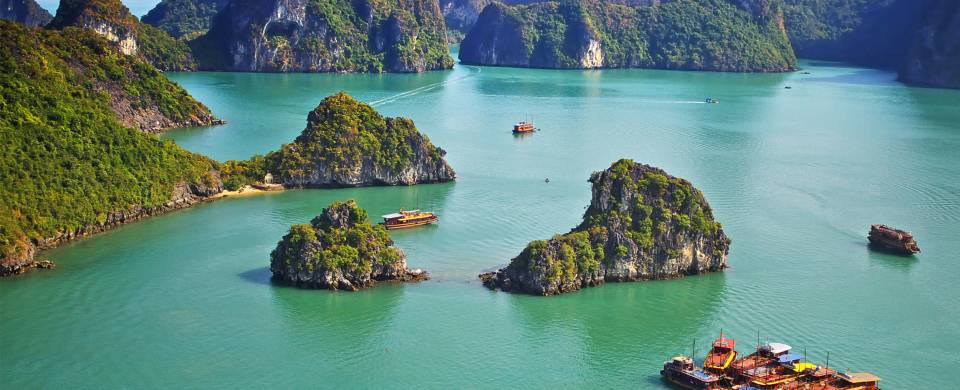 Trips and Tours to Halong Bay
About Halong Bay
Sprawling Halong City is the gateway to Halong Bay - the jewel in Vietnam's scenic crown. Widely considered to be one of the natural wonders of the world, this UNESCO World Heritage listed region is simply breathtaking. Thousands of majestic limestone, jungle covered peaks and isles, rise dramatically out of the sparkling emerald waters of the bay. On the tiny islands, illuminated caves and picturesque hidden coves of all shapes and sizes await discovery and the towering peaks provide some of the best rock climbing in South East Asia. There are also a number of colourful floating markets dotted around the bay.
Read More
The largest and most popular island in Halong bay is jungle clad Cat Ba, which offers a wide range of activities including trekking in Cat Ba National Park, biking, climbing and sailing. Just south of Cat Ba, the offshore islands of beautiful Lan Ha Bay, offer pristine white sand beaches.
The ideal way to explore Halong Bay is onboard a traditional Chinese style Junk boat which can either be privately chartered or shared. Enjoy a idyllic cruise on a Junk and explore remote offshore islands, kayak and swim in the warm waters and capture an incredible sunset over a panorama of peaks. Just northeast of Halong Bay is Bai Tu Long Bay which is just as spectacular as neighbouring Halong and yet it remains refreshingly untouched by tourism.
Best sites to visit in Halong Bay
Islands
View on map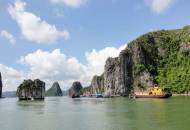 Some 2,000 islands and islets pepper the waters of Halong Bay from uninhabitable karst formations to developed sanctuaries. The best known is the jungle-clad Cat Ba Island with a small town that serves as an excellent base for outdoor activities in the wild interior of the island and for visits to the gorgeous beaches that line the Lan Ha Bay area. For the best panoramic views of Halong Bay head to the summit of Dao Titop island, a small island centrally located within the bay that also claims its own white-sand beach.
Caves
View on map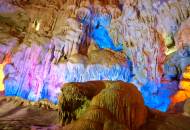 Many of the ancient islands and islets in Halong Bay are hollow and contain enormous caves with accessible chambers and high fissured ceilings. The authorities have cleverly turned a number of caves into popular attractions with technicolour lighting displays that illuminate the stalactite deposits creating a natural theatre of light and texture. As the closest cave to the mainland, Hang Dau Go cave is one of the most visited with walls that shimmer in the light while the equally popular Hang Sung Sot cave is known for its phallic-shaped rock.
Floating Villages
View on map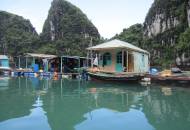 A number of floating villages cling to the jagged edges of Halong's islands where families make a living from fish farming. A village is usually home to between 200-600 people who live in rickety houses that gently bob on the water, tied to their neighbours for greater protection from the elements. In order to get close to the villages, junk boat passengers embark on a short row boat ride to the communities of either Ba Hang, Cua Van, Vung Vieng or Cong Dam.
Recommended things to do in and around Halong Bay
Kayaking
View on map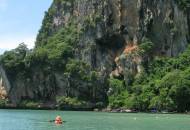 One of the best ways to truly appreciate the beauty of Halong Bay - its islands, beaches and floating villages - is by kayak. The majority of junk boat operators offer kayaking trips to places where larger boats just cannot reach with a leisurely paddle on the water allowing the opportunity to pass under bridge-like karst formations and deep caves. Kayaking is ideal here in Halong Bay as the thousands of islands form a natural wind breaker resulting in calm waters and minimal currents.
Rock Climbing
View on map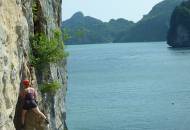 The terrain of Halong Bay's islands make the region a prime destination for rock climbing with the added bonus of spectacular scenery. Thanks to the natural overhangs that shelter cliff faces and the more popular routes, climbing is an option at any time of year, especially with novices who appreciate the relatively smooth surface of the karst limestone. Experienced climbers have plenty of options here too with thrilling deep water soloing available. Presently Cat Ba Island is the place to go for the best opportunities.
Transport links in Halong Bay
By Road
View on map
The most convenient way to reach Halong Bay from Hanoi is by road. The journey takes around 3-4 hours on a straight and well-trodden route. Private transfers will cover the entire distance between your hotel in Hanoi and Bai Chay harbour where the junk boats dock. The majority of people visiting Halong Bay will come from or at least transit through Hanoi as this is also the closest international airport.
Best Time to Visit
Typical of a tropical coastline, Halong Bay experiences two distinct seasons - a hot and humid wet season between April and September followed by a dry and cooler season from October to March. The rains usually start in earnest around June which means by and large October to December are considered the best months to visit with plenty of sunshine, warm temperatures and minimal rainfall. January to May is also a good period to visit though temperatures can be a little too cool for swimming until February.