Spain Tours & Package Trips
Spain Group Tours
Our range of Spain tour holidays cover all the main sites. We offer trips starting from Madrid and Barcelona, with included sightseeing of these two iconic destinations. Then you have the option of heading north, to Bilbao, San Sebastián and Santiago de Compostela, at the end of the Camino de Santiago pilgrimage route. You can also go south, to Seville, Granada and the Costa del Sol in Andalucia. Or you can head west, to Portugal. We also offer tours combining Spain with Morocco. So there is sure to be a trip for you!
From the Tapas restaurants of Madrid to the architectural wonders of Barcelona and the beaches of the Costa del Sol. See it all with a package tour to Spain!
Spain is one of the hottest destinations in Western Europe. And we don't just mean the weather! Rich histories can be uncovered in ancient settlements such as Caceres and Toledo. In Barcelona, the Sagrada Familia is nearing completion, whilst in Granada the Alhambra Fortress continues to attract visitors the world over. In the north, the Basque Country capital of Bilbao and the beaches of San Sebastián tempt sunseekers, whilst the Costa del Sol in the south boasts reliable weather for months at a time.
When in Spain, it's easy to hop over the border into neighbouring Portugal, to explore the delightful cities of Porto and Lisbon. Or across the Strait of Gibraltar to magical Morocco.
Our package tours in Spain travel by coach, making frequent stops for sightseeing and included experiences, with plenty of free time too. Staying in excellent 4-star hotels, you will enjoy the services of local English-speaking guides, helping you to get the most from your trip.
Explore more countries like Spain
Frequently asked questions about our Spain tours and package trips
Where will I visit in Spain?
Our range of tours visit the majority of Spain's main attractions. Our tours begin in Barcelona or Madrid, with included sightseeing in both destinations. We then have tours that go into northern Spain, and tours that head south to the Andalusia region and across the Strait of Gibraltar into Morocco. And there are lots of tours visiting Portugal too, including Porto, Lisbon, Fatima and more.
What about Portugal, do your tours visit here too?
Spain and Portugal are the two countries of the Iberian Peninsula, and they share much in terms of history, food and culture. Many of our Spain package trips also visit Portugal, as well as Morocco, which is located just across the Strait of Gibraltar. We also have a Spain tour that begins in Italy, if you would like to combine these two European countries! You can see our full offering in Spain at the top of this page.
What is the pace of these Spain trips like?
Our Spain tours are quite fast-moving. You will see lots of different places but we often visit two or three destinations (including major cities) in a day, stopping for a couple of hours at a time. There is plenty of free time in which to further sightsee independently, and our longer tours include free days at the Costa del Sol for you to recharge on the beach.

If it is your first time visiting Spain and you want to experience as much of the country as possible, then these tours are a great option. If you'd like a more in-depth, slower-paced visit to Madrid, Seville, Bilbao or elsewhere then perhaps these tours aren't quite right for you.
When is the best time to visit Spain?
Spain boasts a warm Mediterranean climate, and the summer months from June - August are high season, with the best weather. But attractions are busy and prices higher at these times. The shoulder seasons from March - May and September - October offer a nice compromise and a good time to explore Spain, with fewer crowds and still pleasant temperatures. Check out our guide on when to visit Spain for more information.
What transport do you use on your Spain package trips?
In Spain we travel by deluxe coach, as this is the most efficient way to get around, and it means we can stop often in lesser-known destinations like Burgos and Caceres.

Our deluxe coaches offer comfortable seating, free Wi-Fi, and audio headsets. The coaches are 50-seater, so even on a sold-out tour you will have plenty of room!

Please note that although there are no toilet facilities on the coach, regular stops are made and additional comfort breaks can be made if needed, though this will slow the tour down for other passengers.
How big are the groups on your Spain tours?
On the majority of tours, the maximum group size is 24, and the majority of trips do sell out in the peak season from June - August. If travelling at quieter times of the year then you may enjoy a smaller group of 15 - 20 passengers.
Will I be escorted by a tour guide when I visit Spain on your trips?
Yes - in Spain we offer escorted tours. Your English-speaking tour leader will travel on the coach with you. You will also enjoy the services of expert local guides for included sightseeing and guided tours.
Is Spain a safe destination for travellers from the LGBTQ+ community?
According to the 2023
LGBTQ+ Travel Safety Index
, Spain scores an A rating for LGBTQ+ traveller safety, ranking 7th out of 203 countries.
Same sex marriage is legal and there are constitutional and worker protections in place for people of all sexual orientations. 76 - 100% of consulted citizens consider Spain a good place to live for gay and lesbian people. There are no legal punishments for same sex relations and virtually all trips for LGBTQ+ travellers to Spain are trouble-free.
The LGBTQ+ Travel Safety Index is designed to provide a good overall picture of attitudes towards the LGBTQ+ community in each country and may not reflect the experience of foreign travellers to the country.
Can I drink the tap water when I visit Spain?
Yes, the tap water across mainland Spain is safe for human consumption. We recommend bringing a reusable water bottle on your Spain tour. This will save you money and is good for the environment, helping you to reduce your plastic footprint.

Please note that if travelling to the Canary islands (such as Lanzarote, Tenerife and Gran Canaria), the tap water is mostly desalinated sea water and is not recommended to drink. In the Balearic islands (such as Ibiza, Mallorca and Menorca), the tap water is classed as safe to drink but you may find it tastes unusual and may wish to stick to bottled water!
What is the current travel advice for Spain?
As a UK-based company, we follow the latest up to date advice from the UK Foreign and Commonwealth Office (FCDO). You can see the latest travel advice for Spain
here.
See the best of Portugal on your Spain adventure
Many of our Spain tours include a few days in Portugal too, the other country to make up the Iberian Peninsula. On these tours you will cruise the Douro River in Porto and visit a Port wine cellar. Take in the best of Coimbra and Fatima, and enjoy guided sightseeing in the capital, Lisbon.

Recommended tour: Madrid, Porto & Lisbon →
The Best of our Spain Trips
Whether you head into northern Spain and Bilbao, Santiago de Compostela and San Sebastian, east to Barcelona or south to the Costa del Sol, Seville and Granada, Spain has much to offer travellers. These are the unmissable highlights of our Spain tours.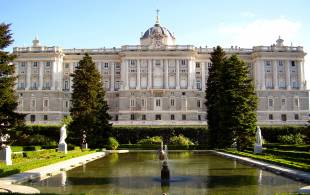 Madrid
The majority of our Spain tours start and finish in Madrid, and include guided sightseeing of the capital. The third largest city in the European Union, Madrid is a fine blend of the old and new. The central Plaza Mayor square is a good place to start your sightseeing, with plenty of restaurants and cafes for lunch and a spot of people watching. You will want to see the Royal Palace too. Sports fans can also check out the Santiago Bernabeu, home stadium to footballing royalty, Real Madrid.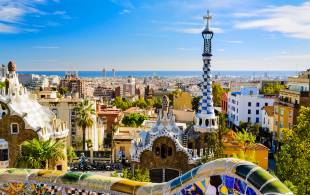 Barcelona
Madrid may be the capital city, but it's Barcelona that takes the tourism crown in Spain. Capital of the Catalonia region, Barcelona has it all. Incredible, unique architecture in the form of La Sagrada Familia and other masterpieces by Antoni Gaudi. Long, golden beaches. La Rambla, home to a variety of great restaurants and bars. And Parc Guell, home to more of Gaudi's work and a great place to enjoy views over the rest of the city.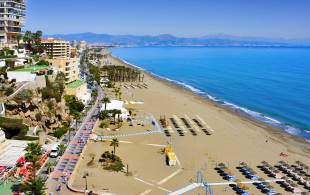 Costa del Sol
The Costa del Sol is a region in the southern Spanish province of Andalusia that has long been a popular beach break destination for Europeans. Comprising resort towns such as Malaga, Torremolinos, Marbella and Nerja, it's the perfect place to relax. Our longer southern Spain tours include a day or two at leisure here, for travellers to top up their tan!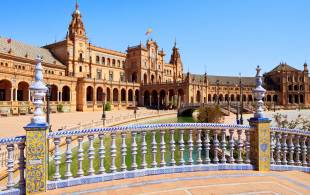 Seville
Seville's most famous landmark is the cathedral, the world's largest Gothic cathedral and the second largest in the Catholic world after St Peter's Basilica in Rome. But there's far more to Seville, a popular city break destination. Birthplace of flamenco, Seville is also a great foodie destination, with some of the most delicious Tapas in southern Spain found here.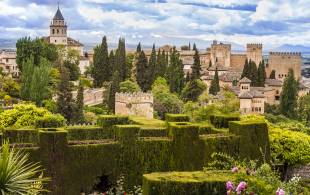 Granada
Visitors to Granada will want to pay a visit to the Alhambra fortress, a combination of Moorish, Islamic, Renaissance and Christian architecture. The city was once the capital of the Nasrid Kingdom, also known as the Emirate of Granada. This region was under Islamic rule from 1230 to 1492 and the Muslim heritage runs through the city to this day.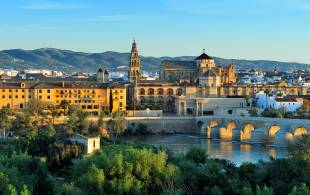 Cordoba
As the former capital of Moorish Spain, Cordoba's La Mezquita Mosque is well worth a visit, and entrance is included on our Spain tours that visit the city. The historic city centre is small and welcoming, easily navigable on foot or by bicycle, and boasting a number of great bars and restaurants to settle down in after a day of sightseeing.