Combine a tour of the famous Golden Triangle with the exuberant festivities of Holi - India's most dazzling celebration, when streets throughout the country are transformed into a kaleidoscope of color.
Trip Highlights
Holi – Join the celebrations at the Festival of Colour and throw powdered colour bombs in the streets - PREPARE TO GET MESSY!
Delhi – Discover the highlights of India's capital including Jama Masjid, Humayun's Tomb and the Rajpath
Fatehpur Sikri – Walk around the ghostly city which was abandoned more than 400 years ago
Keoladeo Ghana National Park – Ride on a bicycle rickshaw around this important wetland reserve and look out for rare bird species
The Taj Mahal – Enjoy a guided tour of this legendary monument, one of the most enduring symbols of love
Amber Fort – Explore this famous fortress with a guided tour and enjoy views over the beautiful Maota Lake
Jaipur – See the highlights of the Pink City including the beautiful City Palace and the UNESCO-listed Jantar Mantar Space Observatory
Agra Fort – Admire the impressive but lesser known fortress and explore behind its fortified walls
Included
Breakfast daily and 2 dinners
Holi essentials - Kurta pyjamas (they must be white), colours, water pistols etc
Rickshaw ride in Delhi and travel by jeep to beautiful Amber Fort in Jaipur
Services of English-speaking Indian specialist guides at some sights
All relevant transfers and transportation in private air-conditioned vehicles
7 nights 3-4 star and heritage hotels
Guided sightseeing - Delhi, Jaipur, Bharatpur and Agra
Escorted by an English-speaking Indian tour guide (for groups of 6 or more)
Airport arrival and departure transfer on days 1 and 8
Not Included
International flights and visa
Entrance Fees: USD$70-80pp, paid in local currency
Tip for your tour guide. We recommend you allow USD$4-7 per day, per traveller. Tipping your guide is an entirely personal gesture
Tipping Kitty: USD$25-35pp, paid in local currency

Saturday 04th March 2023. Welcome to India for the Festival of Colour! On arrival at the airport you'll be transferred to our hotel where the rest of the day is free for you to relax or explore, you may wish to visit Akshardham, the worlds largest Hindu temple, before meeting the group and guide at the hotel at 18:00 for a Welcome meeting.
Overnight: Delhi
After breakfast, we set off on a day of sightseeing in India's capital. In Old Delhi we visit Humayun's Tomb and Jama Masjid - the largest and oldest mosque in India. Discover the site of Gandhi's cremation at Raj Ghat before we continue our tour in New Delhi. Walk down the ceremonial Rajpath, formerly known as the Kings Way, and see the India Gate monument. Tonight we enjoy a Namaste dinner.
Overnight: Delhi | Breakfast, Dinner
Delhi - Jaipur. Say goodbye to Delhi today as we travel to the iconic UNESCO-listed Pink City of Jaipur, which earns its nickname from the pink painted buildings in the Old City that heralded a visit from the Prince of Wales in 1876. This afternoon we enjoy a tour of the beautiful City Palace and the UNESCO-listed Jantar Mantar space observatory, featuring 19 separate astrological instruments.
Overnight: Jaipur | Breakfast
You may wish to join our Balloon Over Jaipur add-on early this morning for an exhilarating hot air balloon ride over palaces, temples and hill-top fortresses. Later we travel to the impressive 16th century Amber Fort, which we reach by jeep. This sprawling fortress is laid out over four levels and sits on the shimmering Maota Lake. After our tour we visit a local cotton weaving house before we return to Jaipur.
Overnight: Jaipur | Breakfast
Jaipur - Bharatpur. Wednesday 8th March 2023. Today is the day that India celebrates the fabulous Holi Festival. This ancient Hindu festival originated as a celebration of the end of winter and beginning of spring in honor of Prahlada, who was protected from the flames by Vishnu when he was tricked into near death by his father, King Hiranyakashipu. Holi symbolizes the triumph of good over evil and is an important part of Hindu tradition.

Indians across the nation gather together with family and friends to throw colored powder bombs, fire water pistols and splash colored water across the streets. We have the opportunity to join the celebrations in Bharatpur - white kurta pajamas will be provided to protect your clothes, as will organic colors for you to throw as you join the celebrations.

After the fun there is time for us to get cleaned up before we pay a visit to Keoladeo Ghana National Park and enjoy a bicycle rickshaw ride around this important wetland reserve, home to numerous bird species.
Overnight: Bharatpur | Breakfast, Dinner
Bharatpur - Agra. Today we discover the eerie Mughal city of Fatehpur Sikri, which was abandoned more than 400 years ago due to a lack of water. After our visit we continue to Agra and explore inside the fortified walls of the striking Agra Fort, former residence of the Mughal emperors. Our final stop of the day is the most famous monument in India - the legendary Taj Mahal. Built in the 17th century by 20,000 workers, the Taj Mahal was dedicated to the memory of the wife of Emperor Shah Jahan, who sadly died in childbirth. We enjoy a guided tour of this extravagant symbol of love. Overnight - Agra.
Overnight: Agra | Breakfast
Agra - Delhi. We return to Delhi this morning and the rest of the day is at leisure. Perhaps visit the impressive Red Fort and watch its famous Sound and Light show when it gets dark.
Overnight: Delhi | Breakfast
Saturday 11th March 2023. Our adventure comes to an end today with an included departure transfer to the airport.
Breakfast
Prices & Dates
Departure dates marked with a 'G' are operating. All departure dates from 1 Apr 2023 are guaranteed to operate when there are 2 persons booked on the tour. Prior to this date a departure is guaranteed with 4 persons. 'Twin Share' prices are per person when there are 2 people sharing a room. 'Single Room' prices are applicable to solo travellers or anyone wanting the privacy of a single room.
2023
Twin Share
Single Room
Extra Prices
Twin Share
Single Room
Pre-Tour Accommodation - Delhi
USD $65
USD $125
Post-Tour Accommodation - Delhi
USD $65
USD $125
Golden Amritsar - 3 days (Adult)
USD $275
USD $355
Golden Amritsar - 3 days (Child)
USD $275
USD $355
Shimla Calling - 4 days (Adult)
USD $375
USD $525
Shimla Calling - 4 days (Child)
USD $375
USD $525
Gateway to the Gods - 4 days (Adult)
USD $355
USD $445
Gateway to the Gods - 4 days (Child)
USD $355
USD $445
Mumbai Breakaway - 4 days (Adult)
USD $455
USD $705
Mumbai Breakaway - 4 days (Child)
USD $455
USD $705
The hotels listed below are ones which we frequently use on this tour. We reserve the right to substitute these hotels to ones of a similar standard.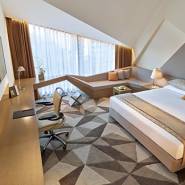 Vivanta by Taj Dwarka, Delhi
Vivanta by Taj Dwarka is a modern, luxury hotel located in Dwarka, on the outskirts of New Delhi, just a 15-minute drive from the airport. Spread over 7 acres, this striking hotel has a unique angular design and offers 250 luxurious rooms and suites. All tastes are catered for at the hotel's multi-cuisine restaurant, while the Indus Express restaurant serves mouth-watering Punjabi cuisine. Head to the popular Tipple bar for a delicious array of heady cocktails or relax by the poolside with a refreshing smoothie from the Celsuis Pool Bar. The nearby Sector 21 Metro station provides direct access to the heart of the city and after a day of sightseeing you can cool off with a refreshing dip in the outdoor pool or relax in the sauna and massage parlour.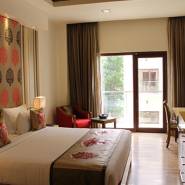 Hotel Jivitesh, Delhi
The Jivitesh Hotel is centrally located in the heart of Karol Bagh, a popular neighbourhood of Delhi renowned for its excellent shops and vibrant street markets. The Jivitesh offers comfortable and spacious guest rooms, with modern amenities such as free WiFi, and you can be assured of a warm welcome and excellent customer service from the hotel staff. Enjoy authentic Indian vegetarian cuisine at the hotel's restaurant and take a refreshing dip in the outdoor swimming pool after a day of sightseeing in the capital. Please note: The swimming pool at the Jivitesh hotel is currently under renovation and is expected to be finished by September 2020.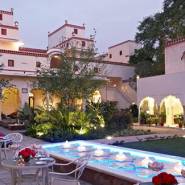 Mandawa Haveli, Jaipur
Made of pink and red sandstone, the beautiful heritage-style Mandawa Haveli is a fine example of typical Rajasthani architecture. All rooms are well appointed with intricately carved wooden beds and king-size royal portraits, with modern amenities such as free WiFi and ensuite bathrooms. Spend an evening dining on continental, Indian or Rajasthani cuisine on the outdoor terrace or request a private, candlelit dinner on the rooftop under a star-studded sky. Well located in the heart of Jaipur city on Sansar Chandra Road, this hotel is just a few minute's drive from the Palace of the Winds.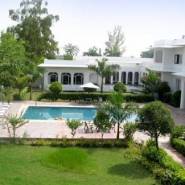 Udai Vilas Palace, Bharatpur
Set amongst 2 acres of landscaped gardens, the Udai Vilas Palace is a traditional hotel located right in the heart of Bharatpur city. Guest rooms are spacious and well equipped with comfortable beds and large windows. The hotel is famous for its barbecue nights and Rajasthani folklore evenings, where you will be enthralled by traditional music and dance performances. Keoladeo National Park, one of the most well-known bird sanctuaries in India, is also just a five-minute drive away.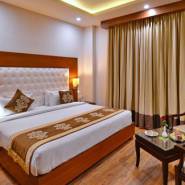 Seven Hills Tower, Agra
The modern and stylish Seven Hills Tower hotel boasts a range of facilities and services designed to ensure the quality of each traveller's stay. The spacious guestrooms are elegantly decorated with neutral colours and fabrics covered with traditional patterns and all have excellent ensuite facilities. Guests can enjoy a dip in the rooftop pool or laze on the sun loungers before heading to the equally lofty restaurant for some mouth-watering Mughlai cuisine. The al fresco dining area offers beautiul views of the Taj Mahal, perfect for enjoying a sunset drink.
Reviews
Travellers have rated this tour as 5 out of 5 based on 6 recent reviews
"
There was always someone to meet us at the destinations. Tour guide Mahi was knowledgable and cared about our wellbeing. We had a great group and we all got on well. This was the first time I had visited India and it has left me with the most wonderful memories I just want to go back. We also did a tour the week before and again the tour guides were friendly and knowledgeable. They also asked us what we wanted to do and never rushed us."
Linda Oram
• Submitted 14 Apr 2020
Tour





Guide





Country





"
The Holi Festival Tour was a convenient way to see the some of the major sites of India and join the spirit of Holi"
Matthew French
• Submitted 11 Apr 2020
Tour





Guide





Country





"
Yusuf was the best guide I have ever encountered on any guided tour. ( I have been on quite a few). He was compassionate and caring. He stuck to the timing of the tour whilst always retaining a calm and fun demeanor.
The tour itself was very well laid out and I think in the short time we had, we got to see as much as possible of the World Heritage sites. (I think it was 8 in total - which Yusuf mentioned) "
Minette Fourie
• Submitted 05 Apr 2019
Tour





Guide





Country





"
Amazing tour & great guide "
Tammie Campbell
• Submitted 01 Apr 2019
Tour





Guide





Country





"
Amazing Tour Loved it. Want to come back and do the tour again but this time during the festival of lights. Superb Tour Leader, Sat was the best ever tour guide, very easy to talk to, approachable, understandable. Also our Coach/Bus Driver 'Goldie' is what he told us to call him, was a great driver, not once did I feel uneasy in that madness of traffic, and also Manjeet who helped Goldie with the Coach/Bus, he was very friendly, and always kept the coach/bus clean and tidy(even after we celebrated Holi, felt sorry for Manjeet this day). All and All absolutely thrilled and cant wait to get back."
Kelly Chandler
• Submitted 06 May 2018
Tour





Guide





Country





"
My overall feedback from the tour is Excellent. I really had a great time with the group and the all travel experience, restaurants and accommodation.
The tour guide, Yussuf, was excellent always there to help and ensure that the group could have the best of the tour.
110% Happy, was way much better than i expected I would definitely recommend. "
Yasser Calu
• Submitted 08 Mar 2018
Tour





Guide





Country





"
HI Mark,
Just wanted to say a HUGE thank you to you and your team for your help last Wednesday. We did get home the next day after a stressful 24 hours. Although the stress was relieved a bit once we got a nice cold Kingfisher in our hand!
I would be grateful if you would extend our gratitude to the Delhi office, especially Filbin Francis who was a star, getting us to and from the airport and checked back into the Almondz! We'd previously met Filbin in Varanasi and didn't think our paths would cross again, little did we know. Putting a positive spin on it we got to spend an extra night in Delhi and revisited a fabulous restaurant we'd discovered at the beginning of our adventures. (Indi-que)
As for the tour....what can we say. It was a fabulous experience, one we shared with people from all corners of the world and we thoroughly enjoyed nearly all aspects of it.
We salute Satendra Sharma, our India tour guide, for marshaling the 27 strong group every day. He was a great guide who was highly organised, professional yet great fun to be around.
He did a fantastic job of getting us to all the sights on time and filling our minds full of knowledge on each place, we have the utmost respect for the man as his job wasn't the easiest dealing with 27 very different personalities!
We had a fabulous time with him throughout the tour and every day revealed a new and exciting highlight. Our personal highlight was Varanasi and the Ganges boat trip, Sat went over and above arranging an evening trip to the ghat for those of us who wanted it.
Although Holi and the Taj Mahal are close seconds.
Also a big shout out to Ajay our Nepali guide and his "little boss" who also carried out a fabulous job showing us the highlights of his beautiful country.
The sights and experiences we had throughout the tour were amazing and these two guides are a credit to your company!
Regards "
Mark and Karen Tomlinson
• Submitted 02 May 2013
In Brief
Range
Trip Type
Starts
Delhi
Ends
Delhi
Departs
Sat 04 Mar 2023
Group Size
Min 4 / Max 24
Hotel Rating
3 - 4 star & heritage hotels
Tour Guide
Yes - escorted by a tour guide
Meals
Breakfast: 7, Dinner: 2
Visiting
Delhi, Jaipur, Bharatpur, Agra, Old Delhi
Countries
Tour Add-ons
Enhance your trip with these amazing added extras and add-ons
Extra Tour Info
Updated
27th July 2022
"
There was always someone to meet us at the destinations. Tour guide Mahi was knowledgable and cared about our wellbeing. We had a great group and we all got on well. This was the first time I had visited India and it has left me with the most wonderful memories I just want to go back. We also did a tour the week before and again the tour guides were friendly and knowledgeable. They also asked us what we wanted to do and never rushed us."
Linda Oram
OTG000879
Holi, Festival of Colour - 8 days
Indian Subcontinent
Signature
Indian Subcontinent
false
10
India
https://www.onthegotours.com/us/India/Holi--Festival-of-Colour-8-days
https://www.onthegotours.com/repository/Holi-new-main-image-2020--girl-covered-in-paint-773711580990845_crop_flip_300_300_f2f2f2_center-center.jpg
Festival_Tours