Ireland Tours & Package Trips
Save up to 30% on Ireland Group Tours & Trips
Our Ireland tours take in the best of the Republic of Ireland and Northern Ireland, with trips ranging in length from 3 to 11 days. Travelling by minibus, these trips have a maximum group size of 16 and offer a great mix of included sightseeing and free time to discover destinations at your own pace. All of your accommodation is included, and this is on a bed and breakfast basis in simple guesthouses, though we can also upgrade you to 3-star hotels for a small supplement.

From the stunning Wild Atlantic Way coast to the charming cities of Belfast and Galway, and the dramatic Giant's Causeway, these trips take in everything the island of Ireland has to offer.
Breathtaking landscapes, rich history, and vibrant culture unleashed. Take in the best of Northern Ireland and the Republic with On The Go Tours.
Few places can rival the enchanting allure of Ireland. Nestled on the western edge of Europe, this island is divided into two distinct regions: Northern Ireland, which is part of the United Kingdom, and the Republic of Ireland, an independent nation in the European Union. Travelling to both regions offers a remarkable journey through history, stunning natural wonders, and warm hospitality.
In Northern Ireland, visitors are greeted by a captivating blend of rugged coastlines, lush green countryside, and vibrant cities. Belfast, the capital city, bears witness to a fascinating past marked by the industrial revolution and political strife, while simultaneously showcasing a vibrant arts scene and cosmopolitan atmosphere. Other highlights include the mystical Giant's Causeway, a UNESCO World Heritage site featuring hexagonal basalt columns.
Crossing the border into the Republic of Ireland reveals a different yet equally captivating world. The vibrant city of Dublin beckons with its lively pubs, literary legacy, and iconic landmarks like Trinity College and the Guinness Storehouse. Exploring further afield, travelers are rewarded with dramatic landscapes such as the awe-inspiring Cliffs of Moher and the dramatic Blarney Castle. So pack your bags, and get ready to discover the enchanting beauty of this island gem.
Explore more countries like Ireland
Frequently asked questions about our Ireland tours
Do your tours visit Northern Ireland and the Republic of Ireland?
Yes! The majority of our Ireland tours begin in Dublin, though we also have several trips setting off from Belfast. Some tours explore the Republic and Northern Ireland separately, whilst on our longer tours you can tick off both destinations. Browse our selection of trips at the top of this page to find out more.
What is the pace of these Ireland trips like?
Our Ireland tours are quite fast-moving. You will see lots of different places but we often visit two or three destinations (including major cities) in a day, stopping for a couple of hours at a time in places like Waterford, Killarney and Galway. There is plenty of free time in which to further sightsee independently, as well as guided sightseeing.
What sort of accommodation will I stay in on these Ireland package trips?
All of our Ireland tours include simple but comfortable and welcoming accommodation in guesthouses, on a bed and breakfast basis. These are typically small, family run houses and the group may be split between several accommodation options. They usually offer complimentary Wi-Fi connection but not always. They tend to be on the outskirts of town, perhaps a 20 minute walk from the main attractions. Many of the guesthouses we use offer shared bathroom facilities.

For a small supplement, we can upgrade you to 3-star hotel accommodation. You can see the prices for this upgrade on each of our online tour pages. The hotels are typically in a more central location and offer private, ensuite bathroom facilities.
When is the best time to visit Ireland?
Although Ireland is a year-round destination, the best time to visit is generally the summer months from June - August, which offers the best weather. These months tend to be when the region is at its busiest though, so you may wish to consider visiting during the shoulder seasons. Spring lasts from March - May and autumn is from September - November.
What transport do you use on your Ireland package trips?
In Ireland we travel in 16-seater Mercedes minibuses with comfortable seating, air-conditioning and large windows. There are no toilets on board but regular comfort breaks are made throughout the trip. We also make use of ferries where applicable, and all ferry tickets are included in the cost of your tour.
How big are the groups on your Ireland trips?
In Ireland, the maximum group size is 16. On a sold out tour this means that the minibus will be full, but each guest will have plenty of room. If travelling outside of peak seasons, then group sizes may be smaller.
Will I be escorted by a tour guide?
Yes. All of our tours are escorted by an Irish driver-guide who will keep you entertained with stories and songs about the Emerald Isle. At attractions you will also enjoy the services of expert local guides. Please note that on some of our longer tours, your guide may change halfway through the trip, as will some members of the group who are only participating in a section of the tour.
Is Ireland a safe destination for travellers from the LGBTQ+ community?
According to the 2023 LGBTQ+ Travel Safety Index, Ireland scores an A- rating for LGBTQ+ traveler safety, ranking 14th out of 203 countries.

Same sex marriage is legal, and there are worker protections in place for people of all sexual orientations. 76 - 100% of consulted citizens consider Ireland a good place to live for gay and lesbian people. There are no legal punishments for same sex relations and most trips for LGBTQ+ travelers to Ireland are trouble-free.

The LGBTQ+ Travel Safety Index is designed to provide a good overall picture of attitudes towards the LGBTQ+ community in each country and may not reflect the experience of foreign travelers to the country.
Can I drink the tap water?
Yes, the tap water across Ireland is safe for human consumption. We recommend bringing a reusable water bottle on your Ireland tour. This will save you money and is good for the environment, helping you to reduce your plastic footprint.
What is the current travel advice for Ireland?
As a UK-based company, we follow the latest up to date advice from the UK Foreign and Commonwealth Office (FCDO). You can see the latest travel advice for Ireland here.
Ireland Encompassed - see all of the Emerald Isle
If you would like to see as much of Northern Ireland and the Republic of Ireland as possible, then our longest Ireland Encompassed tour may be the one for you. This 11-day package circumnavigates the entire island, with highlights including the Atlantic Way coastal road, Giant's Causeway, Derry, Donegal and the rugged Cliffs of Moher, as well as Belfast and Dublin.

Recommended tour: Ireland Encompassed →
The Best of our Ireland Trips
From Belfast and the Giant's Causeway in Northern Ireland, to Dublin, the Cliffs of Moher and Galway in the Republic, these are the highlights of our trips to the Emerald Isle.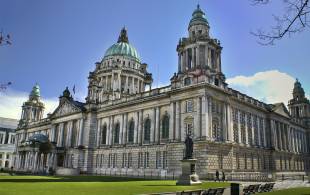 Belfast
Visiting Belfast offers a captivating blend of history and modernity. Explore the Titanic Belfast museum, wander through the vibrant Cathedral Quarter, and soak in the city's rich cultural heritage. From its bustling markets to its thriving arts scene, Belfast is an enticing destination that will leave a lasting impression.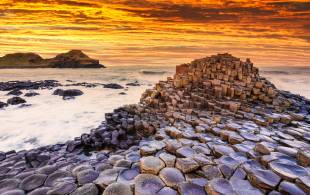 Giant's Causeway
Marvel at the iconic hexagonal basalt columns, formed by volcanic activity millions of years ago. Take in the breathtaking coastal scenery, walk along the clifftop trails, and uncover the mythical tales surrounding this UNESCO World Heritage site.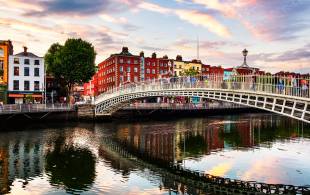 Dublin
A trip to Dublin is an adventure through history and culture. Immerse yourself in the city's literary legacy at Trinity College and Dublin Writers Museum. Explore the vibrant Temple Bar district, indulge in traditional pub culture, and discover the charm of Dublin Castle and the iconic Ha'penny Bridge. Don't forget to try a Guinness!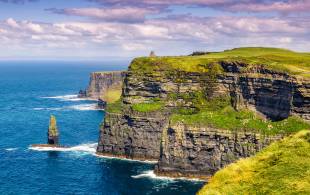 Cliffs of Moher
Visitors to the Cliffs of Moher will marvel at the sheer magnitude of these towering cliffs that plunge into the Atlantic Ocean. Feel the raw power of the crashing waves, witness stunning coastal vistas, and soak in the untamed beauty of one of Ireland's most iconic natural wonders.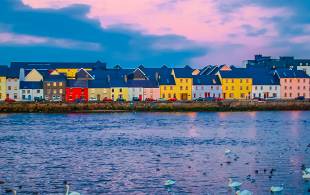 Galway
Immortalized in Ed Sheeran's famous 'Galway Girl' track, the city is a delightful adventure of music, culture, and coastal charm. Explore the medieval streets of the Latin Quarter, where traditional pubs and street performers abound. Immerse yourself in the vibrant arts scene, savour fresh seafood, and experience the lively atmosphere of this bohemian city on the Wild Atlantic Way.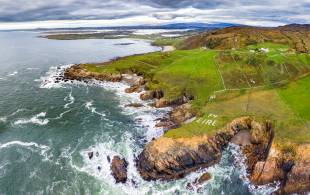 Wild Atlantic Way
Speaking of the Atlantic Way, this mesmerizing coastal journey is like no other. Stretching over 2,500 kilometers, it showcases dramatic cliffs, sandy beaches, and picturesque villages. Embark on a road trip through ever-changing landscapes, encounter ancient ruins, and experience the untamed beauty of the Atlantic coastline at every turn.