Mozambique Tours & Package Safari Trips
Get even more from Southern Africa: combine your African safari with a Mozambique beach break!
Draped along Africa's Indian Ocean coastline from South Africa up to Tanzania is magical Mozambique. It's one of the continent's best kept secrets, with dazzling powder-white beaches, coconut palms, crystal blue waters, idyllic offshore islands and some of the world's best diving. There are a litany of marine creatures to spot too, Mozambique being an important migratory pathway for humpback and southern right whales. And manta rays, whale sharks and other rare species can be seen off the coral reefs at Tofo.
Once Portugal's most important colony, Mozambique has a fascinating cultural heritage and has overcome its turbulent past of civil strife, placing itself firmly back on the tourist map. Maputo, the vibrant and lively capital, and charming Inhambane and Magaruque Island with their bevy of beautiful beaches, hold real appeal. Get off-the-beaten-track and discover Mozambique on our safari tours departing in 2023 and beyond.
Mozambique Overland Camping Safaris
Our Mozambique package tours and holidays are a great way to add some sun, sea and sand to your safari adventure to South Africa, Zimbabwe, Zambia, Namibia, Botswana and elsewhere! From the crystal clear waters of Magaruque Island to laid-back Tofo, Mozambique offers a beautiful contrast to the rest of southern Africa, and it's a wonderful beach destination. Staying in tents and travelling in a fully equipped overland truck with the services of a two-person crew, these escorted tours are stacked with incredible African experiences. From Kruger National Park to Victoria Falls and more, our Mozambique tours take in more than Mozambique!
Explore more countries like Mozambique
Frequently asked questions about our Mozambique package tours and beach holidays
Will I see the Big Five on your Mozambique tours and safaris?
Mozambique is better known as a beach destination than a wildlife hotspot, and so you won't see much in terms of big game in Mozambique itself.

However, all of our Mozambique safari tours also visit neighboring countries including South Africa, Zimbabwe, Zambia and Botswana. In destinations such as Hwange National Park and Kruger National Park, you will have a great chance to spot all manner of iconic African wildlife, including the Big Five.
What is the best time of year to visit Mozambique?
Similarly to the rest of the region, Mozambique experiences its wettest weather from January - March, though these tend to be short, sharp showers before the sun returns. The dry season from April - December is generally regarded as the best time to visit, with clear skies, sun, and warm temperatures - perfect for lounging on the beach. August - September is the best time to spot migrating humpback and southern right whales off the coast. There's more information in our guide on
when to visit Mozambique.
What do I need to pack for my camping safari to East Africa?
If travelling on one of our camping trips, we recommend you read our guide to
overland camping safaris
. You can also see a detailed packing list in the Trip Notes for each tour.
Some of the important items to remember on your Mozambique tour are: sleeping bag, travel pillow, towel, Mosquito spray (with active DEET ingredient), your own personal first aid kit, torch, antibacterial wipes, a photocopy of your passport data, and your Yellow Fever Vaccination Certificate.
What is the local payment for on your camping safaris?
The local payment is a cost per person that needs to be paid in US Dollars cash only. It is this payment that in part covers the park fees and other inclusions such as meals as detailed on each tour page. The local payment also covers your arrival transfer (if included) and first night's accommodation.

Please note that due to exchange rate fluctuations in the US dollar, the local payment amount may be subject to changes. This payment will be collected by your tour leader at the Welcome Meeting on day 1 of your escorted tour. Our Reservations team can give you more information about the local payment, the cost of which can be found on each tour page.
How big are the groups on your Mozambique tours?
On our overland camping Mozambique tours, the maximum group size is 16, and these tours depart with a minimum of 4 passengers.

Speak to our Reservations team if you would like more information regarding the group size for a particular trip.
Will I have a tour guide on my Mozambique trip?
Yes. On our overland camping and accommodated tours in Mozambique, you will be fully escorted by a professional safari crew of two, including a tour leader and a driver. For some excursions, such as those in the Serengeti National Park, you will also enjoy the services of local guides. Details can be found in the inclusions section for each of our tours.
Is Mozambique a safe destination for travellers from the LGBTQ+ community?
According to the 2023
LGBTQ+ Travel Safety Index
, Mozambique scores a D rating for LGBTQ+ traveler safety, ranking 92nd out of 203 countries.
Same sex marriage is illegal but there are some protections in place for people of all sexual orientations, and homosexuality was decriminalized in 2014, making Mozambique significantly more progressive than some of its African neighbors. 26 - 50% of consulted citizens consider Mozambique a good place to live for gay and lesbian people.
It is generally very safe for LGBTQ+ travelers to visit Mozambique, though discretion is advised and precautions should be taken when travelling. As long as you use common sense, travelling in Mozambique shouldn't be a problem.
The LGBTQ+ Travel Safety Index is designed to provide a good overall picture of attitudes towards the LGBTQ+ community in each country and may not reflect the experience of foreign travelers to the country.
Is the tap water safe to drink?
You should not drink the tap water in Mozambique. It may make you unwell. If you do need to drink the water for any reason, make sure it is boiled first. We strongly recommend sticking to sealed bottled water. Drinks outside major hotel chains should be purchased without ice, and be wary of eating fresh salads that may have been washed in the tap water.
As a solo traveller will I have to pay more to travel to Mozambique?
On our overland camping and accommodated tours in Mozambique, solo travelers will be matched up with another solo traveler of the same sex, with whom they will share a tent. If there is no other solo traveler of the same sex on the tour, you will have a tent to yourself at no extra cost.
What is the current travel advice for Mozambique?
As a United Kingdom-based company, we follow the latest up to date travel advice from the Foreign and Commonwealth Office (FCDO). You can see the latest travel advice and local laws for Mozambique
here.
Recent blogs about Mozambique
The Best of our Mozambique Safari Trips
These are the main highlights of our package tours and safari holidays in Mozambique. From the idyllic Bazaruto Archipelago to the picturesque beach town of Tofo. Mozambique is the perfect compliment to a wild safari adventure in eastern and southern Africa!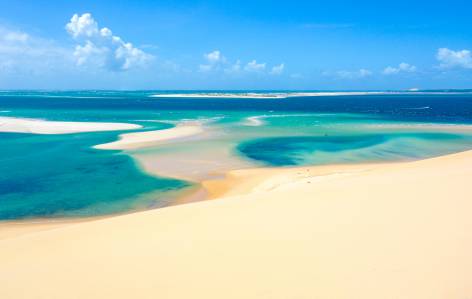 Bazaruto Archipelago
Nicknamed the 'Pearl of the Indian Ocean', this archipelago lies just off the shore of Vilanculos and is made up of six tiny but picturesque islands. On our tours we visit Magaruque, but all of the islands offer great beaches, dolphin and whale watching opportunities and traditional dhow sailing cruises.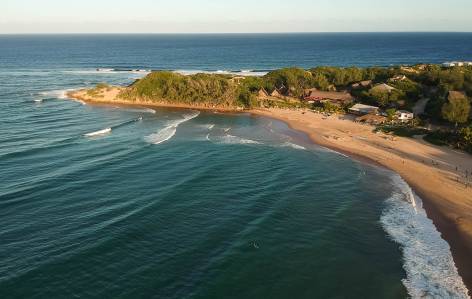 Tofo
Another of Mozambique's glorious beach destinations, the coastal town of Tofo is best known for its long curved beach and for the nearby endless coral reefs, where manta rays, whale sharks, humpback whales and other rare marine life can be spotted by divers.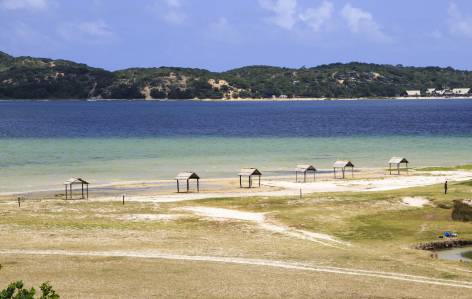 Uembje Lagoon
This famous natural landmark is located just outside the town of Bilene and is separated from the warm Indian Ocean by a strip of golden sand dunes. Some seawater does permeate the lagoon but this hasn't stopped vegetation and stunning beaches from ringing this idyllic spot - it's the perfect place to while away a few hours.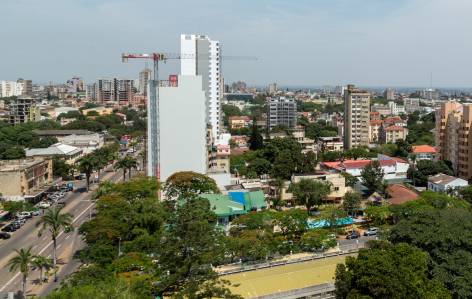 Maputo
Easily one of the most attractive capital cities in Africa, Maputo offers tree-lined avenues, Mediterranean-style architecture and a waterside setting. Previously known as 'Lourenço Marques' after the Portuguese trader who first explored the area, the city developed around an 18th century Portuguese fortress.