GALAPAGOS CRUISE - CENTRAL, NORTH, EAST & WEST ISLANDS: Explore the stunning Galapagos on a 12-day island cruise. Encounter sunbathing sea lions in Elizabeth Bay, spot marine iguanas on Fernandina Island, and discover Galapagos Sea turtles near Bartolome Island. Enjoy scenic hikes to see volcanoes, breath-taking panoramic views and the iconic Pinnacle Rock. Encounter more sea lions on South Plaza and Lobos Island, and get up close with the wildlife of Santa Fe and San Cristobal Island. Begin and end your adventure with a night in Quito, Ecuador's charming capital.
Trip Highlights
The M/C Anahi - Spend 11 nights aboard this first-class catamaran with capacity for 16 passengers. Enjoy the jacuzzi with ocean view and soak up the sunshine on deck. Delight your palate with tasty local cuisine, relax at the bar as you cruise around the beautiful islands at sunset and enjoy comfortable nights in a spacious cabin
Quito - Explore the UNESCO listed colonial city
Isabela Island - Hike to see Sierra Negra volcano and incredible views, tour Las Tintoreras, and trek Urbina Bay
Punta Espinoza – Walk across the barren wilderness of dark lava
Sombrero Chino Islet - Admire the beautiful sunrise over the islands
Genovesa Island - Find great frigate birds, the red-footed boobies and storm petrels
Santa Fe Island - Find its famous and unique species of land iguana
San Cristobal Island - Visit El Junco Lagoon and the Galapagos Tortoise Breeding Centre
Explore unforgettable sites and observe incredible wildlife on daily excursions with expert guides. Go kayaking, enjoy panga rides and encounter penguins, turtles and fish as you snorkel and swim in the crystal-clear waters
Santa Cruz Island - Visit this favourite nesting site for sea turtles and home of the famous Charles Darwin Station with its turtle breeding centre
Cerro Azul & Fernandina - Marvel at these towering volcanos
Rabida Island - Stroll along this islands red sand beaches
Bartolome Island - Embark on a tour of the island and witness the famous Pinnacle Rock
South Plazas Island - Explore and encounter the 1000's of sea lions that call it home
Punta Pitt - Discover the only place in the Galapagos to see the three species of boobies and two species of frigates nesting together.
Lobos Island - Marvel at the abundance of sea lions
Included
2 nights 3 star hotel in Quito, standard room including breakfast. Option to upgrade to a suite upon request.
12 breakfasts, 11 lunches and 11 dinners
Flight from Quito to Baltra and San Cristobal to Quito - Galapagos including airport and port transfers
The services of 9 crew members and an experienced English speaking Naturalist guide
Kayaking and snorkelling at the permitted points (wetsuits can be hired onboard for an additional fee)
12 day Galapagos Cruise - 11 nights onboard the M/C Anahi catamaran (First Class category) in a twin or double cabin, on the main deck with en suite and A/C. Option to upgrade to a suite upon request.
Quito airport arrival transfer on day 1 with an English speaking guide
Complementary soft drinks onboard (tea, coffee and water) plus welcome and farewell drinks
Two guided Galapagos excursions a day
Not Included
International flights and visas
Tips for the crew, your guide and drivers.
Airport departure transfer on day 14
Quito - Galapagos. This morning you will be met and transferred back to Quito Airport for the short flight to Baltra Airport in the Galapagos, where you will meet our guide. After a short bus ride and crossing of the Itabaca Channel we travel for around an hour to a private ranch on the highlands of Santa Cruz, where we enjoy lunch.

After lunch our guide will lead us on a stroll through a stunning forest brimming with ferns, sedges, and miconias. On this journey, there's a chance to witness giant tortoises in their natural habitat. Later, we venture to one of the numerous lava tunnels in the area where we take a brief walk, marvelling at the remnants of a forceful volcanic eruption that took place millions of years ago.

Following this, we proceed to Puerto Ayora and board the yacht which will be home for the next 8 nights. Enjoy an official welcome drink followed by dinner. Post-dinner, our guide will outline the activities scheduled for the next day, along with some general advice for those visiting the Galapagos Islands.
Overnight: Galapagos Islands - M/C Anahi | Lunch, Dinner
Isabela Island & Las Tintoreras
Isabela is the name of the largest and the youngest island within the Galapagos Archipelago and we start the day visiting the islets of Las Tintoreras. These islets boast a small bay with tranquil turquoise waters, affording us the opportunity to witness an array of marine life: from sea lions and sea turtles to marine iguanas, stingrays, and a multitude of other aquatic species. Next, we walk along a pathway and discover two beaches. The first one is a favoured haven for sea lions and marine iguanas that call the area their nesting ground. The second beach finds itself surrounded by button mangroves (Conocarpus erecta) and white mangroves (Laguncularia racemosa). Leaving Las Tintoreras we head to Puerto Villamil from which we travel to Sierra Negra Volcano that rises to an altitude of 1124 meters.

In the afternoon we explore the wetlands of Los Humedales where we can witness a variety of wetland birds. Returning to Puerto Villamil we have some free time to explore the town before returning to the boat for the evening.
Overnight: Galapagos Islands - M/C Anahi | Breakfast, Lunch, Dinner
Punta Moreno & Elizabeth Bay
Today begins in Punta Moreno where we hike a 2100-meter trail that offers panoramic views of Sierra Negra, Cerro Azul, and Fernandina volcanoes, the three most active in all the Galapagos. At the end of the trail we can do a surface dive in the brisk waters where marine life is abundant. We then return to the yacht for lunch and a rest before heading out again.

Heading into Elizabeth Bay we visit a picturesque cove surrounded by red mangroves. This is a fantastic spot to see sea turtles, flightless cormorants, spotted eagle rays, golden rays, brown pelicans and sea lions. With Galapagos falcons above and Mahi-mahi fish below this stunning site is home to numerous marine and terrestrial flora and fauna for visitors to marvel at. Following this we return to the yacht for the night.
Overnight: Galapagos Islands - M/C Anahi | Breakfast, Lunch, Dinner
Urbina Bay, Tagus Cove & Lake Darwin
At the foot of Alcedo volcano Urbina Bay is linked to the shore by an approximately 3200-meter pathway. Upon making a beach landing, our journey continues through the coastal expanse, navigating a varied terrain of sand, rocks, lava formations, corals, and flourishing plant life. Here we can see large sized land iguanas, as well as giant Galapagos tortoises, flightless cormorants, blue-footed boobies, Galapagos penguins, pelicans, and marine iguanas.

After sailing towards Tagus Cove we can snorkel, surface dive, or kayak in the pristine blue water. Following our swim we hike up to the top of a cliff which gives offers a picturesque view of Lake Darwin. Volcanic rocks of various sizes can be found around the lake, including almost perfect spheres of "petrified rain."
Overnight: Galapagos Islands - M/C Anahi | Breakfast, Lunch, Dinner
Fernandina Island & Punta Vicente Roca
The third largest island of the archipelago is Fernandina and has one unique attraction. Situated at the remote north eastern edge of the island, Punta Espinoza is a slender expanse crafted from lava and sand, stretching from the volcano's base to the ocean's edge. This area is known for the abundance of marine iguanas, and its unique fauna full of species such as the flightless cormorant, the Galapagos penguin, the Galapagos falcon, and the Galapagos racer snake. There may also be the opportunity to snorkel with the local marine fauna, maybe even seahorses!

Punta Vicente Roca is the location of an ancient volcano where we can snorkel and will then either experience a panga ride along the cliffs of the volcano or explore a partially submerged cave. Watch the Nazca and blue-footed boobies along the cliffs and the flightless cormorants on the shore. Returning to the ship we will cross the equator and celebrate with a special cocktail.
Overnight: Galapagos Islands - M/C Anahi | Breakfast, Lunch, Dinner
Santiago Island & Rabida Island
Starting the day on Santiago Island we will hike along the black sand beaches of Puerto Egas to spot many marine species, such as the iguanas relaxing on the rocks, and the sea lions resting in the tidal pools. Snorkelling here is a new experience due to its relatively different landscape compared to the previous locations.

Moving on to Rabida Island and its red rocks and sand we enjoy a snorkelling activity, learning more about the local marine life. Then a short trail walk leads us to a picturesque lagoon filled with terrestrial birds such as finches, pigeons, yellow warblers and mockingbirds. A colony of flamingos also calls this lagoon its home meaning we may catch a glimpse of these beautiful pink birds.
Overnight: Galapagos Islands - M/C Anahi | Breakfast, Lunch, Dinner
Sombrero Chino & Bartolome Island
The sun dawning on the stunning "Sombrero Chino" channel offers panoramic views as we arrive at the day's first destination. We walk a 700-meter trail in order to view the wildlife and observe the geological characteristics of this island. This landscape is the home of colonies of sea lions, marine iguanas, and sometimes even Galapagos penguins. Swimming in this picturesque bay we will be amongst sharks, stingrays, and many unique species of fish.

Bartolome Island, a renowned destination in the Galapagos, stands just off Sullivan Bay, close to Santiago Island. On arrival we can swim around the iconic Pinnacle Rock and navigating the submerged rocks that form an enthralling underwater maze for marine life. Later, we walk up to the island's summit to witness an array of captivating volcanic features, including volcanic bombs, ash cones, lava flows, and lava tubes. This moon-like landscape offers one of the most striking views in the entire archipelago. Our second stop leads us to a serene beach, perfect for relaxation and snorkelling. Beneath the waters, a multitude of multi-coloured fish await, and you might even be fortunate enough to spot penguins and sea turtles near the base of the dominating Pinnacle Rock, which defines Bartolome's landscape.
Overnight: Galapagos Islands - M/C Anahi | Breakfast, Lunch, Dinner
North Seymour Island & Santa Cruz
This morning we visit North Seymour, a small island positioned north of Baltra where we can observe the land iguanas on the coast. We spend our afternoon enjoying Bachas Beach which is composed of decomposed coral, meaning it is white and soft. Nearby there is a lagoon which is the home of flamingos, black-necked stilts, thrushes, and two abandoned WWII ships.
Overnight: Galapagos Islands - M/C Anahi | Breakfast, Lunch, Dinner
Today we explore Genovesa, a horse-shoe shaped island in the northern reaches of the Galapagos Islands. We start the day with a visit to Darwin Bay, an incredible geological structure formed by a collapsed volcanic caldera. Following a trail of coral sand and slabs of lava, we'll go in search of bird-life, from nesting colonies of the common frigate and the Nasca booby to the swallow-tailed gull. We will also have the chance to see the nesting site of the red-footed booby - Genovesa is home to the largest nesting colony of pelagic birds in the Galapagos.

Later in the afternoon we follow the El Barranco trail, situated in the southern part of Darwin Bay, walking 1.5 kilometres along volcanic rock. The natural erosion that has occurred in these lava flows has become the ideal place for nesting Storm Petrels, which we can see nesting in the cavities of the lava. We enjoy panga (dingy) rides along the cliffs to hopefully spot some fur seals.
Overnight: Galapagos Islands - M/C Anahi | Breakfast, Lunch, Dinner
Plaza Islands & Santa Fe
This morning's excursion takes us to South Plaza, a small island off the eastern coast of Santa Cruz. Despite its size, this island is home to an incredible number of species including around 1000 sea lions and several hybrid iguanas. The result of crossing a male marine iguana and a female land iguana, these iguanas are unique and easily recognizable at first glance by their black or gray colour, with a land iguana's crest, but face and tail of the marine iguana.

Next stop is Santa Fe, also off the coast of Santa Cruz, where we will meet even more unique species of iguana. The archipelago is also home to six endemic species of rats, one of which can be found on Santa Fe and another attraction is the presence of giant tunas.
Breakfast, Lunch, Dinner
San Cristobal & Lobos Island
Our next port of call is San Cristobal, one of the easternmost of the Galapagos Islands. We start the morning by exploring Punta Pitt, situated at the eastern end of the island. Here we follow a trail that will take us past an olvine beach before ascending to the top of a volcanic tuff hill, passing several picturesque viewpoints en route. This is the only place in the Galapagos Islands where you can see the three species of boobies and two species of frigates nesting in the same area. You may also get to see colonies of sea lion relaxing on the beach or rocky outcrops.

After lunch we stop to see the Leon Dormido Rocks, the remains of a lava cone eroded by the sea. Rising some 500 feet out of the ocean, these two vertical rocks form a small channel that is navigable by small boats. Many tropic birds, frigates and boobies can be seen in the area, making it a favourite stop off for visitors. Beneath the sea the nearly crystal-clear waters offer a brilliant show of colourful tropical fish and invertebrates.

We continue on to explore Lobos Island which is home to a small population of blue-footed boobies, as well as two species of sea lions. From your panga you can try to spot brown pelicans and several species of shorebirds, and if you opt to snorkel it's common to see young sea lions, manta rays and sea turtles.
Overnight: Galapagos Islands - M/C Anahi | Breakfast, Lunch, Dinner
Northern San Cristobal
We will start today with a visit to the Galapagos Tortoise Breeding Centre located in the southeast of San Cristobal Island. The natural population of tortoises from San Cristobal is seriously threatened by introduced animals (mainly wild goats, rats and cats), which to date has been impossible to eradicate despite continuing efforts. The San Cristobal tortoises are one of the 11 populations of Galapagos tortoises. At the visitors centre, we learn all about the natural history of the giant tortoises of this island.

After visiting the breeding centre, transfer back to the town of Puerto Baquerizo Moreno where our bus will be waiting to transfer you to the airport for your flight back to Quito. Upon arrival at Quito airport you'll be met and transferred back to your hotel in Quito for your final night at leisure.
Overnight: Quito | Breakfast
Wednesday. Arrangements end after breakfast and hotel check out today.

The hotels listed below are ones which we frequently use on this tour. We reserve the right to substitute these hotels to ones of a similar standard.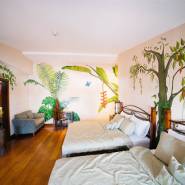 Ikala Quito Hotel, Quito
Inspired by the rich history and culture of Ecuador, the Ikala Quito Hotel's 44 rooms are housed in three grand colonial houses which were once home to Ecuadorian aristocracy. Offering a choice of standard rooms or deluxe suites, there's tasteful decor in abundance and artwork painted on canvas or directly onto the walls. Rooms feature ensuite bathrooms and there is free Wi-Fi throughout the property. As well as the onsite restaurant and bar, there are plenty of outdoor areas, including patios, gardens, and a rooftop terrace with panoramic views over the city.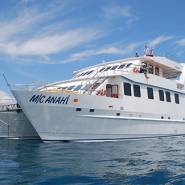 M/C Anahi Yacht , Galapagos Islands
The M/C Anahi is meticulously designed to provide travellers with an unforgettable and immersive experience while exploring the enchanting Galapagos Islands. This first class vessel boasts an elegant and modern design, with a maximum capacity of just 16 passengers, providing an intimate setting. The catamaran offers spacious and well-appointed cabins which are tastefully decorated and equipped with large windows, allowing guests to wake up to breath-taking views of the Galapagos Islands. Each en suite cabin is air-conditioned and furnished with cozy amenities to create a tranquil retreat after a day of exploration. There are six standard cabins located on the main deck (four twin and two double). On the upper deck the vessel has two suites, equipped with a double bed and sofa bed. Each day the chef serves a delectable range of dishes inspired by both local and international cuisines. Meals are prepared with fresh, locally sourced ingredients, and dining is a delightful experience in the spacious dining area, complete with panoramic views of the surrounding landscape. Guests can soak in the beauty of the Galapagos Islands from the observation decks and lounges strategically positioned throughout the yacht. Whether you're stargazing or soaking up the sunshine, enjoying a cocktail at the bar or relaxing in the jacuzzi, these areas provide the perfect vantage point to appreciate the natural wonders of the archipelago. The M/C Anahi offers an enriching experience with certified naturalist guides who are passionate about the Galapagos Islands and its wildlife. These experts lead daily excursions and share their knowledge about the unique flora and fauna that call these islands home. The Anahi's itinerary includes a range of thrilling activities, such as snorkeling, kayaking, and hiking, allowing guests to get up close and personal with the incredible wildlife and landscapes of the Galapagos.
At a Glance
Range
Trip Type
Starts
Quito
Ends
Quito
Departs
Thursday
Group Size
Min 8 / Max 16
Hotel Rating
3 star hotel & first class cruise
Tour Guide
Yes - naturalist guide in the Galapagos
Meals
Breakfast: 11, Lunch: 11, Dinner: 11
Countries
Minimum Age
5 yrs, accompanied by an adult
Arr. Transfer
Yes
Dep. Transfer
No
OTG002758
Highlights of the Galapagos - 14 days
South America
Handpicked
South America
false
5
Galapagos
https://www.onthegotours.com/ie/Galapagos/Highlights-of-the-Galapagos-14-days
https://www.onthegotours.com/repository/AmazingAmazonItinerary2EcuadorGalapagosSouthAmerica-65141247556660_crop_flip_300_300_f2f2f2_center-center.jpg
Cruises