Embark on a 12-day tour of Guatemala and Belize, taking in the contrasting cultures and landscapes of these beautiful countries. Guatemala with its rich Mayan heritage, beautiful highlands and towering volcanoes, and Belize with its lush rainforests and laid-back Caribbean vibe. Starting in enchanting Antiqua, visit beautiful Lake Atitlan and marvel at the vast Mayan city of Tikal nestled in the rainforest. Then cross into Belize to end your adventure at a tranquil jungle hideaway, where you'll discover diverse flora and fauna and enjoy outdoor activities.
Trip Highlights
Antigua - Discover this picturesque Colonial town with its charming cobbled streets and leafy central plaza, set against a stunning backdrop of smouldering volcanoes
Lake Atitlan - Cruise across the lake to Santiago de Atitlan, admire the stunning scenery and explore the lakeside villages
Yaxha - Discover this captivating lesser-visited archaeological site nestled within a lush jungle on a guided walking tour
Chichicastenango - Visit the vast, bustling market and wander the labyrinthine streets lined with brightly coloured textiles, clothes and tapestries
Tikal - Take a guided tour of this remarkable Mayan archaeological site, where steep, stepped and vertiginous temples penetrate the forest canopy
Chaa Creek - Stay at a beautiful Belize eco-lodge on the rain-forested banks of the Macal river and enjoy a range of activities
Included
Breakfast daily, 1 lunch & 3 dinners
Arrival and departure transfer on day 1 and day 12
Escorted by an English-speaking tour leader
Lake Atitlan excursion by boat
Tikal guided tour of the ruins
Chaa Creek outdoor activities
11 nights 3-4 star hotels
Transfers and transportation in private air-conditioned vehicles
Guided walking tour of Antigua
Chichicastenango market visit
Yaxha guided tour of the ruins
Not Included
International flights and visas
Tipping - an entirely personal gesture
Departure taxes or border taxes
Antigua
Welcome to Antigua! Upon arrival you'll be met and transferred to our charming city hotel. Antigua is a beautiful city known for its art galleries, restaurants, bars and more.
Overnight: Antigua
Guided city tour
The next two days are spent in enchanting Antigua. Located in the highlands of Guatemala, Antigua is a captivating colonial city known for its rich history, architectural beauty, and vibrant atmosphere. There's an abundance of ruined churches, convents and monasteries, cobbled streets with overhanging tiled roofs and a charming central plaza, all set against a dramatic backdrop of smouldering volcanoes. There will be a guided walking tour of the historic centre and plenty of time to explore this captivating city at leisure.
Overnight: Antigua (2) | Breakfast x 2
Chichicastenango & Lake Atitlan
Antigua - Lake Atitlan. This morning our journey takes us to Lake Atitlan travelling along a gradually ascending road via the highlands of west Antigua dominated by majestic volcanoes and bustling farming villages. Our first stop along the way is the town of Chichicastenango, a chilly mountain town with a mystical atmosphere. Practices of overt Catholicism go hand in hand with esoteric Mayan religious ceremonies, centred around the simple, whitewashed church. Here, we will find vibrant and bustling market with array of textiles, clothes, tapestries, hand-carved masks, leather goods, and an assortment of fresh fruits and vegetables brought in by local farmers from surrounding villages.

We then continue our journey to Lake Atitlan, known for its captivating beauty. The cobalt waters mirror the forested volcanic cones, while traditional villages and indigenous settlements grace its shores.
Overnight: Santa Catarina de Polopo | Breakfast
Excursion on Lake Atitlan
We are based in Santa Catarina De Polopo, a peaceful village a few kilometres from the lively tourist centre of Panajacehel. This morning a motor launch takes us over the calm and silent morning waters of Lake Atitlan to Santiago de Atitlan. En route we are treated to breath-taking views of hamlets, cultivated fields, and picturesque volcanoes encircling the lake. Arriving in Santiago, we'll be greeted by enthusiastic children and the town offers a fantastic opportunity to purchase brilliantly coloured textiles. We may even encounter Maximón, the local idol, known for his mischievous behaviour but said to assist with problems in exchange for financial donations.
Overnight: Santa Catarina de Polopo | Breakfast
Free time to explore the lakeside
Today is free to explore the lake and its surrounding shores, dotted with charming agricultural and fishing communities. Each village boasts its own unique traditional dress and speaks its own Mayan dialect. Take this opportunity to relax and enjoy the serenity of the area or engage in one of the optional activities available today like canoeing, biking, or visiting butterfly and animal parks nearby.
Overnight: Santa Catarina de Polopo | Breakfast
Flight to Flores
Lake Atitlan - Flores. This morning we drive back to the capital for an hour-long flight to Flores, located within the dense jungles of northern Guatemala. Our journey continues from Flores to our lodge nestled on the tranquil shores of Lake Peten. The rest of today is free at leisure, unwind by the hotel's pool or stroll along the well-marked trails to explore and encounter diverse wildlife.
Overnight: Flores | Breakfast
Tikal Mayan archaeological site
Our day starts with a guided tour of the remarkable archaeological site at Tikal, just an hour's drive away. The site features steep, stepped temples that penetrate the forest canopy, providing unforgettable views of the timeless rainforest. Wander through the palace complexes and marvel at the well-preserved pyramids and temples that once formed one of the largest and most important Mayan city-states. The lively presence of howler monkeys, spider monkeys, toucans, and parrots adds to the magical ambiance of the site.
Overnight: Flores | Breakfast, Lunch
Across to Belize
Flores - Belize. This morning we visit the lesser-known Mayan ceremonial site of Yaxha, situated along the shores of a lagoon. Then, we take a beautiful drive across the border and into Belize, passing through the town of San Ignacio before reaching the low-lying Cayo district. We spend the next few days in Belize's lush, unspoilt, and sparsely populated hilly interior, nestled on the rain-forested banks of the Macal River.
Overnight: Chaa Creek | Breakfast, Dinner
Chaa Creek eco lodge activities
We are based at Chaa Creek for the next two days, one of Belize's first eco-lodges, where we can immerse ourselves in the tranquillity of the jungle. There are many activities available, including a stroll along some of the many orchid-lined trails and a canoe ride through the mustard-coloured waters of River Macal watching waterside creatures and birdlife emerge from its shoreline habitat.

For the more adventurous, horseback riding and biking are available, or you can simply indulge in relaxation and pampering at the hotel's spa (note: some of these excursions may incur an extra charge). The Mountain Pine Ridge, with its waterfalls, rivers, lakes, and caves surrounded by savannah and pine forest, is another option for exploration. You can also visit Mayan archaeological sites at Xunantunich and Caracol, adding to the richness of your experience in this enchanting region.
Overnight: San Ignacio | Breakfast x 2, Dinner x 2
Belize City
Today marks the end of our tour. There's an included transfer to Belize Airport.
Breakfast
Prices & Dates
Departure dates are guaranteed with a minimum of 4 persons. 'Twin Share' prices are per person when there are 2 people sharing a room. 'Single Room' prices are applicable to solo travellers wanting the privacy of a single room.
Read More
2024
Twin Share
Single Room
The hotels listed below are ones which we frequently use on this tour. We reserve the right to substitute these hotels to ones of a similar standard.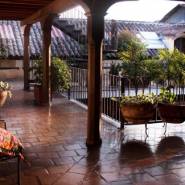 Meson De Maria , Antigua
Antigua boasts numerous charming Spanish colonial-style hotels, and this stands as one of the most captivating. Set within a refurbished colonial-era residence, it offers snug, exquisitely adorned guest rooms of diverse sizes, encircling petite patios adorned with terraces and balconies adorned in lush tropical greenery. Throughout the property, antiques are thoughtfully placed, complementing exposed brickwork, wicker furnishings, and crackling open fires, creating an upscale rustic chic ambiance. A rooftop terrace invites relaxation under the sun, affording views of the city from comfortable loungers.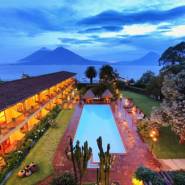 Villa Santa Catarina, Santa Catarina de Polopo
Villa Santa Catarina lies 4km from the tourist hub of Panajachel in the quaint village of Santa Catarina Polopo and offers picturesque views of the lake. The hotel centres around a well-maintained small landscaped garden, featuring a medium-sized swimming pool surrounded by loungers and a manicured lawn. The spacious rooms are spread across two levels, each equipped with a terrace or balcony, with most boasting lake and volcano views. Built in an appealing colonial style, its relaxed feel makes it an ideal choice for those looking for a peaceful escape with minimal crowds.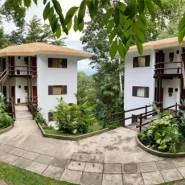 Villa Maya, Flores
Situated on the picturesque shores of Lake Petén, Villa Maya Lodge offers a secluded retreat for its guests. Located a 45-minute drive from the magnificent Tikal Mayan site and just 10 minutes' drive from the nearby Flores town this is the perfect base to explore the region. The rooms are contemporary and well-lit, each featuring a ceiling fan, private bathroom, and a balcony showcasing lake views. With no TVs in the rooms guests can make the most of the appealing swimming pool with an adjoining plunge pool, thatched restaurant, and lakeside bar.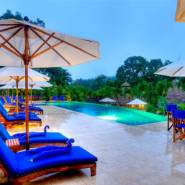 The Lodge at ChaaCreek, San Ignacio
Located within a lush rainforest-covered valley near the Macal River, The Lodge at Chaa Creek is a charming jungle retreat. All en-suite rooms have WiFi, A/C and offer space, comfort and privacy. The infinity pool, flower-filled gardens and spa offer relaxation and peace for all guests, whilst the adventurous can partake in organized activities led by naturalist guides. A stay at Chaa Creek contributes to Chaa Creek Cares, an initiative supporting various social and environmental projects such as local kids' summer camps, scholarships, clean-up drives, and conservation efforts.
At a Glance
Range
Trip Type
Starts
Antigua
Ends
San Ignacio
Departs
Thursdays
Group Size
Min 4 / Max 20
Hotel Rating
3-4 star
Tour Guide
Yes - escorted by a tour leader
Meals
Breakfast: 11, Lunch: 1, Dinner: 3
Countries
Minimum Age
12 yrs, accompanied by an adult
Arr. Transfer
Yes
Dep. Transfer
Yes
OTG002709
Highlights of Guatemala and Belize - 12 Days
Central America
Handpicked
Central America
false
0
Guatemala
https://www.onthegotours.com/ie/Guatemala/Highlights-Of-Guatemala-And-Belize-12-Days
https://www.onthegotours.com/repository/Tikal--Guatemala--On-The-Go-Tours-345751493295965_crop_flip_300_300_f2f2f2_center-center.jpg
Group_Tours