On this wonderful 12 day group tour of Japan you'll not only take in the highlights of Tokyo and Kyoto, but you'll also have the opportunity to visit historic Hiroshima, Miyajima Island with its iconic Torii Gate and the towering Himeji Castle. What's more, you'll sample Japanese hospitality at a ryokan where you can bathe in natural hot springs.
Trip Highlights
Tokyo - Explore Sensoji Temple district and temple, Harajuku, Takeshita Street, Meiji Shrine and Shibuya Crossing
Lake Kawaguchi in Fuji Hakone Izu National Park - Marvel at the spectacular mountain scenery and views of famed Mt Fuji
Kyoto - UNESCO Listed Nijo Castle, Sanjusagen-do Temple with its 1000 life-like statues and Kinkakuji Temple (Golden Temple)
UNESCO Listed Himeji Castle - Visit the towering 6 story structure is the best preserved and largest of all the castles in Japan
Enjoy Miyajima Island with its UNESCO Listed iconic Red Torii Gate (Itsukushima shrine) standing in the sea. Cable to the top of Mt Misen - The highest peak on Miyajima for spectacular views of the Seto Inland Sea, some 150 islands and Hiroshima
Kamakura - Visit the Big Buddha Statue, Hokokuji Zen Temple and the Bamboo Forest with its delightful village atmosphere. Opt to take part in a traditional tea ceremony
Stay in a ryokan - Sample Japanese hospitality, bathe in natural hot springs, wearing a Yukata (casual Kimono) and sleep on a futon
Kyoto - Take part in a walking tour of the renowned Geisha district (Gion), with its ancient cobbled streets, streams, bridges and quaint tea houses and the opportunity to see Geisha and Maiko en route to their next engagement
Hiroshima - Tour Peace Park, Peace Memorial Museum, UNESCO Listed A-Bomb Dome and Children's Peace Monument (with thousands of paper cranes from children around the world)
Included
7 breakfasts and 1 Japanese dinner at the Lake Kawaguchi ryokan
Guided sightseeing and walking tours in Tokyo, Kamakura, Lake Kawaguchi, Kyoto, Himeji, Hiroshima and Miyajima Island
Ferry to Miyajima Island and cable car to the top of Mt Misen
Airport arrival transfer on day 1 (by train) from Narita or Haneda International Airport
All transportation and transfers - buses, trains and bullet trains including Suica swipe card
Maximum Group size: 18 persons
11 nights 3 star accommodation (including 1 night at a traditional ryokan (Japanese Inn)
Lake Kawaguchi and Mt Fuji - Kachikachi-yama Ropeway and Observatory. For tours staying at Lake Kawaguchi between 14 Apr – 28 May each year we'll visit to the Fuji Shibazakura (Moss Phlox) Festival with Mt Fuji in the distance
Escorted by a licensed English speaking Japanese tour guide until day 10
Departure transfer on day 12 (unescorted) - by train or bus from Kyoto Station to Osaka Airports (ITM and KIX)
Baggage forwarding service from Tokyo to Kyoto (one bag per person)
Not Included
International flights and visa
Tip for your tour guide. We recommend you allow USD$3-5 per day, per traveller. Tipping your guide is an entirely personal gesture
If you are opting to pay the single supplement, allowing you the privacy of your own room on this tour, a single room will be provided for all nights with the exception of day 5 (at Lake Kawaguchi), where single rooms are not available. For this night you will be matched up with a fellow tour member of the same gender
Entrance Fees: USD$40-50pp, paid locally in local currency
Saturday. Upon arrival to Tokyo you will be met at either Narita or Haneda International Airport by your guide. Travel by train into the heart of the city and check into your hotel. The rest of the day is free to spend at your leisure.

We recommend arriving before 3pm on this day, as there will be a Welcome Meeting at 6pm, where you will meet your guide and the rest of the group.
Overnight: Tokyo
Toyko - Senjoji Temple District, Harajuki & Shibuya
Today we explore the capital. First stop is Asakusa which is home to Sensoji, Tokyo's first temple which was built in the 7th century. Around the temple, in the lively Sensoji District, there are lots of interesting souvenir and craft stalls for us explore. We head to Harajuku in the afternoon, which is where the young and fashionable Tokyoites hangout, with its trendy shops and cafes. Here we'll visit the important Meiji Shrine where the emperor Meiji and his wife are enshrined.

Our final stop of today is Shibuya Crossing, regarded as one of the busiest intersections in the world. The famed intersection has no less than 7 pedestrian crossings and when the lights turn red at this busy junction, they all turn red at the same time in every direction. Traffic stops completely and pedestrians surge into the intersection from all sides. Known as 'the scramble' it's an amazing spectacle which we'll watch from the second floor of Starbucks, located directly opposite.

This evening offers free time, though if travelling during May or September you might like spend the evening watching a Sumo tournament (bookings must be made in advance). See our Trip Notes for more information.
Overnight: Tokyo
Tokyo - Kamakura - Tokyo. Today we visit Kamakura, which is just an hour from Tokyo by train. Kamakura was Japan's first feudal capital and is renowned for its beautiful Zen temples and pristine coastline. We'll visit the iconic bronze Big Buddha and the Hokokuji Zen Temple which has a picturesque bamboo garden where you can drink tea and learn about tea ceremony's, before walking the cobbled shopping district - adorned with lovely locally made items, before returning to Japan's bustling capital for the night. Tonight, we organise a Shabu Shabu (a traditional Japanese hot pot meal) if the majority of the group are interested.
Overnight: Tokyo
Today offers a guided tour of the Tokyo National Museum, housing a number of exhibitions from galleries to Japanese archeology. The Tokyo National Museum is located in Ueno Park, a large public park within central Tokyo and famous for a number of museums held within it's grounds. The remainder of the day offers free time to independently explore.
Overnight: Tokyo
Mt Fuji & Lake Kawaguchi
Tokyo - Lake Kawaguchi. This morning we travel by highway to Lake Kawaguchi, located in the Fuji Hakone Izu National Park. Our base is Lake Kawaguchi which boasts breathtaking scenery and unparalleled views of a snow-capped Mt Fuji most of the year. Whilst in the area we'll travel on the Mount Fuji Panoramic Ropeway and visit the observatory. For tours staying at Lake Kawaguchi between 15 Apr – 28 May each year we'll visit the Springtime Fuji Shibazakura (Phlox Moss) Festival, held at Motosu Lake, where the landscape is covered in a vibrant, hot pink moss with Fuji as the backdrop. Tonight, we stay in a traditional Japanese ryokan. At the ryokan, we'll be served a traditional Japanese dinner and you can take a relaxing dip in the natural hot spring baths.
Overnight: Lake Kawaguchi | Dinner
Lake Kawaguchi – Kyoto. The area has some great hiking trails and early this morning you might like to opt for a hike along the foreshores of the lake. Travel by bus to Mishima, then bullet train to Kyoto - Japan's ancient and cultural capital.

As one of the most culturally rich cities in Asia, Kyoto is home to an abundance of UNESCO World Heritage sites, Buddhist temples and Shinto shrines. Here, we enjoy a guided tour of Sanjusagen-do Temple famous for its statues of Kannon, the goddess of mercy. The one thousand life-size statues of Kannon are made of Japanese cypress clad in gold leaf. They stand in 10 rows of 50, each hand crafted and slightly different from the next. Late this afternoon we head to Gion, for a walking tour of this famous Geisha District. After, you may wish to watch a cultural performance at Gion Corner Theatre where you'll have the opportunity to watch a Maiko (apprentice Geisha) performing.
Overnight: Kyoto | Breakfast
Kyoto - Nijo Castle, Golden Pavilion & free time
This morning we offer a guided tour of Nijo Castle, one of the city's most impressive UNESCO sites. Built by the first Tokugawa shogun in 1603, the exquisite Nijo Castle is a wonderful example of Momoyama architecture. After, we visit Kinkakuji (Golden Pavilion) a stunning Zen Buddhist temple, part of the Historic Monuments of the Ancient Kyoto World Heritage Site. The top two floors of the monument are completely covered in gold leaf. Set upon a small lake with landscaped gardens the large completely gilt structure is as impressive, as it is beautiful. Kinkakuji Temple continues to be one of Japan's most visited temples.

This afternoon offers free time for you to relax or to further discover the many sights of Kyoto your own way. Consider visiting Fushimi Inari Shrine, famous for its winding path lined by thousands of bright red torii gates. Just a short train ride away from the main Kyoto Station, this must-see sight is free to visit and is open 24 hours a day. You might also wish to hire a Kimono and walk the streets as many Japanese do or take part in a cooking lesson.
Overnight: Kyoto | Breakfast
Kyoto - Himeji - Hiroshima. We travel by bullet train to Hiroshima today, stopping en route at Himeji to visit the UNESCO Listed Himeji Castle, nicknamed the White Egret due to its colour and elegant shape. Himeji is Japan's best preserved and largest castle, known for its maze-like defences. After taking in the panoramic views from the top of its 6 story watch tower there is time to stroll the local Saturday market which often takes place here, before taking the bullet train to Hiroshima. The later part of this afternoon and evening offers free time.

Tonight, if you like baseball consider booking tickets to watch the Carp play. The Carp, Hiroshima's beloved professional baseball players, play games at home between May - Oct at Mazda Stadium.
Overnight: Hiroshima | Breakfast
Located off the coast of Hiroshima is Miyajima Island, one of Japan's most picturesque destinations. Today we take the ferry out to the island and see the dramatic red 'floating' Torii Gate at the revered Itsukushima-jinja Shrine, a UNESCO World Heritage Listed Site. The iconic gate seems to float on the water but at low tide can reached by foot. It stands 16 metres high and is made from camphor wood. As we explore the island we'll see further Shinto shrines, towering pagodas and pavilions before soaking up the incredible views of the Seto Inland Sea, dozens of nearby islands and Hiroshima city from our cable car ride to the top of Mount Misen, the highest point of the island. Free time is offered before we return to Hiroshima for the night. Tonight, we'll make a reservation for Okonomiyaki - a mix between a savoury pancake and omelette, a local speciality of Hiroshima. Okonomiyaki is always a fun night, its inexpensive and is washed down perfectly with a Asahi beer.
Overnight: Hiroshima | Breakfast
Hiroshima - Kyoto. Hiroshima is of course infamous for being the first site where one of two atomic bombs were dropped on Japan at the end World War II. This morning we visit Peace Park and Peace Park Museum which are a poignant reminder of Hiroshima's tragic past. We'll see the iconic A-Bomb Dome, one of the very few buildings left standing after the blast and visit the Children's Peace Monument a memorial to the children killed, where schools from around the world donate paper origami cranes, signifying hope and peace.

This afternoon we take the bullet train to Kyoto. On the train we bid farewell to travellers on our 13 day tour who will continue with your guide to Takayama.
Overnight: Kyoto | Breakfast
A free day to spend a leisure in Kyoto. Independently exploring this enchanting city you'll find sacred shrines tucked in among shopping arcades, time‐honoured teahouses nestling among modern businesses and geisha in the historic Gion District. Alternatively, consider a day trip to Nara which has a myriad of shrines and temples, all set against the backdrop of the low lying mountains in the midst of Nara Park.
Overnight: Kyoto | Breakfast
Wednesday. Kyoto - Osaka. Your Japan adventure comes to an end today. Take the train (un-escorted) from Kyoto Station to Osaka Airport for your onward flight. Please ensure you book your departing flight after 10am.

For information about visas, top travel tips and much more, take a look through our travel guide.
Breakfast
Short on time... Consider our 8 day tour
Best of Japan.
Discover the best of Japan in 8 captivating days. Travelling from the modern metropolis of Tokyo to enchanting Kyoto, with its age-old temples, shrines and colourful Geisha District. See the bronze Buddha and picturesque bamboo forest at Kamakura, the breathtaking beauty of Mt Fuji at Hakone Izu National Park en route.
Prices & Dates
Departure dates marked with a 'G' are guaranteed to operate. All other departures are guaranteed with a minimum of 4 persons. 'Twin Share' prices are per person when there are 2 people sharing a room. 'Single Room' prices are applicable to those who don't have anyone to share a room with or anyone wanting the privacy of a single room.
Read More
2024
Twin Share
Single Room
Extra Prices
Twin Share
Single Room
Pre Tour Accommodation - Tokyo (no breakfast)
€75
€95
Post Tour Accommodation - Kyoto
€135
€185
The hotels listed below are ones which we frequently use on this tour. We reserve the right to substitute these hotels to ones of a similar standard.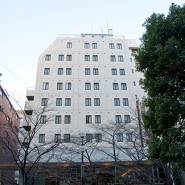 Yaesu Terminal Hotel, Tokyo
Enjoying an enviable location on a cherry-blossom lined street in the centre of Tokyo, Yaesu Terminal Hotel is just a short jaunt away from the city's main railroad station giving travellers easy access to locations across the city. A comfortable 3-star hotel with a natural theme, a permanent art exhibit in the hotel lobby and an in-house restaurant serving freshly prepared local cuisine; it is a soothing place to relax after a busy day of sightseeing. Hotel guests can make use of the free Wi-Fi, benefit from complimentary bathrobes and slippers and enjoy entertainment on a flat-screen TV.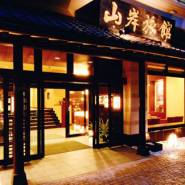 Yamagishi Ryokan, Lake Kawaguchi
With stunning views over Lake Kawaguchi, which is located just one minute away, the Yamagishi Ryokan is an excellent base for exploring the area around the lake. Rooms are designed according to traditional Japanese styles with low furniture and lots of natural light. Breakfast and dinner are both included with the room and are served in the hotel's dining room. After dinner, guests can take a dip in one of the hotel's baths or relax with a coffee in the lounge. The hotel is located just an 8 minute walk from Kawaguchiko Station.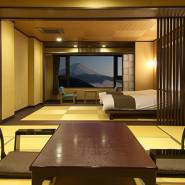 Hotel Mifujien, Lake Kawaguchi
This Japanese-style hotel boasts stunning views over Lake Kawaguchi and Mount Fuji from each of its guestrooms. Offering traditional low furniture and modern amenities, each room is also equipped with air conditioning and a TV. The views can be enjoyed from the hotel's lobby, tea lounge and the Japanese restaurant, which uses local ingredients and offers a feast of traditional dishes. On the 7th floor you'll find both indoor and outdoor hot spring baths with views of Mt. Fuji, perfect for unwinding at the end of the day.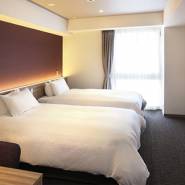 Hotel Elcient Kyoto, Kyoto
Boasting a fantastic location in the heart of Kyoto, Hotel Elcient Kyoto is within walking distance of top attractions such as Kyoto Tower and the picturesque Shosei-en Garden. Guestrooms are compact and simply furnished, complete with modern amenities such as air conditioning and ensuite bathrooms. Enjoy more than 30 different dishes at the Western and Japanese buffet-style restaurant, with light lunches and dinner also available. On the second floor you'll find a large public bath and sauna, offering the perfect spot to relax after some sightseeing.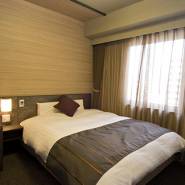 Dormy Inn Premium Kyoto, Kyoto
Located just a short walk from Kyoto Station and the lofty Kyoto Tower, you really cannot get more central than this! Combining convenience with comfort, this contemporary hotel boasts modern guest rooms with flat screen televisions, complimentary WiFi, refrigerators and a private toilet – though washing facilities are shared. Buffet breakfast is available, with a choice of local and western dishes on offer. The hotel is surrounded by a wide choice of shops and restaurants, and there are plenty of cultural landmarks just a short stroll away. After a day of sightseeing guests can relax with a soak in the hotel's natural hot spring baths or opt for a sauna and massage.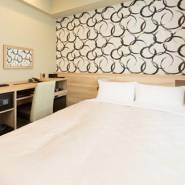 Sanco Inn Kyoto Hachijoguchi Shikinoyu, Kyoto
Located just minutes away from Kyoto Station, the Sanco Inn provides 24-hour reception, with buffet breakfast available and complimentary WiFi. Each room is equipped with a desk, private bathroom, air conditioning, safety deposit box and flat-screen TV with satellite channels. With daily housekeeping, on-site vending machines, and luggage storage available, Sanco Inn will make for a convenient and comfortable stay in Kyoto.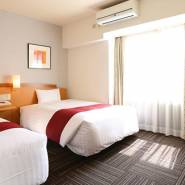 Hokke Club, Hiroshima
Situated within walking distance of the Atomic Bomb Dome and Hiroshima Castle, Hokke Club Hotel boasts an excellent location. Guests can start their day with the European and Japanese-style breakfast buffet in the onsite restaurant, which is also open for lunch. Its modern guestrooms are well-equipped, with an electric kettle, fridge and air conditioning, alongside free WiFi access so you can stay connected with your friends and family back home. Treat yourself to a relaxing massage or enjoy a dip in the hot communal baths, a hotel feature that's unique to Japanese culture.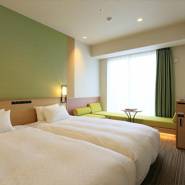 Candeo Hotel, Hiroshima
Recently opened in 2018, this modern hotel is conveniently located in the heart of the city just footsteps from the Hiroshima Peace Memorial Park and the Hiroshima Museum of Arts. Guestrooms are spacious and brightly lit, benefiting from free WiFi and tea and coffee making facilities. Guests can take advantage of the breakfast buffet, which offers 60 dishes ranging from continental to Japanese cuisine. However, this hotel's real highlight is its SkySpa, which features a sauna, indoor and outdoor baths set on the rooftop.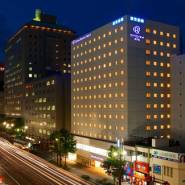 Daiwa Roynet, Hiroshima
The Daiwa Roynet is a great launching pad for exploring Hiroshima with a prime location and reliable service. The smart guestrooms feature free WiFi access and all the mod-cons needed for a comfortable stay. Dine on Japanese dishes at the hotel's restaurant. Conveniently located in Hiroshima's main commercial district, just a 1-minute walk from Chudenmae Tram Station and a 10-minute walk from the Peace Memorial Museum.
Reviews
Travellers have rated this tour as 4.7 out of 5 based on 10 recent reviews
"
Great way to see the major sights & experience traditional food & culture.
Good balance of historical, traditional and contemporary sights or experiences. OTG managed the logistics of getting around cities and countries which made this effortless for us. Guide was incredibly helpful and always went that extra mile for the group. Size of group was good and ensured you never missed anything"
David Poynter
• Submitted 28 Oct 2019
Tour





Guide





Country





"
Yuki was amazing, she is well informed, considerate and flexible. Showed empathy and understanding. Public transport is overcrowded, would prefer a private vehicle."
Gurpreet
• Submitted 21 May 2019
Tour





Guide





Country





"
The views, meals, service and onsen at the Ryokan were excellent. Both guides were absolutely wonderful. This was my first experience of an overseas tour and I have loved it. The only thing I would change and its purely a personal choice is that I would pay the single supplement. I can't speak highly enough of Yuki and Ako. They were both professional, organised and just fun to hangout with."
Ruth Leon-Navarro
• Submitted 21 May 2019
Tour





Guide





Country





"
Very interesting time in Japan - people were great and a very experienced guides made it very easy and enjoyable."
Stella Manuel
• Submitted 21 May 2019
Tour





Guide





Country





"
I enjoyed the tour very much, the pace of the tour was just right with a mix of free time and guided sights. We were a bit early to see the Autumn colours which was unfortunate as it was one of the things we most wanted to see. Yuki, our guide was lovely, helpful, informative and looked after us all, giving helpful tips and suggestions for the time we spent on our own. She was well prepared every day with a sheet detailing the days activities. The weather on the second week was poor, so we didn't seen some of the sights at their best which was a great shame but it did not detract from the overall pleasure of the trip."
Steven Corr
• Submitted 27 Oct 2017
Tour





Guide





Country





"
Hi there, thank you for the welcome home.
The whole experience was absolutely amazing! I didn't want to come home. A big thank you to Emirates and for providing me with the gluten free meals. They were superb!
The hotels that I stayed in were absolutely beautiful! The Tokyo hotel was a bit basic and small but very understandable being situated in the middle of Tokyo, but it was very handy for the train station. All my fellow travellers' in the tour group were very nice and very friendly making it a pleasure to share my experiences with.
The most amazing part of the holiday was our guide Yuki, she was absolutely amazing. Very knowledgeable, so friendly, so helpful and went out of her way to make the whole holiday extra special, showing us so many places, giving us ideas and places to go on free time and also places to go and eat. She deserves a gold medal, absolutely perfect host and guide. I felt so lucky to have her as our guide. I miss her already!
Tokyo was really busy and mainly aimed towards people who enjoy shopping, but the historical sites we saw were amazing and we also went into a workshop to watch a performance and to learn how to play the Shamisen - a traditional musical instrument, because on our first day the typhoon was about to hit and it was raining so much. Again thanks to Yuki our guide for arranging that! I did enjoy Tokyo but really not the highlight of the tour!
Kamakura was amazing, such a beautiful traditional little town with a beautiful shrine and shopping street amazing day. When we left Tokyo and travelled to Lake Kawaguchi the tour for me really started. The traditional hotel was perfect, and hot tub spa was amazing even though it wasn't a natural hot spring. The food was sensational and the whole experience was mind blowing a second night at the traditional Japanese Ryokan hotel would have been preferable most of us said so. It's what I went to Japan for and to experience. Seeing Mount Fuji so clear made it perfect.
Kyoto again was amazing going around the traditional streets and the contrast with the new shopping street was unreal. I absolutely loved Kyoto, the shrines, the shops, Gion District was like travelling through time, and hotels we stayed in were amazing, the people I met were so friendly and helpful. It was really easy to get around, unlike Tokyo. Again thanks to Yuki for all the advice and maps she drew up for us.
Himeji was a quick trip, stop off on the way to Hiroshima so it felt a little rushed although Yuki never ever rushed us. We saw the castle, shopping areas and bonus markets and festival that was on and I actually had lunch with her on free time before meeting back up with the group carrying on to Hiroshima. We felt it was a bit of an awkward time to arrive in Hiroshima with all our luggage. It was very busy on the tram on the way to the hotel, but again with the help and advice from Yuki we made it safely to the hotel.
Hiroshima was one of the highlights and most humbling of experiences I have ever had. For a huge town/city it was so calm and peaceful to walk around either by day or night. We saw ground zero of the A-bomb and the Peace Park and A-bomb dome at night thanks to Yuki, as well as during the day. Fantastic food in Hiroshima.
Going to Miyajima Island and going up Mount Misen was, to say the least, incredible. A note to other travellers, you must be really fit to get to the top it was a hard climb, but you can just stay at the observation base when you get off the cable car. I made the climb to the Eternal flame shrine, but not to the top. I knew my limit lol.
Heading back to Kyoto was a bonus because I loved it there. Got some shopping in and went off on my own to Nara on our free day after leaving Yuki. We were sad to say goodbye to our amazing guide. With thanks to her guidance I managed to find my way to Nara and have another cracking day.
The last day, the day of my flight was not so good, I checked out of the hotel at 10.30am. The only other gripe was that at the hotel in Tokyo we had to pay for breakfast and it wasn't the best breakfast buffet at that. At the last two hotels I didn't have breakfast so I don't know if I had to pay for it but at the first hotel in Kyoto I didn't have to pay and it was an amazing breakfast buffet Also foreign travellers entering Japan now have to fill in 2 small forms one for security and the other for customs, I found that out on the plane.
Overall my whole experience was absolutely amazing and I would recommended the trip to anyone wanting to visit Japan. It was full on everyday but I got to see so much, it was perfect. Yuki our lovely guide was absolutely amazing and she made my time in japan even more unforgettable. Yuki our guide was absolutely perfect!! It would be rude of me to rate her. Thank you all for arranging my amazing trip, so unforgettable!
Looking forward to my next trip with you, maybe china. "
Paul Cook
• Submitted 03 Oct 2017
Tour





Guide





Country





"
"This tour was fantastic. The organisation and the guides were exceptional. From when we stepped off the plane in Tokyo we were met and guided through to our accommodation. The guides were always prepared and We really liked Yukiko's daily guide notes! The accommodation in Tokyo was central and convenient. In Hakone we enjoyed the more traditional ryokan. The day we had travelling through Fuji Hakone National Park was one of the best days touring we have ever experienced. Closely followed by our visit to Miyajima Island.The Daiwa Roynet in Kyoto and Hiroshima were great.
These tours are named On the Go for a good reason. A good level of health and fitness is required to experience all the benefits. ""
Jennifer & Peter Geutjes
• Submitted 01 Dec 2016
Tour





Guide





Country





"
Would be good to add Fushimi Inari in Kyoto in Kyoto to itinerary. Akihabara visit at night would be good - Toyko. Pick up guide (Sue) from airport was great, very helpful. Yukikpo was very organised & helpful & friendly. Akira was very friendly & knowledgeable, I enjoyed his information on history & he was always open to questions. Overall this has been a wonderful trip, thanks!"
Beth Munro
• Submitted 01 Dec 2016
Tour





Guide





Country





"
I would like to say that my vacation was amazing. We both had so many fun and amazing experiences. I stated a comment on my local form but would like to say it again; the tour guides were both amazing. I do wish we would have had more time in certain areas but understand the logistics did not permit. I regard On the Go very highly and would consider booking again if a preferable repeat customer rate could be discussed. Thank you kindly for the experiences "
Samuel Murphy
• Submitted 14 Oct 2016
Tour





Guide





Country





"
This tour was fantastic. The organisation and the guides were exceptional. From when we stepped off the plane in Tokyo we were met and guided through to our accommodation. The guides were always prepared and We really liked Yukiko's daily guide notes! The accommodation in Tokyo was central and convenient. In Hakone we enjoyed the more traditional ryokan. The day we had travelling through Fuji Hakone National Park was one of the best days touring we have ever experienced. Closely followed by our visit to Miyajima Island.The Daiwa Roynet in Kyoto and Hiroshima were great.
These tours are named On the Go for a good reason. A good level of health and fitness is required to experience all the benefits. "
Jennifer Geutjes
• Submitted 01 Jun 2016
Tour





Guide





Country





At a Glance
Range
Trip Type
Starts
Tokyo
Ends
Osaka
Departs
Saturdays - March to November
Group Size
Min 4 / Max 18
Hotel Rating
3 star hotels & ryokans
Tour Guide
Yes - tour guide escorted
Meals
Breakfast: 7, Dinner: 1
Countries
Minimum Age
15 yrs, accompanied by an adult
Arr. Transfer
Yes
Dep. Transfer
Yes
Updated
25th May 2023
"
Great way to see the major sights & experience traditional food & culture.
Good balance of historical, traditional and contemporary sights or experiences. OTG managed the logistics of getting around cities and countries which made this effortless for us. Guide was incredibly helpful and always went that extra mile for the group. Size of group was good and ensured you never missed anything"
David Poynter
OTG001654
Land of the Samurai - 12 days
Far East
Signature
Far East
false
0
Japan
https://www.onthegotours.com/ie/Japan/Land-of-the-Samurai-12-days
https://www.onthegotours.com/repository/The-Kyoto-BasinJapan-ToursOn-The-Go-Tours-266901438786857_crop_flip_300_300_f2f2f2_center-center.jpg
Group_Tours