Take your family on a Moroccan adventure! Marvel at the sights and sounds of Djemaa el Fna in Marrakech, trek on camels into the Sahara and camp out amongst the rolling sand dunes, discover legendary Ait Benhaddou and more! With plenty of free time for fun at the swimming pool and relaxation. This tour is designed for children aged 5 and over.
Trip Highlights
Marrakech - Start and end your family adventure in the iconic city, with an optional city tour and free time to explore your way
N'Kob - Explore the fortified village here, have tea with a local family and soak up the stunning surrounding views of this Berber Oasis
Todra Gorge - Admire the towering 1,000-feet high gorge, known by many as Morocco's Grand Canyon
Ait Benhaddou - Explore the maze of narrow streets in this UNESCO-listed kasbah, which found fame in Gladiator and Game of Thrones
Sahara Desert - Ride camels into the desert to our comfortable Berber camp, and spend a memorable night under the stars
Ouarzazate - Join an optional visit to the famous film studios, know for the production of many Hollywood blockbusters
Included
Breakfast daily, 3 lunches and 7 dinners inclusive of a Berber camp dinner
Camel trek into the Sahara Desert
Sightseeing and entrance fees to all included sites
Escorted by an English speaking tour leader
All transportation and transfers in private 4x4 or mini van/touring vehicle
7 nights 3 - 4 star hotels and 1 night camping at a Berber desert camp in the Sahara
Guided tour of Ait Benhaddou
Specialist local guides at some sites
Arrival transfer from Marrakech Airport on day 1
Not Included
International flights and visa
Gratuity for your tour leader. We recommend USD$30 – 40 per adult for the entire tour. Tipping your tour guide is an entirely personal gesture
Note: Children under 12 years of age are not required to pay the Tipping Kitty
Tipping Kitty: USD$50 per adult, paid in USD or local currency

Saturday. Upon arrival at Marrakech airport you will be met and transferred to our hotel. The Welcome Meeting at 18:00 this evening provides the opportunity to meet your guide and fellow travellers before dinner.
Overnight: Marrakech | Dinner
Marrakech
Marrakech - Ait Benhaddou. After breakfast we set out on our journey across the High Atlas Mountains to legendary Ait Benhaddou, a fortified village situated along the former caravan route between the Sahara and Marrakech. Granted UNESCO World Heritage listing, the site has been the setting for many films including Lawrence of Arabia and Gladiator. After lunch and time to relax by the pool we enjoy a guided tour of this remarkable site, exploring the ancient winding alleys, towers and kasbahs - a handful of which remain inhabited today.
Overnight: Ait Benhaddou | Breakfast, Lunch, Dinner
UNESCO World Heritage - Ait Benhaddou
Berber Oasis of Nkob
Ait Benhaddou - N'kob. After breakfast, we depart our hotel and journey towards the Berber Oasis of N'kob, located at the foot of the Jebel Saghro mountains, nestled amongst the exotic palmeries. Here, we have time to explore N'kob's 45 mudbrick ksour's (fortified village) and learn about Ait Atta Nomad's and their way of life. The rest of the afternoon is at leisure to walk through the Palmerie where you can soak up the stunning views and have tea in a local family's home. Alternatively you can head back to the hotel to relax for the afternoon.
Overnight: Nkob | Breakfast, Dinner
N'kob - Merzouga. Today we head towards the mighty Sahara Desert stopping en route for lunch, and in summer we may have time for a swim. In Merzouga we transfer to camels for an incredible trek across the vast Erg Chebbi dunes for a night at our authentic Berber Camp. An experience that is guaranteed to leave a lasting impression on travellers young and old! We enjoy a relaxing evening in the desert; we can scale the giant sand dunes and watch an incredible sunset before settling down to enjoy local food and listen to Berber music. Tonight we camp under the glittering Saharan stars.
Overnight: Berber Camp - Sahara Desert | Breakfast, Lunch, Dinner
Sahara camel trek & camp
Merzouga - Todra Gorge. Leaving the desert, we travel to Todra Gorge today. This 1000ft gorge is hemmed in on all sides by vertical limestone cliffs and is known as Morocco's Grand Canyon. From its plunging depths to dizzying heights, the charm of Todra lies in its changing colours as the sun slowly moves from east to west. There's time to take in the gorge before we head to a traditional Berber cooperative nearby. You can learn how these ancient rugs are made and perhaps even buy one to bring home. There's also an optional Moroccan cooking lesson at lunchtime.
Overnight: Todra Gorge | Breakfast, Dinner
Todra Gorge
Todra Gorge - Ouarzazate. After breakfast, we head off along the road into the Roses Valley, famous in Morocco for its roses. Here we can stop to see a variety of different rose products. before we make our way to Ouarzazate - the Hollywood of North Africa. There's an optional visit to its famous film studios, which have been used for films such as The Kingdom of Heaven, Alexander the Great, The Last Temptation of Christ, and The Living Daylights.
Overnight: Ouarzazate | Breakfast, Lunch, Dinner
Ouarzazate - Marrakech. Today we make an incredible journey over the High Atlas Mountains back to Marrakech. The afternoon is free to spend at leisure before dinner at one of the restaurants in Djemaa el Fna Square, the exuberant market place which literally springs to life in the evenings. Filled with spicy aromas, exotic music, market stalls, snake charmers, magicians, storytellers and more, it is undoubtedly the liveliest and most captivating attraction in Morocco!
Overnight: Marrakech | Breakfast, Dinner
Marrakech city tour
Marrakech. This morning there's an optional guided tour of Marrakech, visiting the iconic Koutoubia Mosque, Bahia Palace, and the bustling Jewish quarter, Bookable locally for 200 dirhams. Alternatively spend the day independently exploring the city, shopping in the souks, or relaxing by the pool.
Overnight: Marrakech | Breakfast
Our Moroccan adventure finishes after breakfast, goodbyes and farewells to new found friends.
Breakfast
The hotels listed below are ones which we frequently use on this tour. We reserve the right to substitute these hotels to ones of a similar standard.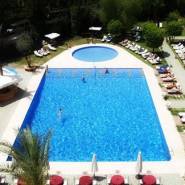 El Andalous Hotel & Spa, Marrakech
Just 10 minutes from the airport, the El Andalous Hotel and Spa offers a welcome respite from the hubub of the city. Evoking the golden age of Arab-Andalusian culture; exotic and romantically rich. Guest rooms are well furnished with excellent en suite facilites as well as private balconies. The hotel pool is great place to relax by and enjoy a tasty beverage or two. The medina is just a 20 minute walk from here or a cab can get you there in a few minutes!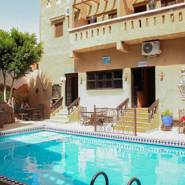 La Rose Du Sable, Ait Benhaddou
La Rose Du Sable is a Kasbah-style property located within minutes of the fortified town of Air Benhaddou. Each traditionally decorated guestroom is ensuite and boasts spectacular views of the surrounding landscape. Guests can relax by the pool or on the Berber lounge terrace, while enjoying delicious local specialties such as tagine and couscous.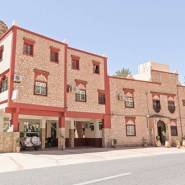 Kasbah Amazir, Todra Gorge
Nestled in a small oasis surrounded by palm trees, the traditional-style Kasbah Amazir is the perfect haven for those looking to relax. Guestrooms feature Berber carpets and bamboo furniture, with some also offering a private terrace. Enjoy a dip in the swimming pool or take a stroll in the gardens. For those looking to fill their holiday with a spot of adrenaline, hikes and climbs can be arranged nearby. After a long day you can enjoy a drink and traditional Moroccan dishes in the on-site restaurant.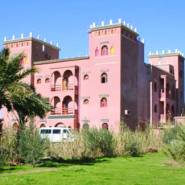 Les Jardins , Ouarzazate
A fairly new hotel in Ouarzazate, the Hotel les Jardins is in the traditional style of a Moroccan kasbah, with spacious rooms. The hotel is set in exquisitely manicured gardens, which provide guests with a much needed breath of fresh air. The experience is complete with a pool and restaurant, where visitors can while away the hours in the warm, starry evenings. The hotel is on the outskirts of Ouzarzate and has numerous restaurants and shops nearby.
Reviews
Travellers have rated this tour as 5 out of 5 based on 2 recent reviews
"
Our tour of Morocco was exceptional. Every aspect of it from travel times, breaks, meals and activities were so well organized and made for a comfortable and exciting trip for my family and I.
Our tour guide Aissa really made the trip what it was. His knowledge of the country as a local and avid outdoorsman was invaluable. He was attentive and always put our needs first to make sure we were comfortable in any situation and that we were enjoying ourselves.
We were pleasantly surprised with how many unexpected activities we were able to do. For example we knew we would be staying in Todra Gorge but to walk through the old community garden plots surrounded by canyon walls and have the intricate irrigation system explained to us then see it in action. Experiences such as these are the memories will take away from this trip.
In summary my wife and I have traveled a lot with our two children and this was the best trip we've taken. We would highly recommend it to anyone with young children."
Alex Maynard
• Submitted 06 Mar 2018
Tour





Guide





Country





"
On the whole a well organized and helpful guide on a value holiday."
Christopher Doggett
• Submitted 22 Aug 2017
Tour





Guide





Country





"
Our driver Hasan was the best driver ever and the car was the cleanest car I have ever seen..."
Maddy White, aged 9
• Submitted 06 Apr 2013
"
Mohammed (tour leader) was charming and a great friend to us and especially great with kids. The vehicle was great. Cannot really fault the trip. "
Philip Howling, aged 50
• Submitted 30 Mar 2013
"
My husband and our two kids aged 8 and 11 went on the family tour in December. I was a little worried about whether my children would enjoy the tour but the guides were excellent and the activities were great fun, they especially enjoyed the camel trekking and so did I! It was a great opportunity for the children to experience another culture whilst getting well looked after by our fantastic guide!"
Claire Whiting
• Submitted 12 Jan 2010
"
Just got back from our tour in Morocco, had a fantastic time, our guide Brahim was great and the kids loved him! Just wanted to say a big thanks to the on the go staff for making our holiday such a memorable one!"
Robert and Maria Henderson
• Submitted 16 Dec 2009
At a Glance
Range
Trip Type
Starts
Marrakech
Ends
Marrakech
Departs
Saturdays
Group Size
Min 2 / Max 16
Hotel Rating
3 star
Tour Guide
Yes - escorted by a tour guide
Meals
Breakfast: 8, Lunch: 3, Dinner: 7
Countries
Minimum Age
5 yrs, accompanied by an adult
Arr. Transfer
Yes
Dep. Transfer
No
"
On the whole a well organized and helpful guide on a value holiday."
Christopher Doggett
OTG002334
Morocco Family Adventure - 9 days
Middle East & North Africa
Handpicked
Middle East & North Africa
false
0
Morocco
https://www.onthegotours.com/ie/Morocco/Morocco-Family-Adventure-9-days
https://www.onthegotours.com/repository/Morocco-Family-Adventure-new-main-image-784471630405736_crop_flip_300_300_f2f2f2_center-center.jpg
Family_Holidays