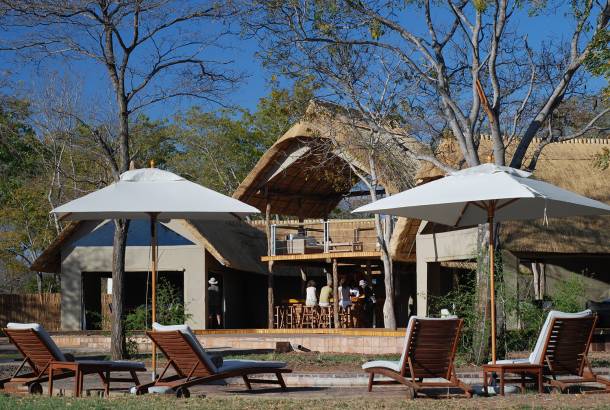 Lodge Safari Style
In Southern Africa (South Africa, Botswana, Nambia and Zimbabwe) our lodge accommodated safaris run with a minimum of 2 or 4 travellers and a maximum of 16, accompanied by a guide, who is also typically the driver. All of the breakfasts and dinners are served at the lodges. Lunch is only included in the Okavango Delta.
In East Africa (Kenya, Tanzania and Rwanda) our non participation lodge safaris run with a minimum of 2 and a maximum of 6 travellers. Most meals are provided by the lodges, including some picnic lunches.
Open-dated lodge safaris
Our Gorilla Express lodge safari and all of our private safaris and tours are open-dated, meaning that you can depart any day of the year, subject to availability. This does mean that it is unlikely that you will be travelling with other people, unless others choose the same departure date as you! Transfers on these tours are provided to take you between destinations and expert local guides will be present for included activities. A guide will not escort you for the duration of the trip.
Accommodation
On all of our lodge safaris we make use of mid-range African standard lodge accommodation situated either in the national parks, on the banks of a river or other place of interest.
It is rare in Africa for lodges and camps to be given an official star rating (eg 2,3,4 or 5 star). However as a guideline, we stay at a range of lodges, chalets and tented camps which are generally of a 3-4 star standard. All accommodation is en suite and some properties are equipped with swimming pools and a bar. Our emphasis is always on comfort, cleanliness and well-managed lodgings, whilst ensuring that we make the most of our surroundings. And sometimes, to add to the true wilderness experience, simple accommodation in a spectacular location is selected over properties of a higher standard in a less desirable location. After all, Africa is special, and we want you to get the most from your trip!
You will find a list of the most frequently used properties for each trip on the relevant webpage, and in the tour Trip Notes. Please be aware that the accommodation named may be subject to change, though we will always find a property of a similar standard where possible.
Pre & post tour accommodation
We are happy to arrange pre and post-tour accommodation for you, and will do this on a request basis. Many of our tours depart early on day 1 and finish late on the final day, helping you to see as much of Africa as possible. Because of this, we strongly recommend that you book pre and post-tour accommodation to ensure that you are well rested before the tour starts and to account for any delays which may occur on return. Be sure to take this into account when booking flights. Please contact us for pre/post accommodation prices.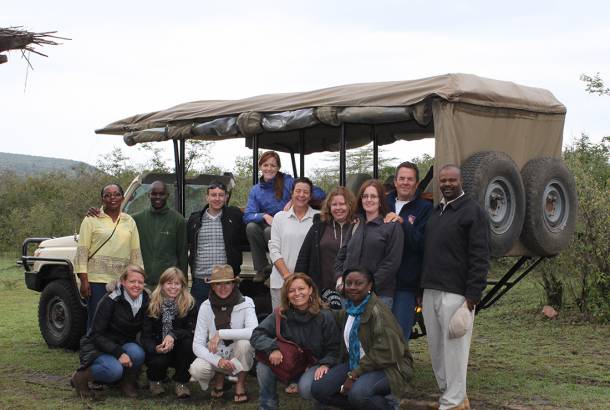 Vehicles
In Southern Africa you will be travelling in either a Sprinter minibuses or a custom-built 16 seater overland truck. Throughout East Africa the vehicles used vary from safari minibuses to custom built 4x4 safari vehicles dependent on group sizes and itineraries. We do reserve the right to use different vehicles due to unforeseen circumstances or during high season. Please also note that on open dated safaris, where you are not travelling as part of a group, smaller vehicles such as a Toyota Avanza or Corolla will be used.
Most game drives are conducted in your touring vehicle unless the inclusions note that the game drive is in an open 4x4 safari vehicle. On our Best of Botswana & Victoria Falls all game drives are conducted in open 4x4 safari vehicles.
Our guides
Our lodge safaris are lead by an experienced tour guide who is also the driver on most occasions. Our guides are there to ensure that your safari runs smoothly, dealing with border formalities, finances, maintenance of the vehicles and any unforeseen issues that may arise. They have excellent driving skills and local knowledge, enabling them to advise on wildlife, flora, local cultures, history, geography and a host of other subjects. Above all, our tour guides are passionate about their jobs and the countries in which they guide. We also use the services of specialist local guides/rangers in many of the national parks.
Packing for your lodge safari
It is essential that you pack light and use a backpack or soft bag, not a suitcase as it will be easier to store during long drives and room for luggage is limited in the vehicles. Don't bring too much clothing, as there are washing opportunities along the way.
There is a luggage allowance of 20kgs. This luggage allowance is stipulated as there is limited space for luggage and an overloaded vehicle is a danger to both clients and the guide. This allowance does not include a small daypack.
Packing Essentials
• Camera with spare batteries and spare memory cards
• Worldwide Adaptor Plug
• Portable phone charger
• Towel
• Mosquito Repellent and UV protection
• Torch and batteries
• Walking shoes/trainers and sandals
• Sun hat
• Binoculars
• Light trousers/jeans
• Shorts
• T-shirts and long sleeved tops
• Windbreaker
• Swimwear
Group profile
The average age of travellers on our Lodge Accommodated Safaris is between 40 - 70, although younger travellers do join our groups as well and we often welcome families. Our safaris attract travellers from around the world.
Given the active nature of African safaris, we are unable to accept travellers aged 80 or above and passengers aged 65 years and over are required to complete a Fit To Travel form before the booking can be confirmed.
Travelling with Children
On our Lodge Safaris, we accept children aged 10 and over on a request basis. Certain exceptions apply as not all lodges accept children and not all activities are suitable for children. It is also possible to travel with younger children on certain safaris. Please contact us for further information and let us know the age of your children.

We also have departure dates on some of our Overland Camping Safaris which accept children ages 6 - 17 and our Private Safaris and Tailor-made Holidays cater for families, although please be aware that some lodges will not accept children under 12.

For more information, please see our Family Holidays page.