Morocco Tours & Package Trips
Experience an unforgettable whirlwind of marketplaces, exotic cities and spicy aromas with our award-winning Morocco trips.
The exotic mix of bustling medinas, imperial cities, striking landscapes and kaleidoscope of culture has long attracted travellers to Morocco. The range of experiences on offer is impressive - camel rides across the Sahara, bed down in a Berber camp, explore unspoilt kasbahs and travel back in time to wander through medieval cities. The Atlas Mountains are a veritable playground for trekkers whilst the towns along the coast are perfect for those seeking a little sun, sea and sand.
On The Go Tours places you in the very heart of all the bustle. Our local tour guides know Morocco. They know where to find the best couscous and mint tea. And they know how to navigate the market streets and walled medina of Marrakech. Their expertise means you can forget about the tricky details - and focus on making memories with fellow travellers on your Morocco tour.
Our guided Morocco trips win British Travel Awards for a good reason. With our exceptional attention to detail, you can rest assured you'll return with Moroccan memories that last a lifetime. So what are you waiting for? Book your Morocco package tour today!
Morocco Group Tours
Our Morocco group tours take you to the beating heart of this spectacular North African country. Most holidays start in Marrakech, though we also have some trips beginning in Casablanca. They range in length from a week to more than two, and most take in iconic Ait Benhaddou and camel riding in the Sahara. But you can also visit less well-known sites including the Blue City of Chefchaouen and the delightful port city of Essaouira. There are annual meteor tours too, and festive trips, if you're looking for an extra special package!

Browse these itineraries and don't hesitate to contact our team if you'd like more information about visiting Morocco, or to get a trip booked in!
Morocco Family Trips
Morocco is a family-friendly holiday destination, and we have a selection of tours designed for parents with children aged 5 and over, as well as a teenager tour for those with older children. These family holidays are a bit more flexible than our regular group itineraries, with more optional sightseeing. This means that if you prefer to spend a day lazing by the pool then you can! But they are still packed with inclusions, including a memorable camel ride and overnight stay in the Sahara! And of course, you'll have the services of an expert tour guide throughout your package!
Morocco Private Tours
If you'd rather travel privately than as part of a group tour, then these trips could be perfect for you. You can book these private tours off the shelf or our Reservations team can help you to come up with a bespoke Tailor-made adventure in Morocco - the choice is yours!
Morocco tour reviews
Scoring an average traveller rating of 4.62 out of 5 based on 13 recent reviews — See All Morocco Reviews
"
Great tour and great guide! Lhoucine knew very well about all the places in the tour. He took care of our needs and very patient througout the tour. Would definitely recommend the tour to others!"
Yilei Rong
• Submitted 22 Oct 2022
"
We just came back from the 9day trip to Morocco trip - it was amazing and is one of the best trips that I've ever had!
Our tour lead guide Lhoucine is truly exceptional. He is not only very professional and knowledgeable but also very welcoming and genuine, making us feel at home. He took care of everyone in the group wholeheartedly - that made a huge difference when we were in a foreign country. In addition, his great knowledge of Moroccan history and culture, and his love for his homeland and tribes, really made the trip special!
The entire on-the-go tour team was also great. The travel notes were clear giving us transparency before booking. The customer support team responded timely to our questions before the trip. Also great selections for the hotel/restaurants and local guide/people for the tour.
We had such great memories in Morocco - the exotic cultures, the arts and crafts, the breathtaking sunrise in Sahara, the Camel ride, the delicious Tajines, and so on. A truly must-see destination! "
Sherry Hu
• Submitted 21 Oct 2022
"
We felt the tour was great. The destinations were well chosen and the accomodation was always appropriate to the town. One that stands out was Rabat where we had rooms in the Medina itself close to the markets. We felt we really were offered a full taste of the Moroccan experience at this stop. At other times it was a modern (though superb) hotel and a bus ride to get to the town for free time and this restricted us a little. In Fez we had no free time and this was a disappointment. The town tours with local guides were great. Overall It would have been a solid four star experience........ however....
Our guide and driver Abdul and Suleiman Bairha took the tour into a different class. They were always polite and sensitive to everyone's needs. They fulfilled every need with a smile. They ensured good compromises were agreed when customers needs differed and ensured long coach trips were occupied with information, entertainment and laughter.
They took responsibility to minimise the inevitable dull processes of touring (ie hotel checking in etc) and accentuated the positives such as..... assisting in vital souk negotiations.....always pointing out interesting sights with much background history and explanation....and answering every question on the current culture and practices in Morrocco.
I would give the tour 7 stars if I could with these two hosts. "
Glyn and Senta Hawkings
• Submitted 20 Jun 2022
Frequently asked questions about our Morocco package tours & trips
I want to spend a night in the Sahara Desert - what is your Berber camp like?
The desert camp we use for our Morocco trips is a permanent tented camp. Each tent has up to six single beds inside where the group sleeps. Between these tents is an open communal space with Moroccan carpets and tables where the group eats their meals.

There are flush toilets on site and a hose for washing. The day you leave the Sahara there will be time for a shower at a hotel in Merzouga before continuing on with the itinerary.
Do I need to bring a sleeping bag on my Morocco tour?
You won't need a sleeping bag as for the most part you'll be staying in 3-4 star hotels on your Morocco tour. And our desert camp provides all the bedding you need including pillows and blankets. For your own personal comfort, you may wish to bring a sleeping bag liner to use at the desert camp.
How long is the camel trek in the Sahara?
If you choose to spend a night in the Sahara, we journey there by camel for an authentic Berber experience. These camel rides last for about an hour and a half. If you prefer to walk then you can walk alongside our camel caravan but bear in mind that walking in sand can be tiring.
Where's the best place to get the local currency?
The Moroccan Dirham is a closed currency, which means you won't be able to get it outside of Morocco.

Your best option is to withdraw money from an airport ATM on your arrival in Morocco. The currency exchange services at airports offer notoriously poor rates so withdrawing the money from an ATM is the most cost-effective and easiest way of getting the cash you need for your trip.
Do all of your Morocco trips start in Marrakech?
Many of our tours do start in Marrakech and this is perfect for those in the UK where a number of airlines offer affordable, direct flights between the major cities. However, from elsewhere in the world most airlines fly directly into Casablanca, and this is why we offer a selection of tours that start in this famous city.

If you prefer to start your Morocco tour in Casablanca then our 9-day Road to Casablanca is ideal or if you're looking for something longer then our 13-day Casablanca to Essaouira is another great option.
How big are your tour groups and what is the age of your travellers?
The average group size on our Morocco holidays is between 10-12 travellers. As with all of our destinations, you can expect a real mix of ages ranging from those in their 20s to those in their 70s. The beauty of group tours is that many of our travellers make new friends for life - it's the thing we love most about group touring!
What is the standard of hotels on your trips?
On our Signature product, you'll be staying in a mix of 4-star modern hotels and traditional Moroccan riads in Morocco's cities. This gives you a chance to experience the local hospitality and stay in accommodation that reflects the character of Morocco.

On our Handpicked range of tours in Morocco, the standard of accommodation is equivalent to a Western 3-star.
Is Morocco a safe destination for travellers from the LGBTQ+ community?
According to the 2022 LGBTQ+ Travel Safety Index, Morocco scores an F rating for LGBTQ+ traveller safety, ranking 170th out of 203 countries.

Same sex marriage is not legal and there are no constitutional or worker protections in place for the LGBTQ+ community. 0 - 25% of consulted citizens consider Morocco a good place to live for gay and lesbian people. Laws prevent the discussion of pro-LGBTQ+ issues and homosexual or "unnatural" acts result in 6 months – 3 years in prison and a fine. Public indecency results in up to 2 years in prison and a fine. However, these laws are not strictly enforced in Morocco, especially in popular destinations such as Marrakech.

This does not mean members of the LGBTQ+ community shouldn't visit Morocco, but precautions should be taken when travelling. As long as you use common sense, travelling in Morocco shouldn't be a problem. We take people of all ages, races, genders and sexualities on tour and there are rarely any issues for our travellers in the destination.

The LGBTQ+ Travel Safety Index is designed to provide a good overall picture of attitudes towards the LGBTQ+ community in each country and may not reflect the experience of foreign travellers to the country.
What sort of transport do you use and how much time is spent driving?
We use comfortable, modern mini-vans with air-conditioning and good-sized windows through which to enjoy the passing views. There is a fair distance to cover in Morocco, especially if you want to see the main highlights.

To reach the Sahara from Marrakech, the drive time is around six hours, followed by a camel trek to get deep into the surrounding dunes. The longest day of travel is the journey between Fes and Erg Chebbi. It's a full day of driving but thankfully it's a wonderfully scenic drive with a stop at the lovely alpine-style town of Ifrane located in the High Atlas Mountains.

On our Signature tours, you'll have the opportunity to wander around what is described as the 'Switzerland of Morocco'. Most other journeys are far shorter and the majority of your days will be spent out and about sightseeing.
When is the best time to visit Morocco for general sightseeing?
Spring (March - May) and autumn (September - November) are the best times to visit Morocco. At these times of the year you can expect pleasant temperatures and plenty of sunshine. The landscape is particularly lovely in spring when it's green and lush while autumn provides the best weather conditions for trekking. For more information visit our best time to visit Morocco page.
Is Moroccan food suitable for vegetarians?
Vegetables feature prominently in local Moroccan cuisine so vegetarians should have no issues. It's true that Moroccans like their meat but it's always accompanied by a delicious range of vegetables and grains.

There's a huge variety of salads to choose from, soups can easily be made vegetarian-friendly on request and the ubiquitous tagine and couscous dishes come in vegetarian options too. Your tour guide will be able to advise you on the best restaurants to visit in each location.

Street food stalls are a common sight in Morocco too - we advise you to try the food but take care about which stall to eat from and practice good food hygiene! Your guide will be able to help here, too.
What is the deal with mint tea in Morocco?
The locals call it Berber whiskey and it holds a special importance in the country - you will drink a lot of mint tea on your trip.

Morrocans drink mint tea when welcoming guests to their house, or even their business. It's drunk at home, in cafes and on the street and there is no right or wrong time of day to drink it.

Moroccan mint tea is typically prepared freshly each day from mint bought at the local market, and for this reason it's the best mint tea you're likely to find anywhere across North Africa and the Middle East.
As a solo traveller will I have to pay more for my Morocco package?
Travelling solo doesn't have to cost more, and solo travellers who are happy to share a room can do so on our Handpicked tours to Morocco, subject to there being another solo traveller of the same gender for you to share with. Please book a single room and contact us if your preference is to room share. The cost of the single supplement will then be refunded.

On our Signature tours, we offer a reasonably priced single room option, giving solo travellers the comfort and privacy of their own room. The price of the single supplement for each tour is listed on the relevant web page.
You're in Safe Hands on our Morocco Trips
Whether you're visiting Morocco solo or bringing a friend, we know booking a group tour can feel daunting. That's why our group tours are designed to help you meet like-minded adventurers.

From the moment you book with On The Go Tours, you can relax. We won't charge fees if you pay with a credit card. On our Signature tours, we'll refund your deposit if plans change. And all of our group and private tours to Morocco are fully protected, should anything happen. Plus, with a trusty tour guide escorting you every step of the way, you can simply relax and enjoy your trip.

We know life can be unpredictable. But there's one thing you can be sure of — and that's our commitment to exceptional service, every time.
The Best of our Morocco Trips
Exploring Morocco is like taking your senses on an adventure. Soak up the electric atmosphere and breathe in the exotic aromas, as we take you on an unforgettable journey. From the incredible cities of Marrakech and Essaouira, to the rolling sand dunes of the Sahara, there High Atlas Mountains and unforgettable Ait Benhaddou. Here are some of the most popular destinations with our adventure travellers to Morocco.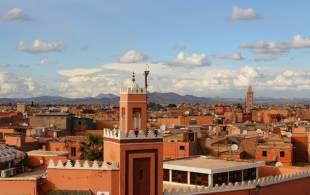 Marrakech
The most famous destination in Morocco and the start point for the majority of our tours. The bustling city of Marrakech is a cacophony of sights, smells and sounds. Dive into the souks of Djemaa el Fna, and head to the Majorelle Gardens for some peace and tranquility.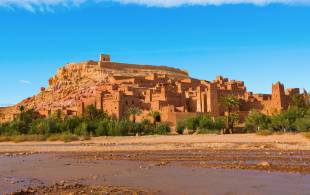 Ait Benhaddou
It gained popularity after starring in Game of Thrones but Ait Benhaddou has always been one of Morocco's highlights. This historic fortified kasbah is a warren of narrow alleys, perfect for losing yourself in. Make sure to walk to the top for panoramic views of the area.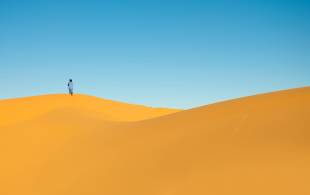 Sahara Desert
A vast wilderness stretching for hundreds of kilometres, and characterized by rolling dunes. Our travellers to Morocco can ride a camel into the desert, and stay at our traditional Berber camp. Clear, dark skies mean it's a great place to spot the annual Geminids Meteor Shower, too.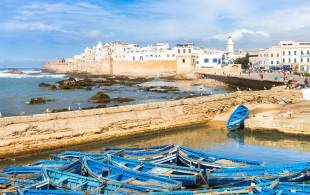 Essaouira
With a population of just 70,000, it feels wrong to call Essaouira a city. But this laid-back Atlantic coast city is the perfect place to end your trip, and many of our tours spend two free days here. There are a pretty medina and historic city ramparts to explore, and a great surf beach too.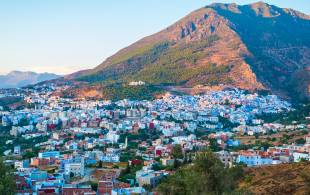 Chefchaouen
Nestled in the picturesque Rif Mountains and famous for the blue shade of its historic medina, Chefchaouen is unlike any other Moroccan destination. The pace of life is slower than in Marrakech and the city is surrounded by the lush forests of Talassemtane National Park.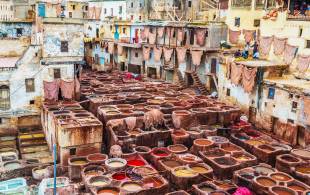 Fes
Fes is the oldest medieval city in the world and a visit is a step back in time, particularly in the walled medina. Famous for its tanneries and dye pits, our travellers often name it as a highlight of their trip. It's as good a place as any to tuck into a tagine and other Moroccan food too!