DELUXE SAILING HOLIDAY: Setting out from Split enjoy an unforgettable week of island hopping in the southern Adriatic Sea. Cruise in style on board a luxurious ship, enjoying first-class facilities, guided sightseeing and lots of inclusions.
Trip Highlights
Split - Tour the historic UNESCO-listed city and see the famous 1,700 year old Diocletian's Palace
Mljet National Park - Wander around the two salt lakes of the national park and soak up the lush green scenery
Peljesac Peninsula - Swim off the coast of the Elaphiti Islands, visit a local farm and join a Croatian village party
Brac - Visit the sandy shores of Zlatni Rat, Croatia's most famous beach and visit an old wine making cooperative
Korcula - Take a walking tour of the town, birthplace of Marco Polo, and enjoy a drink in one of the many bars
Dubrovnik - Cruise along the famous city walls and ride the cable car to Srd Mountain for spectacular views of the fortified city
Hvar - Soak up some sun, hike up to the town fort and sample the famous nightlife of Hvar
Pakleni Islands - Enjoy a swim off this small group of islands located off the coast of Hvar
Included
7 days sailing the Southern Adriatic Sea
Breakfast daily, 5 (3-course) lunches, 4 dinners (inclusive of a Captain's farewell dinner).
Sightseeing in Dubrovnik (including dinner cruise, one way bus transfer and cable car), Hvar, Korcula (village feast) and Split
Escorted by an English speaking Tour Leader who travels with you onboard the cruise
Daily cabin service, all linen incl 2 bath towels, hairdryer, luggage handling and services of onboard captain and crew
Olive oil & wine tasting on board
7 nights accommodation onboard a 'Deluxe' ship
Airport arrival and departure transfer from Split Airport on day 1 and day 8
Opportunities to swim, snorkel, sightsee and soak up the sun
All port taxes, visitor fees and entrance to Mljet National Park
Complimentary 1 litre of water, tea & coffee after lunch
Complimentary WiFi onboard
Not Included
International flights and visa
Tip for your crew. We recommend you allow EUR 5-10 per day, per traveller. Tipping is an entirely personal gesture
Our 'Crème de la Croatia' cruising holiday offers 2 different comfort levels. Choose from Deluxe Ship or Deluxe Superior Ship. Please see Ship Categories for more information.
Saturday. Welcome to Split! Upon arrival you are met at the airport and transferred to Split Harbour where the ship is docked. Following check-in at 14:00, enjoy a guided tour of the beautiful city of Split. A historic city under UNESCO protection, you'll learn all about the fascinating history of this port city. Returning to the ship later this afternoon, you'll enjoy a welcome drink and get to know your fellow guests.
Overnight: Onboard (Split) | Dinner
Split - Korcula. Early this morning we depart for Korcula, an island abundant with legends and tales, stopping for lunch in a secluded bay en route. In Korcula, embark on a walking tour of this enchanting town. This evening you can continue your gourmet experience at one of the island's many restaurants.
Overnight: Onboard (Korcula) | Breakfast, Lunch
Korcula - Mljet - Dubrovnik. Travelling further south we head to the Island of Mljet. Here, we'll walk through the salt lakes of Mljet National Park before enjoying a boat ride to St Mary Isle, which is home to a Benedictine Monastery, abbey and church from the 12th century. The adventurous at heart can opt to rent kayaks, bicycle or scooters to explore the National Park independently. Returning to the ship for lunch we continue our journey onto Dubrovnik, arriving in the late afternoon.

Before we dock in port, your captain takes you along the city walls, enjoy spectacular views of the magnificent old town, whilst you savour a sumptuous buffet dinner on board.
Overnight: Onboard (Dubrovnik) | Breakfast, Lunch, Dinner
This morning we embark on a guided walking tour of the Old Town, and later take a cable car to Srd Mountain where we can enjoy spectacular views of the city walls and the Elaphiti Islands.

Spend the remainder of the afternoon and evening at your own leisure. For the more energetic amongst the group you might want to explore the famous walls of the city, which total 1,940m in length. Alternatively, you may like to explore 'Stradun', a beautiful promenade within the city walls which opens out into a square at one end.
Overnight: Onboard (Dubrovnik) | Breakfast
Local Croatian village and farm
Dubrovnik - Peljesac Peninsula. Morning departure from this magnificent town and continue our cruise towards the Peljesac Peninsula, well known for its excellent wine. Before lunch we'll enjoy a short stop at one of the Elaphiti Islands, with their beautiful beaches and pristine scenery.

Arriving to the Peljesac Peninsula this afternoon, we head inland to explore the surrounding rural area. We make our way to a local farm before visiting a local village, here you'll indulge in a typical village party with Croatian delicacies, an all-inclusive dinner with local dishes made from their own produce. After a fantastic evening of food and wine we transfer back to our ship.
Overnight: Onboard (Peljesac Peninsula) | Breakfast, Lunch, Dinner
Kucisce - Hvar. An early morning departure takes us to Hvar, with a stop for lunch en route at the small island of Scedro and a swim at Pakleni Islands. Arriving into Hvar this afternoon, we explore the historical landmarks, hike up the town fort, and indulge in the city's myriad entertainment, with many restaurants, bars and cafes open long into the night. The longest and sunniest island in the Adriatic, Hvar is a beautiful island to discover.
Overnight: Onboard (Hvar) | Breakfast, Lunch
Zlatni Rat Beach
Hvar - Bol. Our final stop is at the picturesque Island of Brac and the seaside town of Bol, where you can explore the famous sandy shores of Zlatni Rat Beach. You'll have the opportunity to walk along the promenade or take a dip in the sea. Later this afternoon we head to the oldest Dalmatia wine cooperative (dating back to 1903) for a wine tasting session, before returning to the ship this evening to enjoy a farewell captain's dinner and entertainment.
Overnight: Onboard (Bol or Milna) | Breakfast, Lunch, Dinner
Goodbye Croatia!
Saturday. Bol - Split. An early morning departure from Bol takes us back to Split. After disembarking the ship, you are transferred to the airport for your onward flight. Flights from Split Airport should be booked after 12 noon (not earlier) or alternatively consider booking an additional nights accommodation.
Breakfast
Choosing your comfort level!
Travel on a cruise ship with a range of facilities including dining area and plenty of deck space to enjoy the spectacular views and sea breeze, you'll be in the company of like-minded travellers. Relax as you let the captain and the support crew look after your needs. An onboard cook prepares breakfast and lunch each day, whilst in the evening, offers the chance to explore different dining options at each port of call. Dalmatian food is very good indeed!

Individual ship design varies slightly from craft to craft, but all ships offer a range of cabin types (some top deck, some on main deck and some below), comfortably accommodating 2 persons per cabin.

Deluxe Ships and Deluxe Superior Ships
Offering spacious cabins with en-suite bathrooms on newly built or fully renovated ships. Accommodation is offered on a twin or double basis, with hair dryer and a safety deposit box. Exclusive features and inclusions on the Deluxe and Deluxe Superior ships are; airport transfers, buffet breakfasts, three course lunches and salad and cheese bar, drink with lunch, Captain's dinner on board with live music, additional dinner in a typical Croatian setting, English speaking tour manager on board, sightseeing and various entrance fees, various tastings including olive oil and wine tasting, mid-week fresh set of towels and bed linen and daily cabin service, luggage handling, all day tea and coffee and water dispenser available, and visitors tax and port fees. In the communal areas; a TV and sound system in the reception area, board games and extensive sun and shaded deck space as well as complimentary Wi-Fi.

Deluxe Ships
Are modern and state of the art ships, 42m - 47m in length. The spacious sun deck includes a hot tub, beautiful lounge area and sun beds to enjoy wonderful Adriatic scenery. Deluxe vessels feature spacious, lavishly designed, air-conditioned en-suite cabins with double or twin beds, safety deposit box, bathroom toiletries, hair dryer, cupboard and wardrobe cabinet. Cabins are 12 - 17m2 in size.

Deluxe Superior Ships
A newer and larger vessels than the 'Deluxe Ship', the best vessels that exist on the Adriatic sea built with high quality materials of solid wood, glass, marble, stainless steel and similar materials. These ships are a minimum 47m in length, newly built or refurbished after 2016, with hot tubs and beautiful sun decks with lounge area, deckchairs and more. Spacious, superbly designed, air-conditioned en-suite cabins with double or twin beds, 15 - 20m2 in size. Cabins are equipped with wardrobes, deposit box, hair dryer, toiletries, bathrobe, slippers and more.

Upper deck or below deck cabins
On all of our Croatia cruise holidays, you have the choice of an on deck (upper) or below deck cabin. Below deck cabins are located below the main deck or in the hull of the ships. They do have windows or port holes that allow in natural light but these generally do not open. On deck cabins are either on the main deck or top floor of the boat. These all have opening windows that allow in the breeze. There is a supplement for upgrading to on deck cabins, please see the 'extra prices' section located at the bottom of the 'prices and departures' tab for details. Choose your option at time of booking to secure your place.

For further information about best time to visit, visa's, top travel tips and more, please see our Croatia travel guide.
The ship categories listed below are the ones offered for this sailing itinerary. Please note that individual ship design varies slightly from craft to craft. The ship category will be confirmed at time of booking however the specific ship name is allocated approximately one week from departure.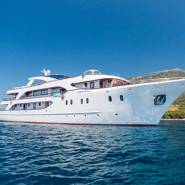 Deluxe Ship, Croatia Sailing
Deluxe ships are a class above our premium and premium plus ships and are spacious, newly built ships with well-appointed cabins featuring twin or double beds (on request). All cabins have their own bathrooms, LCD TV and are air-conditioned. Deluxe ships also offer air-conditioning in most of the common areas whilst sailing (no a/c when boat is stationary), free Wi-FI when in port, and have a spacious deck with sun loungers. Additionally, some deluxe ships feature gym facilities and a plunge pool. Exclusive features of our deluxe category include airport arrival and departure transfers from Split airport, an on-board English speaking tour leader to answer any questions you may have and provide commentary on the locations and sights you will see, guided sightseeing tours of Dubrovnik - including a dinner cruise and journey on a cable car , Hvar, Split and Korcula - including a wine tasting tour and a village feast. Plus, at the end of a wonderful week sailing all our deluxe cruises come to a close with a delicious Captain's farewell dinner.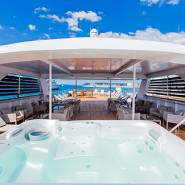 Deluxe Superior Ship, Croatia Sailing
Come aboard, sit back and simply relax… Our Deluxe Superior Ships are of the highest quality and category of ship available on the Adriatic Sea, so you'll be travelling in style! The newly refurbished ships include hot tub/jacuzzi or plunge pool and on some ships, a gym. The air-conditioned meal and bar area is lavishly designed for a comfortable stay and to enjoy time with friends and fellow travellers. The sundeck offers magnificent views of the turquoise waters and spectacular scenery. The well-appointed spacious and superbly designed air-conditioned en-suite cabins (15 to 20m2 in size) are available in either double or twin bedding (on request). Included are Airport arrival and departure transfers, an on-board English speaking tour leader to answer any questions you may have and provide commentary on the locations and sights you will visit, guided sightseeing tours, wine tasting tour and so much more. With all the exclusive features of our Deluxe Category Ships, but on an elegant and grander scale your journey through Croatia will be a unforgettable one with nothing to worry about except taking in the delights that Croatia has to offer.
Reviews
Travellers have rated this tour as 4.67 out of 5 based on 6 recent reviews
"
Really really loved the tour everywhere we stopped was amazing and had a really amazing tour guide who had such love and knowledge about the country. We had plenty of time to explore by ourselves as well. The crew on board were amazing ecspecially the cooks who went above and beyond what I expected it to be "
Rhiannon Smith
• Submitted 24 Jul 2019
Tour





Guide





Country





"
We had a splendid time, we loved Croatia and all the islands 'Fantazia' our ship took us. Ivana our tour guide was very organised and always ready to assist us in anything we needed, he gave us a good lecture on the history of Croatia and the neighbouring countries.
When it was needed due to one day of strong winds, the captain diverted us to other beautiful island and The next day we sailed to the places we missed, we saw and enjoyed all the places in out itinerary. The boat was very conformable, clean and we enjoyed all our friendly passengers."
Elsie Brown
• Submitted 02 Oct 2018
Tour





Guide





Country





"
The tour was great. The weather was perfect and the stops were all interesting. More importantly the boat that we were on and the captain and crew were excellent.
Ivan was an excellent guide. He was very attentive to everyone on board and always made sure that the current agenda was known as well as the next days agenda was available and announced. This helped us to plan for what we would be seeing and doing as well as what was coming up.
Ivan was well schooled on Croatia - geography, history, food, wine, etc. It was enjoyable learning about Croatia.
Ivan was very patient and didn't loose his temper even when some guests were slow to show up at designated places and times."
David Howe
• Submitted 20 Sep 2016
Tour





Guide





Country





"
We had a fantastic holiday on Admiral. The boat was better than we expected, very comfortable and the meals and service from all the staff were of a very high standard. Deanna was excellent, she was always available for enquiries, very good humoured and good fun, she understood the needs of everyone on the ship and made sure she was looking after everyone and communicating all the plans each day. She was also good company socially and on board. I would say that she was probably one of the best Guides or Reps we have ever had."
Pauline Howarth
• Submitted 05 Aug 2015
Tour





Guide





Country





"
Excellent tour, very well organized
Guide very service oriented, knowledgeable, professional
Crew very attentive with good service
Food was OK, but not first class
Ship was very clean and shipshape
A very enjoyable experience!"
Charles Sieburth
• Submitted 15 Jul 2015
Tour





Guide





Country





"
Tour was fantastic. We really enjoyed it. Right mix of free and structured time. We would recommend it to anyone. Boat was as described, facilities of a very high standard.
Weather conditions were variable and the communication b/w the captain and the guide needs improvement. When the whether was influencing the plan it wasn't unusual for there to be 3 different stories circulating on the boat as to what was to happen next depending upon who had talked to Ivan when.
We got the below deck cabin we paid for. We heard that some on the boat rec'd an upgrade from the Premium package to our Deluxe package. I think because they had on deck cabins in the Premium they received on deck in the Deluxe which meant they paid less than us for better cabins. Didn't detract from our holiday.
Drinks were not included in the Captain's dinner on the final night, this needed to be better communicated before the event. They also settled the tab before the Captain's dinner and then we needed to settle the Captains dinner tab the next morning. This is double handling and makes no sense. Tips were handed in before the Captain's dinner, not sure if this influences the above.
We found our own way to and from the harbour in Split. FYI two groups that I know of had transfer problems. One (2 English girls) booked through Flight Centre and I believe this was via yourselves. Mind you the other party saw one of the Games of Thrones stars at the airport and he too appeared to be struggling with his transfer.
Last question below is an n/a as I wouldn't expect such a short tour to achieve this. "
Mark Kendt
• Submitted 19 Sep 2014
Tour





Guide





Country





At a Glance
Range
Trip Type
Starts
Split
Ends
Split
Departs
Saturday & Wednesday
Group Size
Min 10 / Max 28 - 38 dependant on ship
Hotel Rating
Deluxe or Deluxe Superior Ship options are available
Tour Guide
Yes, onboard tour leader
Meals
Breakfast: 7, Lunch: 5, Dinner: 4
Countries
Minimum Age
No minimum age
Arr. Transfer
Yes
Dep. Transfer
Yes
Extra Tour Info
Updated
28th April 2023
"
Really really loved the tour everywhere we stopped was amazing and had a really amazing tour guide who had such love and knowledge about the country. We had plenty of time to explore by ourselves as well. The crew on board were amazing ecspecially the cooks who went above and beyond what I expected it to be "
Rhiannon Smith
OTG001384
Creme de la Croatia Deluxe - 8 days
Europe
Handpicked
Europe
false
30
Croatia
https://www.onthegotours.com/nz/Croatia/Creme-de-la-Croatia-8-days
https://www.onthegotours.com/repository/CremedelaCroatiaItineraryMainGroupToursCroatia-216021374681040_crop_flip_300_300_f2f2f2_center-center.jpg
Sailing_Holidays