Top 6 Cities & Places to Visit in Denmark
Our pick #1
Copenhagen
Denmark's vibrant capital, stands as a testament to the perfect blend of historic charm and modern innovation, making it a premier destination. The city's iconic landmarks, such as the Tivoli Gardens and the timeless Little Mermaid statue, reflect its rich cultural heritage. Copenhagen's bustling streets, particularly the colourful Nyhavn harbour, offer a picturesque setting for leisurely strolls and al fresco dining. The city embraces a bicycle-friendly culture, allowing visitors to effortlessly explore its cobblestone streets and discover hidden gems. Copenhagen's commitment to sustainability and green living is evident in its eco-friendly initiatives, beautiful parks, and the cutting-edge architecture of the CopenHill waste-to-energy plant. Moreover, the Danish capital boasts world-class museums, like the National Museum and the Ny Carlsberg Glyptotek, showcasing art and history. With its warm and welcoming atmosphere, Copenhagen is not just a city; it's a living storybook that captivates visitors with its timeless allure and contemporary charisma.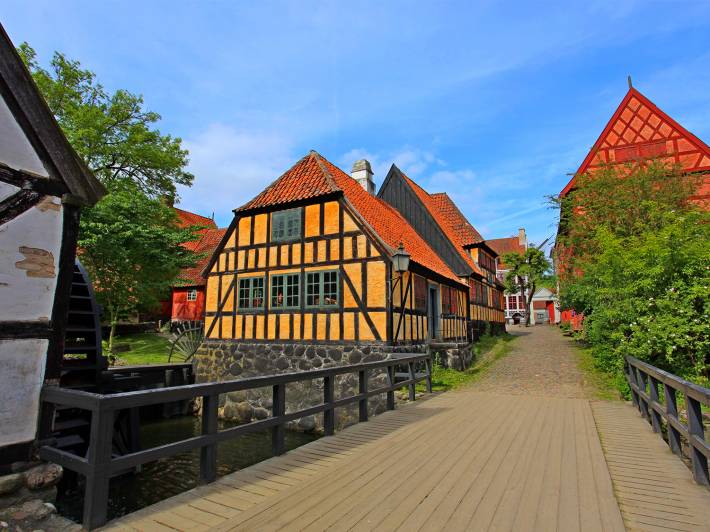 Our pick #2
Aarhus
Aarhus, Denmark's second-largest city, beckons travellers with a dynamic blend of cultural richness and modern sophistication, making it a standout destination. Boasting a vibrant arts scene, Aarhus is home to the striking ARoS Aarhus Art Museum, showcasing a diverse collection, including the iconic "Your Rainbow Panorama" installation. The Old Town, an open-air museum, transports visitors back in time, offering a glimpse into Denmark's past with its charming cobblestone streets and historic buildings. The city's youthful energy, fuelled by its university population, infuses Aarhus with a lively atmosphere. Exploring the Latin Quarter's boutiques and cafes or taking a stroll along the scenic waterfront enhances the city's appeal. Aarhus also hosts numerous festivals, celebrating music, food, and culture, adding to its allure as a dynamic cultural hub. With its perfect blend of tradition and innovation, Aarhus stands as a captivating gem on Denmark's cultural landscape.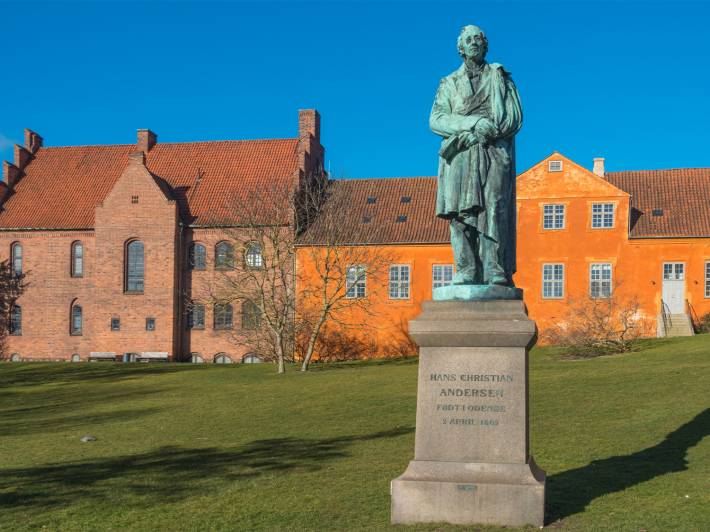 Our pick #3
Odense
Odense, the enchanting birthplace of Hans Christian Andersen, offers fairy-tale charm and rich cultural heritage, making it one of Denmark's top tourist destinations. The city pays homage to its famous resident with the Hans Christian Andersen Museum, offering an intimate look into the life and works of the beloved storyteller. Strolling through the historic old town reveals picturesque cobblestone streets, charming half-timbered houses, and quaint squares. Odense seamlessly combines its historical allure with a modern flair, boasting trendy cafes, boutiques, and cultural spaces. The city's green spaces, such as Munke Mose park, provide tranquil retreats amidst the urban hustle. Throughout the year, Odense hosts vibrant festivals, celebrating literature, music, and art, further enhancing its appeal. With its fairy-tale ambiance, cultural richness, and a nod to literary legacy, Odense emerges as a must-visit destination, inviting visitors into the magical world of Hans Christian Andersen.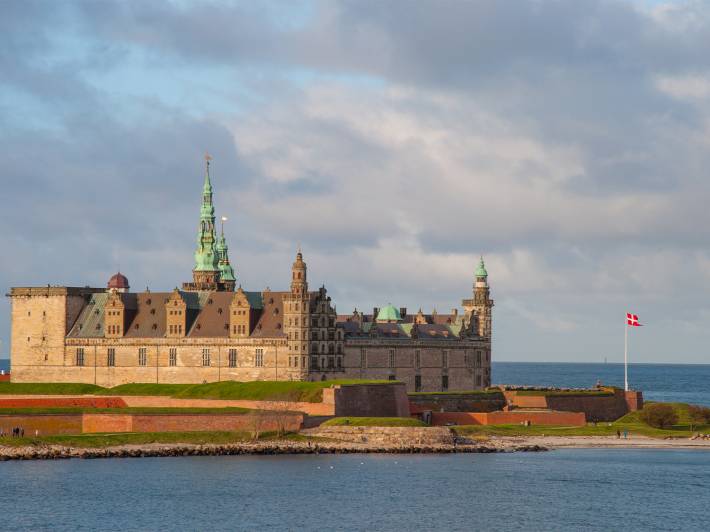 Our pick #4
Helsingor
Found on the northeastern coast of Zealand stands as a historical and cultural gem, earning its reputation as one of Denmark's best places to visit. The crown jewel of Helsingor is Kronborg Castle, a UNESCO World Heritage Site immortalized as Elsinore in Shakespeare's Hamlet. The imposing fortress, with its Renaissance architecture and scenic waterfront location, offers a captivating journey through Danish history and literature. Beyond the castle walls, Helsingor enchants visitors with its charming streets, waterfront cafes, and the vibrant atmosphere of the Stengade shopping district. The Maritime Museum impresses with its innovative design, seamlessly integrated into the historic harbour. Ferry connections to Sweden and the surrounding coastal beauty add to the city's allure. Helsingor, with its blend of Shakespearean drama, maritime history, and picturesque surroundings, invites travellers to explore its cultural riches and immerse themselves in a tapestry of Danish stories.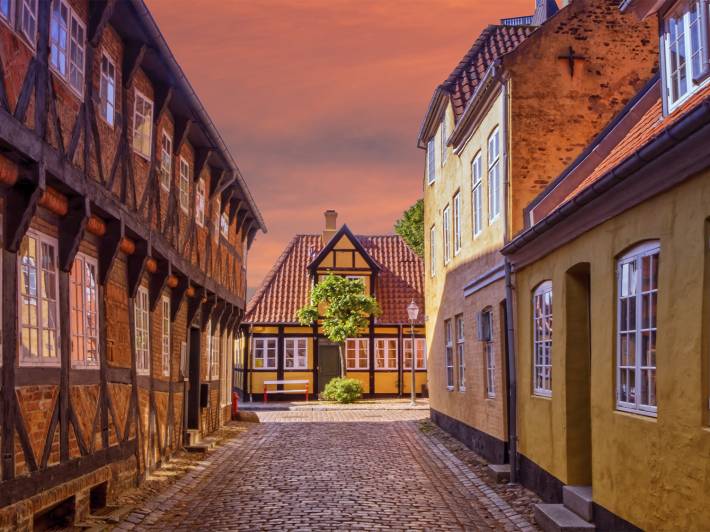 Our pick #5
Ribe
Ribe, Denmark's oldest town, stands as a living testament to medieval charm and rich cultural heritage, making it a captivating destination for history enthusiasts. Its cobblestone streets, well-preserved half-timbered houses, and the iconic Ribe Cathedral transport visitors to a bygone era. The town's open-air museum, the Ribe Viking Centre, offers an immersive experience into Viking life, complete with reconstructed buildings and interactive exhibits. Ribe's authenticity is further enhanced by its lively market squares, where local artisans and vendors showcase their crafts. The atmospheric town centre provides an enchanting backdrop for leisurely strolls, while the Wadden Sea National Park, a UNESCO World Heritage Site, offers breathtaking natural beauty nearby. With its blend of historical authenticity and natural splendour, Ribe provides a unique and enriching experience, inviting travellers to step back in time and explore Denmark's medieval roots.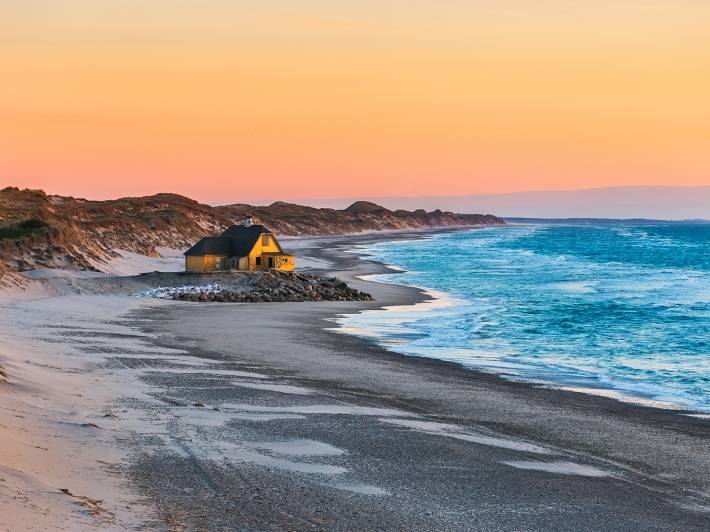 Our pick #6
Skagen
Skagen, situated at the northernmost tip of Jutland, stands as a Danish jewel, renowned for its picturesque landscapes and artistic inspiration, making it one of the best places to visit. The town's unique position, where the North Sea and Baltic Sea meet, results in breathtaking landscapes and a special quality of light that has drawn artists for centuries. Skagen's golden sand beaches, like Grenen, offer stunning views and serene surroundings. The legacy of the Skagen Painters, a group of 19th-century artists, is celebrated in the Skagens Museum, showcasing their works inspired by the town's natural beauty. The quaint fishing villages, charming yellow houses, and the iconic, red-tiled roofs create a storybook atmosphere. Skagen's artistic allure, coupled with its coastal charm and natural wonders, beckons visitors to experience a harmonious blend of culture and nature at Denmark's northernmost tip.
See also
Check out our handy Travel Guide resources to help plan your trip to Denmark:
Denmark Tours - find out more about our Denmark tours
Best Time to Visit - climate and seasons of Denmark
Top Travel Tips - useful info on money, health, food and more